The New And Improved LetsRun.com
by: LetsRun.com
November 12, 2013
We're proud to reveal today a new refined version of LetsRun.com.
It's LetsRun.com, but cleaner and with a lot of extra features behind the scenes.
Article continues below player
Our goal was to 1) Improve the look of LetsRun.com 2) Better organize and present content.
Here are the highlights.
1) A cleaner look

2) Mobile and tablet friendly design Check it out on your phone, your tablet, even switch it from portrait to landscape mode. You'll see an improved LetsRun.com.
No matter the device, you wil see the content in order of its priority.
Now it's even possible to read LetsRun while driving a car at 70 mph, or with your thumb under the table while on a date, but please don't do either of these things.
3) Better content organization Not only will LRC be prettier but most importantly it will be more useful. No longer will our content be impossible to find. We're going to have athlete pages, event pages, tags and categories. This portion of things is still a work in progress but you can see a sneak peak at some of the new features below.
What You Should See
1) An Improved Homepage This should speak for itself. The homepage is the life and blood of letsrun.com and it's now got a cleaner look, plus its mobile and tablet friendly.
2) More Useful Article Pages Prettier but just as importantly with more features, like links to related event pages, tags, and categories. Check out the super popular Mike Cassidy article for an example.
3) Event Pages Want to know everything about the 2013 ING NYC Marathon. Now we've got you covered.
4) Tags and Athlete Pages Want to know everything about Geoffrey Mutai? Check out his tagged page with all the content on Geoffrey on LRC and elsewhere (right now from the last month, but we're expanding back as we type). In 2014, we'll expand the athlete pages and have bios, and much more. Want to find all the Week That Was? Go here. Want to know about all the running articles on beer, go here.
5) Category Pages Want just Pro news? Click here. Want Bizarre running stories? Click here. Want only sprint news? Click here (Actually don't. The content management portion is a work in progress as we go back and tag all the LRC content we have and many of the 65,000+ outside links.)
We Want Your Feedback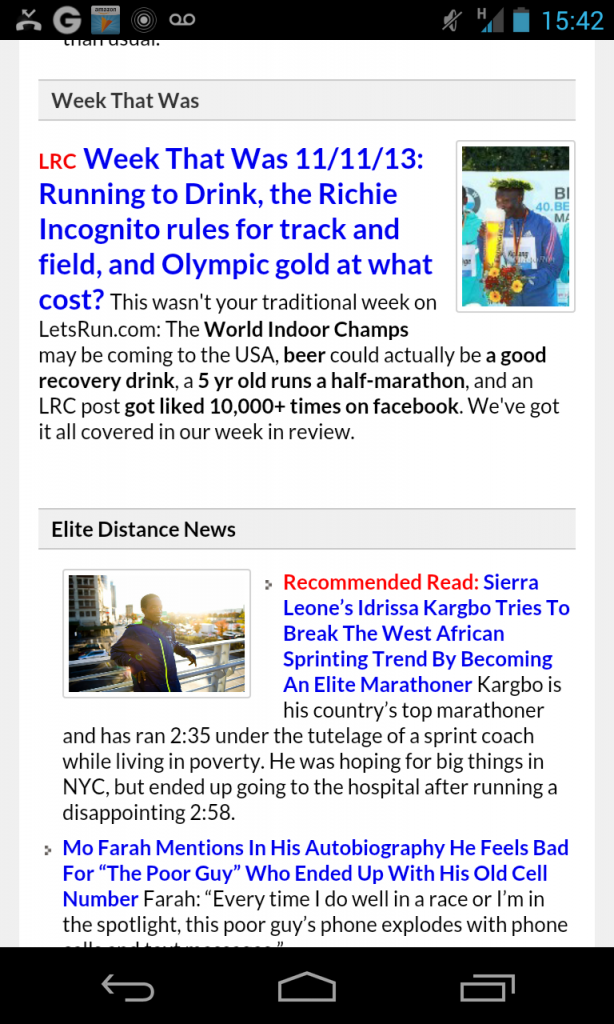 The new and improved LetsRun.com is a work in progress. This is just the start, but we like what we have so it's time to present it to you, our loyal visitor, to get your feedback.
Before we tell you how to leave your feedback, we want to give out some big thanks to the man behind the new and improved LRC – daily LRC visitor (and developer) Erik Westlund. He's done a tremendous job. We started working with Erik this summer on building our World Championships page, liked what we saw, and things have only gotten better from there.
Being a daily visitor, Erik's got thick skin and he wants your feedback (as do we). There are two ways you can give feedback. By posting in a message board thread here or by filling out the form below.
If you have a bug please use the form below.
We also want to thank you, our loyal visitors. Thanks for all the support over the years and thanks for helping us improve our new design. Little LRC has over one million monthly unique visitors thanks you.
[gravityform id="5″ name="The New and Improved LRC Feedback Form" ajax="true"]