2013 NCAA Women's Cross-Country Teams Announced – The 31 Women's Teams Going To The Big Dance Are …
by LetsRun.com
November 15, 2013
So who is going to the Big Dance?
Well, unofficially based on today's regional results and thanks to the great programming work of former Duke runner Bo Waggoner, we are fairly confident the following 31 women's teams will be competing in Terre Haute in two weeks. Update 11/16/13: The NCAA list is out and identical to our list below.
Article continues below player
BYU snuck in as the last team to advance while Arizona State was left at home as unlucky team #32. In a cruel twist of fate, the Arizona State men's team also was team #32.
25th-ranked Boise State was the highest ranked team not to make the Big Dance, although it's worth noting that #28 Duke, which in the pre-season was ranked #4, was left as home as well.
To see the meets included in the process or to discuss these results, go to the message board: Official 2013 NCAA Cross-Country Field – Who's In and Who's Out? Find Out Here

2013 NCAA Women's Cross-Country Teams
18 Autos
1 michigan
2 butler
3 villanova
4 georgetown
5 iowa state
6 minnesota
7 colorado
8 new mexico
9 providence
10 dartmouth
11 florida state
12 vanderbilt
13 arkansas
14 smu
15 virginia
16 william and mary
17 arizona
18 stanford
Thirteen At Large
19 michigan state
20 oregon
21 san francisco
22 washington
23 notre dame
24 syracuse
25 wisconsin
26 indiana
27 penn state
28 west virginia
29 princeton
30 cornell
31 byu
The logic of the selection process is explained below after we give you the individual qualifiers.
The individual qualifiers were as follows:
Women's Individual Qualifiers
Great Lakes Region
Juli Accurso, Ohio
Katie Borchers, Ohio State
Victoria Voronko, Eastern Michigan
Clare Fischer, Xavier
Mid-Atlantic Region
Michelle Capozzi, La Salle
Lindsay Prettyman, Delaware
Cleo Whiting, Penn
Kiera Harrison, Loyola Maryland
Midwest Region
Courtney Frerichs, UMKC
Alyssa Schneider, Illinois
Kaitlyn Fischer, Missouri
Monika Juodeskaite, Oklahoma State
Mountain Region
Heather Demorest, Montana State
Summer Harper, Weber State
Rebekah Winterton, Utah
Rolonda Jumbo, Northern Arizona
Northeast Region
Waverly Neer, Columbia
Kate Avery, Iona
Liv Westphal, Boston College
Silvia Del Fava, Albany
South Region
Cory McGee, Florida
Teghan Henderson, Chattanooga
Elinor Kirk, UAB
Agata Strausa, Florida
Note. We spoke to a college coach before putting this up and he had a slightly different result. There is a chance that Indiana and Wisconsin don't get at all and if they don't go then Arizona State and Boston College both go in their place. It depends on who gets in at #25 and #26 – Indiana, BYU or Penn State. Waggoner has Indiana getting in on a common opponents' tie-breaker with Penn State (Indiana beat BYU so they can't get in) and pushing Wisconsin in. If Penn State actually goes here, then Wisco and Indiana never eventually get in.
In the three previous years of running the program, Bo says he's never had to rely on the common opponents rule and the NCAA rule-book is vague on that front.
More: 2013 Men's NCAA Selections
Women's Teams Selection Logic
(Note, we know the San Francisco women at Stanford were a B team. If there were more B teams involved that might impact the results, please email us).
Automatically selected:
1: michigan is selected, has losses to (big10) michigan state; (prenats) oregon;
2: butler is selected, has losses to (Griak) michigan state;
3: villanova is selected, has losses to (prenats) oregon, princeton, boise state, mississippi, penn state, toledo, kentucky;
4: georgetown is selected, has no losses to teams remaining
5: iowa state is selected, has losses to (Griak) michigan state; (wisconsininvite) michigan state;
6: minnesota is selected, has losses to (big10) michigan state; (Griak) michigan state; (wisconsininvite) michigan state;
7: colorado is selected, has losses to (prenats) oregon;
8: new mexico is selected, has losses to (wisconsininvite) michigan state;
9: providence is selected, has no losses to teams remaining
10: dartmouth is selected, has losses to (wisconsininvite) michigan state;
11: florida state is selected, has no losses to teams remaining
12: vanderbilt is selected, has losses to (Griak) michigan state; (sec) texas a&m, kentucky, florida; (wisconsininvite) michigan state, washington, san francisco, syracuse, indiana, notre dame, arizona state, cornell, boston college, wisconsin, harvard;
13: arkansas is selected, has no losses to teams remaining
14: smu is selected, has losses to (prenats) oregon, princeton, boise state, mississippi, penn state, toledo, kentucky, cal poly; (notredameinvite) san francisco, byu, princeton, notre dame, bradley;
15: virginia is selected, has no losses to teams remaining
16: william and mary is selected, has losses to (prenats) oregon;
17: arizona is selected, has no losses to teams remaining
18: stanford is selected, has losses to (prenats) oregon; (pac12) washington, oregon;
Teams under consideration: michigan state (11), oregon (7), san francisco (2), notre dame (2), penn state (2), byu (1), syracuse (1), cornell (1), texas a&m (1), florida (1), weber state (0), texas (0), north carolina state (0), duke (0), west virginia (0), oklahoma state (0), southern illinois (0), alabama (0),
Others with points: princeton (3), kentucky (3), washington (2), mississippi (2), boise state (2), toledo (2), arizona state (1), bradley (1), indiana (1), wisconsin (1), harvard (1), boston college (1), cal poly (1),
19: michigan state is selected, has no losses to teams remaining
Teams under consideration: oregon (7), san francisco (2), notre dame (2), penn state (2), byu (1), syracuse (1), cornell (1), texas a&m (1), wisconsin (1), florida (1), weber state (0), texas (0), north carolina state (0), duke (0), west virginia (0), oklahoma state (0), southern illinois (0), alabama (0),
Others with points: princeton (3), kentucky (3), washington (2), mississippi (2), toledo (2), boise state (2), indiana (1), bradley (1), arizona state (1), harvard (1), boston college (1), cal poly (1),
20: oregon is selected, has losses to (Dellinger) washington; (pac12) washington;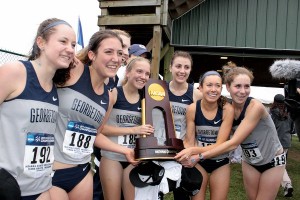 Teams under consideration: washington (4), san francisco (2), notre dame (2), penn state (2), byu (1), syracuse (1), cornell (1), texas a&m (1), wisconsin (1), florida (1), weber state (0), texas (0), north carolina state (0), duke (0), west virginia (0), oklahoma state (0), southern illinois (0), alabama (0),
Others with points: princeton (3), kentucky (3), mississippi (2), boise state (2), toledo (2), arizona state (1), bradley (1), indiana (1), harvard (1), boston college (1), cal poly (1),
washington not selected with push (gets in later on their own)
san francisco wins head-to-head tiebreaker over notre dame (relevant meets: wisconsininvite, notredameinvite)
no head-to-head tiebreaker for san francisco and penn state (relevant meets: )
no head-to-head tiebreaker for notre dame and penn state (relevant meets: )
san francisco wins common opponents over penn state (common opponents: duke, duquesne, colorado, illinois state, northern arizona, washington, southern illinois, ucla, bradley, uc davis, michigan state, texas a&m, north carolina, miami (ohio), gonzaga, columbia, portland, iowa state, oklahoma state, mississippi, villanova, lipscomb, cornell, smu, byu, air force, minnesota, arizona state, illinois, providence, utsa, arkansas, toledo, ohio state, indiana, michigan, texas, georgetown, lamar, arizona, wisconsin, northwestern, loyola marymount, georgia, sacramento state, vanderbilt, oregon, virginia, butler, harvard, new mexico, dartmouth, kansas state, purdue, notre dame, syracuse, cal poly, stony brook, boston college, north carolina state, baylor, weber state, princeton, florida, kentucky, william and mary, florida state, iona, wake forest, boise state, stanford, west virginia, alabama)
21: san francisco is selected, has losses to (wisconsininvite) washington;
Teams under consideration: washington (5), notre dame (2), penn state (2), byu (1), syracuse (1), cornell (1), texas a&m (1), arizona state (1), wisconsin (1), florida (1), weber state (0), texas (0), north carolina state (0), duke (0), west virginia (0), oklahoma state (0), southern illinois (0), alabama (0),
Others with points: princeton (3), kentucky (3), mississippi (2), boise state (2), toledo (2), bradley (1), indiana (1), harvard (1), boston college (1), cal poly (1),
22: washington is selected, has no losses to teams remaining
Teams under consideration: notre dame (2), penn state (2), byu (1), syracuse (1), cornell (1), texas a&m (1), arizona state (1), wisconsin (1), florida (1), weber state (0), texas (0), uc davis (0), north carolina state (0), duke (0), west virginia (0), oklahoma state (0), southern illinois (0), alabama (0),
Others with points: princeton (3), kentucky (3), mississippi (2), toledo (2), boise state (2), indiana (1), bradley (1), harvard (1), boston college (1), cal poly (1),
no head-to-head tiebreaker for notre dame and penn state (relevant meets: )
notre dame wins common opponents over penn state (common opponents: duke, duquesne, colorado, illinois state, northern arizona, washington, southern illinois, ucla, bradley, uc davis, michigan state, texas a&m, north carolina, miami (ohio), san francisco, portland, illinois, iowa state, oklahoma state, mississippi, villanova, lipscomb, florida state, cornell, smu, byu, air force, minnesota, arizona state, columbia, providence, utsa, arkansas, toledo, ohio state, dartmouth, texas, georgetown, lamar, arizona, wisconsin, northwestern, michigan, georgia, sacramento state, virginia, oregon, vanderbilt, butler, harvard, new mexico, indiana, kansas state, purdue, syracuse, cal poly, stony brook, boston college, north carolina state, baylor, weber state, princeton, florida, kentucky, william and mary, wake forest, iona, boise state, stanford, west virginia, alabama, virginia tech)
23: notre dame is selected, has losses to (ACC) syracuse; (wisconsininvite) syracuse, indiana; (notredameinvite) byu, princeton;
Teams under consideration: syracuse (3), byu (2), indiana (2), penn state (2), cornell (1), texas a&m (1), arizona state (1), wisconsin (1), florida (1), weber state (0), texas (0), uc davis (0), north carolina state (0), duke (0), west virginia (0), oklahoma state (0), southern illinois (0), alabama (0),
Others with points: princeton (4), kentucky (3), mississippi (2), boise state (2), toledo (2), bradley (1), harvard (1), boston college (1), cal poly (1),
24: syracuse is selected, has no losses to teams remaining
Teams under consideration: byu (2), indiana (2), penn state (2), cornell (1), boston college (1), texas a&m (1), arizona state (1), wisconsin (1), florida (1), weber state (0), texas (0), uc davis (0), north carolina state (0), duke (0), west virginia (0), oklahoma state (0), southern illinois (0), alabama (0),
Others with points: princeton (4), kentucky (3), mississippi (2), toledo (2), boise state (2), bradley (1), harvard (1), cal poly (1),
indiana wins head-to-head tiebreaker over byu (relevant meets: wisconsininvite)
no head-to-head tiebreaker for byu and penn state (relevant meets: )
no head-to-head tiebreaker for indiana and penn state (relevant meets: paulshort, big10)
indiana wins common opponents over penn state (common opponents: duke, duquesne, colorado, northern arizona, washington, southern illinois, ucla, uc davis, michigan state, texas a&m, north carolina, miami (ohio), san francisco, portland, illinois, iowa state, mississippi, villanova, lipscomb, oklahoma state, cornell, smu, byu, air force, minnesota, arizona state, columbia, providence, princeton, arkansas, utsa, toledo, butler, dartmouth, indiana, texas, georgetown, illinois state, arizona, wisconsin, northwestern, michigan, georgia, vanderbilt, oregon, virginia, ohio state, harvard, new mexico, baylor, kansas state, purdue, notre dame, syracuse, cal poly, stony brook, boston college, north carolina state, sacramento state, weber state, lamar, stanford, florida, kentucky, william and mary, florida state, iona, wake forest, boise state, west virginia, penn state, alabama)
25: wisconsin is selected, gives no points (pushed in)
26: indiana is selected, has losses to (big10) penn state, ohio state; (paulshort) cornell, columbia;
Teams under consideration: penn state (3), byu (2), cornell (2), toledo (2), boston college (1), texas a&m (1), arizona state (1), ohio state (1), florida (1), weber state (0), texas (0), uc davis (0), north carolina state (0), duke (0), west virginia (0), oklahoma state (0), southern illinois (0), alabama (0),
Others with points: princeton (4), kentucky (3), mississippi (2), boise state (2), columbia (1), bradley (1), harvard (1), cal poly (1),
27: penn state is selected, has losses to (prenats) princeton, boise state, mississippi; (paulshort) cornell, columbia, harvard, west virginia;
Teams under consideration: princeton (5), cornell (3), byu (2), toledo (2), boston college (1), texas a&m (1), arizona state (1), ohio state (1), west virginia (1), florida (1), weber state (0), texas (0), uc davis (0), north carolina state (0), duke (0), oklahoma state (0), southern illinois (0), alabama (0),
Others with points: mississippi (3), kentucky (3), boise state (3), columbia (2), harvard (2), bradley (1), cal poly (1),
28: west virginia is selected, gives no points (pushed in)
29: princeton is selected, has losses to (ivyleague) cornell, harvard; (notredameinvite) byu;
Teams under consideration: cornell (4), byu (3), toledo (2), boston college (1), texas a&m (1), arizona state (1), ohio state (1), florida (1), weber state (0), texas (0), uc davis (0), north carolina state (0), duke (0), oklahoma state (0), southern illinois (0), alabama (0),
Others with points: mississippi (3), kentucky (3), boise state (3), harvard (3), columbia (2), bradley (1), cal poly (1),
30: cornell is selected, has losses to (wisconsininvite) arizona state;
Teams under consideration: byu (3), arizona state (2), boston college (1), texas a&m (1), ohio state (1), north carolina state (0), oklahoma state (0), alabama (0),
Others with points: mississippi (3), kentucky (3), boise state (3), harvard (3), columbia (2), toledo (2), bradley (1), cal poly (1), florida (1),
31: byu is selected, has losses to (westcoastconference) portland; (wisconsininvite) arizona state, boston college, harvard, north carolina state, uc davis, florida, texas a&m;
arizona state (2), boston college (1), texas a&m (1), ohio sta