by LetsRun.com
July 17, 2013
Last week's weekly recap can be found here.
****
Tyson Gay and Asaffa Powell Get Busted
The men's 100 meters is the marquee event in track and field.
Who is the fastest human being on the planet?
That question resonates with everyone as it's so simple and easy to understand. It's the most basic of human sporting events. Put a line down at the finish, line up and sprint. Humans have been doing that since they developed the ability to run.
So when two of the four fastest men in history are implicated in separate doping scandals in the span of 24 hours, it's not a good thing.
Our first reaction was, "Why even bother to watch the World Champs? One of the things that we most wanted to see was Tyson Gay versus Usain Bolt."
The night before the Gay news came out an insider had posted on the LetsRun.com messageboard that a big name US sprinter was about to come out with a positive test, which is exactly what happened the next day MB:  Major US sprinter positive – news coming very soon.
When we first read that thread, our reaction was exactly the same to the very first person to post a reply on the thread, "If that's Gay I'm gonna cry."
There's no cheering in the press box, but over the last few years, it's hard not have become a Tyson Gay fan. Gay was the the ultimate student of the sport who by all appearances was 100% devoted to his craft. He had voluntarily joined USADA's Project Believe – a voluntary "longitudinal testing program".
So what are our thoughts a few days later? Our main thought is rather simple.
1) We need to let the facts come out.
Are these major or minor drug offenses? There is a big difference. Sure, certain drugs are masking agents but we've long felt that the IAAF should have vastly different penalties for clear examples of 'intentional doping' – EPO just accidentally end up in your system – versus inadvertently committing a doping offense by taking a prescription drug or over the counter cold medicine. Then there is the possibility of supplements that may be tainted or have a banned substance in them.
Admittedly, the excuse of "Oh I accidentally took it," is kind of hard to believe when it's coming from two of the highest paid people in the sport. These certainly aren't two guys struggling to get by who can't afford to go to a doctor and thus go to the pharmacy when sick and end up with a 3 or 6 month ban as a result. These are guys who have agents and employees dedicated to them, so they should know 100% what is and isn't going in their bodies at all times. If they didn't know, they should have known. Thankfully Tyson Gay, to his credit, has admitted as much. At least in his case, we aren't going to get the usual denial, denial, denial.
The fact of the matter is right now there are very few known facts about both cases. If we have learned anything from watching high profile criminal cases in the US over the last 20 years, it's that it is irresponsible to rush to judgment before any facts are really known. The media and so much of the public loves to become entrenched before the facts come out.
2) Maybe the positives are good for the sport in the long-term.
This feeling may be a stretch but there are two ways to look at things – the glass can be half-full or the glass can be half-empty. We are forcing ourselves to say half-full here.
In many ways, it can be argued that positive tests are good for the sport in the long-term. Track and field isn't a credible long-term entity if it's rife with doping. These positives show that track and field is serious about catching cheats and getting better at it. Don't just take our word for it. Take the Christain Sciece Monitor's Mark Sappenfield's.
Sappenfield wrote an interesting piece on Monday –  Why Tyson Gay scandal is not Marion Jones all over again – where he pointed out that 10 years ago sprinters were taking major drugs and not even testing positive. Now, they are taking much less effective drugs and getting popped.
Contrast that to say baseball where it seems as if Alex Rodriguez has been allowed to defraud the American public for the last decade plus to the tune of more than $350 million.
3) Let's Have an Honest Discussion About Supplements. Is It Time For Athletes to Reveal What Supplements They Are Taking?
Tyson's own words indicate he knew what he took that caused him to test positive.
Asafa Powell's own camp admits he was taking about 20 supplements, including Actovegin AND some that included injections.
Clearly, two of the fastest guys of all time don't believe you can just train hard and run fast.  If athletes are taking a bunch of supplements is it time they publicly revealed them?
Sport shouldn't be about who has the best nutritionist, herbal guru, or doctor. That's why the thyroid issue made headlines in the Wall Street Journal.  If a combination of 20 supplements are really needed to run fast, let's have a discussion about that. If athletes have to reveal what they are taking, there is less incentive to find the "secret" supplement that another athlete may not have.
We have no idea what Tyson Gay is going to eventually say, but let's assume like Asafa Powell, Tyson Gay said he was taking a host of supplements. Well he was playing with fire.
Performance360, a sports performance group in Florida lists Tyson Gay as a client. On the Performance360 website, there is a link to supplements. One of the supplements listed is Advocare. Swimmer Jessica Hardy convinced a doping panel her positive was from a tainted Advocare product. (Since then Advocare has joined the Informed Choice program, that attempts to certify the supplement is not tainted).
****
How Common Is Doping In The Men's 100m?
A lot of good pieces were written after Gay and Powell's positive came out. Nicholas Thompson at the New Yorker wrote a piece (Tyson Gay and how to clean up track) which included the following line which at first glance stunned us:
"With Gay's bust, men implicated in doping scandals now own the twenty fastest hundred-metre times ever run by Americans. Every American gold or silver medalist in the race since 1988 was eventually busted for doping."
We then thought or a minute about what this was writing. The 20 fastest times in US history, not 20 fastest men, are all now officially questionable.
We did a little bit of research. The fastest American in history whose name has never come up in a doping scandal is now University of Houston coach Leroy Burrell. Editor's update: A visitor has emailed us after this story came out saying it was once claimed in 1990 in an Austrian newspaper that Burrell had tested positive but this was strongly denied by US officials as well as the Santa Monica Track Club.
20 times in history, US men have run faster than Burrell's 9.85 (21 if you count Tim Montgomery but his mark doesn't officially count as it was wiped out for a doping violation) but all of them have some question marks associated with them.
Below we list the 10 fastest US men in history. Exactly five of them have been linked to doping scandals of some kind, with four of them testing positive at least once for something).
The 10 Fastest 100 Meter Men In US History And Their Doping Associations (Or Lack Thereof)
9.69 Tyson Gay – Currently involved in doping scandal. 'A' sample positive.
9.79 Maurice Greene – Never busted, but once wrote $10,000 check to Angel Heredia.
9.78 Tim Montgomery – His world record officially doesn't exist as it was erased with his doping violation. His fastest 'clean' time is 9.92.
9.79 Justin Gatlin – Banned for 4 years for doping (ran 9.77 while doping).
9.85 Leroy Burrell – No doping associations we know of.
9.85 Mike Rodgers -Once accepted 9 month ban for a stimulant.
9.86 Carl Lewis – Stimulant positives covered up?
9.88 Shawn Crawford – Recently banned for doping, said he had retired.
9.88 Walter Dix – No doping associations we know of.
9.88 Ryan Bailey – No doping associations we know of.
9.89 Travis Padgett – No doping associations we know of.
9.89 Doc Patton – No doping associations. Spoke out againts PEDs when we investigated Mark Block last year.
Did we mess up with the above list? Email us.
****
Don't Forget The Turkish Dopers
The sprinters weren't the only ones making big time doping news last week.
Earlier in the week, it came out that 'dozens' of athletes in Turkey – which produced the gold and silver medalists in the Olympic women's 1500 last year – had tested positive. You can read about that at the following two links: Drug Scandal Rocks Turkey, Which Could Be Thrown Out Of The World Championships As "Dozens" Of Athletes Test Positive In An IAAF Targeted Testing Operation *IAAF Confirms That Turkey Was Targeted For Testing After Several High-Profile Athletes, Including Olympic 1,500 Champ Asli Cakir Alptekein, Had Shown Abnormal Blood Profiles.
Apart from that, now the Olympic women's 1500 gold medallist Asli Cakir Alptekein was already out this year as she fights her second doping allegation. But the Olympic silver medallist Gamze Bulut hadn't been seen all year.
Bulut has never been implicated in a doping, but the fact that she hadn't competed all year was starting to make some people, including ourselves, suspicious. If you win an Olympic silver at age 20 but never compete again, we're sorry that just doesn't pass the smell test for us. Something like that would be eerily reminiscent of former world indoor 1500 record holder Regina Jacobs pulling out of the  Olympics in 2000 with an 'illness' once it was announced their was a new EPO test (Regina eventually was busted for doping).
Well, the good newes for Bulut fans is that she's now competed for the first time this year. Bulut killed everyone in the 5000 at the European U-23 championships as she won by 6 + seconds in 15:45.03.
It's good to have Bulut back on the circuit as her absence was starting to raise eyebrows. It will be interesting to see how she does the rest of the summer. She'll have to race again if she wants to go to Moscow as she has no qualifying times.
More: Turkish athlete claims 5,000m win in Finland
****
Props To The USA's Moscow Qualifiers But More Props To Ben True, Hassan Mead and Brandon Johnson
Last week, three top three finishers from the 2013 USA Outdoor Track and Field championships qualified forMoscow by getting the IAAF 'A' or 'B' standard that they were lacking.
Florida's Cory McGee got the qualifying going by running under the 4:09.00 'B' standard in Belgium when she ran 4:06.67 on Saturday. A little later at the same meet, former NC State runner Ryan Hill ran under the 'A' standard of 13:15.00 when he ran 13:14.22. Then on Sunday night, Jordan Hasay ran the 'B' standard of 32:05.00 in the 10,000 when she clocked 31:46.42 in a mixed-gender race in Portland in the 10,000.
So congrats to all three. With as deep as the US is right now in mid-d and distance running, if you get top three at USAs, you 100% should be going to Worlds and now everyone who was top 3 at USAs in a mid-d or distance event will be going to the 2013 World Champs as they all have the 'A' or the 'B' except for Tara Erdmann in the 10,000 (she still has until July 20th to get the 30:45.00 'A') and Shalaya Kipp in the steeple (she has until July 20th to run 9:43.00 – to little fanfare she tried last week and ran 9:47.45 on July 8th).
McGree, Hill and Hasay all are going to get plenty of publicity when they go to Moscow. We wanted to give out some props to the two US distance runners last week who had the best absolute performances.
Ben True and Hassan Mead were never what you'd call huge college stars but both beat Hill last week in the 5000 and came very close to joining the US top 10 all-time in the 5000.
The 20 Fastest US Men Ever at 5000 (Indoors & Out)
1 12:53.60 Bernard Lagat
2 12:55.53 Chris Solinsky
3 12:56.27 Dathan Ritzenhein
4 12:58.21 Bob Kennedy
5 12:58.56 Matt Tegenkamp
6 12:58.90 Galen Rupp
7 13:01.15 Sydney Maree
8 13:07.00 Lopez Lomong
9 13:09.04 Chris Derrick
10 13:10.00 Adam Goucher
11 13:10.86 Alan Webb
12 13:11.59 Ben True
13 13:11.77 Mebrahtom Keflezighi
14 13:11.77 Tim Broe
15 13:11.80 Hassan Mead
16 13:11.93 Alberto Salazar
17 13:11.93 Anthony Famiglietti
18 13:12.01 Andrew Bumbalough
19 13:12.91 Matt Centrowitz (father of Matthew)
20 13:13.32 Abdi Abdirahman
Of course, there were some extenuating circumstances that prevented both Mead and True from being total college stars. True was only a part-time runner as he also competed in cross country skiing and Mead lost two seasons with an Achilles injury and a full year with a collapsed lung.
The best US performance last week came in the 800, as there was one new addition last week to a top-10 list in the US. Congrats to Brandon Johnson who ran 1:43.84 last week and is now tied with Alan Webb at tenth all time at 800 meters. Until last year Nick Symmonds PR was 1:43.76. Brandon Johnson has been running the event for two years and now is at 1:43.84.
The US's 16 Sub-1:44 Men
1. 1:42.60 Johnny Gray USA
2. 1:42.82 Duane Solomon USA
3. 1:42.95 Nick Symmonds USA
4. 1:43.20 Mark Everett USA
5. 1:43.35 David Mack USA
6. 1:43.38 Rich Kenah USA
7. 1:43.5y Rick Wohlhuter
8. 1:43.62 Earl Jones
9. 1:43.68 Khadevis Robinson
10. 1:43.84 Alan Web
10. 1:43.84 Brandon Johnson 
12. 1:43.92 John Marshall
12. 1:43.92 James Robinson
13. 1:43.92 David Krummenacker
15. 1:43.97 José Parilla
17. 1:43.97 Brandon Johnson
More: From the LRC Archive from 2012: Congratulations Hassan Mead
****
Three Takeaways From The 2013 Kenyan World Championship Trials
1) It's going to be hard for the American men to medal.
Not that it's easy to medal ever at Worlds in a distance event, but our biggest takeaway from seeing the Kenyan Trials results last week was that it's certainly not going to be easy for the US men (and only the US men medalled last year at the Olympics). Here's why.
i) The Kenyans get four entries in four events.
Kenya will run four the men's 800 (if Rudisha runs), men's 1500 and men's steeple as they have the defending champion in those events and they also get four in the men's 5000 as Isiah Koech was the Diamond League winner in that event last year. If all four make the final in a particular event, the Kenyans should sacrifice someone asall four can't medal (It should be noted the Ethiopians will also get 4 entrants in the 10,000).
ii) The Kenyans seem to be unified and more willing to employ team tactics this year.
The men's 1500 is the event where the US has two big-time medal prospects in Leo Manzano and Matt Centrowitz (the US also has two medal shots in the 800). In recent years, both Centro and Lomong have thrived on the fact while nearly every single 1500 run on the pro circuit is rabbited, the Worlds are not rabbited. A tactical race makes it much more likely that either Centro or Manzano will medal.
This year, the Kenyans have four entrants in the 1500 and they seem to all be on the same page. At the Kenyan Trials, they didn't really duke it out at the end and more or less just crossed the line celebrating together. They also said they'd already met to discuss tactics for Worlds.
Ever since Jim Ryun lost the Olympic 1500 final to Kip Keino in 1968 after Keino benefitted from the pace making of fellow Kenyan, Ben Jipcho, people have debated whether pace making a World or Olympic final is 'fair'. Jipcho, himself, later apologized to Ryun for violating the spirit of the Games as told in Mike Phillips's In Quest of Gold: The Jim Ryun Story. In the dog-eat-dog world that exists in 2013, the Kenyans would be foolish not to at least work together to make the pace honest. Sacrificing the worse guy in the final would greatly enhance their chances.
More: Messageboard Thread talking about Jipcho's Apology: Pacing and Honor – Ben Jipcho's Apology.
2) Most impressive victory? Isiah Koech's domination of the 5000.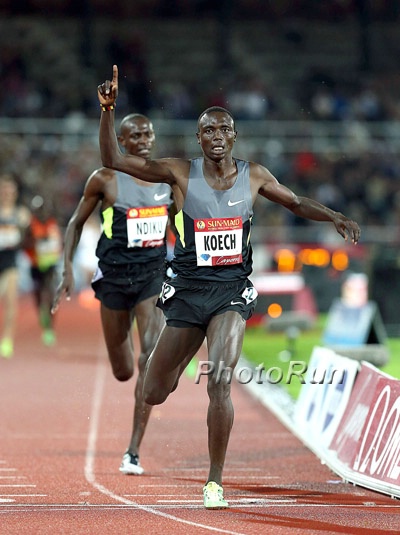 We don't know how the race played out, but know one thing Koech close was way better than everyone else's he won by 1.70 seconds in 13:35.12. To win by 1.70 seconds is staggering.
Koech, who is reportedly still just 19 years old, is officially a big-time medal threat. Remember, he was fourth at Worlds in 2011 at age 17 and fifth at the Olympics last year at age 18.
We don't care how old you think he is. There is no doubt he looks like he's getting ready to medal. We already know that Mo Farah's kick in a 5000 is next to impossible to beat and Ethiopia's Yenew Alamirew already has pushed Farah to the limit earlier this year. If Koech is on, it's not looking very promising for Americans Bernard Lagat and Galen Rupp.
Given Koech's inexperience, in year's past, he may have got his peak a bit wrong.
In 2011, he ran his fastest 5000 of the year – 12:53.29 – in February. Last year, his best 5000 came on July 6th (12:48.64).
This year, he was only 10th at Pre on June 1st but was 3rd in Rome in 12:58.85 a few days later (June 6th). Now he's on top of his game in mid-July and the Worlds are right around the corner (see point #3).
3) Might the schedule help the Kenyans in 2013?
The schedule is beneficial for the Kenyans this year. Last year, Koech won the Kenyan trials on June 23rd and then was supposed to maintain that fitness for seven weeks when the Olympic final took place on August 7th. This year, there's only 4 weeks before the Kenyan Trials and the end of the World Champs (3 to the start).
We've always thought the Kenyans would be much better suited if they saved the money on their training camps and just put their trials at the last possible moment.
More:  *Kenyan Trials Results *Full Kenyan Team *Video Highlights
****
Quote of the Week I (that wasn't quote of the day)
"I saw someone who was bold and brave but I don't think we've got too many athletes who race the way she does. I think the first thing I said to her was, essentially, we are not going to change the way we do races, that confidence, that way you attack."
– coach Rob Denmark talking to The Telegraph about what he first told Jessica Judd when he started coaching her at the end of last year.
We do want to point out to the all of the healthy eating nuts out there that Denmark, the Commonwealth 5,000m gold medalist from 1994 and two-time Olympian, had his first meeting wtih Judd at a McDonald's.
The 18-year old Judd came back to earth a bit last week as she only ran 2:02.81 and lost by 2.21 seconds to Marilyn Okaro at the British champs.
More: 800m prodigy Jessica Judd relishing the chance to make an impression at next month's World Championships in Moscow
****
Quote of the Week II (that wasn't quote of the day)
"I would be lying if I said I was not personally disappointed to read Tyson Gay's name alongside the words "tested positive" today.  He was the sport's much needed foil to Usain Bolt.  Calm, quiet and respectful to the brash, loud and showboating Jamaican.  The head-to-head between them would have been a highlight of Moscow."
– Ross Tucker writing in his excellent Science of Sport blog about the Tyson Gay positive.
More: A House Of Cards? Sprinting Tumbles Down As Gay, Then Powell, Then Simpson, Carter Named As Failing Drug Controls
****
World Youth Champs
At LetsRun, we haven't spent a lot of time covering high school action or World Youth or World Junior action as we focus on elite competition and most action at that level isn't truly elite. That being said, an actual high school race is often times WAY more interesting than a professional race as high schoolers are inexperienced and don't often race like pros. In your normal pro race, the pros know you've only got one, maybe two moves, so the smart and safe play is just find a good spot and wait to unleash your move late.
Contrast that to high schoolers, where you never know what is going to happen. We remember watching a Millrose mile about five years ago where the leading boys were literally pushing each other to not give up the lead only halfway into the race. They don't always play it 'safe.'
There certainly was some 'non-safe' racing at the World Youths last week as shown by the following two messageboard links:
And in the girls 800, Iceland's Anita Hinriksdottir was initially DQd in the semis of her race before being re-instated to the final where she got the job done as the favorite, earning Iceland's first ever gold: After Semifinal DQ Is Overturned, Iceland's 800m Runner Anita Hinriksdottir Becomes Iceland's First Global Champion In 2:01.13.
It's worth noting that American Blake Haney, who just finished up his junior year of high school, ran 3:44.69 for fifth in the boys 1500 – the 2nd best full 1500 race in US HS history: MB: Blake Haney 3:44.69 for 5th at WYC and number 2 all time HS junior
****
Recommended Reads
*How Pregnancy Changes A Women's Stride For The Worse
*Tyson Gay and How to Clean Up Track
****
Other News Of Note
Nate Brannen Sets New Canadian 2,000m Record At 4:59.66 Previous record was 5:01.57.
****
Quotes Of The Day & Last Week's Homepages:
Note: To see a particular day's homepage, click on the hyperlink of the date. The hyperlink below the date on the quotes will take you to that particular article – not that day's homepage.
---
"I don't have a sabotage story. I don't have any lies. I don't have anything to say to make this seem like it was a mistake or it was on USADA's hands, someone playing games … I basically put my trust in someone and I was let down …
They (my family) already know it is some type of accident, or some type of – I don't want to use certain words, to make it seem like an accident, because I know exactly what went on, but I can't discuss it right now … I've always wanted a clean name with anything. Unfortunately, I have to break this news, that I have a positive 'A' sample. I have to go over everything with USADA first … I'm going to be honest with USADA, about everything, everybody I've been with, every supplement I've ever taken, every company I've ever dealt with, everything."
– Admitted drug cheat Tyson Gay on his positive "A" sample. Clearly there's a lot more to this story to come. If you know more about this or the track and field athletes tied to the Biogenesis scandal, please email us. Confidentiality guaranteed unless a US court of law says otherwise.
---
"I hate to say it but I'll be making sure everything that goes into my mouth has been sealed … In track and field – and my event in particular – there are potential medallists in Russia. … With water and drinks, you've got to ensure they're sealed at all times. Little things like that could make all the difference and I'm too old for any of that bullshit. You just have to be extra careful."
– Double Olympic shot put gold medallist Val Adams admitting she's worried someone from Russia or the former Soviet bloc might try to spike her food.
---
"We argue a lot but that's just our personalities. We don't hold grudges. I win the arguments about 90% of the time."
– Rob Denmark talking about his relationship with British teen sensation Jessica Judd.
---
"Let us not commit ourselves; I'm saying a big No! Everybody will come and run, I have made it clear, we are not exempting anybody!"
– AK deputy-president David Okeyo stating that all Kenyans (except for David Rudisha) that want to compete at Worlds in Moscow must compete at the 2013 Kenyan Trials, including defending champs Ezekiel Kemboi and Asbel Kiprop.
---
"He is progressing on well, but I doubt if he will heal early enough to resume training for the World Championships."
– David Rudisha's coach Brother Colm O'Connell talking about Rudisha's knee injury.
---
"Understand very clearly that the road to senior success is littered with a lot of young phenomenal talents. It's not a given in this sport that being a young star or teenage champion will automatically result in being a senior star. For every Usain Bolt, Allyson Felix, Sanya Richards-Ross and Yelena Isinbayeva, there are a thousand who do not make it. Even if you're the best now, it means nothing going forward. As all those athletes had to figure, there's a gap between junior success and senior success. To have great career, you've always got to be thinking four, five, even 10 years ahead."
"You only have to look around in sport to realise the temptation to cut corners and go the route of doping is always going to be there. I'm a living example of why you should resist. There are people, even ones I've come up against in competition, who took drugs and did it the wrong way. They're now remembered for all the wrong reasons. As a young athlete you're interested in being the best, but all athletes want to be remembered. It's important to be remembered for all the right reasons. Guard your reputation ferociously."
– Former World Champion Ato Boldon giving some very good advice to the youth athletes at the World Youth Championships, which start today in Donetsk, Ukraine.
---
"To run this well and have all the attention that's been bestowed upon her, well I've never encountered anything like it during my time in athletics. There's certainly a heightened interest in athletics post-Olympics and that, combined with the way she runs, how young she is and the fact she is winning races, has meant there's been a real explosion."
"In terms of the attention, the sensible ones know it doesn't last forever, but athletes don't tend to be in this sport to become famous. … They run out of an intrinsic need to satisfy their own ambition and achieve everything they are individually capable of – Jess is no different."
(link fixed)
– Rob Denmark, coach of British 18-year old 800 runner Jessica Judd, talking about the attention she's receiving since going sub-2:00 to win the Birmingham Diamond League and how he doesn't want too much pressure to be put on her at this early stage of her career.
Editor's Note: This story initially was published with no mention of Shalaya Kipp.