2013 Drake Relays Preview: More Than $500,000 in Prize Money Creates Some Incredible Fields Including Stacked Women's 1,500
by LetsRun.com
April 25, 2013
(Note: the times of the races were originally Central time. We've changed them to ET)
"Show me the money."
Article continues below player
One of the most famous sports movie lines has seemingly been adopted by the Drake Relays this year as thanks to the support of Midwest grocery store chain Hy-Vee – the Drake Relays have more than $500,000 in prize money on the line in 2013. And the Drake Relays have a new name – the Drake Relays presented by HyVee.

$50,000 in prize money is devoted to each elite pro race at the meet, with the winner getting $25,000, the second finisher $15,000 and the third finisher $10,000.  That's truly incredible when you consider a Diamond League meeting only offers $10,000 for first.
The road races – a 6-K, 10-K and half-marathon – also got $120,000 in prize money. Various field events get $25,000 per event. All together there is more than $500,000 in prize money for the events which the meet is billing as a "London Games Rematch."
As a result, Drake has some stellar fields.
The biggest from a LetsRun.com perspective is the women's 1,500 where all of the Big 3 from the US -the three Olympians from 2012 in 2011 world #1 Morgan Uceny, 2009 bronze medallist Shannon Rowbury and 2011 world champion Jenny Simpson will compete.
The top two finishers in London aren't at Drake but considering the drug allegations surrounding them that's not a surprise at all. But the bronze medallist from London in 2007 and 2009 world champion Maryam Jamal is in Iowa. Who knows, in a few months she very well might be the 2012 Olympic champion.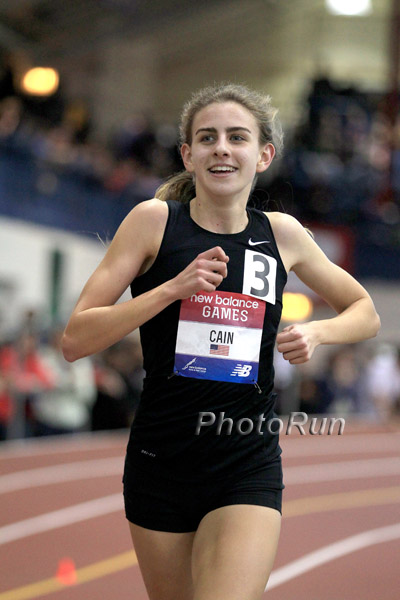 The race also will serve as the return to elite competition for 3:59.59 performer Christin Wurth-Thomas who barely competed at all last year. Can she regain her 2010 form? (when she went sub 4:00).
Former NCAA star for Villanova and Canadian Olympian Sheila Reid, who won the Millrose Mile this winter and was second in the 2 mile at the New Balance Indoor Grand Prix, is competing as is 2013 NCAA indoor mile champ and 2012 US Olympian in the steeplechase Emma Coburn. Former Yale runner Kate Grace, who won the road mile in Des Moines (US Championshp road race) on Tuesday, is also competing as is 2012 Olympic trials fourth placer Gabriele Anderson.
Most of our attention however will be on high school phenom Mary Cain who is making her 2013 outdoor debut after a remarkable indoor campaign during which she ran a 4:28.25 mile and 9:38.68 2-mile and dominated the US indoor championship 1,500.
The full field provided to us by the Drake SID people is can be seen below on the left.
So who wins?
1,500-METER RUN Sponsored by Unilever
London Games Rematch
Women's Special Invitational
8:20 p.m., Friday
Gabriele Anderson, USA
Sarah Brown (Bowman), USA-New Balance
Mary Cain, USA
Emma Coburn, Colorado
Kate Grace, USA
Heather Kampf, USA-Asics
Ashley Miller, USA
Sheila Reid, CAN-Nike
Shannon Rowbury, USA-Nike
Jenny Simpson, USA-New Balance
Renee Tomlin, USA
Morgan Uceny, USA-adidas
Christin Wurth-Thomas, USA
Right away we are discounting two of the bigger names in the field in Morgan Uceny and Shannon Rowbury. Rowbury was only sixth in the road mile on Tuesday and Uceny was dead last in an 800 last week and admits she's not in top shape yet. In that same road mile, Anderson also was only fifth so we are discounting her as well. Despite her NCAA title, we don't think Coburn is really a miler and when we talked to her about Simpson after NCAAs, she acted like Simpson was in another league at 1500 so we are discounting Coburn here.
So that leaves us Cain, Grace, Reid, Simpson and Jamal.
Simpson is the real wild-card as she hasn't raced since returning to the tutelage of her college coach Mark Wetmore who guided her to a 3:59 in college in 2009. Simpson hasn't raced in a long time. Her last race was the 5th Avenue Mile on Sept. 22, 2012, but we looked back at 2009, the year Simpson and Wetmore last worked together, and Simpson came out firing on all cylinders in her first race. She ran 8:53 for 3000 in January 31st and then ran the fastest 5000 in college history at 15:01 a few weeks later. So we expect her to be plenty fit – the only question is will she be ready for the speed of the mile.
With the road mile win on Tuesday, Grace is in the form of her life and is certainly the one to pick if you are looking for an upset as she's also run a 2:01.78 800 this year. Might she be the next Morgan Uceny – a really good Ivy League 800 runner who turns into a 1,500 star? Perhaps, but we fear she might just be happy to be in the race and not expecting to win it.
Reid is one of the few people who beat Mary Cain indoors as she beat her both in the mile at Millrose and two mile at New Balance. Reid comes into Drake after a 2:04.60 800 pb at Mt. Sac last week. So what's there not to like? Well that 800 PR from last week doesn't give us a lot of confidence to pick her. We know it was a PR and she's really an 1500/5k runner, not 800/1500, but it's hard to feel good about picking a woman who was 7th in the B heat at Mt. Sac.
Jamal has been so inconsistent over the few years it's hard to feel good about picking her as well. Also this is her first race of 2013 and she normally doesn't open up this early outdoors on the track (and she normally runs some cross country before running track this which she hasn't done) so that makes us nervous. Additionally, she's not even on the start list that Drake sent us but she is being talked about in the Des Moines paper so we assume she's running. On the plus side, we guess she likely wouldn't travel all the way to Des Moines unless she felt she had a shot at the $25,000. LRC Update Friday morning: We've heard back from Drake – Jamal is out and not participating.
So that leaves Mary Cain.
The last time she raced, she destroyed everyone at USAs in the 1,500 but that field was pretty weak. It would be awesome for the sport if she won and we're tempted to pick her since virtually everyone in the race has a big question mark surrounding them.
LRC Prediction: We have no idea and anyone who says they do is lying. For the sport's sake, we want Cain to win but also think Grace could pull a stunner and Simpson/Jamal can't be discounted. We'll say Cain or Simpson FTW. Remember $25,000 goes to the winner so these women will be plenty motivated.
There are a bunch of other elite pro races which are spread out over Friday and Saturday and we wanted to talk about them briefly. Some of the races are more stacked than the women's 1500 but just a little bit less interesting than the women's 1,500 from a LetsRun.com perspective.
We list the full fields for you at the end of this article but wanted to give you a few highlights to look for. There is a mile with 2008 Olympic silver medallist Nick Willis but that event is the one pro event without the $50,000 in prize money.
In terms of the big $50,000 prize money races, the best is the men's 110 hurdles which features all of the medallists from the 2012  London Games including world record holder Aries Merritt. The women's 100 hurdles is going to be big as well as it has all three of the US Olympians including the silver and bronze medallists from London in Dawn Harper and Kellie Wells as well as local favorite and media darling Lolo Jones. 
Nike makes a lot of its athletes run Penn Relays and that creates some huge financial opportunities for others at Drake.
In the 400, Kirani James is doing duty for Nike at Penn Relays and that likely makes silver medallist Luguelin Santos very happy and likely $25,000 richer. 2004 Olympic champ Jeremy Wariner also is in the field.
The men's 400 hurdles features London silver medallist Michael Tinsley and bronze medallist and 2009 and 2011 world silver medallist Javier Culson. Bronze medallist Zuzana Hejnova came all the way from Czechoslovakia Republic to headline the women's 400 hurdles.
For field event competitors, see this link from Drake.
The Drake Relays will be streamed LIVE on ESPN3 on Friday, April 26, from 7:30-9:00 p.m. and broadcast on ESPN 2 on Saturday April 27 from 8:00-9:30 p.m. (all times Eastern). You can watch the rest of the meet live on the Internet for a fee here.
More: Des Moines Register: Drake Relays: Five elite events to watch this week
*MB: Kudos To Drake – $50,000 per event in prize money – Someone get Brenda Martinez on a plane!!!
*MB: Official 2013 Drake 1500 Thread: Cain vs Uceny vs Simpson vs. Rowbury Thread
Note: Only the races that say "London Games Rematch" Over $50,000 in prize money.
Other Friday Elite Races
110-METER HURDLES Sponsored by Smucker's


London Games Rematch


Men's Special Invitational
Final—7:30 p.m., FridayRyan Brathwaite, Barbados-adidas
Aries Merritt, USA-Nike
David Oliver, USA-Nike
Hansle Parchment, Jamaica-Puma
Jeff Porter, USA-Nike
Jason Richardson, USA-Nike
Andrew Riley, Jamaica-Puma
Ryan Wilson, USA-Saucony400-METER HURDLES Sponsored By ConAgra


London Games Rematch


Men's Special Invitational
7:58 p.m., FridayEric Alejandro, Puerto Rico
LaRon Bennett, USA
Javier Culson, Puerto Rico
Johnny Dutch, USA-Nike
Justin Gaymon, USA
Jamele Mason, Puerto Rico
Michael Tinsley, USA-adidas

400-METER DASH Sponsored by Unilever
London Games Rematch
Men's Special Invitational
8:45 p.m., Friday

Marcus Boyd
Tabarie Henry, Vrigin Islands-Mizuno
Jamil Hubbard, USA
Luke Lennon-Ford, Great Britain
Greg Nixon, USA-Asics
Luguelin Santos, Domican Republic-Puma
Jarrin Solomon, Trinidad
Jeremy Wariner, USA-adidas

Saturday Elite Races
400 METER HURDLES Sponsored By ConAgra


London Games Rematch


Women's Special Invitational
3:15 p.m., SaturdayT'erea Brown, USA-adidas
Jasmine Cheney, USA
Jennifer Grossarth, USA/Italy-Mizuno
Zuzana Hejnova, Czech Republic
Cassandra Tate, USA
Latosha Wallace, USA
Tiffany Williams, USA-adidas
Ellen Wortham, USA100-METER HURDLES Sponsored by Smucker's


London Games Rematch


Women's Special Invitational
3:46 p.m., SaturdayDanielle Carruthers, USA
Kristi Castlin, USA
Virginia Crawford, USA-Nike
Dawn Harper, USA-Nike
Queen Harrison, USA-Saucony
Lolo Jones, USA-Asics
Tiffany Porter, USA
Kellie Wells, USA-Nike

PAT DEVENY MILE RUN (No $50,000 purse)
Men's Invitational
4:00 p.m., Saturday

Miles Batty, USA-Asics
Liam Boylan Pett, USA
Brian Gagnon, USA
Ryan Martin, USA
Emmanuel Bor, Kenya
Tsehay Gebre Getiso, Ethiopia
Silas Kisorio, Kenya
Boaz Lalang, Kenya
Peter van der Westhuizen, Russia
Nick Willis, Australia

*Note: Lalang has won the last 3 years at Drake.

2012 – Lalang, Kenya, 4:04.29
2011 – Lalang, Kenya, 3:58.26
2010 – Lalang, Kenya, 3:56.14
2009 – Webb, Nike, 4:00.61
2008 – Bor, unattached, 4:05.51
2007 – Webb, Nike, 3:51.71