By LetsRun.com
Janaury 1, 2013
To read last week's Weekly Recap, click here.
We kick off the New Year by wondering if Aries Merritt should have been Athlete of the Year before wondering if 2013 will be the beginning of the end for both of the men who dominated 2012 – Usain Bolt and David Rudisha. We then dare to tell you that in reality, the Paralympics and wheelchair racing are over-publicized (not under- publicized as many claim) and tell you about the most insensitive interview ever involving Mo Farah. Plus crazy races in Alaska and yet another gratuitous slam of Lance Armstrong.
****
Aries Merritt – Athlete Of The Year?
There was virtually zero action of note last week as most of the world took the week of Christmas off from competition. The big news was the various publications/organizations naming their athletes of the year. Most seemingly went with Usain Bolt or David Rudisha.
Article continues below player
Track and Field News, for example, named Rudisha its AOY for the 3rd straight year – as he joins Carl Lewis as the only man to have won 3 straight years.
During the week, we were watching the Aries Merritt world record video that was playing on the homepage and wondered, "Could the case be made for Merritt being the AOY?"
We think it could. We decided to compare the year Merritt had versus the year Rudisha had. Here is what we came up with:
Coming into the year, only 10 men in history had run 12.95 or faster. Merritt ran 12.95 or faster 7 times, which means he produced 7 of the 29 fastest times in history.
Coming into the year, the world record in the 110 hurdles was 12.87 and Merritt obliterated that by .07, which is .54% faster than the old record.
Now let's compare that to what Rudisha did in the 800.
In the 800, coming into the year, the 10th fastest man in history had run 1:42.58. Rudisha beat that time 4 times, producing four of the top 17 times in history.
Aries Merritt
World Record Improvement: .54%
# Of Top 10 Performances: 7
% Of Races In Top 10: 50%
David Rudisha
World Record Improvement .10%
# Of Top 10 Performances: 4
% Of Races In Top 10: 57.1%
Coming into the year, the world record in the 800 was 1:41.01 and Rudisha beat that by .10, which is .10% faster than the old record.
Now admittedly, one can race the 110 hurdles a lot more than the 800. Not counting heats, Merritt ran the 110 hurdles 14 times and he put up a time that would have made him top 10 all-time prior to this year in 7 of those races, or 50% of the time.
Rudisha only raced 7 times not counting heats and thus he put up what would have been a top-10 time 57.1% of the time.
We're not saying Rudisha didn't deserve it. He ran a world record – WITH NO RABBITS – on the biggest stage, and thus he deserves it. The no rabbit part is so refreshing and old-school that he basically cinched the award right there.
But given the fact that Merritt brought down the world record by .54%, we think he deserves some major props. If he'd also gotten the world record at the Olympics, we'd say he'd have had to be the world #1.
Even if you go back to the old world record of 1:41.11 by Wilson Kipketer, David Rudisha has brought the 800 world record by a total of .20% as compared to Merritt's .54%.
Merritt clearly brought the record down by a much bigger percentage than Rudisha. But, there is one other thing that makes Rudisha's WR so special besides the fact that it happened in the Olympic final with zero pacemakers –  the quality of the competition.
In the Olympic final, Rudisha beat the #4 (Nijel Amos – 1:41.73), #6 (Abubaker Kaki – 1:42.23) and co-#10 men in history (Timothy Kitum and Mo Aman at 1:42.53), so 4 of the 11 fastest in history. In the 110 hurdles final, Merritt beat the #2 and #13 men in history (Dayron Robles – 12.87 and Jason Richardson 12.98).
More: The Case For Aries Merritt Being 2012 Track And Field's Athlete Of The Year
*David Rudisha Named TFN's Athlete Of The Year For 3rd Straight Year – Joins Carl Lewis As Only Athlete With 3 Straight Wins
*MB: Discussion: Track & Field News' 2012 World Steeple Rankings: Kemboi #3? (Kipsiele Koech #1) Jager Nabs #10
*MB: Discussion: Track & Field News' 2012 World 1,500 Rankings: Kiplagat #1, Makhloufi #4, Centro #5, Manzano #9
****
Looking Ahead To 2013 – The Beginning Of The End For David Rudisha And Usain Bolt?
It seems that most people spent the last week of 2012 looking backwards. Instead, we'd like to look ahead to 2013. What major things can we expect? Predicting the future is always hard but we have a radical notion to throw out there.
The year-end awards show that 2012 seemingly belonged to Usain Bolt and David Rudisha. But when we think about 2013, the #1 thought that comes into our head is, "Could it be the beginning of the end for both Bolt and Rudisha?"
We know that is hard for some people to fathom, but hear us out on this argument.
The Case Against Rudisha
We think the #1 thing that was forgotten about Rudisha's win was the quality and age of the competition.
Imagine for a minute that David Rudisha didn't exist. LetsRun.com would be full of buzz about 18-year-old Nijel Amos, who ran 1:41.73 in the Olympic final – a year after having a PR of 1:47.28.
If that doesn't impress you, realize the Olympic bronze medallist, Timothy Kitum, was only 17 when the Olympic final was run and he ran 1:42.53. If those guys improve much at all, Rudisha is going to have his hands full. And the guy who has beaten Rudisha in each of the last two years and also run 1:42.53, Mohamed Aman? He's only 18 as well.
We're not predicting a Rudisha demise, but the 800 is clearly one of the events people should be most excited about in 2013.
The Case Against Bolt
As for Bolt, people seemingly forgot that he did lose the 100 and 200 at the Jamaican Trials. He is starting to get up there a bit in age and his chief rival, Yohan Blake, is just entering his prime. Blake turned 23 last week on the day after Christmas.
When the World Championships final is run in Moscow on August 11th, Bolt will be 10 days short of his 27th birthday.
Is that past a sprinter's prime? We decided to do a little research to find out.
Age Of Last 10 100-Meter World Record Holders When They Ran Their PRs
Asafa Powell – PR of 9.72 was run at age 25.
Justin Gatlin – He ran his drug-induced 9.77 PR at age 24.
Tim Montgomery – He ran his 9.78 drug-induced world record with a 2.0 tailwind at age 27.
Maurice Greene – He ran his world record of 9.79 at age 24.
Donovan Bailey – He ran his 9.84 WR at the age of 28.
Leroy Burrell – He ran his 9.85 WR at age 27.
Carl Lewis – He ran his 9.86 PR at age 30.
Ben Johnson – He ran a drug-induced 9.79 at the age of 26.
Calvin Smith – He ran a 9.93 at age 22.
Jim Hines – He ran a 9.95 altitude-helped time at age 22.
The stats show there is hope for Bolt, as 4 of the 10 did run their PRs at age 27 or later. Of course, how many of those were helped by PEDs? At least one.
Regardless, it won't be easy for Bolt. Many seemingly forget that Yohan Blake ran 9.69 into a headwind after the Olympics. That's a time Bolt has only equaled or run three times in his career.
Can David Rudisha hold off his young rivals in the 800? Can Bolt hold off Blake in the 100? Those are two of the biggest stories we're looking forward to following in 2013.
What are you anticipating in 2013? Email us and let us know and we'll talk about a few more things to look for in 2013 next week.
****
Non-Politically Correct Thought Of The Week
Last week, the Queen of England released her New Year Honours list and a bunch of Olympic and Paralympic athletes were on it.
Various athletes were disappointed with the awards they got as some wanted to be knighted.
Perhaps, the most vocal dissent came from the Paralympic crowd, which felt slighted. Even though all of the 29 athletes from ParalympicsGB who won gold medals at the Games were given an honor, just like all of the regular Olympic gold medallists, some were upset that some of the muti-Paralympic gold medallists weren't knighted.
As The Telegraph explained:
"Former sports minister Gerry Sutcliffe yesterday joined high-profile Paralympians in accusing the New Year honours committee of making a 'big mistake' in not recognising successful disabled athletes with a higher level of decoration, suggesting they are not on an equal footing with Olympic medallists."
Paralympic athlete David Weir, who won 4 gold medals in London, said the following to the Telegraph:
"Sometimes it seems that Paralympians have to win lots and lots of medals to get a damehood or a knighthood. Kelly Holmes was made a Dame when she won two gold medals, but it seems we have to get into double figures to get it."
LetsRun.com's response?
It's not politically correct to say so, but there is no reason at all why Paralympic success should be on "equal footing" with regular Olympic success. A Paralympian should have to win a ton more medals to get similar recognition.
Before you start getting all emotional and sending us nasty emails, please pause for a second and let us present a few facts.
Few people seem to realize that the Paralympics give out way more medals than the regular Olympics. According to our friends at the Science of Sport blog, in 2012, the Paralympic Games gave out 1,522 medals and 503 golds. The regular Olympics gave out 962 medals (302 gold).
When you add in the fact that there are far fewer competitors, it's obviously WAY, WAY easier to win a medal in the Paralympics versus the regular Olympics. There is no doubt about it.
David Weir winning the 800, 1,500, 5,000 and marathon in the wheelchair races is an incredible feat, but there is no doubt that the level of competition just isn't anything close to the same as for the regular Olympics.
Estimates are hard to come by, but it is believed that less than 1% of the people in the developed world use a wheelchair. Thus just in sheer numbers, there is probably at most 1/100th the amount of competition. When watching a major marathon, we've never understood why so much TV time is given to the wheelchair race. The level of competition isn't the same.
More: New Years honours committee made "big mistake" in not recognising more Paralympic athletes, says Gerry Sutcliffe
*Paralympic gold medallists like David Weir have been snubbed says former sports minister Gerry Sutcliffe
*Former British Sports Minister And UK Paralympians Upset That The Queen's "New Year Honors List" Didn't Have More Paralympians On It
*Article Where We Learned There Are more Paralympic Medals Than Olympic
****
The Recent Action That Did Take Place Was Pretty Crazy
There hasn't been a lot of action of late but the action that did take place was pretty wild. We're trying to figure out which of the three races below is the craziest.
1) A New World's Best For 10k Set While Carrying A 40-Pound Pack
Lee Riley, a former British Royal Marine, recently ran a 10k in 41:24 with a 40-pound pack on his back (to simulate the load one would carry into battle), meaning he now has 40-pound pack world records for 400 (59.48), 1 mile (5:16), 5k (20:01), 10k (41:24), half marathon (1:36:47) and marathon (4:01:17).
More: Man Runs 41:24 10-K Carrying 40 Pounds
2) A Marathon Run In Nearly -30 Temperatures In Alaska
From the Anchorage Daily News, "Dugan Greenwell won the inaugural Willow Winter Solstice marathon, held Saturday in Willow in temperatures that dipped to nearly minus-30. Greenwell completed the 26.2-mile course over mostly frozen lakes and swamps between the Willow Community Center and Red Shirt Lake in 4 hours, 8 minutes, 16 seconds."
LetsRun's thought upon hearing this was simple. Clearly the course wasn't Rupp certified, but was it USATF certified?
More: Alaska's Winter Solstice Marathon Won In 4:08 -30 Degrees Fahrenheit Conditions
3)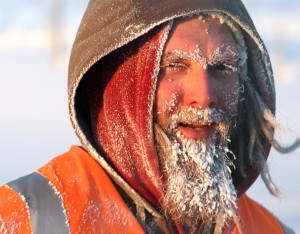 Dawn-To-Dusk Race In Fairbanks, Alaska In -25 to -35 Weather:
When we first saw this, we thought it had topped the Winter Solstice Marathon, as running all day in -25 degree weather seemed worse than doing a marathon, but then we realized in Fairbanks there is only 3:41 of daylight this time of year.
So the winner is #2.
More: Runners chill in Dawn to Dusk: Individuals and teams compete in all-day event
****
Stat Of The Week
Guess what percentage of track and field tickets were sold to the public (the rest go to sponsors, media and VIPs)?
68%.
The stat comes from a Telegraph interactive chart that shows what percentage of seats in all of the Olympic events were sold to the public. We must admit that the media seats at every major event are incredible.
And to the people who get so mad when we poke fun at the race-walk, please note that 84% of the tickets to those events are sold to the public – showing you that sponsors and officials have little desire to see it.
More: British Public Still Fuming That More Than Half The Tickets For Some Of The Biggest Events In London 2012 Were Set Aside For VIPs Includes interactive chart with ticket breakdown for each sport.
****
The Most Insensitive Interview In History
Last week, the British press tried to raise a bit of a stink about Mo Farah being questioned by US Customs officials due to his Somalia background, even though he had both of his gold medals in his luggage. But the alternative, totally ignoring his background, can lead to its own set of problems, as shown by the following Q&A that Farah endured at the hands of Radio Times. It also proves that to many, Christmas has zero religious meaning:
Question: Do you remember your first Christmas in Britain?
Answer: Not really. Nobody really celebrated it in my family because we're all practising Muslims. But soon I couldn't wait for Christmas – as a kid I remember realising everybody gave you cards, then you had to buy cards to give out, too.
Next Question: So, what are you getting your twins for Christmas?
Answer: They've each got one of my medals. They can't have more than that! Aisha has got the 10,000m and Amani has the 5,000m: their names are engraved on them now.
****
Video Of The Week – Mo Farah Runs 12.9 For 100m
Speaking of Farah, he was on the Superstars competition in the UK recently and one of the events was the 100 meters.
His time? 12.9 seconds. We guess he needs a 26-minute warmup to really get ready to run 100m fast as hell.
More: MB: Mo Farah only 12.9 100m time in BBC Superstars Show
*MB: Mo Farah: What could he run for 100m?
****
Quotes Of The Week That Weren't Quote Of The Day
****
#1 –
"Breaking my leg is not the best thing that has happened to me. Going around the world and sharing my experience and my story, inspiring lives … These are the best things that have happened to me. Yeah, breaking my leg got me the attention, but the message behind breaking it is what inspires people. The president shouted me out because he was inspired.
"It was more than just breaking a leg. It should not be viewed in that fashion. I did what I felt like any other person would have done for me. I do not train years for 44 seconds to quit. No matter what."
– US 4 x 400 team member Manteo Mitchell, who broke his fibula 200 meters into his opening leg of the 4 x 400 relay in London. Mitchell, who was a senior at Western Carolina in 2009, also doesn't quit in real life as we want to give him a Thumbs Up for graduating from there in December.
More: Mitchell's break allows him to inspire other
****
#2 – "I remember sitting next to David Rudisha on the (bus) to the stadium on the night he won his gold medal. I took a picture of him and he said: 'Well done for winning the World Juniors'. Allyson Felix also said that to me. I was amazed that she actually knew who I was. And of course the best thing was Usain Bolt coming up to me and saying congratulations as well. I met him in the village and we got talking a little bit."
– World Jr. 100 champ Adam Gemili as quoted in The Telegraph.
More: Adam Gemili, the 18-year-old (now 19) World Jr. champ, had the time of his life at the Olympics and couldn't belive Rudisha, Bolt & Felix knew who he was
****
#3 –  "I am happy with the silver but I know the coach (Maria Mutola) isn't really happy as I didn't do a good job, but you learn from your mistakes."
– Caster Semenya, talking about her Olympic silver medal, which came in a race where she ran a seasonal best of 1:57.23 – nearly 4.5 seconds better than the 9th-place showing she had in Monaco when she ran 2:01.67 three weeks before the Olympics.
More: Caster Semenya's 800 Olympic Silver Medal Was South Africa's Only Track Medal Of The Games
****
Co-Dumbest Quotes Of The Week:
****
#1 – A 2:14 Male Marathoner Saying He Would Have Won Olympic Gold
"I was watching the way our Kenyans were running (in the Olympic marathon) and they could have won the gold. I don't know what happened. If I was there I could have taken it."
– 37-year-old Kenyan distance runner Luke Kipkosgei talking toThe Star. Kipkosgei, who is best known for either winning world indoor bronze in 2003 or short-course silver in 2002, has run three marathons in his career according to the database service we subscribe to. His PR? 2:14:37.
****
#2 – Cycling's Head Dismissing The Candidacy Of Greg LeMond
"(Greg LeMond) may know a little bit about cycling but he knows nothing about BMX, he knows nothing about Africa, I would contend to know a lot more. I can offer the UCI a lot more in terms of what it needs, not just elite cycling."
– Cycling head Pat McQuaid dismissing former Tour de France winner Greg LeMond's bid to replace McQuaid as cycling's leader on an interim basis. McQuaid left out the most important thing that LeMond knows nothing about – looking the other way as doping rots your sport to the core.
More: Irish Examiner: McQuaid dismisses "populist" challenge
****
Anti-Doping News
The best news last week on the anti-doping front came from what didn't happen.
December 27, 2012 came and went without Lance Armstrong filing an appeal of his lifetime ban from the sport which means he's officially been stripped of all of his Tour de France titles and banned from the sport.
In some ways, we wish he had appealed so the few moronic skeptics would see even more evidence of his guilt, but to us Dec 27, 2012 should be remembered as a historic day – the day that the nail was finally put in the coffin of one of society and sport's biggest frauds. But don't think that means we won't hear more from Lance down the road.
We think it's impossible a guy with the ego the size of Armstrong, a man with the gall to use a cancer fight to try to make him seem untouchable on the doping front, will stay quiet forever. And we aren't the only ones who feel that way. His former teammate Tyler Hamilton said the following in an interview published in the German magazine Stern on Wednesday.
"You hear very little from Lance, but I think this will not be a permanent state. I fear Lance will hit back."
"I think he is suffering a lot. He is a very proud person and thinks that – like Atlas – he can carry the whole world on his shoulders. Now everything is gone, the honour and the glory. I think it will tear him apart that he is no longer a hero." 
More: Lance Armstrong Will Not Appeal Lifetime Cycling Ban
*Whistle-blower Hamilton expects Armstrong to fight back
****
Recommended Reads

The Science Of Sport Year-In-Review Quiz We thought our sports knowledge was good until we tried to answer their quiz. A good refresher for those of you struggling with your memory.
Good IAAF Profile Of Arizona University HJer Brigetta Barrett, Who "Emerged From Relative Obscurity" To Win Silver At The London Olympics
Arthur Duffey Inducted Into The USATF Hall Of Fame More Than 100 Years After He Set The 100-Yard WR
****
Other News Of Note:
Desiree Davila Pulls Out Of 2013 Boston Marathon As She's Still Recovering From Her Stress Fracture
2011 European XC Champ Atelaw Bekele Cleared Of Doping Charges Those responsible for the false news that he missed 3 tests, and not one when traveling in Ethiopia, should be sued.
Japan's #1 Male Collegiate Runner Suguru Osako (13:31 5k, 27:56 10k, 1:01:47 Half) Will Be Joining Alberto Salazar And The Oregon Project He'll be running for the corporate Nissin Shokuhin team following his graduation in 2014, but live in Oregon and train under Salazar for the OP.
LRC Runners Recover Better And Hopefully Stay Injury Free With These Two Products From The 2012 Running Event
****
Quotes Of The Day From The Week & Last Week's Homepages:
Note: To see a particular day's homepage, click on the hyperlink of the date on the left. The quote's hyperlink will take you to that particular article – not that day's homepage.
Monday 12/31: "[The] discovery came form Letsrun.com. It's the most comprehensive running website with up-to-date news, and the Johnson brothers do a good job of representing both the female and male sides of the sport. The message boards, like all anonymous comment forums, are another story all together."
"Stanford had a 'no posting policy,' but I used to read the boards in college before I knew better, mostly for a laugh. At first it's this amazing discovery: People are posting about my sport! They have strong opinions! People actually care! But the second you become 'fast,' people start posting about you, with everything from opinions about your training, to a litany of reasons you should be dropped in the middle of the Sahara to die, to debating whether you are 'hot,' 'cute,' or 'lucky to get laid by a zombie.'"
– Lauren Fleshman talking about the LRC message boards and responding directly to a thread (brought to her attention by her marketing and design guy at Picky Bars) which speculated on possible reasons she left Nike, including "She's making about $5M/year from Picky Bars."
---
Sunday 12/30: "We have achieved our goals of the London Olympics, which required both sport and moral excellence."
– Liu Peng, director of China's General Administration of Sports, bragging in his annual report about how the Chinese went 272 for 272 in passing Olympic drug tests.
---
Saturday 12/29: "People come up to me all the time and tell me about where they were when they heard my commentary. They tell me they were watching Mo Farah win the 10,000 metres in all sorts of places, and they can remember exactly what I said. … Any piece of commentary is only as good as the action. I could have done an absolutely brilliant commentary, but if Mo had come second then nobody would have remembered. It was Mo winning that took it all to another level."
– 1984 Olympic silver medallist and now BBC commentator Steve Cram.
---
Friday 12/28: "The world wasn't paying attention to American female high jumpers. They weren't expecting us to get it done because we haven't got it done in over 20 years … I like that nobody was expecting me to medal. And honestly, nobody kept that a secret. Even the girls, the other Olympians, they're like, 'Yeah, you're young. Nobody expects you to medal.' I remember one person told me, 'You're here for fun, and we're out here thinking about how we'll eat.'"
"In my mind, I was like, OK, I understand what you're talking about but, at the same time, I'm hungry, too. It doesn't matter if I'm trying to feed a family or not; I'm still going to go out there and take what's mine. We play to win the game. I was like, man, I trained for this. This is something I've been intentionally working toward most of my life. I deserve this."
– US's Olympic high jump silver medalist Brigetta Barrett talking about how she wasn't considered a medal threat coming into London 2012.
---
Thursday 12/27: "(Because of his injury), Donovan (Bailey) had to be very safe driving from the blocks in Atlanta so his first six steps were terrible and his next six steps he was just trying to feel things out to make sure his leg wasn't going to explode and then from 50 to 70 he did some really good things but then after 70, he did some really stupid things. So when we sat down and did the de-brief, he had to remind me, 'You know I broke the world record and I won the gold,' but I was like, 'Yeah but here were about 12 things you could have done a lot better.'"
– Super coach Dan Pfaff talking about Donovan Bailey's 9.84 WR and gold medal run at the 1996 Olympics.
---
Wednesday 12/26: "We don't think how anyone could think what Mo did this year surpassed 'by far' what Bekele did in 2008. No, what Bekele did in 2008 was clearly more impressive than what Farah accomplished in 2012. There is no doubt about it."
"In 2008, Bekele beat a guy who was already at the time a 5-time Olympic/Worlds silver medallist by 1.6 seconds in the 10k and then came back and ran what we said at the time was the greatest 5k ever run. Largely from the front, Bekele a 12:57.52 5,000, which gave him an unreal 4.98-second margin of victory thanks to a sub-4 last mile (3:57.01 last 1,600) and 2:25.30 last 1k and 53.87 last lap. He beat the best runners in the world in a 5k by nearly 5 seconds with no rabbits. That's ridiculous and clearly the end of the greatest Olympic double in history. End of story, game over."
– Excerpt from our Week That Was where we analyze Alberto Salazar's statements from the previous week when he said that Mo Farah's distance double was the best in history "by far." Our conclusion is that when Salazar made his statement, he simply forgot about Kenenisa Bekele's double from 2008.
---
Tuesday 12/25: "Of course I'll be running (on Christmas Day)! I'm going to run twice, because my rivals will probably only run once, so I'll have done more than anyone else."
– Double Olympic champ Mo Farah talking about his training plans for 12/25/12.
---
Advertisement
The 1:59:40 GOAT shirts are here