2015 Armory Track Invitational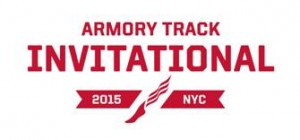 Manhattan, NY
January 31, 2015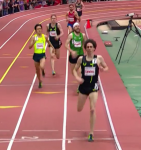 Cam Levins started out with a bang in the first big pro meet in the US in 2015.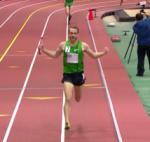 Centrowitz (2:49.47), Berry (46.40), Sowinski (1:47.60) and Casey (3:56.48) all did their jobs perfectly as they crushed the old WR of 9:25.97 set by the 2008 Texas squad that included Leo Manzano. Ireland also dipped under the old WR in 9:25.37, while Kenya was a nonfactor despite a 3:52.33 anchor leg from Lawi Lalang.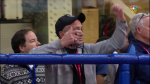 Nice wins by Ajee Wilson and Jordan Hasay at the pro season got underway in full swing.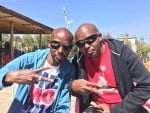 Zane Robertson and Ryan Hall are way more similar than you thought, Alberto Salazar is track's Bill Belichick, Will Claye is not Canadian but good for the sport, the Russian are really good at doping, plus the tweet of the week, fast races on a flat track and more.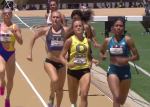 Ajee Wilson, Laura Roesler, Mary Cain and Natoya Goule are all entered in the women's 800. Rupp & Levins will attempt the mile/2 mile double with less than 30 minutes rest and new pros Abbey D'Agostino and Marielle Hall will face Jordan Hasay in the women's 2 mile. The meet concludes with a WR attempt in the DMR (Team USA features Matthew Centrowitz, Mike Berry, Erik Sowinski and Pat Casey).
Team USA DMR has Erik Sowinski, Matt Centrowitz, Pat Casey and Mike Berry. Galen Rupp and Cam Levins are listed in the mile and 2-mile. 800 has Ajee Wilson, Mary Cain and Laura Roesler. Abbey D'Agostino, Jordan Hasay, Treniere Moser and NCAA 5000 champ Marielle Hall in the two mile.
Rupp will also race the Millrose Games on Feb. 14. The last time he was at the Armory (2004) he lost to Josh McDougal in the 2-mile (8:50.40 to 8:54.45).
The meet which will be live on USATF.TV features great distance fields as well with Galen Rupp, Mary Cain, Ajee Wilson, Matt Centrowitz and a WR attempt in the DMR.
Field has teams from USA, Kenya, Ireland, NJ-NYTC, Wisconsin, Villanova, Duke, Columbia and the University of Mississippi. Open athletes competing at the meet include Galen Rupp, Mary Cain, Ajee Wilson and Jordan Hasay.
Outside Letsrun