The Week That Was In Running: February 26 - March 1, 2012
By LetsRun.com
February 29, 2012
This week we offer our condolences to the 6 sub-4 men who won't be at 2012 NCAA champs, unveil a new mystery favorite for the men's 4 x 800 at Penn as this team produced 5 sub-1:49s indoors this year, talk about the good week Ryan Gregson had and the "bad" week (quotes since it's still winter) Nick Symmonds had, stress the importance of recovery and tell you that it's official - the Japanese men's marathoners are better than the US men's marathoners.
****
A Banner 2012 NCAA Indoor Regular Season Is Over - 6 Sub-4 Milers Left Out Of NCAAs
The NCAA last chance meets and Easter champs were held last week and the NCAA field is now officially set.
2012 seemed to be an absolutely banner year in the mid-d and distance races as a ridiculous (and record) 33 men broke four in the mile, as compared to "only" 22 last year. As a result, six sub-4 guys will be sitting at home this year watching the meet on the Internet and talking about it on LetsRun.com instead of competing in it (a bunch of them are running the DMR or the 3k/5k). Last year, only one sub-4 guy, Butler's Kris Gauson, didn't get to compete in some shape or fashion.
The 6 Fast (But Born In The Wrong Year) Sub-4 Guys Who Won't Be At NCAAs
David Forrester - 3:59.13 - FSU
Eric Jenkins - 3:59.18 - Northeastern
Julian Matthews - 3:59.34 - Providence
Kyle Merber - 3:59.44 - Columbia
Jordan Chipangama - 3:59.47 - NAU
Joe Stilin - 3:59.98 - Princeton
But the guys we actually feel worse for are guys like Southern Illinois's Zach Dahleen (4:00.16) and Butler's Tom Curr (4:00.11). They both just missed sub-4s and aren't going either. At least the other six have the sub-4 consolation prize.
But we decided to ask ourselves, "Was 2012 really a much faster year than in years past or does it just seem that way because the mile was so crazy?"
So we did some research comparing last year to this year and on the whole, 2012 was indeed faster, but overall it wasn't a ton faster than 2011. It was just way, way faster in the marquee event of indoor track - the men's mile - and thus people think it was way faster.
For example, the 100th best 3k on the men's side in 2011 was 8:09.37 and in 2012 it was 8:09.18. For the women, the 100th best 3k in 2011 wa 9:32.77 and this year it was 9:32.14.
On the whole, women's running improved more than men's running, which makes sense as women's running is still way behind men's running in terms of international depth.
But check out the following chart. The chart is pretty much self explanatory. (The chart has been corrected since initital publication)
2011 NCAA Indoor Performances
Men
800: #Sub-1:50s: 55
Mile: #Sub-4s: 22
3,000: #Sub-8s: 37
5,000: #Sub-14s: 40

100th Best Performer 2011
800: 1:50.82
Mile: 4:05.85
3,000: 8:09.37
5,000: 14:19.36





Women




800: #Sub-2:06s: 22
Mile: #Sub-4:40s: 20
3,000: #Sub-9:20s: 31
5,000: #Sub-16:20s: 35 





100th Best Performer
800: 2:10.45
Mile: 4:48.23
3,000: 9:32.77
5,000: 16:45.86

2012 NCAA Indoor Performances
Men
800: #Sub-1:50s: 71
Mile: #Sub-4s: 33
3,000: #Sub-8s: 41
5,000: #Sub-14s: 38

100th Best Performer 2012
800: 1:50.84
Mile: 4:04.54
3,000: 8:09.18
5,000: 14:18.28

Women
800: #Sub-2:06s: 27
Mile: #Sub-4:40s: 29
3,000: #Sub-9:20s: 42
5,000: #Sub-16:20s: 33





100th Best Performer
800: 2:09.92
Mile: 4:46.58
3,000: 9:32.14
5,000: 16:45.43

Edge


Men
2012
2012
2012
2011




2011
2012
2012
2012





2012




2012
2012
2011


2012




2012
2012
2012

                                
****
Previewing The Men's 4 X 800 At Penn

Penn Relays Wheel
Earlier in the year, we hyped up the University of Minnesota 4 x 800 squad to try to entice them to go to Penn Relays. Much like college SIDs hype candidates for a Heisman, we here hype up potential great matchups for the sport of track and field to try to create buzz and hopefully motivate people showing up. At the time, we said "The University of Minnesota's 4 x 800 should consider going to Penn Relays to challenge UVA and PSU. Or UVA and PSU could go to Drake."
Well, we'd still love to see them show up at Penn but we're not sure if the team to beat is UVA or PSU. A lot can happen in a couple of months, but with Robby Andrews gone and only one sub-1:50 performer indoors, it's hard to see UVA winning unless they pull it togther a lot more for outdoors. PSU had two sub-1:49s indoors and with Casimir Loxsom on the anchor they'll have a chance.
But who is the team to beat? We started thinking about this earlier in the week when LetsRun.com's Wejo (Weldon Johnson) called up LetsRun.com's Rojo (Robert Johnson) and said, "I had no idea your team was this good (Rojo's team ran the national leader in the 4x800 (which in all fairness is not an event at NCAAs) with 2 of his 3 sub 1:50 guys not running). Could you actually win Penn? I'm buying a sweatshirt and will be sitting there in April."
Rojo knew immediately that Wejo clearly doesn't follow the collegiate scene close enough as there are quite a few teams with more impressive performances indoors at 800. "Have you been following college running lately? It's totally crazy how good everyone is," he replied.
The conversation got us to research the 4x800 more in depth. Guess who might win the 4 x 800 at Penn ...
The old ruler of Penn Relays - Arkansas.
Arkansas coach Chris Bucknam faced an impossible task when he took over from legendary coach John McDonnell. When the Hogs don't do well, particularly in the mid-d or distance areas, he gets slammed, but when they do well, no one seems to give him any praise. So we'll hop in and give some praise.
The Hogs have a great 800 squad this year (and look even better at the 4 x 4) as they had five - yes, five - guys go sub-1:49 indoors this season. Of course, it normally comes down to the anchor as it's really hard to run away from someone on a windy, cool spring day in Philly, so we'd still give the edge on paper to Texas A&M or Minnesota (if they show), but below we give you the top indoor times from the six of the seven schools* that had three sub-1:50 performers indoors, plus last year's champ UVA and runner-up PSU.

*Editor's note: Indiana also had three sub-1:50s during the indoor season - Daniel Stockberger 1:49.05, Ryan Hindes 1:49.59, De'Sean Turner 1:49.73 - so figure them into the mix if they keep it going through outdoors and race in a major relay carnival.
Previewing A Potential 4 X 800 Matchup

Arkansas
18 Lieghio,Anthony JR-3 Arkansas 1:48.58
22 Butler, Drew JR-3 Arkansas 1:48.65
26 Rono, Patrick FR-1 Arkansas 1:48.75
29 Phillips,Duncan SR-4 Arkansas 1:48.79
30 Momoh, Leoman JR-3 Arkansas 1:48.81

Minnesota
1 Abda, Harun SO-2 Minnesota 1:46.97
2 Pachuta, David JR-3 Minnesota 1:46.98
12 Burkstrand,TravisJR-3 Minnesota 1:48.16
24 Hutton, Nick JR-3 Minnesota 1:48.68

Texas A&M
3 Roberts, Joey SR-4 Texas A&M 1:47.14
5 Preble, Michael SR-4 Texas A&M 1:47.52
17 Ramirez, Oscar SR-4 Texas A&M 1:48.57

BYU
16 Waite, Ryan JR-3 BYU 1:48.56
32 Hedin, Justin JR-3 BYU 1:48.83
40 Batty, Miles SR-4 BYU 1:49.17
46 Walker,Shaq. FR-1 BYU 1:49.41

Cornell
37 Admirand, Rutger FR-1 Cornell 1:49.03
61 Weinlandt, Will SO-2 Cornell 1:49.83
65 Wade, Nick JR-3 Cornell 1:49.92

Princeton
31 Callahan, Peter JR-3 Princeton 1:48.82 #
63 Paternostro, Bradley FR-1 Princeton 1:49.91
65 Dinkins, Russell JR-3 Princeton 1:49.92

UVA - Last Year's Champs
62 Roller, Lance JR-3 Virginia 1:49.89
188 Kostelac, Anthony SO-2 Virginia 1:52.33

Penn State - Last Year's Runners Up
10 Loxsom, Casimir JR-3 Penn State 1:47.93
21 Creese, Robby FR-1 Penn State 1:48.64
87 Manley, Connor FR-1 Penn State 1:50.54
****
Melbourne Track Classic - Ryan Gregson Impresses, Nick Symmonds Does Not
Runner A or Runner B - Oldest To Youngest
Last week, Aussie 1,500 sensation Ryan Gregson had a good week as he won the Melbourne Track Classic, defeating the Olympic champion Asbel Kiprop, who lost in Australia for the 3rd year in a row, and Olympic silver medallist, Nick Willis, in the process.
He also had a very entertaining post-race dance after his win, which is a big plus for us, as personalities are so much easier to follow and root for/against than some anonymous fast person who is only known by his PR.
Anyway, Gregson's fine run got us to thinking about all of the great young mile talents out there. We were thinking of bringing back "Runner A or Runner B" where we list vital stats about a runner and try to get you to guess who is who, because sometimes a runner's reputation isn't necessarily in line with his or her stats.
But instead, we are going to play another game - Oldest To Youngest.
Arrange the following 1,500 runners from oldest to youngest. We present them to you in alphabetical order.
Matthew Centrowitz - 3:34.46 PR, 2011 WC bronze medallist.
Asbel Kiprop - 3:30.46 PR, 2008 Olympic and 2011 world champ.
Ryan Gregson - 3:31.06 PR, Aussie record holder, 2011 WC semifinalist.
Silas Kiplagat - 3:29.27 PR (#10 all-time), 2011 WC silver medallist.
Andrew Wheating - 3:30.90 PR, double NCAA champion at 800/1,500 in 2011, 2011 WC semifinalist.
Don't cheat.
Think about it.
Don't scroll down and cheat.
Okay, here we go. In order from youngest to oldest ...
Ryan Gregson - 21 years, 315 days.
Matthew Cenrtrowitz - 22 years, 140 days.
Silas Kiplagat - 22 years, 199 days.
Asbel Kiprop - 22 years, 250 days.
Andrew Wheating - 24 years, 106 days.
The first 4 are all basically the same age as they within a year of each other.
Gregson is 21, Centro, Kiplagat and Kiprop are 22 and Wheating is 24.
And for "What could have been," guess how old German Fernadez is. The guy who ran a 3:55.02 indoor mile back in 2009 is younger than all of them - at 21 years and 125 days old.
Why do we mention this? For a few reasons.
1) To point out what a phenom Asbel Kiprop was/is.
Olympic 1,500 champ at agg 19. No reason to say anything else.
2) To point out the bias people have when hearing about a young African phenom.
Do we think there is rampant age cheating going on in Kenya? Yes. Does that mean everyone should be doubted? No. On the world scene, Matt Centrowitz came out of nowhere to nab bronze in 2011. Similarly, the year before, Silas Kiplagat came out of nowhere to run 3:29.
3) To point out how difficult it's going to be for the likes of Centrowitz/Gregson to rise to the top of the world.
We're sure there are a ton of Aussie and US fans who - when the topic of Centro or Gregson comes up - think to themselves, "It's so great. They are so young."
Well, guess what. So is are their chief rivals - including Kiplagat and Kiprop. It's hard to believe that Gregson, the young phenom, is less than year younger than the 2008 Olympic champ.
****
Symmonds Struggles
One person who didn't have a good run at the Melbourne Track Classic was American Nick Symmonds. The US's #1 800 man, who has been in the finals of the last two World Champs, had his 2nd straight subpar showing at 800, as he followed up a 1:47.44 season opener with a 1:48.03 in a race that was won in 1:44.93.
The week after Nick's season opener, we talked about how Nick's medal chances were falling. Perhaps what Nick and his fans didn't realize because we didn't write that clearly is that we were mainly arguing that his medal chances were falling because the man who was one spot behind at Worlds seems to really be coming into his own this winter, and not necessarily because Nick isn't running well. This winter, 22-year-old Adam Kszczo has become the 3rd-fastest indoor performer in history at 800 with his 1:44.53 and 2nd-fastest ever at 600 with his 1:15.12. When you're trying to be top 3 in the world versus top 8 it is a very fine line and a numbers game. If one guy moves ahead of you it becomes that much harder to medal.
After his season opener, Symmonds tweeted: "someone should remind them (LetsRun.com) its February. Last I checked the Games are still in August."
After the tweet, we explained our thinking on the message board but we bring it up here again to a larger audience. The fact of the matter is Nick is correct - it doesn't really matter what he runs in February or March, as there is plenty of time to basically start totally over and get ready to peak for the OTrials and Olympics. If one was truly just doing base building, the time would be totally irrelevant. It's clear however that Nick didn't go down to Australia expecting to only run 1:47-48 as he tweeted after the second race, "Another terrible race tonight. I'd be worried if I didn't have one of the wisest coaches in the game. I know Row will find the problem!"
(Nick's first race was not a terrible race in our mind. He just didn't have a kick the last 100m. In his second race he was soundly beaten which wasn't surprising since he faced Rudisha. However, Symmonds ran 1:48 instead of 1:46.)
Is there reason to be a little concerned? Yes. Is there plenty of time to correct it? Yes.
For the most part, running to us is all about progression. Progress in your training from year to year and progress in your times from year to year.
Thus, while some people on the message board last week were criticizing Nick's fellow 2011 World Championships team member at 800, Charles Jock (1:44.67 PR), for his 1,500 season opener last week of 3:53.44, we were thrilled with it. Some, including "ice cream scooper," thought a 1:44 perfomer should be able to do something better than a 4:11 mile equivalent: "That time is piss poor for a runner of his caliber." But to us, it just shows they don't really understand running at all.
For starters, 3:53 is plenty fast for a pure 800 guy like Jock. Don't believe us? Well, realize that his 1:45 conference rival Ryan Martin opened up in the same race and he ran 3:57 (previous PR 3:59).
Jock last year opened up in 3:57. This year, he's more than 3 seconds faster (and he won by a lot as well), so why wouldn't people be encouraged? He's clearly progressed a lot in his fitness and assuming he's been doing similar training and not forcing things, he seems poised for a big year.
That same type of thinking would lead one to conclude that since Symmonds is way behind where he was last year, that he might struggle this year. But that's way too big of a jump to make. There is a ton of time between now and the OTrials and Olympics and Symmonds has a good coach and the two have a track record of producing consistently good results, as Symmonds has run between 1:43.76 and 1:43.83 each of the last 3 years. People can turn things around much quicker than that. Don't believe us? Well, realize that last year, Asbel Kiprop ran a 1:49 800 at the end of June in Europe and was written off by many. Two months and a day later, he was the world champ.
If Tom Brady throws a bunch of picks in a pre-season game, we doubt Patriots fans worry too much. But people's actions are scrutinized a great deal in an Olympic year, so it will be interesting to see what happens the next time Symmonds toes the line.
More: *Results *Gregson's Finish Line Dance
Day 2: Mottram Is Back, Wins 5k; Rudisha Cruises In 800 (Symmonds Struggles), Pearson Impresses
Day 1: Ryan Gregson Wins And Does A Dance As Kiprop Falters For 3rd Year In A Row - Torrence 2nd, Willis Third
MB: Symmonds ran 1:48 in Melbourne, Sure, it's March Nick, not August! *Mottram wins 5000m *Gregson's Finishline Dance *LEER 13:36!!!!!!!!!!!!!! *Gregson is back!!! (def. Kiprop, etc)
More From The MB: *Nick Symmonds Tweet: Someone should remind them (Letsrun.com) it's February
*Adam Kszczot, the real deal! *Adam Kszczot Training *Adam Kszczot - 1:15.26 - 1:45.44 - is coming to form
****
Weekly Free Training Advise - Recovery Is Key
This week's free training advise comes from a Running Times article on triathlon coach Matt Dixon, who has been an influential advisor to US marathon star Ryan Hall.
One of the things that many super-motivated distance runners, the type of people who visit LetsRun.com, fail to do in their training is recover. As Dixon says,
"Our goal is not to train as hard as we can, but to perform well. And to perform well you have to be very fit, but not fatigued.

Recovery is the thing that enables hard training. If you're rested and fueled, you can you push yourself to new heights in key workouts and increase fitness."
LetsRun.com co-founder Weldon Johnson, who never broke 30:13 in college but ran 28:06 post-collegiately, certainly agrees with Dixon that far too many collegians don't recover enough and have their best races at Wednesday's practice instead of Saturday's race. One of the more popular pieces ever on LetsRun.com was his piece focused on this concept and entitled: Why I Sucked in College.
But let us be clear about one thing. People who read Weldon's article or Dixon's may fail to grasp a simple concept. Neither is saying you don't want to train hard. The goal of training isn't to go easy - it's just to go easy and recover when you need to so that you can train hard and then reap the benefits of that hard training. Dixon says there are four pillars of performance: endurance (or workouts), recovery, nutrition and strength.
"I talk a lot about recovery because that's what's often missing [from people's training]."
But he believes all four pillars must be treated equally if you want to maximize performance.

More: The Recovery Approach: Matt Dixon has helped turn over-trained athletes back into competitive machines, Ryan Hall among them. Here's how.
****
Japanese Olympic Trials Prove Japanese Men's Marathoners > US Men's Marathoners
The Japanese Olympic marathon selection is different than what occurs in the US. In Japan, there are three official selection races. The last of the three for the men was held over the weekend in Lake Biwa. The official Japanese team hasn't been released yet, but we bet a bunch of Japanese marathoners are thinking, "Man, I wish I was in the US. I might have made the team."
The Japanese Trials were better than the US trials on the men's side no matter how you look at it. There were 4 sub-2:09s in Japan. Zero in the US. 9 sub-2:10s in Japan. 4 in the US. 15 sub-2:11s in Japan. 4 in the US.
Comparing The 2012 Japanese And US Olympic Marathon Trials Results

Sub 2:11s at Japan Trials
2:07:48   Arata Fujiwara                 Tokyo  
2:08:38   Kazuhiro Maeda                 Tokyo
2:08:44   Ryo Yamamoto                   Lake Biwa	
2:08:53   Kentaro Nakamoto               Lake Biwa
2:09:12   Tomoyuki Morita (Debut)        Lake Biwa
2:09:16   Takashi Horiguchi              Lake Biwa
2:09:28   Takayuki Matsumiya             Tokyo
2:09:55   Masashi Hayashi                Lake Biwa 
2:09:57   Yuki KAWAUCHI                  Fukuoka
2:10:02   Takehiro Deki(still in college)Lake Biwa 
2:10:04   Ernest Kebenei                 Lake Biwa
2:10:05   Hiroyuki Horibata              Lake Biwa
2:10:06   Ruggero Pertile                Lake Biwa 
2:10:13   Takeshi Kumamoto               Tokyo  
2:10:32   Imai Masato 		         Fukuoka

Sub 2:11s at US Trials 
1 2:09:08      Meb Keflezighi
2   2:09:30      Ryan Hall
3   2:09:47      Abdi Abdirahman
4   2:09:55      Dathan Ritzenhein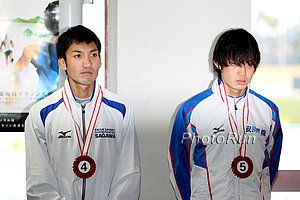 Now that list is a little bit misleading, as there was enough time between the first selection race, Fukuoka, in December and the last one, Lake Biwa, in March that if one was subpar at Fukuoka they could try again at a later race.
That's exactly what happened for the #2 guy on that list - Kazuhiro Maeda - who ran 2:11:46 in Fukuoka and 2:08:38 in Tokyo. Apparently, the Japanese selectors aren't fans of runners who tried twice, as one JAA official told The Asahi Shinbum: "We like his (Maeda's) determination, but we need runners who can compete at the Olympics, not someone who runs with the goal of being selected for the Olympics."
So who is going to be selected to the team?
Obviously 2:07:38 man Arata Fujiwara is a lock. And there seems to be a consensus that the #1 Japanese man at Lake Biwa is going as well - 2:08:44 performer Ryo Yamamoto.
So that leaves the #3 spot open. Well, LRC hero Yuki Kawauchi was the #1 man at the 1st selection race, Fukuoka, so he is still in the mix even though his time (2:09:57) was "slow."
Japan Running News' Brett Larner says the following 4 are still in contention:
Kazuhiro Maeda: 6th overall & 2nd Japanese, Tokyo, 2:08:38; 6th overall & 3rd Japanese, Fukuoka, 2:11:46
Kentaro Nakamoto: 5th overall & 2nd Japanese, Lake Biwa, 2:08:53; 10th overall & 2nd Japanese, Daegu World Championships, 2:13:10
Yuki Kawauchi: 14th overall & 9th Japanese, Tokyo, 2:12:51; 3rd overall & 1st Japanese, Fukuoka, 2:09:57; 18th overall, & 3rd Japanese, Daegu World Championships, 2:16:11
Hiroyuki Horibata: 11th overall & 7th Japanese, Lake Biwa, 2:10:05; 7th overall & 1st Japanese, Daegu World Championships, 2:11:52
How you pick between them is beyond us. That's why a single selection race is just way easier.
To be truthful, if the JAA official is going to be held to his above quote, then we'd say don't take the #1 Japanese runner in Lake Biwa, Yamamoto.
We know that's blasphemy, for in the US, Yamamoto would be the ultimate Olympic Trials success story. He ran his own race and only became the #1 Japanese guy in the last 400m when he passed Kentaro Nakamoto on the track. There's nothing more epic than a final 400m passing to nab an Olympic spot.
But others tried to run way faster and died to slightly slower times, but they might have a better chance of finishing higher in London. If you are looking for who has the most potential, then it becomes just very messy and makes us thankful that we have the one-race, cutthroat US Trials system.
More: *Lake Biwa Recap "I was just chasing and chasing," Yamamoto said. "I was not ready to run with the leaders when the real racing started at 25Km, so I decided to run my race and was just hoping that the leaders would come back to me. When I was getting closer (to the Japanese in front of me) I kept on chanting 'Olympics, Olympics' in my heart and kept on pushing."
****
Quote Of The Week (That Wasn't Quote Of The Day) / Dai Greene Embarrasses Himself /And We Defend LaShawn Merritt
"If I'm in the relay team and we reach the final then there's every chance we'll be lining up against (LaShawn) Merritt. I'll tell you now, I'll happily go and find him at the start and tell him to his face: 'You're a cheat and you shouldn't be here.'"

- 2011 400 hurdles world champ Dai Greene of the UK talking to The Daily Mail.
Now LetsRun.com is known as being a leader of the anti-doping movement, but to us the quote is ridiculous. It just shows that Dai Greene knows next to nothing about the Merritt case. And since a fellow competitor seems to know next to nothing about the case, we figured that much of the public probably doesn't know anything either and we want that to change. So read on.
Yes, probably since the day after the modern drug test was invented, athletes have been coming up with creative excuses for testing positive. But that doesn't mean some of them aren't true.
In this case, anyone that has red the arbitration report on Merritt would know the following:
At his hearing, Mr. Merritt proved two things beyond a reasonable doubt: (i) he tested positive as a result of ingesting a product, ExtenZe, he purchased at a 7 Eleven store and (ii) he did not purchase this product to enhance his sports performance. His evidence was so convincing that the United States Anti-Doping Agency ("USADA") agreed that Mr. Merritt's positive tests were caused by ExtenZe. This is significant for a number of reasons, one of which is that it is vital to the health of sport that Anti-Doping Organizations acknowledge when they believe accidental ingestion takes place.
That to us says it all. Lawyers have determined beyond a reasonable doubt that Merritt did not cheat.
Yes, he took a banned substance (he tested positive for it 3 straight times, so it's clear he wasn't trying to hide anything). But he took it to try to be better in bed in the middle of his first off-season break in 2 years.
By definition, Merritt is not a cheat.
Wikipedia defines cheating as follows: Cheating refers to immoral way of achieving a goal.
Merriitt clearly didn't do that (in the T&F sense) by taking ExtenZe. What athletic goal did he achieve? None.
Dictionary.com defines a cheat as "a person who acts dishonestly, deceives, or defrauds:" That, too, doesn't apply to Merritt, as he didn't defraud anyone or act dishonestly. He publicly humiliated himself by admitting that he wanted a little boost in the bedroom.
We are as hard-core anti-dopers as anyone, but it's very important that the anti-doping movement be done with the correct spirit.
We think athletes who intentionally dope to enhance T&F performances should be banned for life. In this case, his 21-month suspension for negligence was a steep enough punishment. He doesn't needed to be ripped in the press by an ignorant fellow competitor.
We wish the UK press was as hard on their own as they are on Merritt. To us, what 2008 Olympic 400 champ Christine Ohuruogu did was way worse than what Merritt did. Ohuruogu missed three out-of-competition drug tests and was hit with a one-year ban.
Lawyers have determined that Merritt was negligent but not a cheat. With Ohuruougu and the missed tests, we'll never know if she was a cheat or not. Did she miss the tests on purpose as she had something to hide or just because she was lazy? We'll never know.
(We know the skeptics might think the 7-11 thing is a complicated ruse developed by Merritt and that all cheats might in the future say they were taking ExtenZe. We thought this at first, but the panel and USADA who was prosecuting Merritt both found he actually took ExtenZe. The artibtration report says, "In essence, the unique ingredients in the ExtenZe product are consistent with what was found in Mr. Merritt's samples" and "USADA agreed that this was an accidental ingestion case.")
We went back through our archives and tried to see if we ever called Merritt a drug cheat. We see a small headline Drug Cheat LaShawn Merritt Still Hoping To Be Able To Compete At Olympics By Fighting IOC's Regulation After Being Banned 21 Months in 2011 and in 2010 we had we called him a "confirmed drug cheat" on the homepage which prompted this thread on our forums.
We clearly owe LaShawn an apology. He's not a drug cheat in our opinion, USADA's opinion or the arbitrators opnion. Yes he broke the rules, yes he has a drug offense on his record. Yes he was incredibly stupid. Feel free to make all the extenZe jokes you want, like we did here, "LaShawn Merritt Extenze Himself To 500m". Just don't call him a cheat.
(If you disagree email us, we used to assume a drug conviction automatically made you a cheat, but now see that's not the case)
More: Dai Greene Of The UK Says He'll Happily Tell LaShawn Merritt He's A Cheat To His Face *Merritt Arbitration Ruling
****
Other Happeneings Of Note
You Know The Sport Is In Trouble When Even The Athletes Don't Follow It 3-Time World LJ Champ Dwight Phillips: "I don't really follow the results a lot. ... I feel like if I am not competing it doesn't matter to me. I am a big fan of sport in general and I enjoy watching competition when I am there but when I am not there it's kind of out of sight out of mind. I especially follow basketball and NFL football."
LRC Robby Andrews Leaves UVA Track Team LetsRun.com has learned that the two-time NCAA champ's incredible NCAA career at the University of Virginia has come to an end. What a career it was - bookended by NCAA titles. It started with an epic .01 win over Andrew Wheating and ended with an epic 1:44.71 - .04 win over Charles Jock. Andrews has not officially gone pro, but that seems to be the likely next step.
*UVA Release
*Humorous: Robby Andrews Career Decision Flowchart
MB: Robby Andrews No Longer Running for UVA *Is There Any Chance Robby Andrews Transfers? *Robby Andrews to Oregon Project?
9.85 Sprinter Mike Rodgers Gets Banned - Or Does He? - 9 Month Ban Means He Can Still Do OTrials Rodgers gave misleading statements but still only got 9 months because all he apparently took was Jack3d. Rodgers is no slouch. He did run 9.85 last year.
MB: Rodgers tests positive
****
Recommended Reads/Listens
*Interesting Read On 21-Year-Old Japanese College Student Takehiro Deki, Who Is Running Lake Biwa Marathon
*A Brief Chat With 2012 US XC Champ Bobby Mack The 28:11 performer still runs for the local running store as the shoe companies only go for guys who were great in college. Wejo can relate. When you break his 28:06 PR, we'll sponsor you.
*A Brief Chat With US Indoor 800 Champ Erica Moore The former multi athlete wanted to go to grad school in CO but thankfully her funding fell through and she ended up at Tennessee, where with the help of JJ Clark she has turned into a star even though she can't break 12:00 for 2 miles.
*Meet The Triathlon Coach Who Taught Ryan Hall He Needed To Recover More Dixon seems to be a smart guy who had one triathlete cut his "volume by 30 percent, added easier workouts and had him eat more." We'd say that would help 90% of all distance runners if only instead of cutting their volume by 30%, they increased it by 30%. "Our goal is not to train as hard as we can, but to perform well," Dixon says.
****
Quotes Of The Day From Last Week / Last Week's Homepages
Note: To see a particular day's homepage, click on the hyperlink of the date on the left. The quote's hyperlink will take you to that particular article - not that day's homepage.
Monday 3/4: "I was just chasing and chasing. I was not ready to run with the leaders when the real racing started at 25Km, so I decided to run my race and was just hoping that the leaders would come back to me. When I was getting closer (to the Japanese in front of me) I kept on chanting 'Olympics, Olympics' in my heart and kept on pushing."
- Japan's Ryo Yamamoto, who had a 3:44 PR to run 2:08:44 at the Lake Biwa marathon over the weekend, overtaking top Japanese honors on the track in the final 400m to likely secure himself a 2012 Olympic berth.
---
Sunday 3/3: "It's amazing that more people have climbed Mount Everest than have broken the 4-minute mile."

- Roger Bannister in a long profile on him by the Associated Press. Bannister is still sharp as ever at 82 years of age. He hasn't been able to run however since 1975 (when he was 45) which bums him out. Britain is trying to figure out if Bannister will light the Olympic cauldron. If you haven't read Bannister autobiography get it here.
---
Saturday 3/2: "We wanted to do something different to try to beat him (Bernard Lagat). Historically, everybody does the same old things, and he just hangs back and uses that kick. We tried to do something different. Galen has been training at altitude. Bernard has not. We wanted to make the pace harder."
- Alberto Salazar talking about why he had Galen Rupp take it out so hard in Albuquerque last week. Salazar blamed himself for Rupp's 3rd place showing as they underestimated Lopez Lomong but we very much respect their attempt to win."
---
Friday 3/1: "You've got five to eight years left in this (sport) for yourself, and after that you'll have another 60 years to do whatever you want with your life. And for something that's so time limited, if I don't put everything into it, I know those regrets are going to far outweigh whatever else I'm doing."
- 4:12 1,500m runner and World XC competitor, Kate Van Buskirk, sharing the advice given to her by Duke coach, Kevin Jermyn. In this video by Michael Del Monte, titled "Competitive Running: a woman's perspective," Canadian runners Sheila Reid, Megan Brown and Van Buskirk share their thoughts on running and "give advice to those who are weary about chasing their dream."
---
Thursday 2/29: "You cannot give up.

If today was a bad day then you must look to tomorrow, and then to think of next year. There is no other choice."
- Haile Gebrselassie's advice to LRC cult hero Yuki Kawauchi after Geb found out Kawauchi shaved his head in penitence following Kawauchi's 14th place finish in Tokyo. Kawauchi will run another marathon in Düsseldorf on April 29th. The big question is whether (and where) Geb tries again to qualify for London.
---
Wednesday 2/28: "I've not seen him like this before. 'He's in more serious training than I've ever seen. He was last over here in December. He's just training. He's so focused."
"Some of his rivals, Asafa Powell and Tyson Gay, have got to train too hard to keep up with him. But Usain is training with Yohan Blake and he is pushing him on. He'll be looking to run 9.4 seconds or something like that in London."
- Usain Bolt's father, Gideon Bolt, talking about Bolt's focus and prospects for London 2012. Word is he's not partying and is training hard. Could we see a new WR in London?
---
Tuesday 2/27: "I could run another marathon in two weeks. I felt fantastic here for the first 30 kilometres, then had some problems at the end of the race. Sometimes you are too ambitious. This can happen. My target was 2-05 today but it didn't work out that way. On the last downhill, I started to get some pain in my back. The last 5km was the worst I've ever run."
- Haile Gebrselassie speaking after his disappointing 4th-place finish at the Tokyo Marathon, indicating he hasn't given up on gaining selection for London 2012. The question now is which marathon will he choose. It can be assumed he won't do London in April, as he has previously said he would never run London in the spring after he had to drop out in 2007 due to the high pollen count and his allergies. As it stands, he sits 22nd on the Ethiopian Olympic marathon list and would need 2:04:54 to break into the top 4.
---