The Week That Was In Running: January 30 - February 5, 2012
By LetsRun.com
February 8, 2012
The big action on the track was the second stop in the Visa Championship Series, the New Balance Indoor Grand Prix in Boston. We give a few more impressions on that meet, then turn to the roads, talk about a crazy half marathon in Japan, give an update on Minnesota's great middle distance team, and throw in some training advice and drug talk.
****5 Thoughts About The 2012 New Balance Indoor Grand Prix
1. Women's 800: And the Winner is Third Placer Fantu Magiso
The women's 800 was a fun race to watch. On the last lap, Ethiopian teenager Fantu Magiso faded and Maggie Vessey came up late on the inside and was given the victory in the same time as Erica Moore at 2:02.37. After watching the race on TV, we have a few comments.
We'll start by sharing with you the official results and the "unofficial real" results in our view.
Official Results
1 MAGGIE VESSEY USA 2:02.37 [2:02.361]
2 ERICA MOORE USA 2:02.37 [2:02.365]
3 FANTU MAGISO ETH 2:02.57
4 NICOLE SIFUENTES CAN 2:03.35
5 LATAVIA THOMAS USA 2:03.90
6 AJEE WILSON USA 2:07.37
DNF STEPHANIE CHARNIGO USA

"Unofficial Real" Results
1 FANTU MAGISO ETH 2:00.57
2 MAGGIE VESSEY USA 2:02.37 [2:02.361]
3 ERICA MOORE USA 2:02.37 [2:02.365]
4 NICOLE SIFUENTES CAN 2:03.35
5 LATAVIA THOMAS USA 2:03.90
6 AJEE WILSON USA 2:07.37
DNF STEPHANIE CHARNIGO USA
We're surprised no one noticed what happened on the first lap. If you watched the ESPN2 broadcast, you probably remember that the commentators were commenting about how hard Fantu Magiso ran on the first turn of the first lap. But what they didnt' realize is she ran WAY longer than everyone else. At the start, there competitors were in two boxes with four on the inside and three in the outside box who ran the first turn outside of lane four. Each box was technically in a waterfall but someone didn't explain that to Magiso.
Magiso had probably never run a race where the 800 runners didn't start in lanes. She was competitor #4 and the officials had them lined up so that each person was lined up in their own lane on the inside. #1 was in lane 1, #2 in 2, #3 in 3 and #4 in 4. Magiso should have cut in immediately but she didn't, as there were cones lined up ahead of her in lane 4 for the outside box. When the race started, Magiso stayed in her lane and ran around the cones on the first turn which were on the inside of lane 4. She ran a ton of extra ground - rougly 12 meters. Her first 200 was covered in about 28-flat but in reality that is a 26-flat as it cost her about 2 seconds extra in just distance alone and more than that in effort due to the fast start.
One other thing about this race - while it was an encouraging result for Vessey considering she complained of a less than perfect fall training period, we're not sure she shouldn't have been DQed for bumping Magiso, as she passed her on the inside just before the finish line.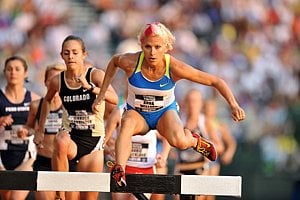 2. Women's 1,000 - There's Some Hope For Anna Pierce Fans
The week before last at the US Open, former 3:59 1,500-meter runner and world #2 at 800, Anna Pierce, ran 4:39 in the mile and looked very rusty at a minimum. After that race, we said we'd soon find out whether or not Pierce was simply rusty or still showing the bad form that hampered her all of 2011 when she didn't break 4:10.38 in the 1,500. Well, last weekend in Boston, Pierce had a better result, as she ran 2:38.91 for the 1k.
That time is certainly encouraging.
In our estimation, that equates to roughly 2:01.5 for 800 and 4:12.0 for the 1,500 (4:32.3 for the mile). Nothing spectacular, but that's close to the best form she showed in all of 2011. However, she still faces an uphill battle to make the US Olympic team at 1,500 in 2012. In the Boston 1,000, she finished behind her training partner Morgan Uceny. Also in Boston, Shannon Rowbury ran 8:55 for 3,000 and that equates to probably 4:07-8 in the 1,500. World champion Jenny Simpson faded to an 8:58 3,000 but easily could have run 8:55 if she had not tried to chase after Meseret Defar. So already, Pierce is behind three potential US Olympians at 1,500 and there still is Christin Wurth-Thomas to consider. The US is by far the best country in the world at women's 1500m running right now. Pierce, Wurth-Thomas, and Simpson all have run sub 4, Rowbury got a bronze medal in 2009, and Uceny was the World #1 last year. Two of them won't be on the team.
3. Men's Mile - It Was Disappointing That Mo Farah Fell Because We Wanted To See How Galen Rupp's Kick Stacked Up Against Farah's, But We Think We Know
2011 5,000m world champion Mo Farah got knocked down in the first 200, sprinted and caught up to the field but had little left over the final stages of the races. We were disappointed that we didn't get to see Farah battle Rupp over the final stages of the race because if Rupp is going to medal in London this summer, Rupp's going to have to kick with the likes of Farah and we wanted to have an early-season preview of what we might expect.
However, considering that Rupp closed in 59.63 over the final 400 and Farah outkicked 3:50 miler Augustine Choge a few weeks ago in Britain, we think we know what would have happened. Farah would have beaten Rupp.
That being said, we thought Rupp looked very strong as he forced the pace throughout and this was his first race of 2012.
4. One More Thought on the Women's 2 Mile 3000m Debacle
We were highly critical of the meet for staging a women's 3000m with most of the top competitors including Meseret Defar and Jenny Simpson and then also a women's 2 mile primarily for arguably the greatest female distance runner ever Tirunesh Dibaba. The 2 mile and 3000m are basically the same race and should never be held at the same meet. On having the two-mile for Dibaba, race director Mark Wetmore said:
"While Tirunesh is healthy and rounding into very good fitness, this will be her first track event since August, 2010. We had already lined up a strong field for the women's 3,000m with a great race expected between Jenny Simpson, Meseret Defar and Shannon Rowbury. I just didn't think it would be fair to Tirunesh to throw an athlete of her caliber into a situation where she would be at a distinct disadvantage given her recent injury layoff and lack of recent track races. But we really wanted her at the event, so we made an additional race. If you are in the arena, you'll see the world's best 3,000m and the bonus will be a chance to watch Tirunesh take some big steps back to the top as she prepares to defend her Olympic titles in London. She has set two World Records in Boston so the fans know and appreciate her at the Reggie Lewis Center."
Even if we disagree with it, we understand the argument that Dibaba in basically an exhibition 2 mile is better than no Dibaba at all. So what actually happened in Boston? Dibaba won the 2 mile by 30 seconds in 9:21.60 nearly lapping the field running the last 10 laps by herself. Using the accepted .926 2 mile to 3000m conversion that equates to an 8:40.1 3000m. In the women's 3000m, Defar crushed the field running the last 6 laps by herself. So how would have the "disavdantage(d)" Dibaba done in the women's 3000m? Perfectly fine.
1 MESERET DEFAR ETH 8:33.57
2 TIRUNESH DIBABA 8:40.1
3 GOTYTOM GEBRESLASE ETH 8:46.01
4 SIHAM HILALI MAR 8:46.17
5 SARA HALL USA 8:54.75
6 SHANNON ROWBURY USA 8:55.06
7 LIZ MALOY USA 8:58.30
8 JENNY SIMPSON USA 8:58.70
Catering to athletes at the expense of competition does not benefit the sport. Imagine how much more interesting the 3000m would have been with Dibaba in the field. And don't let our criticism of the two-mile let you think this isn't a great meet. It's consistently the top distance meet indoors in the US. That doesn't mean it can't do things better.
5. Don't Forget the Name Calib Ndiku He won the 3000m over Silas Kiplagat and Dejen Gebremeskel. Kiplagat was world #2 at 1500m last year and Gebremeskel got the bronze medal at 5000m last year (and beat eventual world beater Mo Farah at this race last year with one shoe (video here)) Ndiku is officially only 19 years old and world junior XC and 1500m champ.
Up next a great matchup in the mile in Arkansas this weekend vs Kiplagat, American Leo Manzano and 3:29 Moroccan Amine Laalou. More on Ndiku's win here.
RRW Fast Times, Drama At New Balance Indoor Grand Prix: Maggie Vessey (W. 800) was the only American winner in pro mid-d or distance races, as Dibaba (W. 2-Mile), Defar (W. 3k), Ndiku (M. 3k), O'Lionaird (M. Mile, pictured on left) and Lakhouad (W. 1k) win other races.

LRC Event-By-Event Recap Of The 2012 New Balance Indoor Grand Prix *LRC Meet Photos

Disclosure: The NBIGP was an advertiser on LetsRun.com
****World Record Holder Patrick Makau Gets Beat by Spaniard Carlos Castillejo
Patrick Makau has run 2:03:38 in the marathon which means he averaged 1:01:49 for each half marathon. Last week at the Granollers Half Marathon in Spain Makau couldn't run one half-marathon that fast as he ran 1:02:40 to be beat by 2:10 Spanish Marathoner Carlos Castillejo.
Should you be concerned for Makau? Not at all. As his management group Posso Sports points out, Patrick ran even slower last year (1:03:51) in his first half-marathon of the year (which was 2 weeks later in the year). He still ran 2:05 in London and set the World Record in Berlin. The point maybe everyone should take is in the marathon buildup, there is no need to be in half-marathon shape.
**** Minnesota's 4 x 800 Runs 7:09 (In Theory)
In last week's recap, we talked about how Minnesota Golden Gophers Harun Abda and David Pachuta ran 1:46 on the oversized track in Iowa and asked for the LRC audience to let us know if there was a fast #3 and #4 man on the team so they could make an really strong 4 x 800. We updated that article with the info we received but figured many of you didn't see the update.
**** Recommended Reads
David Oliver Is Modern Day Pen-Pal (Video-Pal) For Group Of 5th Graders In New York He works for Classroom Champions - a seemingly great organization. More info on the group here: *Classroom Champions Video
LRC What About The Sport? Tirunesh Dibaba And Meseret Defar Not Racing Each Other In Boston
Meet The Black Man Who Had The Original 9-9-9 Plan: Edwin Moses Edwin Moses, the man who didn't lose a 400H race for 9 years, 9 months and 9 days, is now a columnist for The Telegraph.
Kenyan Writer Asks: Who Killed World Cross-Country? He correctly points out that the Ethiopian/Kenyan dominance doomed it. That first led to the short course and then when that didn't make it popular once again a total ban, and poignantly asks, "Will the marathon be the next victim? It has also become very much a Kenyan and Ethiopian affair."
LRC Abdi Talks Olympics As He's In Chicago For Launch Of Registration For 2012 B Of A Chicago Marathon
**** Other News Of Note From The Last Week
Legendary University Of Colorado/Army Coach Jerry Quiller Passes Away At Age 69 Mark Wetmore: "I've been lucky to know many people considered to be successful ... athletic champions, Olympians, wealthy people, well known or influential people. But I'm not sure I ever knew anyone more successful than Jerry Quiller."
USADA Wipes Nearly All Of Eddy Hellebuyck's Masters Career From The Books EPO Eddy, who dominated the American masters seen in the early 2000s, when caught testified that he had never intentionally used EPO. Then he came clean in December 2010 to RunnersWorld. We might have been willing to not call him EPO Eddy, but somehow he wanted to claim he should keep his records because the statue of limitations ran out. Moral of the story: Be careful of what a convicted cheat tells you. Eddy, please accept you didn't earn those results. *MBoard Thread On Eddy
Europe's Version Of BALCO?
28 Athletes From Around The Globe Implicated In German Doping Scandal A Dr. who worked at the Olympic training center is believed to have treated athletes' blood with UV light before re-injecting it. 3 Time Olympic/WC silver medallist in long jump James Beckford of Jamaica is one of athletes in probe, as are many German cyclists.
*Doc Denies Claims, Says Blood Was Treated To Stop Infections
**** Quotes Of The Day From The Week & Last Week's Homepages:
Note: To see a particular day's homepage, click on the hyperlink of the date on the left. The quote's hyperlink will take you to that particular article - not that day's homepage.
Monday 2/6: "Locog will give away 150,000 free condoms to athletes, more than at any previous Games. As the condoms will be distributed in the athletes' village, the assumption must be that most of them will be used by the athletes themselves, presumably in liaisons with other athletes in the 'closed' village."
"On that basis, Locog's provisions appear to expect that the 10,000 competitors will each use 15 condoms in a fortnight. At 30 condoms per 'couple,' that equates to every competitor having sex twice a day, every day for the fortnight's duration of the Games."
- IOL writer Nick Harris, talking about what goes on among athletes behind the "closed doors" of the Olympic village. Former Brit table tennis player Matthew Syed has described the Olympics as a "sex fest," saying he "got laid more often in those two and a half weeks than in the rest of my life up to that point." However, that might not be saying much, as he is a pro ping pong player.
---
Sunday 2/5: "I did something risky today. I didn't have a rust-buster. I went straight from heavy aerobic work in Monument (Colorado) at 7,000 feet, and I tried to just come down and race fast. Whether you're in middle school or high school, that's what it looks like when somebody dies in a race."
- New Balance's golden girl Jenny Simpson after she died hard over the final 800 after trying to run with Meseret Defar and finishing dead last at the 2012 New Balance Indoor Grand Prix.
---
Saturday 2/4: "I always hoped I would be the one to finally get the record off the books but I think I'm starting to wave the white flag already."
- Olympic silver medallist Nick Willis on Peter Snell's 1:44.3 800m world record set 50 years ago today (Friday). The mark is still the Kiwi record. The article talks about Snell's training.
---
Friday 2/3: "Rarely are we ever satisfied with our performances. Even after our best races we might be content for a moment, but it is in our nature to constantly over-analyze and re-evaluate, finding seconds on the course, flaws in our race plans, what ifs… should haves… and could haves. Are we ever satisfied? There is a competitive mentality that keeps us coming back for more, day after day, race after race, and year after year…

Odds are I'll never wear an Olympic medal around my neck, but maybe…just maybe, I will. With that in mind I'll take off down the road and put in the days work. If we don't try we'll never know. At least I can find out how good I can be. I can have an answer at the end of the days, and have a hell of a good time with the process."
- Olympic marathoner Desi Davila writing in her journal in December 2006 when she was a 16:17 5ker. Now she's got an outside shot at an Olympic medal. Excellent advice (we shortened the quote, so read all of it by clicking through).
---
Thursday 2/2: "Running is an extension of their lives. It's not something that's imposed on them - they do it instinctively."
- Famed coach of the Kenyans, Brother Colm O'Connell, in a BBC piece on Kenyan town of champions, Iten. There will be a live BBC radio show on this today at 4:30 pm Eastern, 21:30 GMT you can listen to here. In other Kenyan news, we are also glad to report that LetsRun.com Employee #1 has landed in Kenya. To our Kenyan friends, if you see this man, say hello.
---
Wednesday 2/1: "We don't have even half of what you need to train well. Conditions are terrible. There's no stimulus ...
They don't give you the necessary things for training so you're always upset, and what's worst is that people generally don't know anything about it and will judge me by the results. Nobody comes around to ask about anything, but they do come to demand results.
I'm continuing to prepare very well because I have my responsibility and my (pride) as a man and an athlete. So I'm going to do everything possible to keep my name and my country's at the top.''
- World record holder in the 110 hurdles Dayron Robles talking about the challenges he faces while training in Cuba. In an age of fly-by-night college and nationality transfers, we find Robles' loyalty to his country admirable.
---
Tuesday 1/31: "He's completely recovered. I want him to keep running."
- Alberto Salazar talking about Dathan Ritzenhein running next week's US Cross-Country Championships - just 4 weeks after running the US Olympic Trials Marathon.