LetsRun.com's Event By Event Recap Of The 2012 New Balance Indoor Grand Prix
By Zachary Ross
February 4, 2012
Boston, MA

Editor's Note: Below is LetsRun.com's event by event recap with results of the 2012 New Balance Indoor Grand Prix. For additional coverage, see David Monti's recap of the Boston action, the AP recap, complete results, additional links on the homepage and LRC Meet Photos.
Distance Races first.
Women's 2 Mile: Dibaba Runs But Should Have Run 3000m
Right from the gun, Tirunesh Dibaba showed little rust or fear that this was her first track race in over 18 months as she was right on the heels of the rabbit Beckwith and the two immediately distanced themselves from the field, either an obvious attempt at a record or Dibaba needing a hard workout and (understandably) questioning the strength of the field. After one lap, Dibaba led the entire field by 15m. After two, the lead had leapt an additional 10m to total 25m. After 5 laps Beckwith dropped off and let Dibaba take the last 10 laps on her own. Off pace for a record, the question for the rest of the race became: would Dibaba lap the rest of the field? Whether out of a desire to please her coach, a well dressed man on the infield yelling lap splits, or the Ethiopian section at the top of the final stretch, or just to get a good workout in, Dibaba kept running hard. With two laps to go she gobbled up Koons, and then shortly after Garcia (both New Balance sponsored). But she ran out of real estate just before getting to the entire field. Another 10-15 meters and she would have had everyone. Jackie Areson sprinted the last half of a lap to outdistance Delilah Dicrescenzo for second. It's a shame Dibaba wasn't in the 3000m versus Defar.
Results:
Meet record: Meseret Defar - ETH - 9:10.50 (2008)
1) Tirunesh Dibaba - ETH - 9:21.60
2) Jackie Areson - USA - 9:51.81
3) Delilah Dicrescenzo - USA - 9:53.02
4) Angela Bizzarri - USA - 9:53.23
5) Ashley Higginson - USA - 9:54.32
6) Stephanie Garcia - USA - 10:05.57
7) Frances Koons - USA - 10:11.74
Men's 3000m : Calib Ndiku a Star in the Making?
Last week in Madison Square Garden, 3:29 1,500 man Silas Kiplagat kicked down Bernard Lagat to win the mile. This week big results were expected out of the young Kenyan. Initially, he looked like he was going to live up to the hype from last week as he latched on to the pacer - Haron Lagat - once the gun sparked. As Lagat dictated the pace, the rest of the race strung out, with not many moves over the first 10 laps. Andy Baddeley sat behind the Africans and Centro Jr. sat just behind him in 7th place, for the majority of the race. The first half of the race featured a few U-S-A chants from the crowd but that quickly petered out once Lagat dropped his role as pacer and the real racing began. Ndiku and Kiplagat seemed to be working together, trading laps as the two Ethiopians - Dejen "One Shoe Man" Gebremeskel and 17-year-old Hagos Gebrhiwet - followed behind. With two laps to go, the real racing began and Gebremeskel made a strong move to take the lead from Ndiku, but the Kenyan held his position strong all the way until the finish line, finishing first in 7:38.29. Silas Kiplagat looked tuckered out with a lap to go and couldn't respond to the strong surges of Ndiku and Gebremeskel and finished in third with the time of 7:41.02.
The win was the first big pro victory for the former world junior xc and 1,500 champion Caleb Ndiku. Ndiku told David Monti after the race that it was the first 3000 of his life: "The race was not so easy," said the 19-year old. "I want to thank God after a win like that. I've never run 3000m before."
Cam Levins, the senior from Souther Untah, was the first non-African to cross the line, just outkicking Garrett Heath for fifth place and finishing in a fast (and NCAA leading time) of 7:45.75. Matthew Centrowitz, the newest addition to the Salazar's Oregon Project, faded to seventh in 7:46.19 - still a pb.
Meet record: Craig Mottram - AUS - 7:34.50 (2008)
Results:
1) Caleb Ndiku - KEN - 7:38.29
2) Dejen Gebremeskel - ETH - 7:38.97
3) Silas Kiplagat - KEN - 7:41.02
4) Hagos Gebrhiwet - ETH - 7:44.08
5) Cam Levins - CAN - 7:45.75
6) Garrett Heath - USA - 7:45.80
7) Matt Centrowitz - USA - 7:46.19
8) Andy Baddeley - GBR - 7:47.09
9) Ben Bruce - USA - 7:59.10
10) Haron Lagat - KEN - 8:01.93
11) Justin Tyner - USA - 8:02.81
12) Mark Draper - GBR - DNF
Women's 800m: Maggie Vessey Debuts With a Win
Maggie Vessey pulled off a come from behind victory in the women's 800m. In typical Vessey fashion, she looked like she was out of it for the majority of the race, sitting in fourth until the final straight. Vessey seized the opportunity to pass on the inside, squeezing between Fantu Magiso - last week's winner of the women's 800m at the US Open - and the inside rail. With a little help of an elbow, she got through and thanks to a deep lean she got the narrowest of victories over Erica Moore.
Moore, the 23-year old former hurdler for Indiana State, almost got her 2nd straight big pro victory as she was the winner of the Aviva Glasgow meet on January 28th in 2:02.86. At the very least, Moore has to seriously be considered a big-time Olympic hopeful now. Her 2:00.17 6th place finish at USAs last year clearly wasn't a one-hit wonder.
Meet Record: Jolanda Ceplak - SLO - 1:57.79 (2002)

Results:
1) Maggie Vessey - USA - 2:02.37
2) Erica Moore - USA - 2:02.37
3) Fantu Magiso - ETH - 2:02.57
4) Nicole Sifuentes - CAN - 2:03.35
5) Latavia Thomas - USA - 2:03.90
6) Ajee Wilson - USA - 2:07.37
Rabbit: Stephanie Charnigo
Women's 1000m: Americans Come Up Short
The race ended up being a battle between two of the top 1,500 runners on the planet from last year - world ranked #1 Morgan Uceny and Morocco's Btissam Lakhouad, who is the Moroccan national record holder (3:59.35) and was 4th at world's last year. Lakhouad was listed in the pre-meet entries as being in the 3000 which seemed odd given her pb is 9:08. In the end, her decision to run the 1k was a wise won. The race played out with Phoebe Write leading Uceny and Lakhouad for the first three laps. Uceny made a move with three laps to go, but ultimately it was Lakhouad who found herself in the lead with two laps to go. Lakhouad held off strong charges by Uceny and maintained the pace all the way through the tape with the time of 2:38.14 to Uceny's 2:38.44.
After struggling in 2011 and last week at the US Open, Anna Pierce finally looked a lot better. She made a strong move with one lap to go to break out of the chase back and onto the back of Lakhouad and Uceny, but the two front runners maintained their pace and Pierce didn't have the extra gear to get around them as she finished in third, just behind Uceny in 2:38.91.
Meet Record: Regina Jacobs - USA - 2:35.29 (2000)
Results:
1) Btissam Lakhouad - MAR - 2:38.14
2) Morgan Uceny - USA - 2:38.44
3) Anna Pierce - USA - 2:38.91
4) Maggie Infeld - USA - 2:39.99
5) Charlene Thomas - GBR - 2:40.03
6) Phoebe Wright - USA - 2:40.32
7) Stephanie Charnigo - USA - DNF
New Balance Men's Mile: Farah Falls But PRs, O'Lionaird Gets Pro Win
World 5,000 Champion iand winner of the Glasgow 1,500m just last week Mo Farah took a spill coming around the second turn of the first lap. Mo's legs got caught with someone from behind and he dropped to the track, rolling through the entire field, and finding himself in last place by 5m. But being the champion that he is, he jumped back up and quickly latched onto the back of the field. Prior to the fall, Farah had been sitting just behind 10,000m American Record Holder Galen Rupp in 4th. Over the next few laps, Mo made some bold moves to make his way back to just behind Oregon Project teammate Ciaran O'Lionaird in 4th position once again with 5 laps to go. It looked as if it might soon be the Nike show from there on out, as the three training partners of Rupp, Farah and O'Lionaird soon took the top three spots with their Jeff Hollister uniforms. With three laps to go, Mo jumped ahead of teammate Ciaran, to try to chase down Rupp who had put on a 10m lead. Mo started to feel the fall with two to go as Ciaran and Taylor Milne of Canada passed a hurting Farah. Rupp still held the lead heading into the bell, but on the back stretch of the final lap, it was the two milers in Ciaran and Milne that had the best wheels as they got past Rupp. Ciaran powered home to victory as the 3:36 man Milne finished second. Rupp latched on to the back of Milne and finished in third. Mo was only a few steps behind Rupp in new PR despite the fall of 3:57.10. Last year's winner Russell Brown was 5th but not under 4:00.
Meet Record: Laban Rotich - KEN - 3:53.18 (2005)
Results:
1) Ciaran O'Lionaird - IRL - 3:56.01
2) Taylor Milne - CAN - 3:56.40
3) Galen Rupp - USA - 3:57.10
4) Mo Farah - GBR - 3:57.92
5) Russell Brown - USA - 4:00.79
6) Liam Boylan-Pett - USA - 4:01.47
7) Robert Novak - USA - 4:02.98
8) Matthew Scherer - USA - DNF
9) James Brewer - GBR - DNF
New Balance Women's 3000m: Simpson Goes for It And Pays the Price
Seemingly in a imitation performance of her countrywoman Dibaba's run in the women's 2 mile earlier, Meseret Defar immediately got just behind the rabbit at the start and started running fast. . Although, this time around, there was a pack of 3 other runners behind her. After 400m, besides Defar and the rabbit, Silham Hilali, American 1500 champ Jenny Simpson, and Gotytom Gebreslase were still in the lead pack. (The fading 'chase' pack consisted of, Liz Maloy, Shannon Rowbury, and Sara Hall. The pacer dropped off with 9.5 laps to go. Defar, followed closely by Simpson and the other two (Hilali and Gebreslase), took over the lead with ease. Simpson got pushed back, sitting in 4th with 8 laps to go. With only 7 to go, Defar started to drop the pace, dropping the other three and soon building a huge lead. With 6 to go, Defar led by 25m and Simpson pushed to the lead of the chase pack but soon Simpson began to fade. With four laps to go, Geb and Hilali went around Simpson. Simpson couldn't respond to this last surge and started to drop. Closing the penultimate lap, Rowbury, seemingly out of nowhere, started to close on Simpson. Defar looked strong from the moment she took the lead and closed out the race with the time of 8:33.57. Gebreslase outkicked Hilall for second, finishing in 8:46.01.
It was Sara Hall who showed her closing speed, haunting the American chase pack and ultimately outkicking Rowbury in the last 50 meters to finish as the first non-African in fourth place with the time of 8:54.75. The American gold medallist Simpson paid a dear price for her early bold as Simpson ended up last in 8:58.70. But Simpson wasn't too upset afterwards as she told David Monti: "I did something risky today. I didn't have a rust-buster. I went straight from heavy aerobic work in Monument (Colorado) at 7000 feet, and I tried to just come down and race fast. Whether you're in middle school or high school, that's what it looks like when somebody dies in a race."
Since before the meet LetsRun.com complained about Dibaba and Defar being in separate races, it seems wise to at least have Defar and Dibaba compet on paper. Defar's 8:33.57 win in the 3000 is superior on conversion charts to Dibaba's 9:21.60 as that 9:21.60 converts to 8:42-3 3000 on McMillan's calculator.
Meet Record: Meseret Defar - ETH - 8:30.05 (2005)
Results:
1) Meseret Defar - ETH - 8:33.57
2) Gotytom Gebreslase - ETH - 8:46.01
3) Siham Hilali - MAR - 8:46.17
4) Sara Hall - USA - 8:54.75
5) Shannon Rowbury - USA - 8:55.06
6) Liz Maloy - USA - 8:58.30
7) Jenny Simpson - USA - 8:58.70
8) Megan Wright - CAN - DNF
9) Mardrea Hyman - JAM - DNF
10) Athena Koini - GRE - DNF
Women's Pole Vault: Jenn Suhr American Record!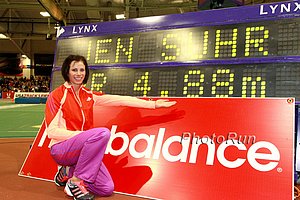 Jenn Suhr no heighted at Madison Square Garden last week. Well she must have a short-memory as after Saturday night only one woman has now jumped higher indoors in the history of women's pole
vault as Suhr broke her own American Record (4.86m) with her jump of 16 feet (4.88m)!!!. Suhr made one attempt at the world record before she called it quits. "A sore achilles," he agent explained after the event at the press table. "She has had trouble with the achilles before." Suhrs' outdoor pb is 4.92 m.
Meet Record: Jenn Stuczynski - USA - 4.82m (2009)
Results:
1) Jenn Suhr - USA - 4.88m (American Record)
2) Lacy Janson - USA - 4.40m
3) Jillian Schwartz - ISR - 4.40m
4) Becky Holliday - USA - 4.40m
5) Kylie Hutson - USA - 4.20m
6) Janice Keppler - USA - NH
MBTA Men's 400m
Meet Record: Dave Dopek - USA - 45.85 (1997)
World champion Kirani James' indoor pro debut resulted in an easy victory. Last year, he opened up this same weekend on the oversized track at Notre Dame in 45.47.
Results:
1) Kirani James - GRN - 45.96
2) Josh Scott - USA - 46.54
3) Renny Quow - TRI - 46.70
4) Tabarie Henry - ISV - 46.88
5) Michael Tinsley - USA- 47.38
6) Johnny Dutch - USA - 48.86
Women's 300m
Results:
1) Deedee Trotter - USA - 37.07
2) Bianca Knight - USA - 37.12
3) Jasmin Chaney - USA - 37.65
4) Fawn Dorr - USA - 37.68
Visa Men's 60m Hurdles
The world's fastest man at 110 h from 2011, David Oliver, got a narrow win over Merritt.
David Oliver - USA - 7.60
Aries Merritt - USA - 7.62
Lehann Fourie - RSA - 7.64
Omo Osaghae - USA - 7.67
Jeff Porter - USA - 7.69
Ty Akins - USA - 7.73
Dominic Berger - USA - 7.79
Ryan Wilson - USA - 7.97
Visa Women's 60m
Meet Record: Lisa Barber - USA - 7.09 (2006)
Results:
1) Murielle Ahoure - IVC - 7.13
2) Gloria Asumnu - NGR - 7.20
3) Lakya Brookins - USA - 7.21
4) Alexandria Anderson - USA - 7.26
5) Candyce McGrone - USA - 7.33
6) Shalonda Solomon - USA - 7.33
7) Aleen Bailey - JAM - 7.34
8) Lauryn Wiliams - USA - 7.34
Visa Men's Shot Put
Meet Record: Adam Nelson - USA - 21.66m (71-0.75 ft.) (2005)
Results:
1) Adam Nelson - USA - 21.27m (69-9.5 ft.)
2) Cory Martin - USA - 20.44m (67-0.75 ft.)
3) Ming-Huang Chang - TPE - 18.51m (60-8.75 ft.)
Men's Masters 1 Mile Run
Charlie Kern chased after his Master's record of 4:19.73 set last year, finishing a few seconds off in 4:22.09. Kent Lemme was well behind in second place, finishing in 4:29.89.
Meet Record: Charlie Kern - USA - 4:19.73 (2011)
Results:
1) Charlie Kern - Unattached - 4:22.09
2) Kent Lemme - Greater Springfield Harriers - 4:29.89
3) Ray Pugsley - 4:31.13
4) Francis Burdett - Greater Springfield Harriers - 4:33.39
5) Chris Simpson - Eliot TC - 4:35.18
6) Ron Kochanowicz - Unattached - 4:39.417) Pete Bottomley - Dirigo RC - 4:49.328) Titus Mutinda - 4:52.27
Girl's Junior 1 Mile Run
Cayla Hatton of Andover, MA set the pace, distancing herself from the rest of the field until the final lap when Haley Pierce (Wilmington, DE) chased her down and kicked it in for the win in 4:48.59. Hatton held on for second, fininishing in 4:51.37. Welsey Frazier of Raleigh, NC finished in third with her time of 4:52.18.
Meet Record: Emily Lipari - USA - 4:46.77 (2010)
Results:
1) Haley Pierce - Wilmington, DE - 4:48.59
2) Cayla Hatton - Andover, MA - 4:51.37
3) Wesley Frazier - Raleigh, NC - 4:52.18
4) Kelsey Margey - Locust Valley, NY - 4:52.83
5) Megan Moye - Moseley, VA - 4:54.09
6) Reagan Anderson - 4:57.79
7) Sarah Gillespie - West Hartford, CT - 4:58.02
8) Madison Granger - Belchertown, MA - 5:00.96
9) Molly Keating - Providence, RI - 5:01.20
10) Annika Gompers - Waltham, MA - 5:04.93
11) Camille Blackman - Longmeadow, MA - 5:07.64
12) Marika Crowe - Sudbury, MA - 5:09.09
Boy's Junior 1 Mile Run
Meet Record: Michael Coe - USA - 4:07.30 (2006)
The Chris Catton coached athlete, Craig Engels, got the win. Catton seemingly coaches all of the stars in North Carolina.
Results:
1) Craig Engels - Pfafftown, NC - 4:13.70
2) Joel Hubbard - Marshfield, MA - 4:14.35
3) Thomas Graham - Cary, NC - 4:14.75
4) Tom Awad - Chaminade, MA - 4:14.85
5) Kevin Thomas - Marshfield, MA - 4:15.15
6) Tim Ball - Piscataway, NJ - 4:15.34
7) Michael O'Donnell - Methuen, MA - 4:17.05
8) David Taranto - Burlington, MA - 4:18.08
9) Dan Lennon - Peru, NY - 4:19.19
10) Thomas Madden - Fort Royal, VA - 4:21.37
11) Chris Allen - Wrentham, MA - 4:21.46
12) Stephen Robertson - Wakefield, MA - 4:27.77
Girls' HS 4x400m Relay

1 VILLABEARS TC 3:57.88
2 STATEN ISLAND GATORS TC 4:03.14
3 ABTC 4:04.03
4 MANSFIELD TC 4:07.46
5 WEYMOUTH YOUTH TC 4:07.65
6 SOUTH SHORE TC 4:07.89
7 SJB ELITE TC 4:09.99
8 MARLLOUIS TC 4:14.37
9 STANNERS TC 4:14.42
10 ST. A'S TC 4:15.57

Boys' HS 4x800m Relay

1 FIREBIRD TC 7:55.67
2 TITANS TC 7:55.86
3 ACTON BOX BORO TC 7:57.60
4 FIDELIS TC 7:57.86
5 ST. A'S TC 7:58.98
6 BROOKLINE TC 8:02.69
7 SJB ELITE TC 8:03.25
8 KNIGHTS TC 8:04.59
9 LOWELL TC 8:04.96
10 ST. JOHN'S TC 8:09.57
11 BRONX RAMS TC 8:14.44
12 WARRIOR TC 8:17.54