Recap Of Day 4 Of 2012 NCAA Track & Field Championships: Andy Bayer Wins Over Miles Batty With A Diving Finish, Katie Flood Outkicks Emily Infeld & Jordan Hasay
After Two Years As The Runner-Up Don Cabral Gets His Steeple Title And Abbey D'Agostino Gives The Ivy League Its Second National Champion With A Win In The 5,000
By LetsRun.com with Tom Davis in Des Moines
June 9, 2012
The 2012 outdoor NCAA Track and Field championships in Des Moines came to a close with some edge-of-your-seat finishes in the distance and mid-distance races. In the 1500's, Andy Bayer won by one-hundredth of a second in a photo finish over Miles Batty, while Katie Flood held off attacks from both sides by Emily Infeld and Jordan Hasay. After two runner-up finishes, Donn Cabral got his first NCAA title in the steeple as a fall on the last barrier cost Henry Lelei second place. And in the women's 5,000, Dartmouth's Abbey D'Agostino made a huge tactical error which almost lost her the victory as she only won by .03 seconds over Washington's Megan Goethals.
By the time the 4x4 came around, the LSU women had sealed their victory over Oregon as they led the meet 68 to 52. On the men's side however, the 4x4 decided the meet as only 4 points separated the top 4 teams going in. LSU led Florida 42 to 40 with Florida State in 3rd (38 points) and Texas A&M in 4th (36). Florida won the 4x4 with a World-leading time giving them a 2-point victory in the team title over LSU.
We recap the action for you.
Men's 1,500 Final: Bayer And Batty Both Dive At The Line
Distance action on the final day of NCAA's started with a strong 1500 field that included 2009 champion German Fernandez, 3k/5k indoor champion Lawi Lalang, indoor mile record holder Batty, indoor champ Chris O'hare and indoor runner-up Rich Peters. Fernandez came into the final after having led the first 1400 meters of his prelim in a quick time and some expected him to do the same today. He did, except for this time he took the pack through in a pedestrian 64.5 seconds at 400 and 2:06 at 800, with everyone bunched up right behind him. Bayer sat in the second position for the entire race and Lalang moved up into 3rd with 800 to go.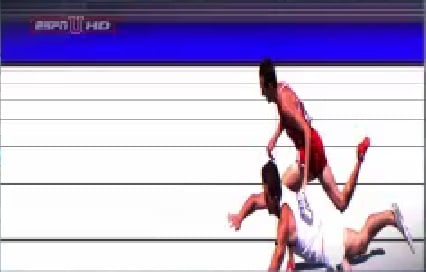 At the bell Fernandez still led with Bayer in second. With 300 meters remaining, Binghamton's Erik Van Ingen made a big push in lane 2 to match Fernandez which sparked a reaction from the rest of the field as the whole pack started accelerating. Lalang fell way back at this point and so too did Fernandez by 200m to go. Bayer took the lead and Batty followed trying to go by Bayer on the outside. At first Bayer tried to hold him off, but then right before the straightaway he gave Batty the inside and was forced to go into lane 2 to pass.
Going down the home stretch it was Batty and Bayer battling it out right to the line with the rest of the field fighting it out for 3rd. Both runners leaned and dove at the finish, Bayer getting the win in 3:43.82, only .01 over Batty. Batty ended-up having the fastest last lap at 53.50 to Bayer's 53.78.
On the close finish Bayer said, "I was set up with 200 meters to go and I was like 'I'm not going to let this go, I'm going to fight to the end.'"
When asked what was going through his mind when Batty made is move, Bayer joked, "I was thinking, 'Quit cutting me off you jackass.' But, I came back and still pulled it off so it was all right." He said, "I was trying to fight him, but I was just wasting energy doing that so I let him go by and tried to come back on him in the home stretch."
Talking about past close races he added, "Actually, last year I beat Lopez Lomong by one thousandth of a second, so I've had similar experiences, but an NCAA title wasn't on the line that time."
Batty credited Bayer with a tough race admitting, "It was a little iffy as far as what I did …I don't think I was going to beat him either way. I pretty much gave myself the biggest advantage I could by forcing Bayer to go to the outside and he still go me."
LetsRun.com (LRC) Quick Take (QT): Bayer usually runs multiple events at championships (often trying to get IU points or help a relay team win) so it was good to see him just focus on the 1500 here and it pay off with a title.
QT#2: You usually don't see people battle back after losing the rail position like that going into the final straight. This was a hard fought and well earned win for Bayer.
QT#3: Anyone remember when Fernandez was a freshman and he dominated this race from the front? Maybe next year.
More: *Interview With Bayer *Interview With Batty *Good Profile On Bayer *German Fernandez Interview: Only been running for 1.5 months
| Place | Athlete Name | Yr | Affiliation | Time | | | Pts | | | | |
| --- | --- | --- | --- | --- | --- | --- | --- | --- | --- | --- | --- |
| 1 | Andrew Bayer | JR | Indiana | 3:43.82 | | | 10 | | | | |
| 2 | Miles Batty | SR | BYU | 3:43.83 | | | 8 | | | | |
| 3 | Ryan Hill | JR | North Carolina St. | 3:44.24 | | | 6 | | | | |
| 4 | Michael Hammond | JR | Virginia Tech | 3:44.47 | | | 5 | | | | |
| 5 | Rob Finnerty | JR | Wisconsin | 3:44.53 | | | 4 | | | | |
| 6 | Rich Peters | SO | Boston U. | 3:44.66 | | | 3 | | | | |
| 7 | Duncan Phillips | SR | Arkansas | 3:44.77 | | | 2 | | | | |
| 8 | Erik van Ingen | SR | Binghamton | 3:45.00 | | | 1 | | | | |
| 9 | Sam McEntee | SO | Villanova | 3:46.41 | | | | | | | |
| 10 | German Fernandez | JR | Oklahoma State | 3:46.62 | | | | | | | |
| 11 | Lawi Lalang | SO | Arizona | 3:46.82 | | | | | | | |
| 12 | Chris O'Hare | JR | Tulsa | 3:51.64 | | | | | | | |
Women's 1500: Hometown Favorite Flood Gets An NCAA Title In Drake Stadium
The race started out extremely slow, or "dawdling", as Florida State's Amanda Winslow led almost the whole thing, taking the field through the opening lap in 69.3 and 800 in 2:21.3. At 800, the collegiate leader, Natalja Piliusina, was running on Winslow's shoulder with Infeld sitting in third place and Flood in 4th. The entire field was still intact when they hit 1 to go.
Winslow continued to lead as she started pulling away from the field and actually opened up a small gap. It looked as if she might run away with it, but by 200 the field had caught her. Flood was the first to pass and took the lead going into the homestretch as Hasay came from back in the pack (she was 6th at the bell) going way outside on the turn. Infeld moved up on the inside and going down the straight it was a three way battle with Flood in the middle and Infeld and Hasay attacking on either side. In the last few meters Flood was just able to hold the other two off winning in 4:13.79 with a 62.27 last lap. Infeld beat Hasay out by only one-hundredth of a second.
Flood is the hometown favorite here, having won multiple state tiles in Drake Stadium when she was in high school. As the runners sprinted for the finish and it was unclear who would win, the crowd was on their feet screaming "GO KATIE!" and let out a huge roar when she was named the official winner.
Post-race, Flood said her coach told her, "If you're gonna take the lead, you're gonna take it for the rest of the race and not let anyone pass you" which is exactly what she did.
Talking about the many races she's run at Drake she said, "This would have to be the best race I've ever run here. …I was comfortable." And when everyone started to kick she thought to herself it's "now or never" and went for it. "I wanted it...in my head I knew it was possible."
In her post-race interview, Hasay stayed very positive, saying, "I know that every year I'm going to be a contender, and not many people who did really well in high school can say that. I mean it would have been nice to win an outdoor title, but I still have next year. ...Between what I did last year and what I did this year, I think one of these year's I'm going to get it right. And I rather it be later than now."
LRC QT: Should Hasay have won this race? She got boxed in and had to go way wide in the last 200. Her last lap was actually faster than Infeld's and she definitely ran more than 400 meters that last lap (MB: Jordan Hasay's big mistake).
QT#2: All of the top three were absolutely maxed out at the end. It sort of reminded us of an 800 where everyone is tying up and no one can pass anyone.
More: MB: My heart almost stopped in the women's 1500
Place
Athlete Name
Yr
Affiliation
Time
Pts
1
Katie Flood
SO
Washington
4:13.79
10
2
Emily Infeld
JR
Georgetown
4:14.02
8
3
Jordan Hasay
JR
Oregon
4:14.03
6
4
Lucy Van Dalen
SR
Stony Brook
4:14.40
5
5
Greta Feldman
JR
Princeton
4:14.76
4
6
Cory McGee
SO
Florida
4:14.95
3
7
Amanda Winslow
JR
Florida State
4:14.96
2
8
Violah Lagat
SR
Florida State
4:15.77
1
9
Becca Friday
JR
Oregon
4:16.38
10
Natalja Piliusina
SO
Oklahoma State
4:18.74
11
Morgane Gay
JR
Virginia
4:19.44
12
Rebecca Tracy
JR
Notre Dame
4:21.92
Men's Steeple: #2 All-Time Cabral Is An NCAA Champion As Lelei Falls And Ends Up Fourth
In the men's steeplechase, Stanford's Ben Johnson led the field threw some slow early laps (76 first 400) with Princeton's Cabral, Texas A&M's Henry Lelei and Michigan's Craig Forys sitting 2-4. Then Lelei took the lead for a short time before Cabral made a decisive move, running a 65.12 for his 6th lap. This put a small gap on everyone in the field except Lelei who hung right with him.
With a lap to go it was still Cabral leading and Lelei sticking right with him as they had a three second gap on Ohio State's Cory Leslie in 3rd and Forys in 4th. Cabral started dropping the pace and was pulling away from Lelei ever so slightly, but Lelei hung on, keeping the pressure on Cabral down the entire backstretch. Finally, heading into the last water jump, Cabral put a big gap on Lelei and was clear for the win, brining it home in a 63.43 last lap for an 8:35.44.
Barring a fall, Lelei had second wrapped up as Leslie and Forys were way back battling for 3rd, but Lelei fell hard on the last barrier and was past by both Forys and Leslie in the final meters. Forys got the runner-up, beating Leslie out by .32 and Lelei by 1.41 seconds.
On the race Cabral said, "It went according to plan. I knew someone else was going to take it out and I wanted to wait until I saw three laps to go. Then when I got on the back stretch I wanted to make a decisive move and make everyone else decide to go with (me) or stay. Lelei went with me and really pushed me, which helped. I knew he was a competitor and I need that to drive me to my best."
Talking about Thursday's prelim he said, "I went to bed that night feeling as if I had a loss. I wasn't very happy with my prelim so this race helped to show I can bounce back."
On Lelei's fall and catching him on the last barrier, Forys said, "Anything can happen in the steeple, and you can't ignore that last barrier."
LRC QT#1: After Thursday's prelim, in our recap we were impressed with how comfortable Lelei looked almost getting a PR and said we thought he had a lot more in the tank. However, we also mentioned that his hurdle form wasn't too good and clearly that cost him today. Even putting the fall aside, on the backstretch of the last lap he was actually running faster than Cabral in between barriers, but he just lost a ton of time when he hurdled and the last water jump took him completely out of contention. He's only a junior; if he works on his hurdle form he could dominate this event next year.
QT#2: Everyone watching at home was once again frustrated by ESPN's coverage of track and field. There were two big moves in this race and ESPN managed to cut away during both of them.

QT#3: Out of a 14 person final, 11 athletes were seniors, two were juniors, and one freshman. More states should run the steeplechase in high school so people can pursue it earlier in their careers. Hard to make NCAA's as a freshman or sophomore when you've only been running an event for less than a year.
Place
Athlete Name
Yr
Affiliation
Time
Pts
1
Donn Cabral
SR
Princeton
8:35.44
10
2
Craig Forys
SR
Michigan
8:40.66
8
3
Cory Leslie
SR
Ohio State
8:40.98
6
4
Henry Lelei
JR
Texas A&M
8:42.07
5
5
Travis Mahoney
SR
Temple
8:43.29
4
6
Anthony Rotich
FR
UTEP
8:46.01
3
7
De'Sean Turner
SR
Indiana
8:46.04
2
8
Carl Stones
SR
Tulsa
8:46.67
1
9
Adrien Dannemiller
SR
Indiana
8:47.86
10
Aric VanHalen
JR
Colorado
8:50.64
11
Benjamin Johnson
SR
Stanford
8:52.96
12
Jim Walmsley
SR
Air Force
8:57.99
13
Tom Wade
SR
Lamar
9:03.59
14
Andrew Poore
SR
Indiana
9:25.95
Women's 5,000: D'Agostino Almost Blows It In The Final Stretch, But Fights Back To Beat Goethals By .03
With the temperatures in the 90s and windy conditions, the women's 5,000 concluded the distance action for the 2012 NCAA championships. As with all the other distance races for the day, the race went out extremely slow with the entire field running together and at times going four-wide. Thursday's 10,000m champion, Natosha Rogers was the early leader as they went through a 5:45 first mile.
At 2k, Providence's Emily Sisson moved to the lead and began to push the pace down closer to 5 minute/mile pace and an established lead group slowly broke away from the rest of the field. All the pre-race favorites were still in contention at this point with last year's champion, Sheila Reid, running in the back of the pack and not looking good. Reid, who collapsed at the finish of her Regional race (and who would also collapse again at the end of today), seems to have trouble running in the heat and never looked strong in this race. She stayed at the back of the pack and in contact with the leaders until a lap to go, but then finished with an 84.92, falling from 6th to 10th.
As they entered the final mile, Rogers was back in the lead with Sisson in 2nd and Wichita State's Aliphine Tuliamuk in 3rd. With 650 to go Colorado's Jessica Tebo moved to the lead and put a small gap on the field with a 73.5 lap. Dartmouth's Abbey D'Agostino and Washington's Megan Goethals were the only two to follow and on the final backstretch D'Agostino surged to the lead and began her drive for home.
A fifth of the way down the homestretch, D'Agostino had at least five, maybe 10 meters on Goethals, who had moved to second, and it seemed as if the race was over. But then Goethals started coming back on D'Aostino and D'Agostino almost had an epic and utterly embarrassing collapse.
Maybe the heat was getting to her because there other than that there was no explanation for it, but D'Agostino drifted out to lane 3 and left the rail wide open. D'Agostino was needlessly running extra ground when Goethals wasn't even close to her to be forced outside. Goethals just kept moving up on the inside and pulled even and then slightly ahead of D'Agostino about 20 meters from the line. To her credit, amazingly D'Agostino was able to rally once she noticed Goethals on her inside and D'Aostino put in one last surge/lean to win in 16:11.34 to Goethals 16:11.37. D'Agostino's lsat lap was a 67.00. Tebo didn't have as much left for a finishing kick and came home in 3rd with a 70.79 last 400.
Talking about the last sprint, Goethals said, "With 100 to go, I honestly thought I was going to get her…I tried to push it as hard as I could, I tried to lean at the end. I thought I had her, but I looked at the board and I was like 'Oh, .03.'"
LRC QT#1: Coaching tip of the day: The shortest distance between two points is a straight line. We really have no idea what D'Agostino was thinking in that last straightaway. She was literally out in lane 3 while Goethals ran in lane 1. It was going to be close either way, but had she stayed in the middle of lane 1 and made Goethals go around the outside she would have had a much easier time with it.
Those of you that were at the 2012 Ivy League indoor championships probably thought you were experiencing deja vu because at that meet, D'Agostino lost the 5000 at the line as she let Brown's Heidi Caldwell pass her on the inside at the tape when she didn't lean. At least today, D'Agostino leaned and ran through the tape.
QT#2: We probably weren't the only ones screaming at our computers during this one. First, ESPN spent the majority of the race cut away showing replays from yesterday's field events and other events from earlier in the day which had already aired. Then they came back to the race, only to cut away again as things started to heat up in the final mile! Yet, there was plenty of dead time between events when nothing was going on and they could have played those same replays. Ridiculous.
QT#3: Natosha Rogers: 10k champ and 6th in the 5k when she came in ranked 49th and 13th in the NCAA. Not a bad weekend for her.
QT#4: Shout out to the Ivy League for getting its second national champion of the day.
More: MB: Abbey D'Agostino is tough as nails *NCAA Women's 5000 *ESPN- YOU ARE THE WORST!!! *Wow, Goethals
| Place | Athlete Name | Yr | Affiliation | Time | | | Pts | | | | |
| --- | --- | --- | --- | --- | --- | --- | --- | --- | --- | --- | --- |
| 1 | Abbey D'Agostino | SO | Dartmouth | 16:11.34 | | | 10 | | | | |
| 2 | Megan Goethals | SO | Washington | 16:11.37 | | | 8 | | | | |
| 3 | Jessica Tebo | SR | Colorado | 16:14.32 | | | 6 | | | | |
| 4 | Emily Sisson | SO | Providence | 16:18.24 | | | 5 | | | | |
| 5 | Aliphine Tuliamuk | JR | Wichita State | 16:18.61 | | | 4 | | | | |
| 6 | Natosha Rogers | JR | Texas A&M | 16:20.04 | | | 3 | | | | |
| 7 | Kathy Kroeger | JR | Stanford | 16:22.60 | | | 2 | | | | |
| 8 | Alex Kosinski | SR | Oregon | 16:24.42 | | | 1 | | | | |
| 9 | Chelsea Reilly | SR | California | 16:30.31 | | | | | | | |
| 10 | Sheila Reid | SR | Villanova | 16:31.48 | | | | | | | |
| 11 | Elvin Kibet | SO | Arizona | 16:39.72 | | | | | | | |
| 12 | Emma Bates | FR | Boise State | 16:43.84 | | | | | | | |
| 13 | Allison Woodward | FR | Oregon | 16:43.92 | | | | | | | |
| 14 | McKenzie Melander | SR | Iowa | 16:44.78 | | | | | | | |
| 15 | Sara Sutherland | SO | Texas | 16:48.94 | | | | | | | |
| 16 | Corey Conner | JR | Maine | 16:51.92 | | | | | | | |
| 17 | Bogdana Mimic | JR | Villanova | 16:53.66 | | | | | | | |
| 18 | Kayleigh Tyerman | JR | Florida State | 16:55.40 | | | | | | | |
| 19 | Jessica O'Connell | SR | West Virginia | 17:10.43 | | | | | | | |
| 20 | Charlotte FfrenchO'Carroll | JR | Providence | 17:19.04 | | | | | | | |
| 21 | Kathleen Stevens | FR | Virginia | 17:24.29 | | | | | | | |
| 22 | Lauren Penney | JR | Syracuse | 17:39.83 | | | | | | | |
| DNF | Chelsea Ley | FR | Virginia | | | | | | | | |
| DNF | Madeline Chambers | SO | Georgetown | | | | | | | | |
More LRC NCAA Coverage:

Day 3: Cam Levins Becomes A Legend, Charles Jock Becomes A Champion, And Nachelle Mackie Remains Undefeated Against Collegians
Day 2:Texas A&M's Natosha Rogers Is The Surprise Winner In The Women's 10k
*1,500m And Men's Steeplechase Prelim Recaps: Kyle Merber Misses Final
Day 1: Men's 10k Results: Cam Levins Wins, Sambu 2nd, Derrick 3rd
*800m And Women's Steeple Prelim Recaps: Cas Loxsom Goes Home