Favorites Gebrselassie, Kastor Fall In Dramatic Fashion In NYC Half
By LetsRun.com
March 21, 2010
Both the men's and women's races in the NYC Half Marathon had unexpected developments mid-race involving the big-name stars of the race. See LRC's NYC Half Marathon Photo Gallery.
Gebrselassie Stops
Despite showing no previous indications of suffering, Ethiopian marathon world record holder Haile Gebrselassie pulled off the road in mile 8, briefly putting his hand to his chest and not showing any sign of injury. At the time, Gebrselassie was running with co-race leader Peter Kamais of Kenya, a 33-year-old 10km road specialist who has run 27:09 on the roads.
Within a minute of stopping, Gebrselassie began running again at a fast pace, but he did not factor in the race after that point.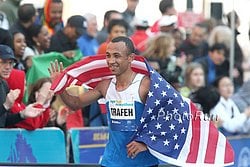 Kamais would not be challenged again and went on to win the race by a large margin in an impressive time of 59:53 considering the hilly Central Park portion of the race.
American Mo Trafeh, who broke 43:00 in his Gate River Run 15km 7 days ago, ran 1:00:40 to get 3rd.
After the race, Gebrselassie blamed asthma for his dropout.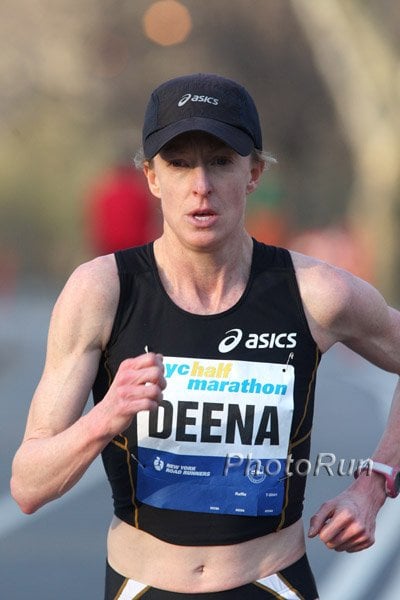 Women's Race: Kastor's Big Lead Evaporates
Deena Kastor looked to be on her way to a dominating performance with bold frontrunning in the early miles. Kastor, running alone, built up a lead estimated to be near 200m before British marathoner Mara Yamauchi charged hard in the final miles to catch and pass the American with about 2 miles to go. Kastor tried to hold on to Yamauchi but failed, as the 2009 London Marathon runner-up based in Japan and Albuquerque won the race in 69:25. Kastor ran 69:43.
Kastor talked after the race about wanting to set a hard pace. She certainly did that, passing through 10km in a very fast 32:30 split before tiring in the closing miles.
Kastor and Yamauchi should meet again in April's Virgin London Marathon.
See top results and searchable results below.
More Links:
*LRC Boards: Official NYC Half Marathon Thread
*LRC's NYC Half Marathon Photo Gallery
*RRW Recap And Quotes From Gebrselassie, Kamais, Kastor, Yamauchi And Trafeh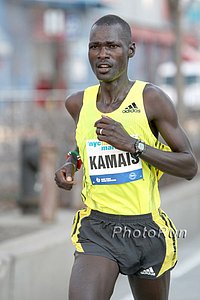 Results: Male Top 12 (Search Full Results)
  1 Peter Kamais                33      KEN          59:53

  2 Moses Kigen Kipkosgei       27      KEN        1:00:38

  3 Mohamed Trafeh              24      USA        1:00:39

  4 Bekana Daba                 21      ETH        1:01:23

  5 Shadrack Kiptoo Biwott      25 OTC  KEN        1:01:52

  6 Josh Rohatinsky             28      USA        1:01:55

  7 Alistair Cragg              29      IRL        1:01:58

  8 Samuel Ndereba              33      KEN        1:02:55

  9 Marilson Gomes Dos Santos   32 PDA  BRA        1:02:57

 10 Tesfaye Girma               27 WSX  ETH        1:03:12

 11 Anthony Famiglietti         31      USA        1:03:18

 12 Abderrahime Bouramdane      32      MAR        1:03:29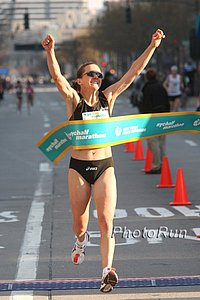 Women Top 12 (Search Full Results)
 1 Mara Yamauchi               36      GBR        1:09:25

  2 Deena Kastor                37      USA        1:09:43

  3 Madai Perez                 30      MEX        1:09:45

  4 Irene Limika                30      KEN        1:10:55

  5 Kiyoko Shimahara            33      JPN        1:12:41

  6 Bruna Genovese              33 FOR  ITA        1:12:55

  7 Heidi Westover              29 BAA  USA        1:13:25

  8 Aziza Aliyu                 24 WSX  ETH        1:13:34

  9 Sally Meyerhoff             26 MGUI USA        1:13:58

 10 Catherine Mullen            24 NYAC USA        1:14:48

 11 Hirut Mandefro              24 WSX  MD         1:15:30

 12 Salome Kosgei               29 WTC  NY         1:15:40