2010 NYC Marathon This Sunday
NY Times Looks At NYC Marathon Elite Athlete Budget And Recruiting NY will spend $2.5-$3 million on the pros this year. Mary W. gives a great defense of why the pros are important.
*Some Experts Give Their NYC Predictions Of course the only expert opinions that matter are ours and we haven't done our previews yet.

Men: A Lengthy Profile On The Chilean Miner Running NYC On Sunday
*James Kwambai Ready To Take On Meb standardmedia.co.ke
*Meb's Coach Bob Larsen Gives His Thoughts On Meb's Preparations
*Jorge Torres Reinvigorated
Yesterday was the Americans' day at the live press conferences with Toni Reavis. Replay here.

Women: USAToday Has Length Profile On Shalane Flanagan If they're going to do running stories like this (which even has video) they shouldn't have let Dick Patrick go.
*Shalane Flanagan Long Chat About Her Marathon Preparation runnersworld.com
*Kara Goucher Talks About Running Her First NYC

Times Have Changed: NY Times Looks At Miki Gorman, 75-Year-Old Last US Female Champ In NY She started running hoping to gain weight.
*Some Will Run NYC Barefoot New York Times

One Year Ago Today: Meb Was The Only Guest On Our ING NYC Marathon Pre-Race Show And he went out and won the damn thing. Coincidence? We think not, although we didn't predict it.
Sponsored Post (It's Not Too Late)
New NYRR Race This Friday
NYRR 5 Before watching this weekend's ING NYC Marathon, run in the New York Road Runners' newest race, the NYRR 5. The five-mile race this Friday is intended for all of the fans and family members in town for marathon weekend. As an added bonus, five lucky runners in this race will be selected as the first entrants for the 2011 ING NYC Marathon. Click here for more info on this race in New York's Central Park.
Previous NYC News
Happy Bday!! The Marathon Turns 2,500
Frankfurt: The Marathon Welcomes Another Guy To The 2:04 Club / Fast Times Across The Board (2:04:57/2:23:25) In ideal weather, Wilson Kipsang defeated Tadese Tola with a superb 2:04:57 (#8 all-time) and Caroline Kilel (2:23:25) took home the women's title over several notables in an event where the top 8 women and 8 of the top 9 men set PRs (two 2:09 debuts). For Kipsang, it was just his 2nd marathon after a 2:07:10 debut in Paris. *LRC MB: FRANKFURT MARATHON 2:04:57 !!!!!!!!!!!

Kenya: Unknown David Barmasai Runs 2:10 At 5,500 Feet To Win Standard Chartered Marathon In Kenya

Athens: Kenyan/Lithuanian Win Athens Marathon On 2,500th Anniversary Of Battle Of Marathon *Reuters Recap Of Athens Marathon

Marine Corps: Women: Janet Cherobon Wins In 2:42
Men: Jacob Bradosky Wins In 2:23
Oregon HS XC Coach Charged With Sexual Assault
Big Names, Big News
Eddy Hellebuyck Comes Clean!!! The former American road star wants to clear his conscience and has admitted he used EPO back in 2004. An absolute must read as he talks about a pervasive drug culture and has specific doping allegations against Leonid Shvetsov (which aren't a surprise to the knowledgeable LetsRun.com viewer).
*LRC MBoard: Eddie Hellebuyck "'Yeah,' he says, 'I did it.'"

Silas Kiplagat Wants The World Record "I want to run a sub-3:28 in the next season."

*Dathan Ritzenhein Q&A Part 1 (His 12:56 5k, What's Different With Alberto And More)
*Dathan Ritzenhein Q&A Part 2 (What Went Wrong In NY In 2006) He says he learned about not running out of fuel. Cynics might also argue he learned that in the marathon, you get paid for hype, not performance (at the time he got one of the largest appearance fees in US history).
Tokyo A Major To Be?
Gebrselassie To Run Tokyo Marathon In February A lot of stars lock up their next marathon prior to running their current one so a bad performance cannot knock their appearance fee.
*AIMS President And Tokyo Marathon President Hiraoki Chosa Gets IAAF Order Of Merit The big news is buried in the article and is that the Tokyo Marathon had 335,000 applicants for its lottery for the marathon. The Japanese are mad about the marathon.
*Paco Borao Of Valencia Marathon Selected New AIMS President
News from Africa
Reese Witherspoon Loses Race To 5th Grader
Altitude Tents, Underwater Treadmills And Anti-Gravity Treadmills Aren't Enough
Nike/Alberto Have A New Gadget They Are In Love With - Cryotherapy The rest of you will have to settle for a cold stream or ice bath.
5 Recommended Reads
Rojo Speaks
Rojo Speaks: Support For Ryan Hall And The Role Of A Coach Rojo is back with a column in support of Ryan Hall's coaching change and he tells you quite a few things. He tells you how many seconds a coach is worth, even talks about Roger Clemens and has some good points. A highlight: "Now that Hall has left the MTC, lots of people are throwing out names as to who he should get guidance from. I haven't read a single person mention the name Andy Gerard - the head guy at George Mason. That doesn't surprise me, as his cross teams at George Mason aren't all that great. But the fact of the matter is when Gerard succeeded the masterful recruiter Vin Lananna at Stanford, Gerard orchestrated one of the finest performances in NCAA history. If Stanford had lined up against the entire rest of the NCAA in the team scoring, the score would have been Stanford 24, Rest of the NCAA Teams 31."
Rupp
Now Married & Settled Into New Home, Galen Rupp Hoping Focus On Strength, Not Speed, Will Pay Off Big Time In 2011 LRC visitors should write this sentence down and use it as their only training mantra: "Looking back, I wasn't doing as much (strength work) as I should have been. I did lots of speed stuff, but without strength it's useless." That being said, many LRC vistiors may be horrified to learn that for Rupp, strength doesn't just mean mileage - it also means weights - and Rupp has gained several pounds of muscle in his upper body.
Update Ryan Hall To Be Self-Coached, Will Train In Various Locations (link fixed) Ryan says over the years he has "developed a keen body awareness, which I will use on a daily basis, as well as advice from various experts, and prayer to ultimately shape my training." Ex-coach Terrence Mahon would not comment publicly at this time but may later. *Joe Battaglia: What The Heck Is Hall Thinking?
Random/Interesting Non-Running But Running-Related Sports News
Sponsored Post
CLIF SHOT BLOKS® Electrolyte Chews For Performance Athletes Last month, we told you the amazing Clif Bar story and highlighted some of the benefits of CLIF SHOT ROKS® protein bites for recovery. This month, we're glad to tell you about CLIF SHOT BLOKS, a semi-solid, easily chewable source of carbohydrates and electrolytes. CLIF SHOT BLOKS come in the FASTPAK® designed for athletes and there are 8 flavors, 3 with caffeine, and 1 with extra sodium so you can get what works just for you. Click here for more info.
All The News That Is Barely Fit To Print
British Barmaid Spills Beans On Year-Long Affair With Usain Bolt Apparently Bolt doesn't suffer from the same problems as LaShawn Merritt, as the heartbroken lady says Mr. Bolt was the best lover she ever had.
Ridiculous Read Of The Day
One Of The Most Popular Stories On Kenya's Daily Nation Site Is A Story Entitled "The Secret To Our Happy Marriage" About A Man Who Has A Totally Sexist Constitution For His Marriage The rules insist his wife stick to the traditional roles of "preparing food, washing clothes and dishes as well as farming," that she worship the religion of his choosing and that she not travel without his permission.
Train Smarter
Recommended Read Fantastic Profile Of Josphat Menjo - The Man Who Soloed 12:55 And 26:56 This Summer Some old schoolers may be horrified to realize their hero credits much of his breakthrough to a weight and stretching regimen.
Detailed Look At Chilean Miner Who Ran Up To 8k A Day To Improve his fitness, he pulled a cart behind him.
Trackfocus: Don't Underestimate Portland - They May Be Nearly As Good As Oregon And Stanford They didn't race one of their studs at Pre-NCAAs.
NYC Interwebs
LRC Recommend Watch Two Worthy Video Series To Get You Pumped For Sunday's ING NYC Marathon There are two well-done video series dealing with Sunday's ING NYC Marathon. Adidas and Flotrack went to Ethiopia and have produced a series on the Emperor, Haile Gebrselassie. The NYRR and Kimbia Athletics have their own series: "Rookies vs. the World" that is chronicling the marathon debuts of Olympic bronze medallist Shalane Flanagan, Canadian 10k record holder Simon Bairu, and American hopeful Tim Nelson and has cameos from Chris Solinsky. We've now watched them ourselves and urge you to as well, but give our synopsis of each and advice on what to watch if you have limited time.
Week In Review (formatting problem fixed)
LRC The Week That Was We take a detailed look at Wilson Kipsang's 2:04 marathon from last week and do some in-depth analysis of the 2:04 marathon club and sub-59 half marathon club. Plus we praise a drug cheat and more.
Non NYC News
Letsrun.com NCAA Polls
LRC NCAA XC National And Regional Polls Now Open The Oklahoma State and Stanford men made a mockery of their conference meets. One coach has switched his vote and now OSU is #1 in the country in the coaches' polls. Should they be? Vote now. Regional voting for the first time this year as well.

Latest NCAA Coaches Polls: 1 Coach Switches His Vote And Oklahoma State Is Now #1, Villanova Unanimous #1 On Women's Side Hard to believe, but only six different schools have been ranked #1 on the men's side since 1998.
Interesting News/Reads
News From Europe
*Mark Lewis Francis Regains UK Lottery Funding Mr. Clutch on the 4 x 100 deserves it.
*Lithuanian European Marathon Champ Zivile Balciunaite Says She Didn't Dope At least she's not claiming to not knowingly have doped, like Marion Jones.
*Olympic Heptathlon Medallist Kelly Sotherton Quits Multi To Focus On 400 She's hoping that will lead her to being healthy at age 33.
Monday's Action: They're Back ... Arkansas Men Dominate SEC *SEC Men's Results

Florida Women Win SEC XC *SEC Women's Results
ESPN 30 For 30 Documentary Lets Marion Jones Off Easy Thankfully the television critic knows what most of us know - that Jones is still not telling the truth about doping.

Recommended Read: Marion Jones Is A Liar "They didn't put Marion Jones in prison because of what she looks like. They put Marion Jones in prison because of what she did. Marion Jones is a liar."
Previous NCAA XC
Sunday: Big 10: Men: Wisconsin Men Absolutely Crush Indiana And Everyone Else 28 points get the Badgers a 12th straight title
Women: Mich. State Edges Michigan And Minnesota
Pre-Race: Big 10 Men's Preview (Wisco Vs. Indiana (Going For First Title In 30 Years))
Saturday: PAC-10: Women: Meet Of The Weekend: Stanford Edges Arizona, Washington And Oregon 4 teams all separated by 6 points. #2 Oregon is still looking for its first conference title in 15 years.
*Jordan Hasay Pumped To Get Individual Crown But 2nd Ranked Ducks Only Tie For 3rd As A Team *Oregonian Recap Of Meet
*UW's Kailey Campbell Comes Up Big For Washington

Men: Stanford Goes 1-2-3 To Destroy Rest Of Conference The #1 Cardinal will have a tough battle with OSU at NCAAs.
*PAC-10 Video

Big 12s: Men: "Unbelievable" Oklahoma State Goes 1-2-3-4 At Big 12 Meet Colorado defeated Oklahoma for 2nd.

Women: Rose Tanui Leads Tech To Win Over Colorado
*Mark Wetmore Pleased With Buffs' Runner-Ups At Big 12s

Big East: Men: Chris Fox's Syracuse Men Edge Ron Mann's Brice Allen's Louisville Men This really can't be the first Big East men's team to repeat, can it? Perhaps since the league expanded. Wejo beat Fox in a road race in 1997 and unfortunately for the rest of the coaches in the league, he decided to retire from racing and take up coaching.
Women: #1 Villanova Defeats GTown 26-42
On The Boards: Big East Results?????

ACC Recap: Florida State Sweeps Team Titles
Results: Women Men
On The Boards: ACC Results!!!

A10: Richmond Sweeps It's the first title ever for the men.

America East: Boston U. Men, Stony Brook Women Win *Binghamton's #1 van Ingen Drops Out And Binghamton Fails To Repeat As A Result

Friday: Heps: *Princeton Women Win 5th Straight Title
*Princeton Men Complete Perfect Weekend for Tigers The Princeton teams won both team and individual races as Donn Cabral outdueled defending champ Dan Chenoweth.

Monday: SEC (The SEC website doesn't even have the meet on its calendar).
*A Look At Ole Miss's Kirui Brothers (Barnabas And Martin)
Never In America
Mo Farah Honorary Captain Of Denver Broncos On Sunday
He's Doing Better
1:50 800m/Academic All-American Dale Dunn From Coppin St. (& Jamaica) In Critical Condition After Being Shot In Chest He was talking to his mom on the phone when shot.
NYC Marathon News
Crazy Stories
Random News
Week In Review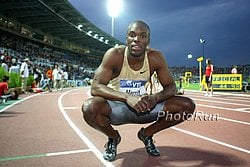 LRC The Week That Was Ryan Hall's big move, Doug Logan's law$uit and his contract with USATF being revealed, and LaShawn Merritt's ban being handed down. We've got it all covered plus some great quotes from Steve Jones and Galen Rupp.
LRC NCAA XC Polls
LRC NCAA Super Polls: Stanford And Villanova Reign Supreme On the men's side, Stanford and Oklahoma State distanced themselves from #3 Oregon. On the women's side, Villanova remains the #1 favorite. We break it down and give you the LRC Fans' Conference Predictions.
Bolt
LRC Exclusives Galore
LRC Exclusive: Doug Logan Sue$ USATF: The Details Of His Law$uit And Employment Contracts The lawsuit has already resulted in the release of Doug Logan's two employment contracts with USATF and we've got the dirty details for you. The caviar, the first class flights, the $500,000 offered severance - read all about it (the caviar and first class flights are a joke).

LRC Legal Correspondent Matt Lane: "RULE 45": Is LaShawn Merritt Banned From The London 2012 Olympics? 11-time NCAA All-American and 4th place finisher at the 2000 Olympic Trials, Matt Lane, has graciously shared his legal knowledge with us and takes on the IOC's attempt to ban LaShawn Merritt from the 2012 Olympics.
Recommended Read 25 Years Later, Steve Jones Still Has British Marathon Record The Welshman isn't happy to still have it as he says, "I'm sad that I've still got the British marathon record because you want to see the sport move on." The article is full of great quotes as Jones rips charity marathoners.
Performance Of The Month - Kara Goucher Already Has Lost 27 Pounds & Will Be Up To 50 Miles A Week Next Week Remarkable considering her baby was born less than a month ago (9/24).


LRC Week That Was: Unspoiled Kenyans, High Mileage Success, Wilson Kiprop And Menjo And The Knights We go behind the scenes to cover the last week in the running world. We take a look at Stefano Baldini's lifetime mileage, our beloved Menjo, Wilson Kiprop and more.
Something We Missed From Last Weekend
9 Break 28:00 In Japan Seven of them were Kenyan, but it's impressive nonetheless.
David Torrence Talks About His 2010 Season Torrence is only moderately satisfied with the year as while he ran 3:34, he failed to run well at the indoor or outdoor USA finals.
Sponsorship News
He Said / She Said: Question Now Is Will Merritt Be Eligible In 2012?
LRC Legal Correspondent Matt Lane: "RULE 45": Is LaShawn Merritt Banned From The London 2012 Olympics? 11-time NCAA All-American and 4th place finisher at the 2000 Olympic Trials, Matt Lane, has graciously shared his legal knowledge with us and takes on the IOC's attempt to ban LaShawn Merritt from the 2012 Olympics.