Unbelievable
Berlin Marathon Is This Sunday
Commonwealth Games Start Next Sunday
Doug Logan Doesn't Go Quietly
Week In Review
More Weekend Action
Commonwealth Games-Related News
Commonwealths Are Approaching
Recommended Reads About 1,500 Men
Doug Logan In The News
The 30th Edition Of Fifth Avenue Mile Is This Sunday ... Watch Live On LetsRun.com (Pros At 12:50pm Eastern) *Men's Bios *Women's Bios
*
Preview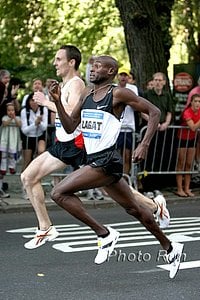 This is the best 5th Avenue Mile on the men's side we can remember (the tactician Bernard Lagat vs. the hot Leo Manzano vs. a fast-improving Alan Webb vs. Nick Willis rounding into form for Commonwealths, not to mention Amine Laalou). Pro races start at 12:50 pm Eastern with a live feed on LetsRun.com. We've got 2 great reads below to get you psyched for Sunday.
*Recommended: Great NY Times Profile On Leo Manzano Leo talks about turning around his 2010 season and growing up very poor (his parents didn't really understand what it meant to go to college).
*Lengthy Profile On Nick Willis, His Upbringing In New Zealand And This Sunday's 5th Avenue Mile Written by a Kiwi who saw Nick run a race at age 7 (the article talks about Nick's family and how his mother died when he was 5).
Pro Distance News
Previous 5th Avenue News
Newsweek: The Case Against College Athletic Recruiting We must admit we don't get why totally obscure sports get supported at the Ivy League level, but then again, some might say track is obscure. No mention though of how athletes might succeed better after college.
US Distance News
Doping News
International News
Most Read Running Story Of The Week
Front Page Of Wall Street Journal: Men Who Run Women's Only Races Technically, most of the races aren't women's only. Some even invite men, like the Nike Women's Half Marathon, but then when a dude won it he was heckled.
Some Runners Aren't Happy That Competitor Group/Corporate Entities Are Taking Over Running Events
Max King & Lauren Fleshman Win 2010 XTERRA Trail Run National Championship
Marathons For The Masses
British News
Philly Half & US 5k
Philly: LRC Matthew Kisorio Slays Gebre Gebremariam As Ryan Hall Struggles 5k man Matthew Kisorio showed that Gebremariam is beatable after all, but it takes a 4:24 3rd mile to do it. Ryan Hall was never a factor and struggled mightily (63:55) as Brett Gotcher (62:50) was the top American, but he was beaten by former NCAA runners Simon Bairu, Alistair Cragg, Wesley Korir and Shawn Forrest.
Pre-Race: Hall Very Confident: "I wasn't totally in top-notch shape last year, but I think I'm in better shape this year."
LRC Meseret Defar Wins As Shalane Flanagan Runs 68:36 2004 Olympic 5,000-meter champ Meseret Defar's move up to the half marathon was a successful one as she defeated the hottest road racer on the planet in a sprint finish to get the win, as Shalane Flanagan became the 4th-fastest American in history.
More: Defar Wins As Heat Bothers Flanagan
Pre-Race: *defar VS flanagan....who ya got?

Providence/USA 5k: LRC Molly Huddle And Robert Cheseret Win 5k Titles American record holder Molly Huddle got a comfortable win on the women's side but on the men's side, it was newly-naturalized US citizen Robert Cheseret who got a surprise win. Don't know Cheseret? He's Bernard Lagat's brother as well as the guy who was able to beat Dathan Ritzenhein for the NCAA title even though he fell down in the middle of the race.
A Brief Chat With Shannon Rowbury The 1,500 star will end her season in New York on Sunday.
Weird: Pro Meet In Kawasaki Japan Has No Distance Races You'd think given the Japanese love of distance running that would be the highlight. Instead, it was highlighted by Christophe Lemaitre in the 100m.
Sprint News
Villanova And The Ducks Go To Washington
Drug Cheats Rejoice
104 Baseball Cheats Can Breathe Easier Tonight As Court Rules Government Illegally Seized Records Of Their Positive Drug Tests

Underdogs Rejoice Man With 15th-Best PR Wins Japanese University 5,000 Title
Drug News
Former University Of Iowa NCAA Standout Racheal Marchand Tests Positive For EPO Marchand was fifth at the NCAA XC champs in 2008 and quit her job this past year to train full-time for the 2012 Olympics for Puerto Rico. We and everyone else are bit late on this story, but this message board thread is all over it.
*Racheal Marchand Wins XC Race, Refuses To Talk To Reporter, Her Mom Blasts Reporter In Comments Section
*Flashback: Racheal Marchand Quits Her Job As A Drug Rep To Train Full Time For 2012 Games
On The Boards: Former NCAA standout EPO busted
High School/College News
LRC Poll
Powered By