Hot Off The Presses... LetsRun.com's The Week That Was In Running

Last week was light in terms of domestic US action, but we've found plenty to talk about. In roving the globe from Shanghai to Daegu to California, we find time to rip the new 2012 Olympic mascots, wonder if long years are in store for top US pros Shalane Flanagan and Jacob Hernandez, catch up with Lukas Verzbicas, give out free coaching advice from Jerry Schumacher and bow down to the great Japanase sprinters with an introduction to Shota Iizuka.
Adidas Grand Prix In NYC Announces More Stars
Matchups include Kiprop vs. Symmonds At 800. Scroll this article to see all the big-name pros signed up (plus there will be a great HS mile). Ticket sales for the few remaining tickets will reopen June 2. Of course Usain Bolt will be running, but also see Matt Tegenkamp race Bernard Lagat at 1,500 plus all the best US women's 1,500 runners.
Bekele Still Bothered By Calf - Pulls Out Of All June Meets In this day and age it's startling that a runner with as many resources as Bekele hasn't found a way to get back to racing. But if you're going to miss any year, it's this one.
USATF Launches Coaches Registry Program In order to become a coach registered with USATF you must now undergo criminal, terrorist, sex offender and identity verification procedures and sign a code of conduct.
3 Distance Runner Interviews
David Torrence Talks Training With Runners World Torrence has been fun to watch this year, especially at Penn Relays where he and Leo Manzano were toe to toe.

Excellent Interview With Khalid Khannouchi Following His Return To Racing At Healthy Kidney KK hadn't raced in 3 years and at 38 was happy with his 30-minute 10k clocking in the Big Apple.

Spain's Arturo Casado Gunning For Upcoming European Track Championships In Barcelona This might get our vote for non-US meet of the year.
Usain Bolt Signs Endorsement Contract With Swiss Watchmaker Hublot
A Little High School Coverage
Univ. Washington-Bound Katie Flood Has Huge Meet At Iowa HS Champs Midwest Distance Gala Weekly
Running Inspiration
*Great Read: 75th Anniversary Of Jesse Owens' 4 WRs In 45 Minutes At Michigan Sports Illustrated ran this piece to mark the 75th anniversary of Owens setting WRs in the 100, long jump, straight 200 and 200 low hurdles in less than an hour.

*Relaxed Running - Old Interview With Sprint Coach Bud Winter Unearthed As Winter humorously explains, one of the most overlooked keys to running (sprinting or distance) is to relax. To get re-energized with the keys to proper training, check out any of our LetsRun.com Training Talk audio interviews.

*Haile Gebrselassie Talks About His 130 Mile Weeks And Upcoming Plans
Keitany To Face Stiff Test This Weekend - Upcoming Events
Mary Keitany To Face Linet Masai In BUPA London 10k Mary Keitany has been untouchable on the roads, especially at the half marathon - 25k distances. We'll be interested to see if track 10,000m world champion Linet Masa, who just ran 14:31 in Shanghai, can upend Keitany in London.
Good Reads From Last Week
Sanya Richards Suffering From Bechet's Disease Flare Up We found this article fascinating. Sanya Richards talks about dealing with Bechet's Disease, the symptoms of which appear after especially stressful episodes like her platinum wedding to NY Giant Aaron Ross.
USATF High Performance Mid-D Meet At Occidental
*USATF Occidental Results Leo Manzano and Russell Brown raced to the wire in the 1,500 with Manzano getting the win and Brown a PR, both in 3:36.

*Video/Results Runnerspace was there with coverage of the women's 800/1,500 races where some big name pros stepped down in distance. Treniere Clement won the women's 800 and Nicole Edwards was the surprise 1,500 winner.

*Boards: JennyB - 4th, Clement - 1st, More results to Come Tonight! Rowbury 4th!
Former Jamaican Sportsperson Of The Year Incensed With 2-Year Ban Chris Williams, 38, is appalled at the way he was treated by the JAAA.
Kara Goucher Talks About Popular Jordan Hasay And Pregnancy Doug Binder got Kara Goucher to agree that Jordan Hasay is the most popular female runner in Oregon.
LRC Exclusive The 24/8 NCAA Qualifying Plan Explained Unlike the average person, we already know who made NCAAs this year...

Not exactly. This year in outdoor track we have the Pure Regional system. Last year was regionals plus time qualifiers. The NCAA plan for next year may likely be a totally different version. As a way of looking ahead, we took the time to find out exactly who would make NCAAs this year if the proposed "Wilson Plan" or "24/8 Plan" was already in place.
More: *Regional Previews: 800m - 1500m
*Boards Discussion: DEAR VIN LANANNA: Here are the reasons to have regionals
Upcoming Events For The Sport That Never Sleeps
Thursday: Usain Bolt To Run Golden Spike Ostrava 300m David Rudisha will contest the 800m as well.

Friday And Saturday: Preview Of NCAA Regional 800m Regionals will run from Thursday - Saturday to determine who makes NCAAs in Eugene.

Sunday: Josh Cox And Team World Vision Head To South Africa For Sunday's Comrades Ultra We're fascinated by Josh Cox's attempt to win this race.

Monday: Boulder, CO Getting Excited For Memorial Day Bolder Boulder
More Weird Cheating News From China
Shandong Marathon Winner Banned After Ringer Revealed Video revealed that the supposed race winner actually hired a ringer to run for her.
Another Rising Star - Titus Mbishei
Titus Mbishei Announces His Arrival With Big Win Over Kipsiro, Lelisa, Tola and Merga 19-year-old Titus Mbishei truly left his mark this weekend by defeating some big names by big margins in Bangalore, India.
*Young Kenyan Mbishei Will Use Prize Money To Help Teammates An amazing gesture from Mbishei, who won $21,000 and trains with 25 other guys in Kenya.
*Titus Mbishei Profile World junior XC and 10,000m silver medalist has run 27:31 for 10,000m. Stats courtesy of Pace Sports Management

More Interesting Results
*Geoffrey Mutai Follows 2:04 Marathon With 1:07 Half Marathon Win At Altitude In Nairobi

*20-Year-Old Teddy Tamgho Sets Triple Jump World Best With Amazing Series You may remember Tamgho as the guy who broke the indoor TJ world record (we gave him the quote of the day because he sounded so interesting).
Video Of The Next Sprinting Phenom? Check Out Japan's Shota Iizuka We knew something crazy must have happened when distance running enthusiast Brett Larner of JapanRunningNews.blogspot.com sent us a link to a university 4 x 100 video. Chuo University (lane 5, in white) runs 38.54 thanks to a monster anchor leg from freshman Shota Iizuka. 38.54 would have won the NCAA 4 x 100 final last year, almost beaten the 2nd American team at Penn Relays (38.50), and made almost any Olympic or WC final. Worth a watch.
*More From Larner: Dream Win For 5,000m Underdog
Shanghai Diamond League Coverage *Full Results *LRC Photos
LRC Recap/Results: Bolt Smashes Competition, Fast Distance Races Headline Shanghai Diamond League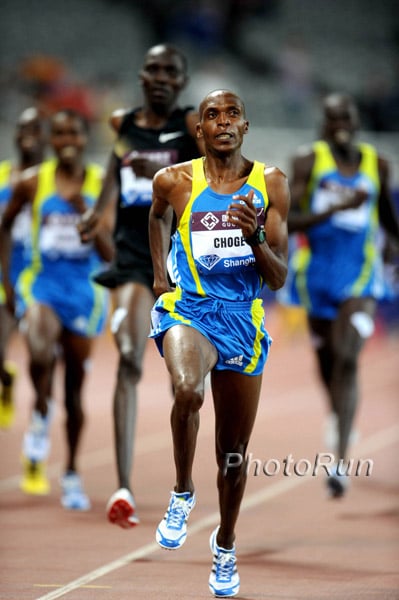 *LRC Photos Usain Bolt ran 19.76 or better for the 11th time in his career (the next closest guy in history has 3). Other happenings included Liu Xiang finishing as the 2nd Chinese hurdler, Sentayehu Ejigu winning a great 5,000 in 14:30, Asbel Kiprop showing he is in top form, and flops by some dominant field eventers.

*Bolt 19.76 Video
*Shanghai Meet Writeup From IAAF
*Bolt Tells Gay He Can Chase The Records Bolt says to Gay - go ahead and chase my times, I'm just trying to stay undefeated this year.
Readers React To Lananna's Criticism Of NCAA Regionals
*Why NCAA has regionals
*DEAR VIN LANANNA: Here are the reasons to have regionals
*Original Article: Lananna On Ducks' Entries In Austin
More Results: USA's Karjuan Williams Runs 1:45.79 For 5th In Brazil The X-Man won the slower of two 200m heats and the men's 5,000 was won in 13:17 in this IAAF World Challenge meet attended by a number of US sprinters.
*Festival Of Miles Elite Men Video 2 guys broke 4:00 in Missouri, led by Andy McClary.
Latest Track Talk
NCAA "Round 1" Declarations Announced ... Wheating Doubling 1,500/800
*Men East - West *Women East - West
In the new system starting this year, the top 48 D1 performers in each event from the East and West compete for 12 spots in their region. Combine the top 12 from East and West to make the 24-person fields in the NCAA finals in Eugene.
*Championsip Central
*Site/Date: Greensboro, NC and Austin, TX ~ May 27-29 (Thu-Sat)
Lance And Landis Hot On The Boards After Unexpected News:
Shanghai Previews
Diamond League Shanghai Entry Lists
Usain Bolt, Jeremy Wariner and Liu Xiang highlight Sunday's sprinting action and we'll also see many of the top African distance runners square off, including Asbel Kiprop and Deresse Mekonnen in a loaded 1,500, Pamela Jelimo and Jenny Meadows in the 800 and Linet Masai in the 5,000. Plus field event fans will like to see Irving Saladino (PAN) vs. Dwight Phillips (USA) vs. Fabrice LaPierre (AUS) in the 2nd of 12 Diamond League meets.
*Liu Xiang And Bolt Meet Shanghai Press - Liu Says Bolt Is Not From Earth
Freshman Japanese Sprinter Runs Unbelievable 4 x 100 Anchor