LetsRun.com's Week That Was Last week was an epic week. The BCS power conferences had their conference meets, the Diamond League got under way in impressive fashion, Tyson Gay ran 19.41, Charlie Francis passed away, and there were a ton of high quality road races. We try to recap it all for you. Along the way, we announce the return of Nancy Langat and give out special praise to AJ Acosta for an amazing performance at PAC-10s and famed coach Renato Canova for ripping the idiots on the LRC message boards.
Some More NCAA News From Big Weekend
Duck Women Absolutely Crush It (215 Points!), Manly Eaton And Acosta Propel Duck Men
*Final Results
*Ken Goe PAC-10 Recaps Nicole Blood, Chris Derrick win 5k/10k double. Ashton Eaton wins decathlon, 110 Hurdles, LJ, 2nd in 100, runs leg on 4 x 1 ... Acosta scores in 1,500 (3:41), steeple (8:52), 5k (13:46) to give Ducks close win over USC.

Boards: *AJ Acosta - 13:46.87 - 3rd place in 5,000 !!! 19 Points at Pac Tens!!! WHAT A STUD!!!
*Wheating Wins, Primm chokes to 4th...
*Upset > Zoe Buckman beats Katie Follet by 5/100ths to Take Pace Ten 1500m Title

Big 12 Lisa Koll 15:22!
*LIVE Results *LIVE Blog
Nebraska 1st, Oklahoma 2nd, US #1 Texas A&M men 3rd. No problem for A&M women, who win handily.

Big 10 *Final Results Big Ten Nailbiters! Gophers Grab Men's, PSU Lady Lions Take Women's Big Ten Titles. Minnesota had 3 scorers run 1:49 in 800, Angela Bizzarri wins 1,500 by 0.01 and 5,000 in 16:12, Wisco men 1-2 in 1,500, Franek scores 10, 5, 6 in Steeple, 1,500, 5k.

SEC Florida Men, LSU Women On Winning Track - Arkansas Men Getting Trounced
*Razorback Alain Bailey Leaps 27'5" To Win Epic LJ
*Final Results

IC4A A first: GMU frosh Chris Carrington runs 1:48.96 and misses the final thanks to strong 800 prelims.
*IC4A/ECAC Results
City Games Impress In Manchester
Tommie Smith Thinks Gay Can Beat Bolt At 100m Gay almost ran as fast for the first 150m of the 200m as Bolt did last year when he set a straight 150m WR.
*Boards: Did Gay really run 8.72 from 50m-150m??

Surprise: GBR's Andy Turner (Who?) Beats Trammell In 110 Hurdles, Batman/Sanchez/Brathwaite In 200 Hurdles

Full Recap Of Manchester City Games We love the execution of this meet and hope they listen to 200m winner Allyson Felix and bring the event to NYC or L.A. (except nobody would go if it was in L.A.).
Manchester - Tyson Gay Makes Strong Statement
Tyson Gay 19.41 200 Tommie Smith (former straight 200m WR holder) was on hand to congratulate Tyson Gay, who ran 9.88 for the first 100 and 8.72 from 50-150m on the straight track.
Hot On The Boards: Tyson Gay 19.41 straight 200m in the UK


Haile Struggles But Wins BUPA Manchester 10k Haile's previous bests at Manchester were 27:25 (2005) and 27:39 (2009). Worknesh Kidane (2003 World XC champ) won the women's race and is the wife of Healthy Kidney and Central Park record setter (and World XC champ) Gebre Gebremariam.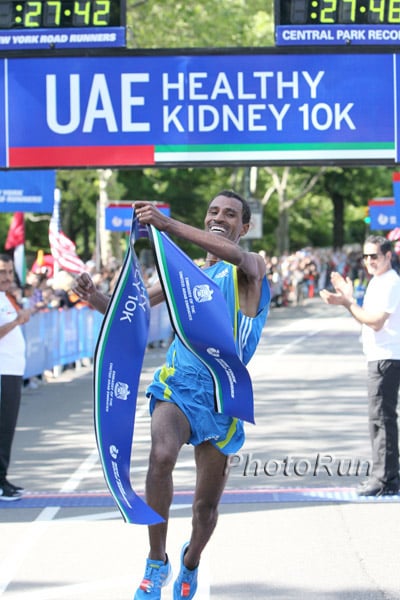 Healthy Kidney 10k: Gebre Gebremariam Wins In 27:39, Breaks Central Park Course Record And Pockets $27,500
Gebre Gebremariam was last year's World Cross champ, so the tough NYC course was no problem for him. Khalid Khannouchi ran 30:31 and was one spot ahead of former NCAA champ Bobby Curtis, who ran 27:33 2 weeks ago and perhaps was just doing this as a tempo run.

*Amateur Reporter Gives Interesting Insight Into Healthy Kidney Runners Kamais, Birmingham and Co. 2nd-place Kamais is a Kenyan who trains himself, Birmingham's shoeless 1,200 at Penn set him back 1 week.
*Message Board Thread On Race
*Khalid Khannouchi Returns

Great Read: Reporter Looks At Motivation Of Jamaican Youths Running To Escape Poverty
High School Freshman In Korea Runs 15:38 5,000m A national record as well. Pretty damn impressive.
Recommended Read: Former Ivy 800m Runner Writes Great Piece On Genetics And Speed For SI.com Nature or nurture? Genetics or environment? What are the genticists finding out about specific genes and how they relate to sprinting?
Maybe Track Is Getting Popular In The US
Chris Solinksy's Run (And LetsRun.com) Gets A 3 Line Mention In A Mainstream Sports Blog Look out, NFL. Proof of the soaring popularity of track and field (see Washington Post article below). The story on a high school track team losing it's league championship because of a pole vaulter wearing a friendship bracelet got a full story. Seriously, we want to give a shout out to the LetsRun.com fan who fought hard to get Solinsky a little press.
LetsRun.com In Washington Post
Washington Post: "Track's Popularity Soars Despite Lack Of US Star Power" LetsRun's co-founder Wejo is quoted and Rojo is mentioned as Amy Shipley of the Washington Post examines the positive state of track in America. We like the article but (despite our rapidly rising numbers) aren't sure the sport is soaring in popularity, considering the average person on the street couldn't name a single US track star. We're glad however to see the sport in a positive light (but never thought the sport was down in the dumps) and think the article is proof the sport's execs need to get the sport on network television or ESPN more often.
Daegu Crowds Stand And Applaud Bolt
Boards: Bolt 9.86 In Daegu
*Recap Bolt got a bad start before running hard to an 9.86 victory on a day where most times were not fast. See the race video to the right. (Shorter Video (1:00))

*Full Results Jamaican Kenia Sinclair (2:00) got a nice win beating Pamela Jelimo (2:01), Steve Slattery showed he is back in great shape with an 8:24 steeple, world champion Mbulaeni Mulaudzi got an easy win in the 800 in 1:45.6. USA's David Oliver (13.11) crushed WR-Holder Dayron Robles and reigning world champ Ryan Brathwaite in the high hurdles.

*South Korea Use Bolt/Daegu As World's First Live Stereoscopic 3D TV Broadcast South Koreans TV watchers became the first nation to see a live sporting event in stereoscopic 3D.

Boards: "Are we going to see the most unbelievable year for sprinting in the history of the sport?"
Recommended Read: Funeral For A Friend - Jim Ferstle Recalls Charlie Francis Ferstle describes the pinnacle of the sprinting world: "Contrary to popular belief, not everyone was seeking an 'edge' from doping, many just wanted it to be a 'fair fight' where each side came into the battle with similar tools."
Around The World - Korea, Kenya, South Africa
*Times Says Athletes May Protest Return Of Caster Semenya We think the headline is potentially misleading, as the quotes come from many months ago.

*Bolt Expects Very Fast Time Wednesday In South Korea

*Kenyan Organizers Hustling To Get Ready For African Champs In 5 Weeks They're just now laying asphalt for a warmup track.
Maybe We Should All Listen To The Smart Guy
Recommended Read: World-Leading Sports Scientist Tim Noakes Speaks Out In Defense Of Semenya, ASA If anyone has an educated, unbiased grip on the Caster Semenya situation, it's Tim Noakes, the South African-based co-founder of the IOC's Olympic Science Academy and of the Sports Science Institute in Cape Town. In no uncertain terms, Noakes explains why he believes unequivocally that Caster should be allowed to run and the case is more about protecting image rather than a reality.

*Turmoil In South African Athletics As Hendrick Ramaala Resigns In Protest Of ASA Election Holdup
History Lessons
Ben Johnson Says The Time Has Come To Speak The Truth - Will Appear At NYC Symposium, Release Book

Recommended: Mike Hurst - A Personal Perspective On Coach Charlie Francis A great read from a friend of Francis titled "End of good run for flawed coach."

Short Piece On Marathon WR Setter Derek Clayton This short bio was sent to us by a reader. It's amazing to look back 40, 50 years to see what guys were doing in that era.
Chepkurui Sets Another World 12k Record At SF's Wild Bay To Breakers Lineth Chepkurui is having a road racing season to remember: 30:45 10k Crescent City, 51:51 Cherry Blossom 10-mile, 38:10 WR Lilac Bloomsday 12k, 38:07 WR Bay To Breakers 12k. Sammy Kitwara got a very narrow win in a much slower men's race (yes, that is an avatar in the photo above).
Finally: Track On TV!
Princess: Watch Sanya Richards-Ross $600,000 Wedding On WEtv Mon Late Nite You knew "Track On TV" was a hoax.

*Photo Of $10,000 Richards-Ross Wedding Cake

Pauper: IAAF's Lamine Diack Announces Plan For Million$ In Cuts Some are calling for Diack to give up the leadership role of the supposedly imperiled IAAF.
Marion Jones Graces New Type Of Court
Benchwarmer Marion Jones Packs Tulsa Arena Tulsa Shock fans were out in droves for their team's season opener with disgraced track and field phenom Marion Jones. Jones barely got off the bench and only scratched the scorecard with one personal foul.

Coach: Marion Jones' Teammates So Nervous They Were Airballing Layups Don't expect this headline on the next WNBA commercial.
Random News - Ultras, Dallas, Clever Thieves And Shaheen In Kenya
LRC Photo Gallery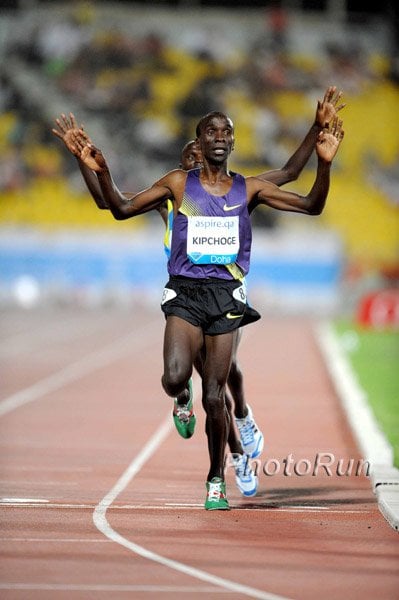 LRC Photos Tell Story Of Doha Diamond League Opener Who has time to look up every result? See our photos and find out who won every event in Doha.

LRC Special: Photos From Haile's New Resort, Tsegaye Kebede's Crib And Addis National Stadium

*LRC Photos Of Khalid Khannouchi, Gebre Gebremariam Healthy Kidney 10k
Diamond League Kicks Off In Style *Results *Recaps *Photos
Blazing Times In Doha From 100m To 5,000 Asafa Powell impressed the crowd with a 9.75w in the first round. Distance times were fast as well - 12:51s for Eliud Kipchoge and Vincent Chepkok while David Rudisha and Asbel Kiprop ran 1:43s in the 800. Olympic champion Nancy Langat won the women's 1,500 in 4:01 to announce her return to the top. World champion Joseph Ebuya struggled home in 13:33 9th in the 5,000.

Asafa Powell Impresses, Allyson Felix Cruises In Opening Diamond League Meet Asafa Powell ran 9.81 in the 2nd round despite a terrible start.

Doha On The Boards: RUDISHA VS KAKI
Two 12:51's in Doha! Think there might be a new PED out there? At least someone noticed the 12:51. If an American ran this time, it's all anyone would talk about for a month. Instead, Kipchoge did it in 88-degree heat.
*Is this the year that Kipchoge cracks 1240..or at least sets a PR???
*Joseph Ebuya is not very good We don't care what he ran in Doha. He's the World XC champ. We're surprised he ran the race, but wish Universal Sports had even acknowledged him being on the starting line.
*Asafa Powell wind-aided 9.81