Puma Boston Street Meet Contest
by: LetsRun.com
April 8, 2009
*Click Here to Enter
*Click Here to Read Entries from Tommie Smith, Sean Quigley, and Delilah DiCrescenzo

Usain Bolt and Puma are introducing the Street Meet in Boston the weekend after the Boston Marathon. The Street Meet is a unique running event that combines the atmosphere of a Jamaican street carnival with the excitement of unique street races.

LetsRun.com has long believed the key to our sport's survival is to make it entertaining and exciting to casual fan. Hopefully the Street Meet can do just that. So when Wejo's college teammate Matt Taylor of ChasingTradition.com and Chaskingkimbia.com fame (now the running marketing guy at Puma) approached us about having a contest to give away a VIP prize package to the Street Meet, we thought it was a great idea.

If you don't know what the Street Meet is, read Matt's write up below. If you just want to win the trip to Boston, hang out with Usain Bolt, and watch the races, click here. The Grand Prize winner gets an all-expenses paid trip to Boston for two and - get this - Usain Bolt to record your voicemail message!

About the Street Meet
Think all-day track meets are boring? Yeah, so do we.

That's why the World's Fastest Man, Usain Bolt, and Puma are reinventing track by taking it to the streets. The Street Meet mixes the atmosphere of a Jamaican street carnival with the excitement of unexpected racing. It strips running to its core - go as fast as you can. There are no times or exact distances; no track is required. Anyone can run. The day's fastest will compete for the title of Street Meet Champion.

"Before I started breaking world records, I played soccer and cricket, hoping to one day make it as a professional athlete. I wasn't thinking about Olympic gold. I never even thought that I was that fast until someone told me I should give track a try. Next thing I knew I was World Junior Champion at 200 meters. It happened that fast."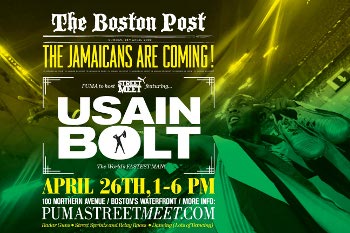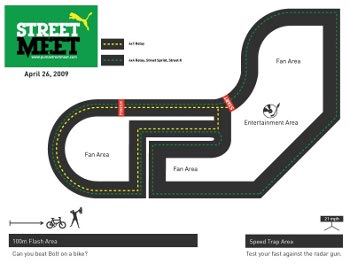 Truth is: some of the fastest athletes in the world never step on a track because they choose another sport instead. But what if the Street Meet discovered them first?

Usain Bolt is taking the Street Meet around the world looking for the next World's Fastest - the next athlete who will redefine the boundaries of human speed. Sound like you? Stay tuned to find out when Street Meet is coming to your city.

Street Meet Boston
The first stop on Bolt's Street Meet World Tour is Boston. To kick it off right he's bringing his friends; he'll be joined by some of his Olympic teammates and Jamaica's fastest high school athletes. So come on out. Test your "fast" in one of the unique events, or just hang out and enjoy Bolt's favorite things - good music, tasty food, and lots of dancing.
At the Street Meet there's something for everyone. Here are the events in which anyone can participate:
Street Sprint - Ten people at a time toe the line and race our street course. The winner of each heat will advance to the final where the Street Sprint Champion will be crowned.
Speed Trap - Do you have the raw speed to become the next Usain Bolt? Let the radar gun show you and your friends how fast you really are and compare that to Bolt's top speed in Beijing - 27mph!
100-Meter Flash - We know you can't beat Bolt in a foot race. Can you beat him riding a bike?
Run The Line - Test out the new Puma running shoes in a way you've never tested shoes before - just follow the red line and then give us your honest feedback. We're making some great training shoes, but we need your help making them even better.
And here are the events that everyone can watch, but in which only the fastest will compete.
Sean Quigley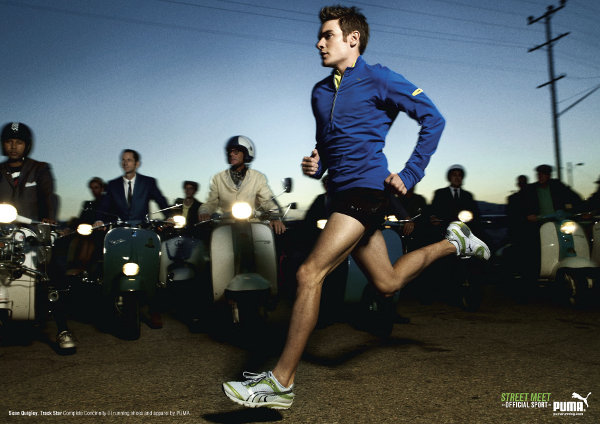 Delilah DiCrescenzo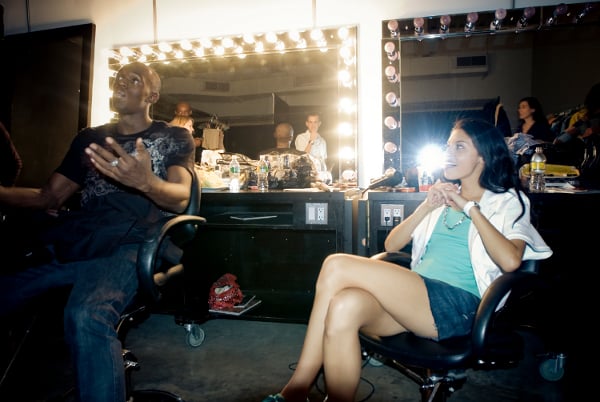 Street K: Jamaica solidified itself as a sprinting nation with its tremendous success in Beijing, including Bolt's three World Records. But there's more to island running than short bursts of speed. Bolt wants to show the rest of the world that Jamaican middle distance running is also fast. (Although he wants to be clear: he'll never venture beyond 400 meters.) This 1-kilometer street race will match the fastest middle distance runners from Jamaica against the fastest from the US.

Street 4x1: Bolt is bringing Jamaica's fastest high school boys and girls to race against Boston's fastest. Teams are coed and each leg is about 100 meters. Athletes won't be running in an oval or with a baton. The fastest high school squad from Boston will form one team. And the fastest people from the Speed Trap event will form the other teams.

Street 4x4: Bolt made his name as a high school 400m runner, so he's taking this classic track event and settling it in the streets. His Jamaican high school team will toe the line against Boston's best high school team, plus two teams consisting of the top finishers in the Street Sprint Championship. Once again, teams are coed.

Street DMR: High school rivalries are huge in Jamaica. The Boys & Girls Champs in Kingston is perhaps the greatest high school track meet in the world with 30,000 fans decked out in their team's colors. Bolt wants to see that same passion in Boston so we're pitting the high schools in Boston with the best sports traditions against each other. Each school will be represented by its three fastest boys and three fastest girls, from any sport. Relay legs will vary in distance, from a short sprint (~50m) to a long sprint (~300m). Bolt will crown the winning team Boston's Fastest High School.

More on the street meet at the street meet website: http://www.pumarunning.com/browse/streetmeet

The contest is pretty simple:

Usain Bolt and LetsRun.com want to know: What does fast mean to you?


We're not talking about cramming for exams or rushing to meet deadlines. We're talking about the get-out-of-the-house-and-get-those-feet-moving kind of fast. The kind of fast that talks trash. Trades in Saturday naps for six miles in sunshine. And breaks world records with its shoelaces untied.


The kind of fast that happens anytime, anyplace.


Show us what fast means to you (via text, video, or a photo). The Grand Prize winner will win a trip to Boston for the first ever PUMA Street Meet. The event will be hosted by Usain Bolt, the World's Fastest Man. The deadline for submission is midnight, April 15.


So get creative… fast.

The Prizes
The Grand Prize winner will receive: two (2) roundtrip coach class airfare tickets Boston, standard hotel accommodations and ground transportation in Boston, and a VIP invitation to PUMA's inaugural Boston Street Meet. You'll also get Usain Bolt to record your voicemail message. (So don't forget your cell phone!)


SUBMISSIONS


Submit one of the following answering the question: What does fast mean to you?

30-second video clip

100-word essay

1-MB photo


Check out submission examples here from Usain Bolt, Tommie Smith, Sean Quigley, and Delilah DiCrescenzo.

Entries will be judged by Usain Bolt, Tommie Smith, Sean Quigley, Delilah DiCrescenzo, and LetsRun.com. They will select ten finalists and then you, the readers of LetsRun.com, will select the winner.

How to enter. Below is the entry form and official rules. If you want to enter with a video, upload the video on youtube and tag it "streetmeet" and put the embedded code below. If you want to use a photo, we will add an upload box later (email us the photo if you want to submit it today). If you want to type a 100 word entry, type away.

Clearly we at LetsRun.com did not come up with these.

Lets Run.com & PUMA Sweepstakes

Official Sweepstakes Rules


NO PURCHASE NECESSARY. A PURCHASE WILL NOT INCREASE ONE'S CHANCES OF WINNING.

1. No Purchase Necessary.

Sweepstakes starts on or around 12:00AM (Central Time), on April 8, 2009 and ends at 11:59 P.M. (Central Time) on April 15, 2009 (hereinafter the "Sweepstakes Period"). Sweepstakes is open to legal residents of the continental United States, eighteen years (18) of age or older. Employees, directors, and/or officers (including immediate family members or members of the household) of Sponsor(s), their subsidiaries, affiliated companies, distributors, advertising, fulfillment and promotion agencies and all other companies or entities associated with the Sweepstakes are not eligible to participate. This Sweepstakes is void where prohibited or restricted by law. Participation constitutes entrant's full and unconditional agreement and acceptance of these Official Sweepstakes Rules which shall be final in all respects.


2. How to Enter.

All entries must be received by midnight (Central Time) on April 15, 2009. All entries, once submitted, become the property of the Sponsor(s), may be used by Sponsor in any media, for any purpose, in perpetuity and shall not be returned. Any incomplete entries will not be eligible for selection. Only one entry is allowed per person. Enter online at www.letsrun.com/2009/streetmeet.php and include your name, address, telephone number, email address and age.


3. Winning.

On or about April 15, 2009 Sponsor(s) shall select ten (10) finalists to be voted on by the public via online voting at www.letsrun.com during the period of April 16, 2009 to April 20, 2009, at which point one (1) grand prize winner and three (3) runners-up will be selected at Sponsors sole discretion. The selected grand prize winner will receive a Grand Prize which will consist of the following: two (2) roundtrip coach class airfare ticket Boston, standard hotel accommodations and ground transportation in Boston and a VIP invitation to PUMA's inaugural Boston Street Meet. TOTAL GRAND PRIZE ARV: $1,400. Winner will be notified via e-mail or telephone and winner will get to choose either the Grand Prize trip or One Thousand Four Hundred U. S. Dollars ($1,400) in cash (Grand Prize ARV). The three (3) runners up will receive PUMA running products and an autographed poster of Usain Bolt. TOTAL RUNNERS UP PRIZE ARV: $300. The odds of winning depend on the number of eligible entries received. A purchase will not improve your chances of winning. Sponsor(s) will be responsible for all applicable shipping and handling fees as well as applicable local taxes. Sponsor(s) is responsible for travel accommodations for the winner and Sponsor (s) will book all travel accommodations related to the Grand Prize for the selected winner. All travel bookings will be at Sponsor's discretion. If these rules differ from any promotional or other materials published in connection with the Sweepstakes, these rules shall control.


4. Conditions. Prizes are non-transferable. Cash substitution in the amount of One Thousand Four Hundred U.S. dollars ($1,400) will be allowed, at Sponsor or Winner's discretion. If the prize is unavailable, Sponsor(s) reserve the right to substitute a prize of equal or greater value. Sponsor(s) also reserve the right to cancel or modify the Sweepstakes or these Official Sweepstakes Rules if fraud, technical failures or any other factor beyond Sponsor(s)' reasonable control impairs the integrity of this Sweepstakes, as determined by Sponsor(s), in their sole discretion. By participating, where allowable by law, entrant grants to Sponsor(s) the worldwide right to publish, broadcast and use in any media, including the World Wide Web, participant's entry, name, picture, and likeness, without limitation, for promotional and advertising purposes without additional compensation. Winner or winner's guardian may be required, in the sole discretion of Sponsor(s), to sign and return an affidavit of eligibility and a liability release within ten (10) days of the issuance of such documents or the prize may be forfeited and awarded to an alternate winner.


5. Liability. By participating in this Sweepstakes, you (and if you are a minor, your parents or legal guardians) accept all risk and consequences of entry and participation in this Sweepstakes, and agree to release and hold Sponsor(s), its/ their officers, directors, affiliates, employees, contractors, subsidiaries, agents and partners harmless from any and all consequences, liability, losses, damages (including without limitation, consequential, punitive, incidental, special or increased damages and those related to personal injury, death or damage to property) and costs and expenses, of any kind, under any legal theory, arising from or related to this Sweepstakes, including but limited to your entry and participation in this Sweepstakes, the acceptance and/or use (or misuse) of any prize, printing errors, any claims based upon rights of publicity and invasion of privacy. Entrant shall indemnify Sponsor(s), its/ their officers, directors, affiliates, contractors, subsidiaries, agents, employees and partners from and against all claims or suits and any damages or costs (including reasonable attorneys' fees) arising from or relating to entrant's violation or inaccuracy of any warrantees or representations made relating to this Sweepstakes. Sponsor(s) assumes no responsibility for errors which may occur in the transmission of entrant's entry. Sponsor(s) is/are not responsible for any fraud or misconduct on the part of the entrants. Should an entrant engage in fraud or misconduct of any nature, including but not limited to a violation of the Official Sweepstakes Rules, such entrant shall be subject to immediate disqualification. Sponsor(s) reserves the right to terminate, modify or amend the Sweepstakes at any time if the fairness, integrity, and or proper administration of the Sweepstakes is jeopardized. IN NO EVENT SHALL SPONSOR(S) BE LIABLE TO ENTRANT FOR ANY LOST PROFITS, OR FOR ANY SPECIAL, INCIDENTAL, CONSEQUENTIAL OR OTHER INDIRECT DAMAGES ARISING OUT OF OR IN CONNECTION WITH THIS SWEEPSTAKES. Entrant's sole damages shall be limited to entrant's actual out of pocket expenses, excluding attorneys' fees. WITHOUT LIMITING THE GENERALITY OF THE FOREGOING, SUCH PRIZES ARE PROVIDED "AS IS" WITHOUT WARRANTY OF ANY KIND, EITHER EXPRESS OR IMPLIED, AND SWEEPSTAKES ENTITIES HEREBY DISCLAIM ALL SUCH WARRANTIES, INCLUDING BUT NOT LIMITED TO, THE IMPLIED WARRANTIES OF MERCHANTABILITY, FITNESS FOR A PARTICULAR PURPOSES AND/OR NON-INFRINGEMENT.



6. Law. These terms and conditions shall be governed by, construed, and enforced in accordance with the laws of the Commonwealth of Massachusetts, United States of America, without regard to any choice of law principles. Entrant hereby agrees and irrevocably consents to submit to the exclusive jurisdiction and venue of the courts of the State of Massachusetts and of the United States of America located in the State of Massachusetts, USA, for any and all claims arising from or related to this Agreement. Entrant agrees that all claims relating to this Sweepstakes shall be resolved individually, without resort to any form of class action.


7. Entire Agreement. These terms set forth the entire agreement between the parties relating to the subject matter hereof, and supersede all prior agreements and understandings relating thereto, whether oral or written.


8. Sweepstakes Sponsor(s).

-PUMA North America, Inc., 10 Lyberty Way, Westford, MA 01886.


9. Winner List.

Winner's name may be posted on Lets Run's website and sponsor's websites.