Nick Willis Ready to Win and for Alan Webb
by: Jess Barton, LetsRun.com
February 6, 2009
Nick Willis, the Bronze Medal winner in the 1500m at the 2008 Olympic Games, was on hand at Thursday's press conference for the Reebok Boston Indoor Games.
For First Time Focus is Now on Winning
Willis will be running the mile on Saturday in a competitive field that includes his former Michigan teammate Alan Webb. After finishing second to Bernard Lagat at the Millrose Games last weekend Willis is ready to go, "I came away (from Millrose) very encouraged for two reasons," said Willis. "It showed that my fitness is coming together…and because I was disappointed that I didn't win there was actually something that made me happier. So because I didn't win I was happy that I was angry about it. It was the first time that I had stepped into the professional world and walked away not winning and feeling really frustrated about that… I hope to win every race I possibly can."
The mile record at the Boston Indoor Games is held by Laban Rotich in 3:53.18 and Willis hopes to break it on Saturday, saying, "The goal this weekend is to come away with the ever elusive victory." Adding that the record is "definitely on the cards as well."
Willis has run at the Boston Indoor Games in previous years, including setting the New Zealand National Record in the 3,000m in 7:44.90. He enjoys the atmosphere that is created for the athletes at the meet, saying, "Here they bring each athlete out and you get to run down that straightaway off the bank and in front of that crowd and everyone seems to erupt. So it really just gets you really pumped up right before the start of the race."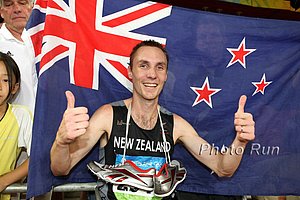 Willis admitted that he loves to let the crowd carry him during a race and that he does not try to block out the cheering at all. After his Athens Olympic experience though he learned the lesson of not getting too caught up in the excitement, "In Athens I was so excited about how I performed in the first round that I didn't get any sleep the next two nights going into the semifinals because I was going 'oh that was easy, I've got a chance at a medal' and then my heart rate would start racing."
This experience paid off during the Beijing Olympics and resulted in his Bronze Medal effort, the first Olympic track medal won by a New Zealand man since 1976. During the Beijing Olympics Willis told himself "it's a five day deal, it's not just a onetime thing." He also said that "going into Beijing I told my brother 'do not show any sense of excitement after the heat or the semifinal'…the best thing you can do while you're in the village is to take your mind off of the races because as you start thinking about it your heart rate goes crazy and you don't get any sleep."
After his Olympic success Willis toured around New Zealand giving speeches, signing autographs and just receiving appreciation for his Olympic efforts. He said that, "It taught me how draining real life work is as opposed to running. Giving a speech and giving your heart out for 45 minutes, it saps you more than a race. But it was really worth it to see how many kids were moved and started to think of running as a sport that is just as cool as cricket and rugby."
Willis is apparently quite popular, and for good reason, in New Zealand. He said, "I think for the mainstream sports fans, and especially in the running scene, if I'm wearing a singlet most of the country would know who Nick Willis is."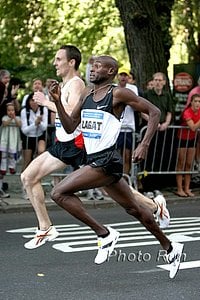 Rivalry With Webb
Willis graduated from the University of Michigan in 2005 and although he is still friends with Webb he isn't shy to say that there is a rivalry, "Alan and I first and foremost are friends,"said Willis. "He will be the number one person that I'll want to beat…I'm sure he has a very similar feeling as well."
Webb is entering the Boston Indoor Games after a disappointing Olympic Trials where he failed to make the team. Last weekend he ran a 4:04 mile and a 1:52 800 double at the George Mason Patriot Games. About this weekend's matchup Willis said, "We have quite different strategies on how we pursue races so it will be quite interesting tomorrow night how that gets put together…hopefully that will be a good crowd pleaser."
Unlike many top runners today Willis is not afraid to go after the big matchups. He said, "This year has been really neat now that I have won a medal we have developed a bit more of 'hey now you've got a chance to win every single race. Let's create some one on one matchups. Let's race Lagat. Let's race Webb. Let's set up a race against Andrew Baddeley of Britain. And that gives you that much more day in day out desire to train. And I think that's great for the fans as well when that happens."
Don't expect to see Willis moving up in distance anytime soon, especially to the marathon. When asked if he had considered this he said, "To be honest I don't know if my body could handle the training. The last year and a half I have been nursing an IT issue… At the moment I'm running only once a day and six days a week… but when you start thinking about running the 5k and 10k you can't run once a day with that stuff, you've really got to be cranking out well over 100 miles a week. At this stage I love the 1500m. I even have a desire to get my 800m time down as well."
The men's mile is that last event of the night and is set to go off at 8:15.
Jess Barton, a sophomore at Northeastern University from Newton, Massachusetts, was the two time Boston Globe Runner of the Year.
From the LRC Archives: Nick Willis at the Kip Keino Mile In the history of mankind, never have fewer people come out for a great men's mile (where no one broke 4)