Lisa Dobriskey and Nick Willis Get Thrilling Fifth Avenue Mile Victories
by: Timothy Loh
September 21, 2008
*Photo Gallery
*Results
Editor's Note: writer Tim Loh ran cross-country and track and field for Fairfield High School in Connecticut and the University of Notre Dame during his first two years in college. He's now a master's student at the Columbia School of Journalism in New York, a part-time marathoner and full-time fan of the sport.
Lisa Dobriskey and Nick Willis topped star-studded fields on Fifth Avenue today, winning the Continental Airlines Fifth Avenue Mile under sunny skies in Midtown Manhattan. Dobriskey, of Great Britain, held off American Shannon Rowbury over the last 100 meters and crossed the finish line in 4:18.6, the second-fastest Fifth Avenue performance in its 28-year history. Rowbury finished just behind in 4:19.2, earning third on the all-time list.
On the men's side, Willis chased down Bernard Lagat, who was making his road-racing debut. Willis eclipsed Lagat only in the final steps, breaking the tape in a time of 3:50.5 to Lagat's 3:50.6.
The Women's Race: Dobriskey Edges Rowbury
The women ran five-abreast for the first portion of the race, before Rose Kosgei of Kenya took the reins around the quarter-mile mark. Kosgei lead the field up a slight incline to the half-way point at East 70th Street in about 2:11, opening a five-meter gap in the process and looking well within herself. Trailing Kosgei were Erin Donahue, Dobriskey and Rowbury, running neck-and-neck.
But not for long.
Passing the three-quarter mile mark, Dobriskey and Rowbury launched a blistering attack, erasing Kosgei's lead in an instant and setting the stage for a battle of 24-year-old Olympians to the finish.
Dobriskey nudged slightly ahead with under 200 meters remaining, and she maintained the lead through the finish line – though barely. Kosgei held on for third in 4:23.9 and Donahue took fourth in 4:24.9.
"Every step of the way I was thinking, 'Shannon's coming, Shannon's coming!'" Dobriskey admitted afterwards. "It was only, actually, when I felt that tape go across my tummy that I was certain that I had won it. There wasn't any point when I felt confident or comfortable in that race."
Dobriskey, who finished fourth in the 1500 meters in Beijing, joined Rowbury (who finished seventh) and Kosgei for a victory jog after the race. The three were draped in their respective national flags.
"The energy was awesome," Rowbury said of the atmosphere afterwards. "I was so touched at the end to get to wear the American flag in front of all the fans."
Dobriskey has one more race on tap, the Great North Mile in Newcastle on September 29th. But for Rowbury, the 5th Avenue Mile marked the end of a long, successful year.
"This has been one new experience after another and it's been wonderful, but I'm definitely ready to go home. I haven't been home for two months, so I'm excited for that."
(LetsRun.com did a longer interview with Rowbury after the race where she talked more about her incredible 2008 season. See it below).

PRO WOMEN -
1. Lisa Dobriskey, 24, Loughborough, England (GBR), 4:18.6
2. Shannon Rowbury, 24, San Francisco, CA, 4:19.2
3. Rose Kosgei, 27, Santa Fe, NM (KEN), 4:23.9
4. Erin Donohue, 25, Haddonfield, NJ, 4:24.9
5. Meskerem Legesse, 21, Bronx, NY (ETH), 4:28.6
*Photo Gallery
*Results
Women's Videos


Women's Finish of the 2008 Continental Airlines Fifth Avenue Mile



Shannon Rowbury Interview With LetsRun.com on Her Incredible 2008 Season and Coach John Cook (4:08)

A year and a half go she was injured. Now she is a top the US ranks. She looks back on 2008.


Lisa Dobriskey and Shannon Rowbury Post Race Press Conference (5:20)

The Men's Race: Willis Just Barely Over Lagat
On the mens' side, Jon Rankin, the former UCLA star, shot to the front at the gun. It was only his third race of the season (Rankin in the interview at the bottom talks about how hard it was for him to get in races this year after not making the Olympic team, whereas last year he ran slower but got in Golden League races) and he was feeling fresh.
"I thought I might be able to hold on and steal this race," Rankin said afterwards. "It was such a tremendous field, I figured someone's got to give the course-record a run." (Sydney Maree ran the 3:47.52 course record in the inaugural race in 1981)
Rankin took the field through the quarter-mile in 57 seconds and attacked the incline to East 70th Street, hitting the halfway mark in 1:56.
During the third quarter, which slopes slightly downwards, Bernard Lagat pushed to Rankin's side, gaining momentum for the final stretch, and Chris Solinsky, Nick Willis and Nate Brannen tucked in behind the two leaders.
Lagat pushed into first with under 300 meters left and Willis charged past Rankin and Solinsky and attached himself to Lagat's right shoulder. With the crowd roaring on both sides of the avenue, the two Olympians hit top gear, stride-for-stride, with well over 50 meters remaining.
As the tape neared, Willis finally lurched ahead, taking the lead for the first time in the race. He hit the line in 3:50.5, a tenth of a second ahead of Lagat. Brannen overtook Rankin for third, and the Michigan cross-country team erupted in cheers and shouts, even singing the Michigan fight song. (note: The Wolverines had won the Br. Doyle Meet of Champions at Van Cortland Park on Saturday and stayed to watch their alumni. They were already heading back to Michigan when the awards were presented to Willis and Brannen.)
After the race, Willis spoke of the final stretch with Lagat:
"Neither of us were really kicking in the last 50 meters. It was just about keeping form, not decelerating. And I tried to listen to coach and keep my arms up."
Lagat agreed, "With 50 meters to go, we weren't accelerating anymore. It came down to the lean"
For most of the competitors, it was the final race of the season.
Willis will be heading to Fiji with his wife next week to celebrate their first wedding anniversary. The victory ended a streak of four third place-finishes at 1500 meters – of course, one came with an Olympic bronze medal.
Lagat will be returning home for a five-week break. He is looking forward to a good deal of golfing, teaching his almost 3-year-old son to ride a bike, and preparing for a second child, due on November 14th.
As he accepted his second-place award, Lagat, a six-time winner of the Wanamaker Mile at the Millrose Games in Madison Square Garden, hinted at things to come in the Big Apple:
"Now I know how to run a road-race mile for next time. I hope Nick and Nate and all the other amazing athletes will be here again competing."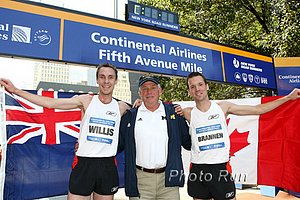 The Course
The Fifth Avenue Mile kicks off just south of the Metropolitan Museum of Art on the intersection of 5th Ave. and East 80th Street. It stays flat for the first quarter of a mile, before a slight uphill portion between 75th Street and 71st. The course then levels off for a block, passing the half-mile marker, before a downhill section that runs to about 66th Street, around the Serbian Embassy. From 66th Street, the finish line looms at 60th Street,a tantalizingly long stretch away, slightly over a quarter of a mile. With no turns, runners tend to run abreast, making for exciting finishes.
Notes: NYRR head Mary Wittenberg said the star studded field wouldn't have been possible without the help of the athletes' agents and shoe companies (Reebok (Nick Willis and Brannen) and Nike (Lagat and Rowbury). From what we understood the secondary sponsor fell through and the race talked to the shoe companies, who realized the Lagat-Willis showdown would be good for the sport, so they stepped to the plate to help make it happen.
Top Results:
PRO MEN -
1. Nick Willis, 25, Ann Arbor, MI (NZL), 3:50.5
2. Bernard Lagat, 33, Tucson, AZ, 3:50.6
3. Nate Brannen, 26, Ann Arbor, MI (CAN), 3:51.9
4. Jon Rankin, 26, Chula Vista, CA, 3:52.7
5. Chris Solinsky, 23, Madison, WI, 3:54.1

Men's Videos


2008 Fifth Avenue Mile Men's Finish, Nick Willis Outkicks Bernard Lagat (1:37)



Nick Willis Interview (First Half is a TV Interview/2nd Half LetsRun.com) (5:26)

Nick puts his 2008 season in perspective and credits his team of support.



Nick Willis, Bernard Lagat, Nate Brannen Press Conference (9:19)

Nick talks about his wife, his upcoming vacation, and his new confidence. Lagat talks about his five week break, his son getting a bike on Monday, and his 2nd child on the way. Nate talks about "only" making the semis of the Olympics.



Jon Rankin on his 2008 Season and the Trouble in Getting in Top Meets (3:08)

Jon talks about how hard it was to get in meets this year after not making the Olympic team.



Men's Awards With Nick, Bernard and Nate Addressing the Fans (9:04)




Michigan Fight Song With Brannen, Willis and Warhusrt


*Photo Gallery
*Results
*Longer Race Video