LRC US Distance Rankings
And the Winner Is ...
LRC US Rankings 2009 was a banner year for US distance runners and for LetsRun.com and we thought of no better way to celebrate the end of the year than with the first-ever LetsRun.com US year-end distance rankings. Instead of the 12 days of Xmas, it's the 12 days of LetsRun.com during the final 12 days of 2009. We give you the top 10 in each distance event.
Women's 1,500: Rowbury Is The Class Of Most Amazing 1,500 Quartet In American History Coming into the year, only two Americans had ever broke 4:00 outdoors. Well, this year, three Americans broke four and none of them were our #1-ranked metric miler for the year.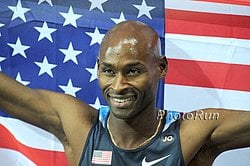 Men's 1,500: Lagat Leads Strong American Contingent The USA put 3 guys into the 1,500m final at the World Champs and Bernard Lagat came home with a bronze in a very strong year for US 1,500m runners. Outside of the World Champs, frosh sensation German Fernandez went undefeated in the NCAA ranks and took down Tony Waldrop's 35-year-old NCAA indoor record.
Monday
Women's 800m: Maggie Vessey And Anna Willard Turn Heads These two women who started 2009 as no-names in the world 800m ranks turned quite a few heads with their Golden League and IAAF Grand Prix wins. However, only one of them could be ranked #1 and that is ... You'll have to click through to find out.


Men's 800m: The Nick Symmonds Show Symmonds was clearly the top dog in the US in 2009 as he was the first US Worlds finalist in over a decade. We break down the top 10 and recap the year for the men's half milers.
Recommended Reads:
1. Profile On Pole Vault Great Yelena Isinbayeva
UK's Daily Mail writes a lengthy profile of Russian pole vault diva Yelena Isinbayeva. She talks about growing up poor and wanting to be rich and glamorous. A former star gymnast who grew too tall, by 1998 she was a world youth champion in the pole vault and now she has re-set the world record 27 times. Isinbayeva, like a Michael Jordan or Tiger Woods, seems to have that same insane drive to win that's 5 steps above even the average pro.

2. Big News Outside US - Star Welsh Rugby Player Publicly Announces He Is Gay
Some really fascinating quotes in the this article.

3. Last Big Swim Meet Before Swimsuit Ban Pushes World Record Total Over 250
In just over 20 months, the swimming record books have been re-written by the performance-enhancing swimsuits. Since February of 2008, over 250 new world records have been set in swimming. Michael Phelps, wearing a normal suit, was beaten again by a scrub in the super suit.
Trends Of The Year And Decade
NY Times' Christopher Clarey Looks At Sports' Controversy And Shifts In The "Aughts"
We agree that BALCO, Marion Jones, sports gambling and other controversies were balanced by an increase in oversight by WADA and governing bodies.
Speaking of Marion: Marion Jones May Re-Start Basketball Career In Australia

Running Times Article On Increased Depth In American Marathoning
Writer argues Americans are running faster at the front and in the middle of the pack in 2009.
LRC Training Talk Thursday Episode II
Access to the best minds in the sport. Free and easy. You won't find more useful training talk anywhere. Only from LetsRun.com.

Click Play Below To Hear Our Conversation With Author Matt Fitzgerald.


Matt talked for more than an hour about his new book: "Racing Weight - How To Get Lean For Peak Performance." At last, someone has the guts to write what everyone knows - runners want to lose weight so they can run faster. We think the book is very practical for the beginner to the pro. Also we wanted to promote Matt's revolutionary book with a foreword by legend Dr. Tim Noakes, called "Brain Training For Runners." LRC Coaching Guru John Kellogg is a fan of Brain Training and says his training is based significantly on principles that also appear in Noakes' and Fitzgeralds' work.
Boston Is Back - Hall And Meb Running Boston In 2010

No matter who else they get, John Hancock Financial and the Boston Marathon won the race before it started by signing the two biggest stars in American marathoning. Both should have a shot at the first American win since Greg Meyer in 1983. Poll to the right: take your quick pick of who will finish first.
Top US Stars Line Up Winter Half Marathons
Shalane Flanagan Talks With Reporters About Upcoming Half Marathon Debut
Flanagan is without a doubt the best American female 5,000m and 10,000m track runner in history. Already an Olympic medalist and American record holder in every one of her main track events, she's looking for a new challenge and will start with the Houston Half in January.

Ryan Hall And Deena Kastor Will Run P.F. Chang's Rock 'n' Roll Arizona Half Marathons In January
Haile Gebrselassie set a then-world record of 58:55 on the course in 2006.
Thousands Of Visitors Listened To Training Talk Episode 1 With John Kellogg - Don't Miss Out On A Chance To Learn From A Coaching Genius
LetsRun.com Training Talk Episode 1
1st Episode Featured Guest: Coach John Kellogg
Pull down "Episode #1" from the player above and listen to it if you missed it or click here.
LRC Training Talk Article 1 - Is Your Training Repeatable?
In 2010, we at LetsRun.com hope to make a huge push to talk more about training.
Veteran Leader Of New York's Track Writers Association, Frank Litsky, Announces Retirement
LRC The Week That Was Let's be honest, last week not a whole lot actually happened in the running world. The majority of the running news was about what is likely to happen in 2010. We were busy finalizing our top 10 rankings for the year and thought about bagging The Week That Was, but then remembered that our New Year's resolution for 2009 was to do it every week for 2009, so here it is - in somewhat abbreviated form.
Ready For TMZSports? You better be, as it's coming soon. Hell, the sports gossiping may already be here in the track and field world if these photos from a party in Jamaica with Asafa Powell, Tyson Gay and Usain Bolt are any indication.
Lots Of Random Links
*Usain Bolt Is Sports Illustrated's 5th-Best Male Athlete Of The Decade The only track guy on the list. We guess if Kobe was only #16 that it's too much to ask to put Bekele on there.
*English Tunnel Train Drama Crushes British Runner's Chance For 1st International Appearance In UK Vest
*Alter-G Treadmill In The News You can now get one for the bargain price of $25,000.
*Collis Birmingham Is One Of 1st 8 Australians Named To 2010 Commonwealth Games Team *Scottish Cyclist David Millar Gets Lifetime Ban For EPO Use Overturned & Will Compete Apparently, he's been very helpful in trying to help the anti-doping people and therefore we guess we think it's an okay decision.
Non Running News From Kenya
*Wash Post: In Kenya, ethnic distrust is as deep as the machete scars. Last year's near civil war is still a big thing in many people's minds.
*Kenyan Women Would Rather Get AIDS Than Get Pregnant
Q&A With Boston Marathon Director Guy Morse
Ian Dobson And Erin Donohue Among Top Entrants At Emerald Nuts Midnight Run In Central Park On New Year's Eve
Also look out for Patrick Smyth in the men's race, he had a stellar 2009. If you want to enter the 4-mile race, click here.
Weekend Distance Running Results
Recap Of Japan's National High School Ekiden Champs
The story of the day was the winning team's 3rd leg - a Kenyan named Bitan Karoki - going for Sammy Wanjiru's leg-record. He came up 8 seconds short but still ran 8,100m on the road in 22:48 (keep in mind these are high schoolers).

Latest IAAF Permit XC Race Results From Brussels
An Italian won over a pack of Kenyans and Ethiopians with Ukranian Sergey Lebid in 5th.

Safaricom Baringo Half Marathon Results
Agnes Kiprop took her 2nd-straight women's win.
Destinee Hooker - Dominant High Jumper And NCAA Volleyball MVP For Texas
Penn State Volleyball Overcomes High Jumper Destinee Hooker And Texas For 3rd Straight NCAA Title
Penn State has won 102 consecutive matches. The way their players talk about her, it makes Hooker sounds like the Jim Brown of women's volleyball.
11-Time US 800m Champion Joetta Clark-Diggs Inducted Into USATF Hall Of Fame
3-Time Olympian Joetta Clark-Diggs is surprisingly only the second Tennessee Vols athlete or coach in the USATF Hall of Fame.
Lagat Will Go For Record 8th Wannamaker Win At Millrose Games, 2-Hr Live On ESPN2
The once-mighty Millrose Games are struggling as fan interest wanes. Last year's meet was great, as Steve Hooker cleared 6m and took shots at the world record and Bernard Lagat and Nick Willis raced the mile ... so fans buy your tickets here, the meet is January 29, 2010 and group rates are available.
Toby Tanser Putting On Race For Women In Iten, Kenya
Through his organization Shoes4Africa, his charity race, and connections like soccer mega star Christiano Ronaldo, Toby Tanser has helped raise $700,000 for a children's hospital in Eldoret that he says would be the largest such hospital on the continent. The cross-country charity race for women will have an amazing field, including world medalist Sylvia Kibet, Dutch ex-Kenyans Hilda Kibet and Lornah Kiplagat (WR holder, half marathon) and Sally Barsosio.
LRC Recommended Read A Day In the Life Of Dathan Ritzenhein
Matt McCue spends a day with Dathan Ritzenhein in Portland. Ritz seems to be in a good situation where his hard-working mentality is channeled into the right training every day. When McCue was there, Ritz ran both runs on the Alter-G in the garage of the Nike house where Alan Webb lives. The big news is that Ritz is gunning to run World Cross-Country in March.
Sports: Blood Platelet Therapy, Calf's Blood, HGH And TMJ-Aligning Mouthpieces
Dr. Anthony Galea's Lawyer Talks As Documents Show Canadian Authorities Are Examining 3 Years Of Drug Smuggling Across Border

New York Times Investigates H.G.H. And Implies (Without Evidence) Tiger Woods Was Treated With HGH
"Ultimately I'd have to say that its main effect is that it makes your wallet a little less heavy." - Dr. Alan D. Rogol, a professor emeritus of endocrinology at the University of Virginia, giving his take on the effects of HGH on humans. Reading about the potential long-term side effects of the widely-used hormone is staggering.

UnderArmour And Other Companies Sell $500 $2,000 Mouthpieces To Help Athletes Relax The Jaw
"Dena Garner, an assistant professor at the Citadel who has studied athletes using Bite Tech devices since 2005, said she thought some of her original findings were 'a fluke.' But 'every time I've done lactate studies with this mouthpiece, I'm finding there is a difference,' she said."
LRC Boards: Mouthpieces should be banned from races
*ukathleticscoach says: "People are always looking for some short cut - 99% of time they are wasting their time and money." We agree. If you do get a mouthpiece, email us and tell us what it's like.
Somalian Born UMinn Runner Hassan Mead Ran 13:28 In April - 16th At NCAA Cross This Season
Video Of Non-Profit Org Called "Back On My Feet," A Running Group That Helps Homeless People Find Jobs
Looks like a really cool organization. It's set up in Philly and Baltimore.
Drugs In Sport - Trials, Whispers, Lawyers, Scandal
Anonymous Sources Claiming Dr. Anthony Galea's Assistant Said He Gave Athletes Performance-Enhancing Drugs
This isn't a big deal right now, but who knows what will come out when the computer records are searched. Dr. Anthony Galea doesn't even have a license to practice in the US, but was instructing his assistant to transport HGH, commercialized calf's blood and syringes across international borders when she was detained by police.

Mumbo Jumbo: Marion Jones' Teammates Lose Prelim, Appeal To IOC To Keep Relay Medals
There is a rule about the IOC not being able to reverse a decision after more than 3 years (the medals were won in 2000 and taken in 2008) and 7 Americans were appealing on those grounds. Initial ruling: Denied.
Brief Chat With Patrick Smyth Of Team USA Minnesota
Smyth quietly had a breakout season. He took his PR from 29:14 to 28:25 while competing for Notre Dame. He finished 4th at NCAAs in the 10,000m and 7th at USAs.
Chinese Athlete Sends Look-Alike To Drug Test, 3 End Up Banned
The coach who tried to pull this off was one of the 3 banned people.
adidas Agrees To Sponsor McMillan Elite Training Group Through 2013
(Link Fixed) The McMillan runners have had some nice performances in 2009.
Wejo Writes: In Defense Of Tiger Woods: I Must Confess I Saw Dr. Galea
LetsRun co-founder Weldon Johnson writes about visiting the now-controversial Dr. Anthony Galea along with Dr. Mark Lindsay in 2006. Read about his vitamin injection.
It's Award Season
Jenny Barringer Wins "Track's Heisman"
The Bowerman will be awarded annually to the top NCAA track male and female. Barringer graduates with a remarkable 6 NCAA Records. The Bowerman is like the Heisman minus the relevance.

Galen Rupp Wins The Bowerman For 2009
New Feature: Products We Use And Recommend: ING Bank (Checking And Savings)
ING Orange Checking And Savings Bank Review A message board thread on outrageous overdraft fees got us to write a review of ING's banking products. ING has no fees including no fees for overdrafts. We have used them at least since 2004, and have never been disappointed. Read our review and seriously consider switching banks. Not only is their product great but they support world class marathoning throughout the world.