LRC Training Talk Thursday Episode II
Access to the best minds in the sport. Free and easy. You won't find more useful training talk anywhere. Only from LetsRun.com.

Click Play Below To Hear Our Conversation With Author Matt Fitzgerald.


Matt talked for more than an hour about his new book: "Racing Weight - How To Get Lean For Peak Performance." At last, someone has the guts to write what everyone knows - runners want to lose weight so they can run faster. We think the book is very practical for the beginner to the pro. Also we wanted to promote Matt's revolutionary book with a foreword by legend Dr. Tim Noakes, called "Brain Training For Runners." LRC Coaching Guru John Kellogg is a fan of Brain Training and says his training is based significantly on principles that also appear in Noakes' and Fitzgeralds' work.
Boston Is Back - Hall And Meb Running Boston In 2010

No matter who else they get, John Hancock Financial and the Boston Marathon won the race before it started by signing the two biggest stars in American marathoning. Both should have a shot at the first American win since Greg Meyer in 1983. Poll to the right: take your quick pick of who will finish first.
Thousands Of Visitors Listened To Training Talk Episode 1 With John Kellogg - Don't Miss Out On A Chance To Learn From A Coaching Genius
LetsRun.com Training Talk Episode 1
1st Episode Featured Guest: Coach John Kellogg
Pull down "Episode #1" from the player above and listen to it if you missed it or click here.
LRC Training Talk Article 1 - Is Your Training Repeatable?
In 2010, we at LetsRun.com hope to make a huge push to talk more about training.
Veteran Leader Of New York's Track Writers Association, Frank Litsky, Announces Retirement
Oh Boy ... LetsRun.com's Week That Was Like Hemingway returning to Paris from a bullfight, Rojo has returned to Ithaca from his twin brother's bachelor party. To the reader's delight, Rojo's creative energies are flowing at all-time highs. Just recapping Foot Locker wasn't enough this week. Inspired by Bill Simmons, Tiger Woods and Clay Aiken, he wants to you email us with stories of dorky runners who are really fast and because of their fame learn how to act cool around people.
Track And Field News - NCAA And USATF Avoid Having Both Track Championships In Eugene In The Same Year
Distance Runner Interest
Ethiopian Stars Returning To Their Favorite Spots
Kenenisa Bekele To Return To Cross-Country On January 9th
The greatest cross-country runner ever will return after missing last year's season with injury. 11 times world champion in short and long course cross-country, Bekele will meet 2009 Amman World XC Champion Gebre Gebremariam in Edinburgh. Basically, this will be a clash of the best two XC runners in the world.

Tirunesh Dibaba Returning To Boston On February 6th
Dibaba just ran a 15km road world record coming back from injury. She's the fastest runner in the world when healthy. Get your tickets at this link.
NCAA 800m Champion Heather Dorniden Joins Team USA Minnesota Dorniden ran for the U of Minnesota. She has a PR of 2:01.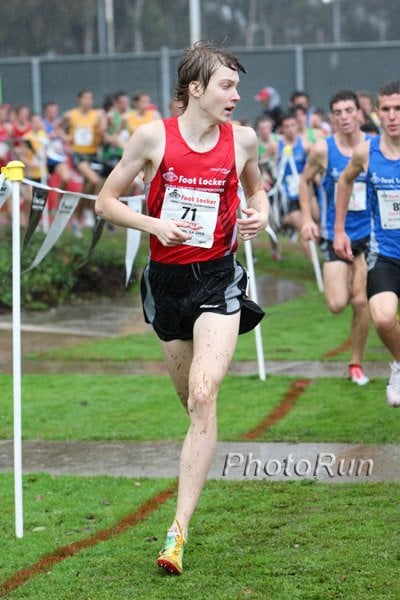 LRC Recap/Results: Sophomore Lukas Verzbicas Smashes FL Finals

*LRC Photos Verzbicas looks scary good.

*Race Video Watch the Girls 0.2-second finish.

*Boys Results

*Girls Results
2. European Cross-Country Championships
LRC Recommended Read A Day In the Life of Dathan Ritzenhein
Matt McCue spends a day with Dathan Ritzenhein in Portland. Ritz seems to be in a good situation where his hard-working mentality is channeled into the right training every day. When McCue was there Ritz ran both runs on the Alter-G in the garage of the Nike house where Alan Webb lives. The big news is that Ritz is gunning to run world cross country in March.
UnderArmour and Other Companies Sell $500 Mouthpieces To Help Athletes Relax The Jaw (or swindle you, Jury is still out)
Clenching of the teeth and tightness in the jaw can signal stress to the rest of the body. Though still relatively undocumented, anecdotal claims are creeping in to the media like this story in the New York Times about the effectiveness of this new training and racing gadget that sits over the teeth and aids in relaxation. Our question is, does the extra cortisol release aid elites or is this just a trick for stressed out people running 10 minute miles?
LRC Boards: Mouthpieces should be banned from races
*ukathleticscoach says: "People are always looking for some short cut - 99% of time they are wasting their time and money." We agree. If you do get a mouthpiece, email us and tell us what it's like.
Video Of Non-Profit Org Called "Back On My Feet", A Running Group That Helps Homeless People Find Jobs
Looks like a really cool organization. It's set up in Philly and Baltimore.
Drugs In Sport - Trials, Whispers, Lawyers, Scandal
Anonymous Sources Claiming Dr. Anthony Galea's Assistant Said He Gave Athletes Performance Enhancing Drugs
This isn't a big deal right now but who knows what will come out when the computer records are searched. Dr. Anthony Galea doesn't even have a license to practice in the US but was instructing his assistant to transport HGH, commercialized calf's blood and syringes across international borders when she was detained by police.

Mumbo Jumbo: Marion Jones' Teammates Lose Prelim. Appeal To IOC To Keep Relay Medals
There is a rule about the IOC not being able to reverse a decision after more than 3 years (the medals were won in 2000 and taken in 2008) and 7 Americans were appealing on those grounds. Initial ruling: Denied.
Because He's Relevant - Michael Phelps News
With Swimsuit Ban Date Approaching, Michael Phelps and US Team Set New World Records
In about a week the hi-tech swimsuit that has caused every swimming world record to be broken about 8 times is going to be banned. In the meantime the US swam against the UK and Michael Phelps set a new butterfly world record. It will be amazing to compare the number of world records set in swimming in 2008 and 2009 compared with 2010 and 2011 (to be fair maybe we should include an Olympic year).

Times London Asks - How Was Phelps Not The Athlete Of The Decade?
We ask: how is any golfer ever considered the athlete of the decade?
Top US Stars Line Up Winter Half Marathons
Shalane Flanagan Talks With Reporters About Upcoming Half Marathon Debut
Flanagan is without a doubt the best American female 5,000m and 10,000m track runner in history. Already an Olympic medalist and American record holder in every one of her main track events, she's looking for a new challenge and will start with the Houston Half in January.

Ryan Hall And Deena Kastor Will Run P.F. Chang's Rock 'n' Roll Arizona Half Marathons In January
Haile Gebrselassie set a then-world record of 58:55 on the course in 2006.
Brief Chat With Patrick Smyth Of Team USA Minnesota
Smyth quietly had a breakout season. He took his PR from 29:14 to 28:25 while competing for Notre Dame. He finished 4th at NCAAs in the 10,000m and 7th at USAs.
Chinese Athlete Sends Look-Alike To Drug Test, 3 End Up Banned
The coach who tried to pull this off was one of the 3 banned people.
adidas Agrees To Sponsor McMillan Elite Training Group Through 2013
(Link Fixed) The McMillan runners have had some nice performances in 2009.
Wejo Writes: In Defense Of Tiger Woods: I Must Confess I Saw Dr. Galea
LetsRun co-founder Weldon Johnson writes about visiting the now-controversial Dr. Anthony Galea along with Dr. Mark Lindsay in 2006. Read about his vitamin injection.
Running Times Recaps The Exciting Year For America's Track Distance Runners
It's Award Season
Jenny Barringer Wins "Track's Heisman"
The Bowerman will be awarded annually to the top NCAA track male and female. Barringer graduates with a remarkable 6 NCAA Records. The Bowerman is like the Heisman minus the relevance.

Galen Rupp Wins The Bowerman For 2009
Rupp completed the Rupp-tet by winning the indoor 5k, 3k and DMR and team title plus the outdoor 5k and 10k. He also won cross-country individual and team title but that wasn't included in the voting.

Tiger Woods Voted Top Athlete Of 2000s
This seems like a cruel version of media irony.

Ben Bernanke Voted Time Magazine Man Of The Year
He's the man who gave China's our money to Wall Street. Usain Bolt was 5th in the voting.

Congrats: LetsRun.com Message Boards Awarded Nobel Peace Prize
Just kidding on that one.
Dr. Michael Galea Mainstream Media Follow-Up
ESPN Talks With Galea's Lawyer And Uncovers What His Assistant Said When Caught At The US Border With Drugs
Dr. Galea told his assistant to say they were headed to a medical conference and the drugs were not meant to be administered to any patients. He had his assistant transport the drugs because he had been flagged before at the border.
NY Times Focuses On Baseball Players Who Have Visited Galea
Nothing extraordinary here, just good players seeking out a highly recommended doctor. Star shortstop Jose Reyes of the Mets visited Galea in Canada and his agent and team insisted someone stay with him at all times to make sure he didn't get anything that would cause him to fail a MLB test.
Tuesday's Recommended Read Canadian Sports Medicine Guru Is Subject Of Doping Inquiry
Dr. Anthony Galea has worked with big time athletes in every sport and is referred to as "Miracle Man." The article gives a good look at his career, his supporters and critics, and his arrest crossing the US/Canada border with HGH and other controversial drugs.
Sports-Related News
Usain Bolt A Finalist For Time Magazine's Person Of The Year Announced today, no sportsperson has ever won Time's yearly award. Technically though, "You" or "I" or "We" won in 2006, so sportspeople have won.
Katherina Thanou Brings Legal Action Against IOC
Though they don't have enough hard evidence to convict her of anything, the IOC refused to give Thanou Marion Jones' 100m medal from Sydney to mark the first time in Olympic history no gold medal was awarded in an event.
*Quotes From IOC Spokesman Regarding Katerina Thanou
New Feature: Products We Use and Recommend: ING Bank (Checking and Savings)
ING Orange Checking and Savings Bank Review A message board thread on outrageous overdraft fees got us to write a review of ING's banking products. ING has no fees including no fees for overdrafts. We have used them at least since 2004, and have never been disappointed. Read our review and seriously consider switching banks. Not only is their product great but they support world class marathoning throughout the world.