Verzbicas and Goethals Win Foot Lockers
After an amazing come-from-behind finish from Megan Goethals to catch Chelsea Sveinsson, sophomore Lukas Verzbicas crushed the boys by 15 seconds in a blowout margin not seen since 2002
By LetsRun.com
December 12, 2009

Boys Results (also see below)
Girls Results
Boys Race
Illinois sophomore Lukas Verzbicas won the 2009 Foot Locker Cross Country Championships by a staggering 15 seconds on Saturday. Still only 16 years old, Verzbicas' 15:07 run on the hilly, rain-soaked course was the first boys Foot Locker win by a sophomore and one of only three wins in the history of the event by an underclassman.
The last boy to win the Foot Locker Championships as a junior was Dathan Ritzenhein in 1999. That year Ritzenhein ran 14:29, the fastest time ever recorded at the Foot Locker Finals. It is widely considered to be a rare and special feat for any boy to win the Foot Locker Cross Country Championships before their senior year.
Verzbicas stayed in the lead pack for the first mile and waited until the eighth minute to put his stamp on the race. Before pulling away Verzbicas briefly allowed Texas junior and Nike Cross Nationals champion Craig Lutz to lead. The two-man show was quickly transformed to a one-man display of dominance when Verzbicas took off for good.
While extending his lead to over 100m, Verzbicas looked back occasionally to measure his opponents, the closest being Flagstaff's Brian Shrader who would end up 5th, 23 seconds behind. No runner ate into Verzbicas' lead as he basically cruised home unpressed.
After the race Verzbicas calmly answered questions with a slight grin on his face. Verzbicas was in every way the most comfortable runner on the course.
In a profile in his hometown paper Southtown Star this week, Verzbicas' coach John O'Malley made some quotes that caught our eye including what seemed like a short-sighted quote at the time considering Verzbicas is still a sophomore, "Lukas might be the best distance runner in American high school history." It wasn't until after the race, however, that we took notice of the following quote:
"When we've seen Lukas this week, he has been grinning about the opportunity to compete against runners such as Craig Lutz, of Texas, who recently won a Nike national title. Most kids would be intimidated by that, but Lukas is as excited as could be. That is the mark of a champion."
Sure enough, Verzbicas was grinning during his pre-race introduction, a sort of all-knowing, sly grin that certainly spoke volumes of his confidence just minutes before the race. We saw the grin and thought, "well nobody's beating this guy!" Lutz, vying to become the first NXN/Foot Locker double winner in the same year, certainly couldn't match the cool stride of Verzbicas and came home in 4th place over 20 seconds behind the triathlon-trained Illinois resident.
Comparing Verzbicas' win to Ritzenhein's 1999 triumph, we can see that the now American record holder at 5000m had a very tough task. In 1999, Ritzenhein won as a junior to beat seniors Don Sage, Matt Tegenkamp, Josh Rohatinsky and Ian Dobson by between 5 and 18 seconds (results here). One certainly didn't get the impression that Verzbicas' competition were of the same caliber as Sage (the most feared runner from the '99 class), Tegenkamp (now a 12:58 5k'er), Rohatinsky (NCAA xc champ) and Dobson (accomplished professional) considering his biggest rival was supposed to be a junior who was not even favored to win NXN. 2009 seems to be a strange year without a single senior cross country front-runner.
The last time a runner won Foot Lockers by 15 seconds or more was 2002 when Chris Solinsky won by 21 seconds over Wesley Smith. Verzbicas' win should therefore be labeled as remarkable for two reasons: he's only a sophomore and he won by a margin rarely seen at the national championships.
The top boy senior finisher was California's Matt McElroy. Speaking after the race, McElroy noted that to earn second was a huge accomplishment for him and his whole plan was not to run to win but rather to run a smart race. Job well done for McElroy as he defeated more highly touted Craig Lutz and Brian Shrader.
2009 Foot Locker Cross Country Nationals - 12/12/2009              
                           Morley Field, San Diego, CA                           
                              Last Completed Event                               
 
Event 2  Boys 5k Run CC
=======================================================================          
    Name                    Year School                  Finals  Points          
=======================================================================          
Results - Men                                                                    
  1 Lukas Verzbicas           10 MW,Orland Hills,IL     15:07.8    1             
  2 Matthew McElroy           12 WE,HuntingtonBch,CA    15:22.6    2             
  3 Wade Meddles              12 WE,Gardnerville, NV    15:24.0    3             
  4 Craig Lutz                11 SO,HighlandVllg,TX     15:29.6    4             
  5 Brian Shrader             12 WE,Flagstaff, AZ       15:30.9    5             
  6 Jake Hurysz               12 SO,Mebane, NC          15:31.9    6             
  7 Tyler Byrne               12 MW,Georgetown, IN      15:33.1    7             
  8 Kirubel Erassa            12 SO,Grayson, GA         15:34.2    8             
  9 Shane Moskowitz           12 WE,Bremerton, WA       15:34.5    9             
 10 Matthew Mizereck          12 SO,Tallahassee, FL     15:36.8   10             
 11 Chris Walden              11 MW,Carmel, IN          15:37.7   11             
 11 Steve Magnuson            12 WE,Oro Valley, AZ      15:37.7   12             
 13 Martin Grady              12 MW,Burr Ridge, IL      15:38.0   13             
 14 Brandon Lord              12 SO,Hixson, TN          15:39.6   14             
 15 Dave Oster                12 NE,Verona, NJ          15:41.5   15             
 16 Tyler Udland              12 NE,Short Hills, NJ     15:42.3   16             
 17 Scott Fauble              12 MW,Golden, CO          15:43.4   17             
 18 Kevin Dowd                12 SO,Farifax, VA         15:43.6   18             
 19 Quinn Raseman             12 NE,East Setauket,NY    15:44.8   19             
 20 Blake Williams            11 SO,Durham, NC          15:44.9   20             
 21 Brad Miles                12 NE,Hatfield, PA        15:45.6   21             
 22 Walter Schafer            12 MW,Centennial, CO      15:45.8   22             
 23 Brian Atkinson            12 SO,MelbourneBch,FL     15:46.3                  
 24 Rad Gunzenhauser          12 NE,Pittsburg, PA       15:47.3   23             
 25 Anderson Barclay          11 SO,FairOaksRnch, TX    15:47.8                  
 26 Danny Nicolls             12 MW,Parker, CO          15:48.2   24             
 27 Chris Bendtsen            12 NE,Wolcott, CT         15:49.5   25             
 28 Ryan Poland               12 MW,Westminster, CO     15:50.9                  
 29 Conner Peloquin           12 WE,Gig Harbor, WA      15:51.9   26             
 30 Cody Helbling             12 WE,Coeur d'Alene,ID    15:52.0   27             
 31 Ryan Gil                  11 NE,Pittsburg, PA       15:52.5   28             
 32 Kurt Ruegg                12 WE,Yountville, CA      15:58.2                  
 33 Pablo Rosales             12 WE, San Pedro, CA      16:06.0                  
 34 Billy Orman               11 WE,Tuba City, AZ       16:07.0                  
 35 John Raneri               12 NE,New Fairfiled, C    16:09.9                  
 36 John Murray               11 NE,Shrewsbury, MA      16:14.5                  
 37 Cory Puffett              12 NE,UpperMarlboro,MD    16:16.7                  
 38 Colby Alexander           12 MW,Strongsville,OH     16:19.0                  
 39 Nathan Karr               12 MW,Ann Arbor, MI       16:34.2                  
 40 Colin Barker              12 SO,Atlantic Beach,     16:57.4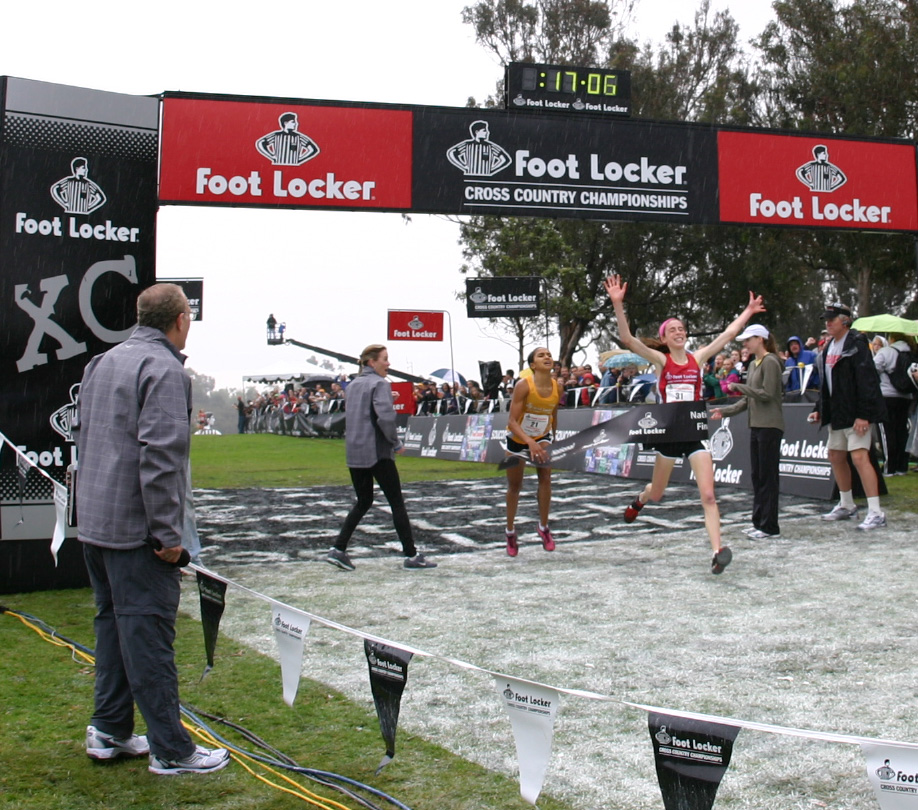 2009 Foot Locker Championship girls race photo from Bradley Cox. Megan Goethals (red) passes Chelsea Sveinsson (yellow) in the final strides for the win.
Girls Race
Chelsea Sveinsson ran a perfect race except for the last 100m where her lead was eaten away by pre-race co-favorite senior Megan Goethals of Missouri Michigan. Still a junior, Sveinsson won NXN last year and focused solely on Foot Lockers in 2009. Looking the most under control for the entire race, Sveinsson sat in waiting as Goethals, Aisling Cuffe, Chelsey Ley and others led for the first two miles or more.
When Sveinsson's pre-arranged take-off point arrived, she confidently and smoothly bolted, opening a huge gap on everyone in the field save for Goethals. But even Goethals was way back, let's say 4 or 5 seconds when the gap was at its biggest. This gap held up even as the leaders passed the 3-mile mark signaling about 150m to the finish..

The watcher had an uneasy feeling watching the finish as the lead was not quite big enough to be safe. Add to that the ever-dramatic head-on view of the runners that makes them look closer together than a side shot. As the camera panned back and the finish line approached, the lead narrowed until finally with less than 10 feet to the line it was clear Goethals was going to surge just ahead.

Goethals had exactly enough closing speed to take the win by 0.2 seconds and Sveinsson could only say after the race, "She was the better runner today."

Goethals and Sveinsson were two of the favorites for the race. Joining them as big attention-getters were Cuffe, who won the Northeast regional by 46 seconds, and Molly Grabill from southern California. Also, Emily Sisson was making her fourth appearance at the Foot Locker Championships though she could not get by Goethals at either the Midwest Regional or the FL Finals.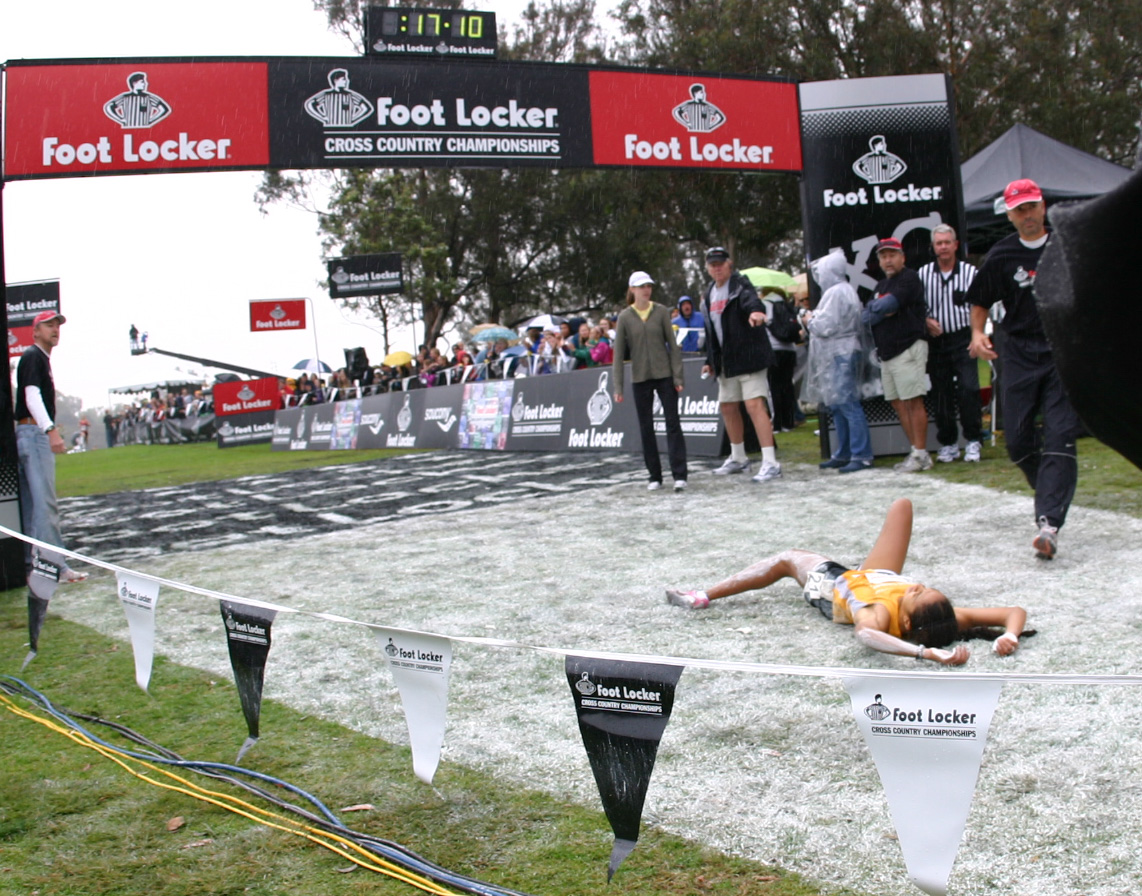 Chelsea Sveinsson after running the tank empty at the Foot Locker finals in 2009. Sveinsson finished 2nd in 17:07, 0.2 seconds behind Megan Goethals. Photo by Bradley Cox.

Grabill could never grab a piece of the front pace and ended up 12th. Sisson had a great race to nab third ahead of Cuffe.
2009 Foot Locker Cross Country Nationals - 12/12/2009              
                           Morley Field, San Diego, CA                           
                              Last Completed Event                               
 
Event 1  Girls 5k Run CC
=======================================================================          
    Name                    Year School                  Finals  Points          
=======================================================================          
Results - Women                                                                  
  1 Megan Goethals            12 MW,Rochester, MI       17:06.9    1             
  2 Chelsey Sveinsson         11 SO,Dallas, TX          17:07.1    2             
  3 Emily Sisson              12 MW,Chesterfield, MO    17:18.8    3             
  4 Aisling Cuffe             11 NE,Cornwall-Hdsn,NY    17:21.4    4             
  5 Megan Ferowich            10 SO,Caryville, TN       17:31.0    5             
  6 Kelsey Lakowske           11 MW,Boulder, CO         17:32.6    6             
  7 Chelsea Ley               12 NE,Clarksboro, NJ      17:37.2    7             
  8 Katie Flood               12 MW,Des Moines, IA      17:42.0    8             
  9 Ashlie Decker             12 MW,Des Moines, IA      17:43.8    9             
 10 Wesley Frazier             9 SO,Raleigh, NC         17:44.2   10             
 11 Rachel Johnson            11 SO,Plano, TX           17:51.0   11             
 12 Molly Grabill             11 WE,Poway, CA           17:52.2   12             
 13 Jessica Tonn              12 WE,Paradise Vlly,AZ    17:57.1   13             
 14 Liberty Miller            12 WE,West Hills, CA      17:58.1   14             
 15 Karlie Garcia              9 WE,Roseville, CA       17:59.7   15             
 16 Amanda Russell            12 SO,Cedar Park, TX      18:00.7   16             
 17 Megan Morgan              12 WE,Del Mar, CA         18:01.9   17             
 18 Marielle Hall             12 NE,Mt Laurel, NJ       18:05.8   18             
 19 Diane Robison             12 MW,Chesterfield, MO    18:07.5   19             
 20 Grace Tinkey               9 SO,Macon, GA           18:08.0   20             
 21 Sara Sargent               9 NE,Yardley, PA         18:09.4   21             
 22 Abbey Leonardi            10 NE,Kennebunkport,ME    18:10.6   22             
 23 Maddie Meyers             10 WE,Seattle, WA         18:11.6   23             
 24 Avery Clifton             12 MW,Topeka, KS          18:12.0   24             
 25 Julie Nacouzi             11 WE,Santa Rosa, CA      18:15.0   25             
 26 Theresa Devine            12 WE,San Rafael, CA      18:17.2                  
 27 Colleen Schmidt           11 NE,Point Lookout,NY    18:17.9   26             
 28 Kathryn Fluehr            11 SO,Naples, FL          18:18.6   27             
 29 Marya Haegler             12 MW,Cascade, WI         18:24.4                  
 30 Shannon Osika             11 MW,Waterford, MI       18:28.3                  
 31 Alaina Alvarez            11 WE,Dana Point, CA      18:28.7                  
 32 Lauren Mullins            10 NE,Binghamton, NY      18:29.2   28             
 32 Lauren Sara               12 NE,Stratford, CT       18:29.2                  
 34 Erika Fluehr              11 SO,Naples, FL          18:34.1                  
 35 Sara Kroll                12 MW,Westland, MI        18:35.2                  
 36 Meg Ryan                  12 NE,Fairfield, CT       18:38.9                  
 37 Emily Durgin              10 NE,Standish, ME        18:40.6                  
 38 Paige Kvartunas           12 SO,Springfield, VA     18:57.6                  
 39 Shelby Hayes              12 SO,Orlando, FL         19:10.5                  
 40 Jacque Taylor             12 WE,Petaluma, CA        19:18.0                                                                                                                                
---
Runner's World &
Running Times



Combined Only $22
a Year
Save $87

---

Running & Track and Field Posters
---
---