Oh Boy ... LetsRun.com's Week That Was Like Hemingway returning to Paris from a bullfight, Rojo has returned to Ithaca from his twin brother's bachelor party. To the reader's delight, Rojo's creative energies are flowing at all-time highs. Just recapping Foot Locker wasn't enough this week. Inspired by Bill Simmons, Tiger Woods and Clay Aiken, he wants to you email us with stories of dorky runners who are really fast and because of their fame learn how to act cool around people.
Track and Field News - NCAA and USATF avoid having both track championships in Eugene in the same year
Distance Runner Interest
Ethiopian Stars Returning To Their Favorite Spots
Kenenisa Bekele To Return To Cross-Country On January 9th
The greatest cross-country runner ever will return after missing last year's season with injury. 11 times world champion in short and long course cross-country, Bekele will meet 2009 Amman World XC Champion Gebre Gebremariam in Edinburgh. Basically, this will be a clash of the best two XC runners in the world.

Tirunesh Dibaba Returning To Boston On February 6th
Dibaba just ran a 15km road world record coming back from injury. She's the fastest runner in the world when healthy. Get your tickets at this link.
NCAA 800m Champion Heather Dorniden Joins Team USA Minnesota Dorniden ran for the U of Minnesota. She has a PR of 2:01.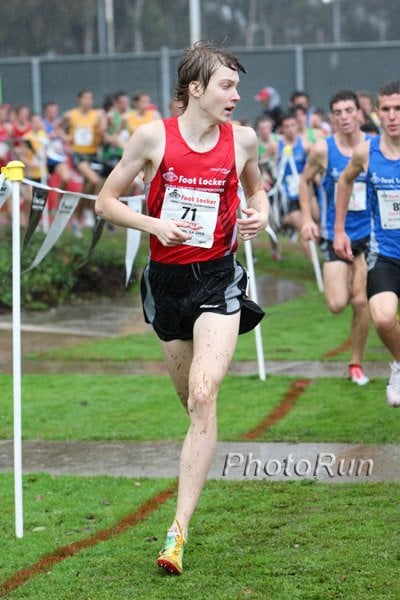 LRC Recap/Results: Sophomore Lukas Verzbicas Smashes FL Finals

*LRC Photos Verzbicas looks scary good.

*Race Video Watch the Girls 0.2-second finish.

*Boys Results

*Girls Results
2. European Cross-Country Championships
3. Honoloulu Marathon Recap And Results
4. USATF Club Nats
USATF Club National Cross-Country Results
Zap Fitness men, led by David Jankowski and David Nightingale, won the men's team race. Boulder Running Co./adidas won the women's race. Serena Burla took the open individual women's race.
*Recap
"Tiger Zoo"
Gillette Decides Tiger's Face Is No Longer The Best A Man Can Get
Gillette statement makes a "mach-ery" of Tiger: "As Tiger takes a break from the public eye, we will support his desire for privacy by limiting his role in our marketing programs."
*Employee #1's preferred Tiger coverage: Bill Simmons Writes
Listen Now - LetsRun.com Training Talk Webcast
1st Episode Featured Guest: Coach John Kellogg
Click on the "play" button below:

LRC Training Talk Article 1 - Is Your Training Repeatable?
In 2010, we at LetsRun.com hope to make a huge push to talk more about training.
Over 100 Journalists Surroud Liu Xiang As He Wins Season Finale At East Asian Games In 13.66
Caster Semenya's Test Results Will Be Kept Secret, But IAAF Will Pay For A Surgery If She Wants It
Seems likely they're not going to allow Semenya to compete in female races unless she gets some sort of operation. The IAAF are willing to pay for the expense of a surgery.
Marathon News
Kiyoko Shimahara Returns To Honolulu Marathon As Favorite To Win Again Shimahara's 4th marathon of '09 doesn't mean her others have lacked quality. She ran 2:25 to win Hokkaido and 2:28 to beat Catherine Ndereba at Yokohama.

Japanese 27:41 10ker Announces Intent To Race Marathon In February Yu Mitsuya ran 27:41 as a 20-year-old.
Wejo Writes: In Defense Of Tiger Woods: I Must Confess I Saw Dr. Galea
LetsRun co-founder Weldon Johnson writes about visiting Dr. Michael Galea along with Dr. Mark Lindsay in 2006.
Dr. Michael Galea Mainstream Media Follow-up
ESPN Talks With Galea's Lawyer And Uncovers What His Assistant Said When Caught At The US Border With Drugs
Dr. Galea told his assistant to say they were headed to a medical conference and the drugs were not meant to be administered to any patients. He had his assistant transport the drugs because he had been flagged before at the border.
NY Times Focuses On Baseball Players Who Have Visited Galea
Nothing extraordinary here, just good players seeking out a highly recommended doctor. Star shortstop Jose Reyes of the Mets visited Galea in Canada and his agent and team insisted someone stay with him at all times to make sure he didn't get anything that would cause him to fail an MLB test.
Tuesday's Recommended Read Canadian Sports Medicine Guru Is Subject Of Doping Inquiry
Dr. Anthony Galea has worked with big time athletes in every sport and is referred to as "Miracle Man." The article gives a good look at his career, his supporters and critics, and his arrest crossing the US/Canada border with HGH and other controversial drugs.
Sports Related News
Tiger Woods Gallup Poll Favorable Responses In 2005 - 85%. In December 2009 - 33%
Tiger's 52% decline in popularity is the largest in the history of Gallup polls for any public figure.

NBC/Universal To Lose $200 Million On Winter Olympics
Super Conglomerate: NBC, Universal, Comcast and GE have all merged in the past few years.

Usain Bolt A Finalist For Time Magazine's Person Of The Year Announced today, no sportsperson has ever won Time's yearly award. Technically though, "You" or "I" or "We" won in 2006 so sportspeople have won.
Katherina Thanou Brings Legal Action Against IOC
Though they don't have enough hard evidence to convict her of anything, the IOC refused to give Thanou Marion Jones' 100m medal from Sydney to mark the first time in Olympic history no gold medal was awarded in an event.
*Quotes From IOC Spokesman Regarding Katerina Thanou
Berlino Meets His Match
World Indoor Championships (Doha, Qatar) Announce Mascot "Saham," Who Is A Caracal

Saham, an athletic but cute cat, is the first track mascot ruler in the post-Berlino epoch. His creators have made up an amazing story for him. It is a touching tale, as Saham, the eldest of three in his family, "learnt at an early age, from his grandfather and father, that sport is more than just performance. It is a calling and one that requires dedication, honesty to one's self, and an ingrained spirit of fair play. Saham is a proud Qatari and partakes in all its traditions - he plays the Nai with passion, loves sport of all kinds, likes going out on excursions with his friends, and even likes keeping fit by running on the Corniche at sunset." We were about to say ... he BETTER play the Nai and run on the Corniche or else he is no proud Qatari!
*Pat Butcher Interviews Berlino In World Exclusive
LRC Must-Read: The Power Of Positivity - Wesley Korir Feature In Louisville's Courier Journal
Korir's story is absolutely incredible. He finished 3rd in the Chicago Marathon in 2008 and then did the impossible by winning L.A. in 2:08, taking home $160,000 in the process. This story is about his life in Louisville working as a handyman fixing toilets and sinks and things and even has a picture of the new house he bought.
Training Advice From US Star
Nicole Teter Mentions Her Best 800m Year Came After 3,000/5,000 Strength Work
News From The UK
The End Of Kenyan Distance Dominance! Rugby Mania
Kenyans Select Linet Masai As Woman Athlete Of The Year While Men Are Second To Rugby Players
BBC Audio Interview With Blade Runner Oscar Pistorius
Foot Locker Pre-Race (If Sveinsson Held On For 5 More Meters, We Had Both Winners)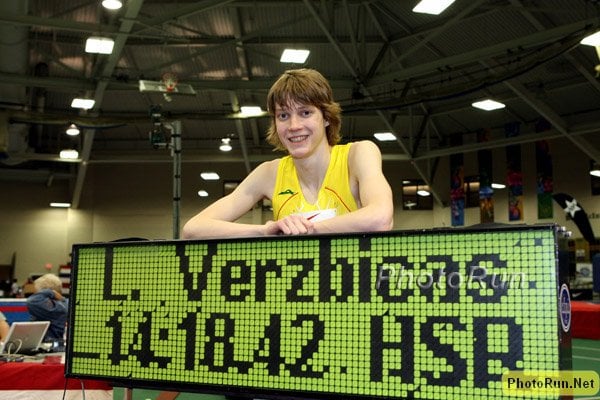 Our Take: On the boys side, the typically senior-dominated race may come down to a rare battle between a junior in NXN champ Craig Lutz and sophomore '09 track sensation Lukas Verzbicas. After an amazing high school class in 2008 (German Fernandez, Chris Derrick, Luke Puskedra ...), it looks like 2011 will be the next year of top-end talent, as juniors went 1-5 at NXN. LRC Pick: Verzbicas over Lutz
*Craig Lutz Shooting To Be First To Win NXN And Foot Locker
*Lukas Verzbicas Profile Leading Up To Foot Locker Champs This Weekend That photo to the left comes from Verzbicas' freshman year in high school.

The girls race will bring 4 undefeated girls from 4 different regions together. Megan Goethals, Aisling Cuffe, Chelsea Sveinsson and Molly Grabill are the "Big 4." LetsRun.com voters like lightly-raced Sveinsson over course record smashing Cuffe (34%-30%), while Grabill is basically running on her home turf and Goethals is the top returner from 2008 AND is the only senior.
LRC Pick: '08 NXN Champ and 4:18 1,500m runner Chelsea Sveinsson
Lukas Verzbicas After Winning Foot Locker
Girls Finish At Foot Locker
Galen Rupp And Alan Webb In Nike Spoof Ad
Best Race Of The Year? Maggie Vessey At Pre
2009 NCAA D1 XC Championship Results
*Men's Team Results
*Men's Individual Results
*Women's Team Results
*Women's Individual Results

D2: *DII Men Complete Results
*DII Women Complete Results

D3: *WTeam *WIndiv
*MTeam *MIndiv

NAIA: Results
New LRC Readers' Book Reviews
From Last To First, A Race Like No Other, And See Dane Run From Last To First is the autobiography on English marathon record holder Charlie Spedding, A Race Like No Other is NY Times Writer Liz Robbins' take on the NYC Marathon, and See Dane Run recounts a guy who ran a marathon a week for a year.
Recommended Reads - You Can Buy The Books Online
One for the Mind: Running Within
One for the Soul: Best Efforts
More Great Deals