Athens Marathon is Sunday on the most classic marathon course in the world
Are Running Records Getting Near The Limits?
5000 Beijing Olympic Condoms Left Over By Athletes To Be Auctioned To One Buyer 100,000 were made for the athletes in the Olympic village. You do the math.
Marathon News
Sprints/Field Event News
Recommended Read: LetsRun.com Compiles All The Meb Coverage Letterman, Conan, Colbert and Darren Rovell react to Meb's win. What was the last American distance performance to catch the public eye as much as Meb's NY win done in the USA jersey?
Recommended Read New Yorker Article Reminds Us 16 Months Ago Meb's Career Was On The Rocks Some great commentary and perspective in this article. More inspiration for those of you struggling and looking for lessons in perseverance.
Exclusive: Parisian Doctor Writes To LetsRun To Offer Opinions On Meb This is just one of many emails we've received from passionate readers around the world.
LRC: Listen To A Replay (Or Download An MP3) Of Our Thursday Night Live ING NYC Marathon Preview Internet Radio Show Featuring 2004 Olympic Silver Medalist Meb Keflezighi "Meb" was the featured guest on our 2009 ING NYC Marathon preview show. Meb talked about his chances on Sunday and his resurgent 2009, during which he has won a US half marathon title, a US XC title, set half marathon and marathon PRs and broke the US 20k record.
LRC: MEB WINS ING NYC MARATHON The 27 years of waiting are over, as Meb Keflezighi broke Robert Cheruiyot just prior to mile 24 and gave America it's first men's victor since 1982. Overall, it was a great day for the American men, as there were 6 American men in the top 10, the most ever since the race moved to Central Park in 1976. We break down the men's race for you and along the way try to cheer up a terribly disappointed Ryan Hall in the process.
LRC: Absorbing The Post-Race Elite Vibe: Injuries And Wind Challenge Humbled, Grateful Pros We try to give you a behind-the-scenes look at how the elites reacted after the vast majority of them were humbled in New York City.
LRC: The Week That Was Last week was a week dominated by Meb Keflezighi's historic win at the 2009 ING NYC Marathon as well as NCAA cross-country conference action. We break it all down for you and along the way, we try to give Ryan Hall hope, wonder whether the Washington women are vulnerable and try to size up Stanford and Ok. State on the men's side. We also ponder "Could Jenny Barringer have won in NY?" and "Are LRC posters really racist?"
Non-Meb News Highlights
Interesting Read: Ryan Hall's Pre-NYC Blog An 18-mile tempo run went extremely well for Hall about 15 days out from the marathon.

Tulu's 2nd Comeback Gets Her Another Big Win - 17 Years After Barcelona Gold IAAF article on the life of Derartu Tulu, who tried to help Paula keep up with the lead pack on Sunday before winning.

Injured Paula Radcliffe And Fired Up Haile Gebrselassie - Pat Butcher Reports Butcher gives us access to some good quotes from Haile on his career and future marathoning plans.
Meb Hints At Running Boston Marathon Meb Keflezighi joined Derartu Tulu and World Marathon Major champions Irina Mikitenko and Sammy Wanjiru at a press conference Monday in New York. Meb's next marathon will be 2010 London or Boston and it sounds like he's leaning towards another race on American soil. The last American to win Boston was Greg Meyer in 1983.
*Meb On Letterman Tonight To Do Top 10
*LRC Photo Gallery From Monday's Press Conference

New York Was Thrilling Without Any Rabbits Or Record Attempts
*Haile Gebrselassie Hopes To Break His World Record In January's Dubai Half Marathon Gebrselassie told reporters he still cannot believe he missed the world record in Dubai back in 2008.
*Wanjiru Fires Back With Plans To Break Geb's Record In Berlin First up is another crack in London, the only place where Wanjiru has been beaten at the marathon.
*Wanjiru, Mikitenko Awarded '08-'09 World Marathon Major Titles Each received checks for $500,000.
LRC: "It's a great day for New York" & "Paula's F------ awesome." - Watching The 2009 NYC Marathon In North Brooklyn - One Fan's Perspective The ING NYC Marathon is always a special day in New York and here we try to get tell you what it's like from a fan's perspective. We catch up with a smoker in North Brooklyn who is a big fan of Paula Radcliffe.
*LRC Interviews: Exclusive footage of interviews with Paula Radcliffe, Yuri Kano, Jackson Kipkoech, Ryan Hall, Derartu Tulu, Max King, Mike Renaud, Mike Sayenko, Magdalena Lewy Boulet, Fasil Bizuneh, Abderrahim Bouramdane, Marilson Gomes dos Santos, Brian Sell, Abdi Abdirahman.
*USA Today: Keflezighi's win bodes well for U.S. distance future *Universalsports: Another Setback for Hall *SI: Keflezighi posts an historic NYC Marathon win for fallen friend *NYRR: Keflezighi's New York History: The Best and Worst of Times *IAAF Recap *NYTimes Recap Of Meb's Win
*Official Post-Race Interviews
*WATCH: 2009 ING New York City Marathon -- WNBC *WATCH: 2009 ING New York City Marathon - World Feed
*Ryan Hall Talks After Finishing 4th: "It was a disappointing day for me to be honest. I felt like I was in better shape than that, but the day was what it was. I was really happy for Meb. Someone yelled to me that Meb was going to win, I was passing mile like 23 or 24. I was just - I smiled and I was like, man, that's awesome."
*Keflezighi, Hall, Gharib, Torres Post-Race Press Conference Transcript
Previous:
Top American Marathoners Meet The Press - Video
*Watch Press Conferences With Ryan Hall, Jorge Torres, Brian Sell, Meb K And All The Top Americans See our right column for easy video access.
*The Man: Ed Norton Video It's not quite as good as Fight Club.

LRC Previews The Women's Marathon In New York Compared to the men's preview, the women's preview is short, sweet and to the point. The reason? Because Paula's going to win; it's only about the time.
Martin Lel Withdraws From New York Marathon The pre-race favorite pulls out with injury and every runner's job just got considerably easier.
Sprinting News
Semenya Headlines - Official Apology And Finally A Suspension
Fernando Cabada Running Schenectady, NY Stockade-athon 15km On Sunday US 25k record holder and 2:12 marathoner Fernando Cabada is coming back from an Achilles injury.
"Academics First" - Big Debate Underway In Berkeley Whether To Cut Funding For Sports At Cash-Strapped Cal U The entire state of California is in extreme financial crisis, which means their state university system has a big problem, too. Some are asking the U to cut their funding of athletics rather than firing professors and cutting back academic budgets.
2010 Hosts
Kenyan News - Now That America Is The World Marathoning Superpower, We At LetsRun.com Promise To Not Forget The Little Guy
LRC: We Might Not Be Talking About Meb If James Kwambai Hadn't Dropped Out - On-The-Scene Photos From A LetsRun Reader We're still wondering what ailed James Kwambai so much that he dropped out with 15 minutes to run in the race.

Wanjiru Calls On Kenya To Help Protect Him Or He's Heading To Japan Sammy Wanjiru, probably one of the richest sportsmen in Kenya and still only 22, is afraid for his safety, as his rural home has been raided twice by thugs. Despite a warm homecoming from his latest conquest, Wanjiru is asking Kenyan authorities to step up protection or else he's moving to Japan.

Recommended Read: Coach Rosa Gives NY Times Full Access To Cheruiyot, Lel, Kwambai's Preparations An amazingly interesting read. Rosa can not believe how 2:04:27 man Kwambai didn't win. He was rushed to the hospital after the NY Marathon, possibly with appendicitis.

More On Deriba Merga And Mary Keitany's Fast Wins In Delhi Half Marathon Merga is Ethiopian but Keitany is Kenyan and perhaps the next dominant woman marathoner.

Article On Peter Rono's Son Making Waves As A Runner
NCAA News
Brief Chat With Oklahoma State's Ryan Vail Ryan Vail has developed into one of the best American cross-country runners since becoming one of the early commits to Dave Smith and the Oklahoma State program.
*Latest D1 Men's Rankings Stanford #1, Ok State #2.
*Women's Rankings 2009's dominant team - Villanova - almost surpass previously unbeatable Washington Huskies.
If You Can't Say Something Nice ...
"Nothing against Keflezighi, but he's like a ringer who you hire to work a couple hours at your office so that you can win the executive softball league." - CNBC Writer Darren Rovell on Sunday, writing about why we shouldn't be excited about Meb's NYC victory. You can email him at [email protected] Read Rovell's Monday apology blog here.

Laugh Of The Day: "Who's that little boy waving at me? Oh. It's Mayor Bloomberg." One of American Meb Keflezighi's Top 10 thoughts while running the New York City Marathon. Meb's hilarious on David Letterman top 10.
*Derartu Tulu Rings NYSE Closing Bell Not nearly as funny as the Letterman video but we hope Tulu's story of perseverance gets a lot of attention.

Recommended Read: NY Times Writer Examines Why Some Say Meb's Win Shouldn't Be Celebrated As American LRC co-founder Weldon Johnson and 1982 champ Alberto Salazar (who moved to the US when he was 2) comment.
Exclusive: LRC Fan, Soldier Says Meb Is An American To Him
*NY Times Writer On Meb's Patience And Near Pre-Race Disaster Even the pros wake up and have last-second uniform problems.
*USATFs Jill Geer Revels In Emotional US Victory For Meb
Other Sunday Results - Delhi Half, Big Ten XC, Seoul Marathon
Delhi Merga Gets Back On Winning Track, Keitany Crushes Another Half Kenyan Mary Keitany ran the opening 10km in 30:39 before finishing with her 3rd career sub-67:00 half marathon, while Ethiopia's Deriba Merga overcame the aggressive tactics of young star Tilahun Regassa to record a sub-1 hour win.

Big Ten XC Championships Sunday In Happy Valley
*Men's Results Lightly-raced Wisconsin finished 5 guys (4 underclassmen) in the top 8, as previously red-hot Indiana flopped. Minnesota's Hassan Mead repeats as individual champion.
*Women's Results Penn State Lady Lions tasted sweet victory on their home course. PSU steeplechaser Bridget Franek upset favorite Angela Bizzarri of Illinois for the individual win. More conference results below.

Seoul Kibiwott Takes Seoul Marathon In Photo Finish Check out the finish photo in the recap.
Bolt's Trip To Kenya Continues To Make Interesting Headlines
*Usain Bolt Adopts Baby Cheetah
*Bolt Meets With Kenyan President And Prime Minister
Derartu Tulu Becomes First Ethiopian To Win ING NYC As Paula Radcliffe Struggles The two-time Olympic 10k gold medallist hadn't won a major marathon since 2001, but she was the victor in the Big Apple on Sunday in a pedestrian 2:28:52, as Radcliffe lost the first non-Olympic marathon of her career.
*Paula: I barely ran in the two weeks prior to the marathon The NYRR has a complete transcript from the post-race press conference of pre-race favorites Paula Radcliffe & Selena Kosgei.
*Unbelievably Great Gesture: Tulu Tried To Encourage Struggling Radcliffe Paula: "She ran alongside me and was like, come on, come on. We can do it, we can do it."
*London Times: "Paula Radcliffe facing the mother of all battles to land elusive Olympic gold."
*The Independent: Radcliffe Left Running On Empty
*More Post-Race Comments From Paula
*Tulu, Petrova, Daunay Post-Race Press Conference Transcript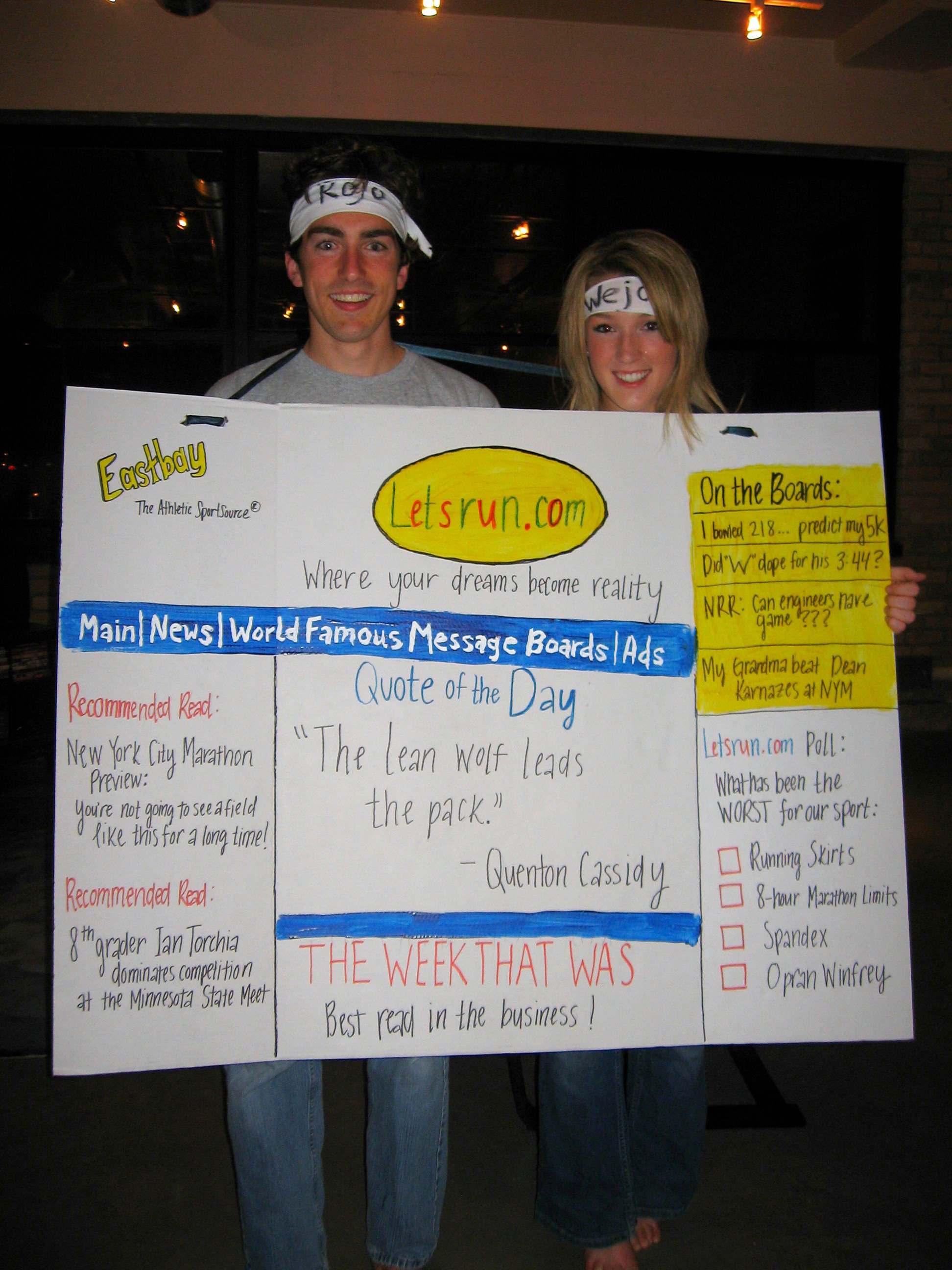 Happy Halloween! LetsRun Readers Mike Torchia & Girlfriend Celebrate Halloween As "LetsRun.com Couple Rojo And Wejo" Zoom in to see their parody headlines and threads, and to see who is playing Wejo and Rojo.
Saturday Conference Stunners! Big 12 - ACC - Big East - SEC
*ACC Men Results - NC State Pulls Stunner At Home UVA went 1-2, but NC State is back on top with a home course upset of the highly-ranked Cavaliers.
*ACC Women - Kuijken And FSU Roll *ACC Meet Recap

*Big East Men: Syracuse Gets First Ever Team Title Coach Chris Fox did what he was hired to do, as the Orangemen won over a very good Georgetown team led by Andrew Bumbalough. Louisville's Cory Thorne stole the individual win.
*Big East Meet Recap
*Big East Women - Results - Villanova Wins As Expected
Meb On Letterman
Great Watch: Trailer For New Documentary On Bud Winter And Speed City
Meb Wins It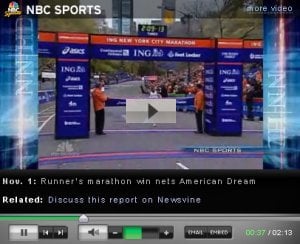 NYC Stats Of The Day
13: Number Of NYC Marathons American Men Won In A Row Starting With The First One
7: Number Of NYC Marathons American Women Won In A Row Starting With The 2nd One
0 1: Number Of NYC Marathons American Men Or Women Have Won Since
1: Number of Men Who Appeared on the LetsRun.com NYC Marathon Preview Show
1: Number of Men On the Show Who Won the 2009 ING NYC Marathon (listen to Meb talk about his chances here)
Meb On The Win
Meb Entering Columbus Circle
Usain Bolt Arrives, Dances Like A Masai Warrior In Kenya
If You Want To Find Out Who People Really Think Will Win, Click Here (It's James Kwambai, Not Ryan Hall)