Merga retains men's crown; world champ Keitany breaks course record
Airtel Delhi Half Marathon Press Release

November 3, 2009

As expected, it was the Ethiopians and Kenyans who battled for the top positions in both the men's and women's action of the Airtel Delhi Half Marathon on Sunday. If Derbia Merga from Ethiopia dominated the men's 21km race to emerge victorious, the winner in the women's group was Mary Keitany from Kenya. Both the winners were richer by $ 25,000.
Merga clocked 59.54 while defending his crown, failing to lower his own mark of 59.15, clocked last year, but Keitany, the reigning World Champion, clocked 66.54 to shave 1 minute 23 seconds from the course record of 68.17, in the name of Ethiopia's Aselefech Mergia. Keitany set a scorching pace to lead the first four finishers inside the course record. She was followed home by Ethiopia's Ayelew Wude (67.58) and Aberu Kebede (67.59)
The Indian men too put up a creditable show with the winner Deepchand Saharan clocking 64 minutes to shave 48 seconds off the existing Indian mark of 64.48.
In the men's elite race, three Ethiopians, comprising defending champion Deriba Merga, Eshetu Wendimu and Tilahun Regassa employed group tactics to take the sting out of the Kenyans' finishing power.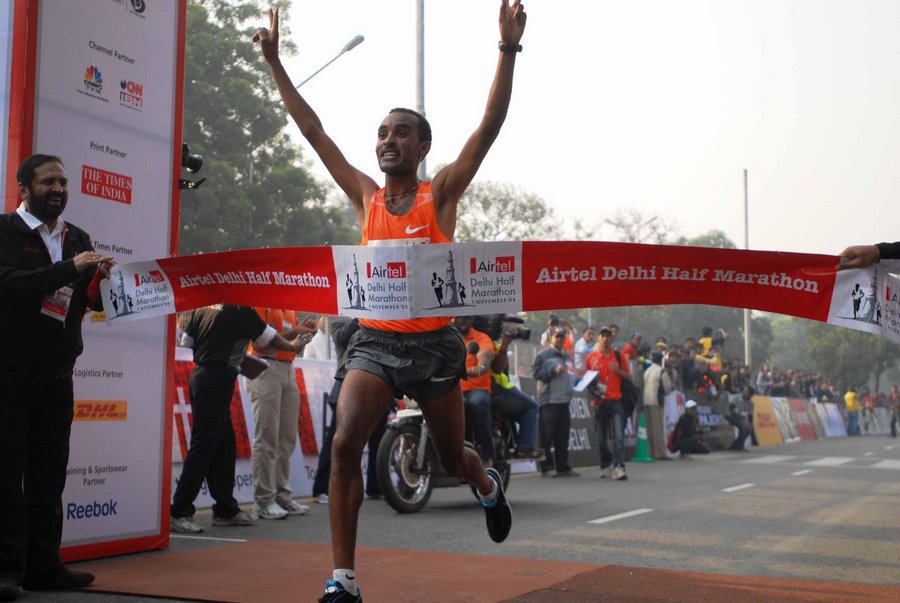 This was quite evident from the fast and furious pace set by Regassa and his fellow Ethiopian in the opening 2 km of the 21km race that shrunk the leading bunch to nine runners only as early as the 5km mark of the race. The pace was hot in the next 5km too, and the leading group that included Regassa, with Merga and Wendimu running right on his shoulder had four Kenyans, including Wilson Kipsang, further strung out at 8km. At that point Kipsang, last year's silver medalists in the race, was seen drifting away from the trio of Ethiopians—Merga, Wendimu and Regassa.
At the 10km mark of the race, the way Merga surged ahead to take charge of the race, it looked like the other runners in the field might have to fight for lower positions in the competition.
At the 15km mark of the race, the eventual winner put in another surge, and Regassa who did most of the front running for his team-mates, lost contact with the leader. But the fast pace didn't have had any impact on Wendimu, who ran neck and neck with the Merga till the 19km mark. At that point, it was clear that competition for the title was between the two Ethiopians, but Merga proved to be the stronger in the closing stages of the run.
Merga finished the race in 59:54, nearly 39 seconds short of his own course record he had set last year. After the race, Merga said had someone pushed him in the last one km, he could have clocked sub-59. The eventual winner, who had missed vital training time due to a knee injury in the last two months, said he was prepared to face a challenge in the race. "I knew that the Kenyans would pose the main challenge to me, so I set a fast pace with my teammates in the initial stages of the race," said Merga.
Wendimu made it 1-2 for Ethiopia as he finished second at 1:00.02. But the tiring Regassa was overpowered by Kipsang in the last 2km to prevent an Ethiopian clean sweep in the competition, to who took third spot at 1:00.04. After the race, Kipsang complained of toe pain that prevented him from running hard in the last four km. "At 15km, I felt pain in my toe and I checked my speed. The gap between me and the leader become more than expected and in the fag end I wasn't able to cover the lost ground," he said.
The women's race was also very exciting, with eventual winner Keitany from Kenya setting a blistering pace in the opening 8km, upsetting the plans of her rivals in the field including defending champion Aselefech Mergia from Ethiopia.
While Mergia finished ninth in the race, her team-mates Ayelew Wudeand and Aberu Kebede kept chasing the Kenyan runner who, looked more powerful as the race progressed.
Fresh from her victory in the World half marathon in England held last month, where Keitany clocked 66.36, she looked certain to run another sub-67 till the halfway mark.
With fear of Ethiopians closing the gap, she maintained a steady pace till 14km mark, only slowing down a bit from 15km to 16km, but again picked up the pace to finish the race in a new course record 66:54, slicing nearly more than a minute from the previous record set by Mergia.
A mother of one-year-old baby boy, Keitany said the flat course was one of the factors responsible for new record. "The route is good for a fast time. I proved it," said the jubilant Kenyan who live and trains at Iten.
It was heartening to see Deepchand Sharan finishing the race in dead 64 minutes in the Indian men's section. He finished overall 17th in the strong field of 40 elite runners. Considering he is preparing for the full marathon next year, his performance was good. Talking about his future plans, the eventual winner said, he is totally focused to clock a good time in the 2010 Commonwealth games. "Today's performance will be a good platform for future goal," said Deepchand,who is currently training at Bangalore national camp.
Santosh Kumar and Soji Mathews who finished second and third, respectively, in the
21m race, and are also training in the national camp in Bangalore, expressed their satisfaction regarding today's results in the race.
Following are the results:
Overall Athletes (MEN):
DERIBA MERGA (ETH) 59.54; ESHETU WENDIMU (ETH) 01.00.02; WISON KIPSANG (KEN) 01.00.04; TILAHUN REGASSA (ETH) 01.00.37; TITUS MASAI 01.00.43; DIEUODONE DISI (RWA) 01.01.37; KIPLIMO KIMUTAI (KEN) 01.01.40; JUWAWO WIRIMAI (ZIM) 01.01.45; STEPHEN MOKOKA (RSA) 01.01.47; EZEKIEL CHEROP (KEN) 01.01.50.
Overall Athletes (WOMEN):
MARY KEITANY (KEN) 01.06.54; AYELEW WUDE (ETH) 01.07.58 ; ABERU KEBEDE (ETH) 01.07.59; MAMITU DASKA (ETH) 01.08.07; PENINAH ARUSEI (KEN) 01.08.30; MARA IBHRAHINOVA (AZE) 01.08.45; TEYBA ERKESSO (ETH) 01.09.05; AMANE GOBENA (ETH) 01.09.32; ASELEFECH MERGIA (ETH) 01.10.02; PAMELA CHEPCHUMBA (KEN) 01.10.04.
Indian Men:
DEEPCHAND SAHARAN 01.04.00 (OVERALL 17); SANTOSH KUMAR 01.05.10 (OVERALL 18); SOJI MATHEWS 01.05.18 (OVERALL 19); ARVIND YADAV 01.05.36 (OVERALL 20); AJAY KUMAR 01.05.38 (OVERALL 21); IRAPPA D AKKI 01.05.44 (OVERALL 22); ANGAD KUMAR 01.05.47 (OVERALL 23); RAM SINGH YADAV 01.05.47 (OVERALL 24); NEERAJ PAL 01.05.50 (OVERALL 25); MUKESH YADAV 01.06.23 (OVERALL 26).
Indian Women:
SUKANYA MALL 01.20.11 (OVERALL 22); ANURADHA SINGH 01.22.07 (OVERALL 24); KAMLESH BHAGEL 01.23.43 (OVERALL 25); ANUJA BIJAGARE 01.25.05 (OVERALL 26); SHASHTRI DEVI 01.26.26 (OVERALL 27); MANDEEP KAUR 01.26.30 (OVERALL 28); VAISHALI CHATARE 01.26.30 (OVERALL 29); JYOTI BISHT 01.27.05 (OVERALL 30).
Men's Open Category:
P. N. RAO 01.06.39; BABLU SINGH 01.08.54; MANJEET SINGH 01.09.17.
Men Veteran Category:
RAJENDRA KUMAR 01.23.30; PAULOSE K J 01.23.43; PRAMOD KUMAR 01.27.02.
Men's Senior Veteran:
RAMAVTAR RAJBHAR 01.38.43; RAMDEV YADAV 01.40.31; HIROSHI GOKAN 01.46.34.
Women Open Category:
ANURADHA SINGH 01.22.07; ANUJA BIJAGARE 01.25.05; MANDEEP KAUR 01.26.30.
Women Veteran:
ARUNVATTHI BOSE 01.38.20; THEODORA YARDLEY 01.48.34; CELESTE FUIGHAM 01.52.01.
Womens Senior Veteran:
SUSANE BERGASTAND 01.48.24; MALA CHANDRA 01.52.43.
Corporate Sporting Challenge Team:
PUNJAB NATIONAL BANK 01.31.23; AMERICAN EXPRESS 01.35.29; FISERY 01.40.32.