LRC: MEB WINS ING NYC MARATHON The 27 years of waiting is over, as Meb Keflezighi broke Robert Cheruiyot just prior to mile 24 and gave America it's first men's victor since 1982. Overall, it was a great day for the American men, as there were 6 American men in the top 10 - the most ever since the race moved to Central Park in 1976. We break down the men's race for you and along the way try to cheer up a terribly disappointed Ryan Hall up in the process.
LRC: Absorbing The Post-Race Elite Vibe: Injuries And Wind Challenge Humbled, Grateful Pros We try to give you a behind-the-scenes look at how the elites reacted after the vast majority of them were humbled in New York City.
LRC: "It's a great day for New York" & "Paula's F------ awesome" - Watching The 2009 NYC Marathon In North Brooklyn - One Fan's Perspective The ING NYC Marathon is always a special day in New York and here we try to get tell you what it's like from a fan's perspective. We catch up with a smoker in North Brooklyn who is a big fan of Paula Radcliffe.
*LRC Interviews: Exclusive footage of interviews with Paula Radcliffe, Yuri Kano, Jackson Kipkoech, Ryan Hall, Derartu Tulu, Max King, Mike Renaud, Mike Sayenko, Magdalena Lewy Boulet, Fasil Bizuneh, Abderrahim Bouramdane, Marilson Gomes dos Santos, Brian Sell, Abdi Abdirahman.
*USA Today: Keflezighi's win bodes well for U.S. distance future *Universalsports: Another Setback for Hall *SI: Keflezighi posts an historic NYC Marathon win for fallen friend *NYRR: Keflezighi's New York History: The Best and Worst of Times *IAAF Recap *NYTimes Recap Of Meb's Win
*WATCH: 2009 ING New York City Marathon -- WNBC *WATCH: 2009 ING New York City Marathon - World Feed
*Ryan Hall Talks After Finishing 4th: "It was a disappointing day for me to be honest. I felt like I was in better shape than that, but the day was what it was. I was really happy for Meb. Someone yelled to me that Meb was going to win, I was passing mile like 23 or 24. I was just - I smiled and I was like, man, that's awesome."
*Keflezighi, Hall, Gharib, Torres Post-Race Press Conference Transcript
Previous:
LRC: Listen To A Replay (Or Download An MP3) Of Our Thursday Night Live ING NYC Marathon Preview Internet Radio Show Featuring 2004 Olympic Silver Medalist Meb Keflezighi "Meb" was the featured guest on our 2009 ING NYC Marathon preview show. Meb talked about his chances on Sunday and his resurgent 2009, during which he has won a US half marathon title, a US XC title, set half marathon and marathon PRs and broke the US 20k record.
Top American Marathoners Meet The Press - Video
*Watch Press Conferences With Ryan Hall, Jorge Torres, Brian Sell, Meb K And All The Top Americans See our right column for easy video access.
*The Man: Ed Norton Video It's not quite as good as Fight Club.

LRC Previews The Women's Marathon In New York Compared to the men's preview, the women's preview is short, sweet and to the point. The reason? Because Paula's going to win; it's only about the time.
Martin Lel Withdraws From New York Marathon The pre-race favorite pulls out with injury and every runner's job just got considerably easier.
Awesome Pre-Race Press Continues And You Of Course Find It All Here
*Profile Of Meb Keflezighi From Dick Patrick Meb is on a mission to honor his dear fallen friend Ryan Shay. We think Meb has at least a 40% shot at being the top American in New York.
*Pre Race Transcript Of Jaouad Gharib, Salina Kosgei And Yuri Kano "We are going to try out best" - Salina Kosgei on how to beat Paula Radcliffe.
*Interview With Marathon First-Timer Jorge Torres Torres is a 10,000m US Olympian and has been an absolute stud since high school. His coach Steve Jones says "he's ready." We're hoping for yet another exciting US marathon performer.
*Great Profile Of Yuri Kano And Challenges Japanese Athletes Face In an international sporty mood? You'll love this article.
*NY Times On Pushing Through Pain In The Marathon - Kara Goucher Interview Goucher isn't even running the race, has never won a marathon, and she's still getting press.
ING NYC Marathon Elites
Kenyan Profile Of Barely-Noticed New York Marathon Entrant James Kwambai Kwambai has run 2:04:27 and 2:05:36 and he lost both races. He also finished as runner-up in Boston. The fastest man in the field might only be the fourth or fifth favorite in New York.

According To NYRR, Women's Elite Field Basically Down To 3 Late cancellations leave Paula Radcliffe, Salina Kosgei and Yuri Kano as the top 3. Luckily for New York any race with Paula is an attention grabber.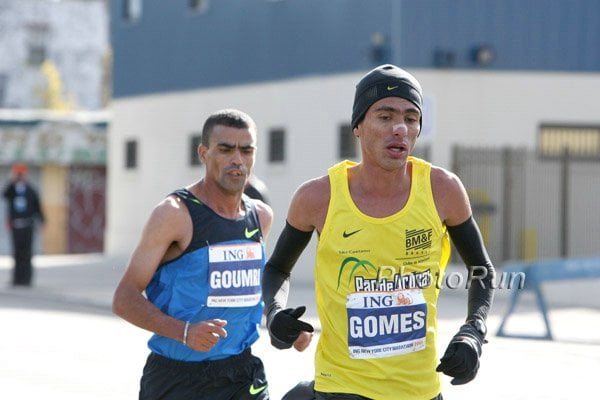 2-Time NYC Champ Marilson Gomes Dos Santos' Press Conference Transcript It's rare to hear this much from Brazil's Marilson Gomes Dos Santos. He sounds confident after his surprising come-from-behind win over Abderrahim Goumri last year. Watch 2008 hi-lites here. LRC 2008 Photos
New York City Marathon Getting Great Press
Recommended Read: Story Of Boys Who Ran NYC Marathon As 8- And 9-Year-Olds Back In The '70s These guys grew up running with their dads who got swept up in the jogging boom. They were running at ages of 3, 4, 5, 6 and ran under 3:30 in the marathon before they were in 3rd grade.
*Thread On NYTimes Article On Kids Running

NYTimes: Humans Are Meant To Run Long Distances

Article On the Guys Who Ran (And The Guy Who Won) The First New York Marathon
*Brief Chat With Gary Muhrcke, First NYC Marathon Winner

Celebs: Ed Norton Putting His Fame To Good Use By Running NYC Marathon To Benefit Kenyan Tribe Trying To Preserve Environment
*Sal Masekela - Apparently He's Famous On E! - Is Scared Sh*tless To Run Marathon
Good Reads:
1. Pat Butcher On The Increasing Onslaught Of Marathoning Kenyans And The 2-Hour Barrier 10 of the top 20 all-time marathon marks have been set this year ... and there are no signs of slowing from Kenya.
2. Brilliant! Sports Scientists Find And Publish Data That Shows Marathon Events Save Lives, Part II Worth a read so you can convince your CNN-watching friends that running is in fact much safer than lying around on a couch or driving a car. Part I is below.

LRC Marathon Photo Sequence Of The Year Tom Bedford, son of Britain's running legend Dave Bedford, had a bet with his old man who said he couldn't break 2:25 in the marathon. Well, Tom won the bet this past weekend in the Dublin Marathon, and celebrated heartily, doing a cartwheel as he cross the finishing mat. A LetsRun.com reader in Ireland was on the scene, camera in hand, to record the occasion and he sent us the photos. Tom raised 5,000 pounds for charity.
*Dublin Marathon Recap

South African Doctor In New Report: "Chuene, ASA Were Reckless, Short-Sighted And Grossly Irresponsible" In Handling Semenya Aussie journo Mike Hurst is again all over the story as a newly released document from a team doctor scathingly accuses Chuene of scandalous behavior.
Derartu Tulu Becomes First Ethiopian To Win ING NYC As Paula Radcliffe Struggles The two-time Olympic 10k gold medallist hadn't won a major marathon since 2001, but she was the victor in the Big Apple on Sunday in a pedestrian 2:28:52, as Radcliffe lost the first non-Olympic marathon of her career.
*Paula: I barely ran in the two weeks prior to the marathon The NYRR has a complete transcript from the post-race press conference of pre-race favorites Paula Radcliffe & Selena Kosgei.
*Unbelievably Great Gesture: Tulu Tried To Encourage Struggling Radcliffe Paula: "She ran alongside me and was like, come on, come on. We can do it, we can do it."
*London Times: "Paula Radcliffe facing the mother of all battles to land elusive Olympic gold."
*The Independent: Radcliffe Left Running On Empty
*More Post-Race Comments From Paula
*Tulu, Petrova, Daunay Post-Race Press Conference Transcript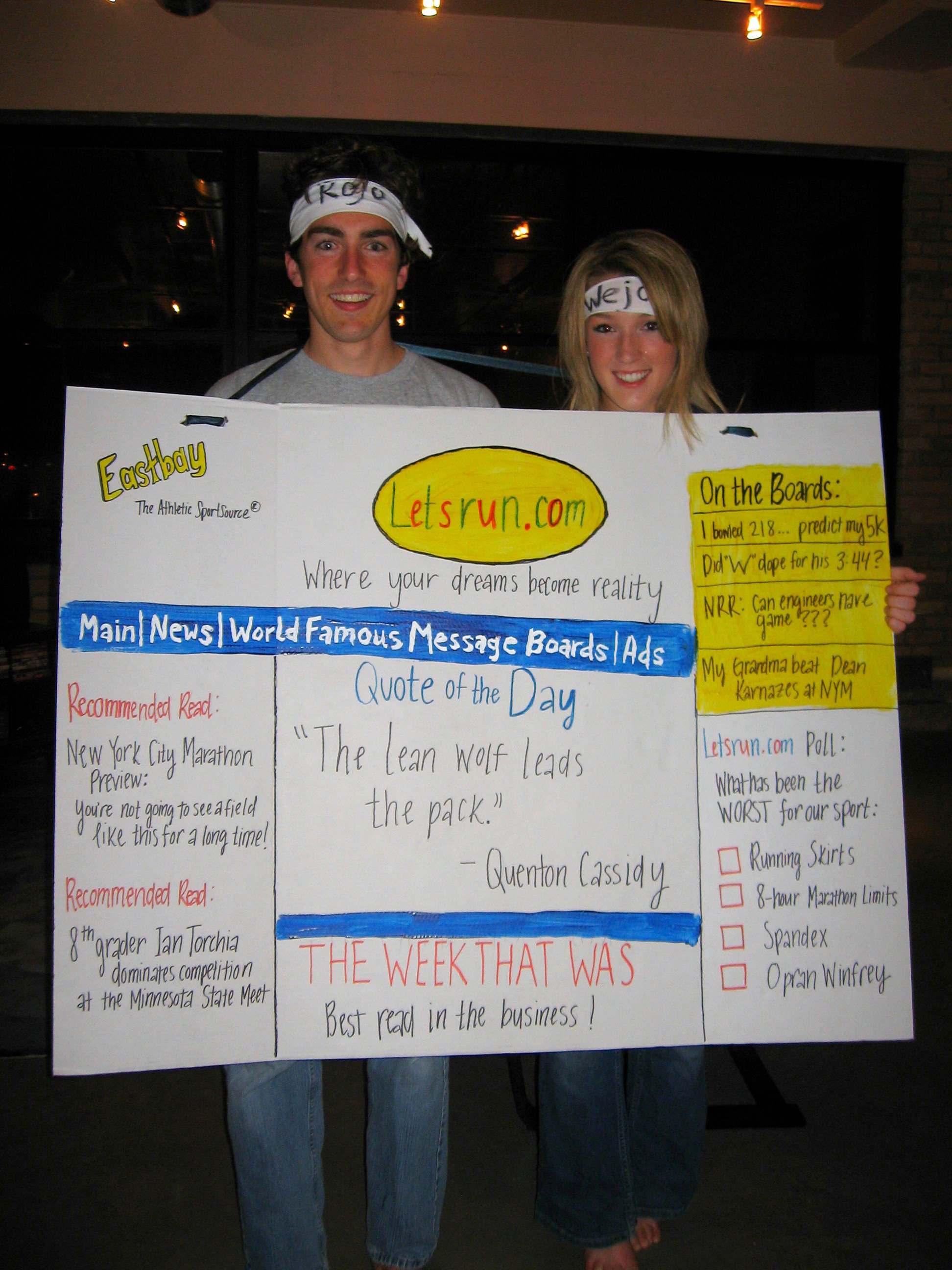 Happy Halloween! LetsRun Readers Mike Torchia & Girlfriend Celebrate Halloween As "LetsRun.com Couple Rojo And Wejo" Zoom in to see their parody headlines and threads, and to see who is playing Wejo and Rojo.
Saturday Conference Stunners! Big 12 - ACC - Big East - SEC
*ACC Men Results - NC State Pulls Stunner At Home UVA went 1-2, but NC State is back on top with a home course upset of the highly-ranked Cavaliers.
*ACC Women - Kuijken And FSU Roll *ACC Meet Recap

*Big East Men: Syracuse Gets First Ever Team Title Coach Chris Fox did what he was hired to do, as the Orangemen won over a very good Georgetown team led by Andrew Bumbalough. Louisville's Cory Thorne stole the individual win.
*Big East Meet Recap
*Big East Women - Results - Villanova Wins As Expected

*Big 12 Recap - Ok St., Texas Tech Repeat Over Colorado! Huge shocker to many, but we saw it coming. Ok State men put 4 in before Colorado's 1st (despite the Buffs getting 2nd at Pre-Nats) and Colorado's women had a 2-minute spread from 1-5 and were downed by Texas Tech despite a 1-2 finish.
*Men Results *Women Results - Barringer Wins By 46 Seconds
*Men's Quotes - Ryan Vail Wins *Jenny Barringer Big 12 Quotes

*Dorian Ulrey And Arkansas Run Well at SECs To Almost Beat Alabama The meet was at Ole Miss, so who knows when results will be posted?

UNM Wins Mountain West Over BYU
*Jacob Kirwa, Chris Barnicle And New Mexico Upset BYU At Mountain West
*UNM Girls Win Mountain West - Cecily Lemmon Gets Individual Title
*Boards: Lobos own BYU and win MWC!

*Another Shocker: Erik van Ingen Leads Binghamton Men To First Ever America East Title

*A-10: St Joes And Dayton Win A-10s

All Conference Results, Quotes And Recaps PAC-10 and Heps below.
Non NYC Weekend Action
Conference XC Action
Friday:
PAC-10: Stanford Men Convincingly Over Oregon, Washington Women Edge Oregon Women
*Men's Results *Women's Results
*Message Board Thread

Heps: Princeton Women Go Perfect 1-5
*Men: Columbia Edges Princeton By A Point
*Full Results *Thread: Talking Heps 2009
Usain Bolt In The News / In Kenya
Drug News
Cordner Nelson, Founder Of Track And Field News, Gets Obituary In NY Times
LetsRun.com's NCAA Conference Previews - The Only Non-PC Previews Around
Ever get tired of reading university press releases? So do we. We tell you the real story and who's going to win ... so you can blast us when we're wrong.
LRC Previews The Big East XC Champs Syracuse is finally ready to win the men's team title under head coach and former running stud Chris Fox (how about putting 8 guys under 24:12 at their last meet?). Looking for the most elite women's XC conference? Try the Big East with 4 teams in the top 10. By far the wackiest conference in the country, the Big East is holding the country's most massive league meet in Kenosha, Wisconsin. (To all the emailers, we apologize for not knowing that Marquette is in Milwaukee)

LRC Previews The ACC Championships Employee #1's favorite NCAA coach Jason Vigilante is ready to claim another ACC conference XC title at UVA with a stellar team led by Emil Heineking, who ran 23:16 two weeks ago. Susan Kuijken and FSU have the women's title all but won already.
Unreal! High School XC Team Has Conference Title Stripped Because 1 Runner Had Improper Stitching On His Compression Shorts
NCAA Cross-Country Madness
LRC Latest LetsRun.com Cross Country Polls Are In ... Stanford Men The New #1 Stanford and Washington lead in the LetsRun voting. But will the Cardinal men even win their own conference?

LRC Big XII Cross-Country Preview Oklahoma State and 2008 individual champion German Fernandez head to Missouri hoping to hold off Mark Wetmore's pack-running Colorado Buffaloes. On the women's side, Jenny Barringer has never finished better, or worse, than 2nd place at the Big XIIs; think 2009 might be her year to earn her first conference crown?

LRC Big Ten Preview The Big Ten in cross-country is sort of like the Big Ten in football ... some pretty good teams but lacking top notch firepower. Will the mysterious Wisconsin men get their 11th consecutive title and will Angela Bizzarri roll over the host Nittany Lions and Bridget Franek?

LRC Previews The Heps

LRC PAC-10 Cross-Country Preview
NYC Stats Of The Day
13: Number Of NYC Marathons American Men Won In A Row Starting With The First One
7: Number Of NYC Marathons American Women Won In A Row Starting With The 2nd One
0 1: Number Of NYC Marathons American Men Or Women Have Won Since
1: Number of Men Who Appeared on the LetsRun.com NYC Marathon Preview Show
1: Number of Men On the Show Who Won the 2009 ING NYC Marathon (listen to Meb talk about his chances here)
Meb on the Win
Meb Entering Columbus Circle
Usain Bolt Arrives Dances Like a Masai Warrior In Kenya
If You Want To Find Out Who People Really Think Will Win, Click Here (It's James Kwambai, Not Ryan Hall)