Big Weekend Of NCAA Action
Pre-Nats
Blue Men: Luke Puskedra Wins And Leads Oregon To Victory Over #2 NAU And #3 Alabama Puskedra had a subpar opener but returned to form to lead Oregon. It's worth noting, however, that NAU star (and World Champs runner) David McNeill had a subpar day, finishing as NAU's 6th man. If he was only NAU's 3rd man, they would have beaten Oregon.
Results: *Team *Individual
Thread: Oregon Men Win Blue Race in an Upset !!!

Blue Women: Jenny Barringer Leads Colorado Women To Surprise Win At Pre-Nats If anything, this weekend was vindication for the knowledge of LetsRun.com viewers, who ranked both the Oregon men and Colorado women much higher in the LRC National Cross-Country Polls than the coaches. The Buff women were only #19 in the country. Barringer crushed the field as expected, but her teammates backed her up very well for the win over Florida State and #4 Oregon (who finished 3rd).
Results: *Team *Individual
Thread: Jordan Hasay THIRD at Pre-Nationals to Jenny Barringer and Susan Kuijken!
*Mark Wetmore Interview

White Men: Chris Derrick Defeats Samuel Chelanga, Stanford Cruises At Pre-NCAAs Chelanga opened up an early lead, but Derrick attacked the course the 2nd half and got the win.
*Team Results *Individual Results
Thread: Post Pre-Nats who is now individual favourite?
*Chris Derrick/Elliot Heath Interview

White Women: #1 Washington Women Cruise At Pre-Nats Illinois' Angela Bizzarri got the individual win. The Huskies cruised without PAC-10 runner-up Mel Lawrence.
Results: *Team *Individual

Chile Pepper: Oklahoma State Crushes Field At Chile Pepper With German Fernandez Only 11th
*Men's Individual Results *Men's Team Results *Women's Team Results: Texas Tech Women Cruise At Chile Pepper
Thread: Chili Pepper Invite: Fernandez injuries?
Friday
Virginia Men And Emil Heineking Defend Turf, Take Down Syracuse Heineking won by 20 seconds over the talented field at "Panorama Farms."

Penn State National Cancelled! (LRC Boards) Half a foot of snow in mid October was apparently too much, as message board posters wonder if former Nittany Lion coach Harry Groves would have cancelled the meet. Some teams headed to nearby Lock Haven University to race instead.
*Penn State/Lock Haven Women's Results
*Rojo's Cornell XC Wins At Lock Haven

LetsRun.com Pre-NCAA Polls The LRC voters aren't buying into Stanford at #1, as they chose Oklahoma State men and Washington women as the top teams in the country heading into a big weekend of action.
Society And Sport
Berlin Long Jump Medal Ceremony With Granddaughters Of Jesse Owens And Luz Long Is Voted "Peace Image Of The Year" Somewhat lost in the craziness of Worlds was the men's long jump medal presentation where Luz Long's and Jesse Owens' granddaughters were there to present the gold medal to deserving American Dwight Phillips 73 years after Owens won LJ gold in Berlin. If you don't know the story of these two unlikely friends from the time of Adolf Hitler and segregation in America, click here to read one of many accounts.
Short IAAF Interview With Haile Gebrselassie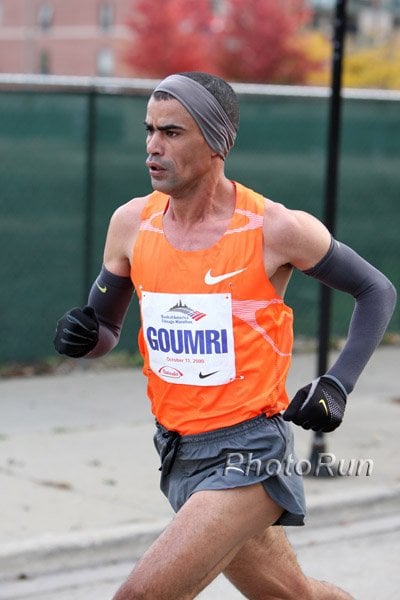 Recommended Read: Wonderful Profile Of Abderrahim Goumri, One Of Morocco's Great Marathoners Freelance writer Courtenay Morgan Redis writes a great piece that helps us get to know Goumri as someone other than "Mr. Silver." There seem to be very few stories about the Moroccan runners so take the opportunity to read this one. Photos of Goumri and other Chicago competitors here.
Warm Profile Of Funny Marathoner Wesley Korir Employee #1 watched Korir's 2:08 win in L.A. and still thinks it is the most inspiring performance he's seen in 2009 (though Ritz is close). This profile of Korir shows he has hopes of building an orphanage in Kenya and helping bring peace to his home country.
Fascinating Story - Hiroshima And Nagasaki Hope For Dual-City Olympic Bid There wasn't a lot of "standard fare" news today, but the little news we did find was interesting. So the two atomic bomb cities of Japan want to co-host the 2020 Olympics about 75 years after the bombs were dropped. The IOC is for the moment saying a "co-hosting" is not allowed by their charter, but give us a break, if there was ever a time to be flexible and bend the rules, it would be for this situation.
Longitudinal Blood Profiling Being Done By USADA On 2010 Olympic Athletes This is the testing that establishes baseline levels for your blood so subsequent tests can be matched up to easily detect if someone is, for example, tampering with their EPO levels artificially. We applaud USADA for becoming the first national testing body in the world to commit to these tests.
Further Recaps Of Chicago With Athlete Quotes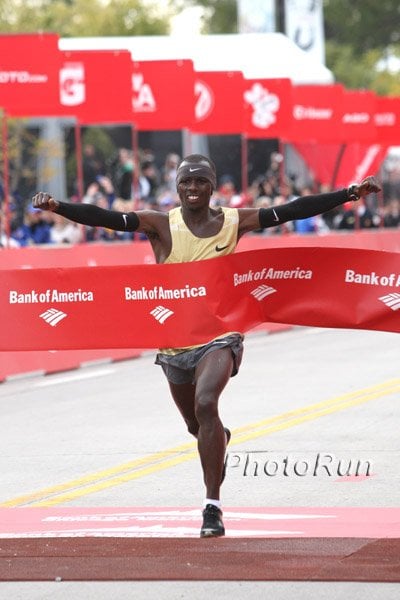 Name: Sammy Wanjiru, 22
Profession: Marathoner, 2007-present
Resumé
Fukuoka: CR 2:06:39
Olympic Games: OR 2:06:32
London: CR 2:05:10
Chicago '09: CR 2:05:41!

*Wanjiru Sets US Soil Marathon Record By 1 Second In Chilly Chi-Town Phil Hersh writes for the Chicago Tribune.
*LRC PhotoRun's Race Photos
*Science Of Sport Got Almost Every Km Split
Sunday Marathon Action
Amsterdam: Unheralded Gilbert Yego Breaks Haile G's Course Record by 1 Second, Eyerusalem Kuma Wins It was a good day for men's debutantes as Yego won and Elijah Keitany was 2nd in his debut. Yego was cramping at the end as this video shows but he just nipped Gebrselassie's course record. On the women's side, Kuma won by over 2 minutes and Hilda Kibet, sister of World XC Champ Lornah Kiplagat, was third in 2:30:31 in her marathon debut.
*Results

Beijing: World Champion Xue Bai Wins Slow Race, Kenyan Samuel Mugo Wins in 2:08:20 PR The race served as the Chinese National Games as this article indicates and Bai was content to just get the win. This was Mugo's 2nd big win in China as he won Xiamen in 2:08:51 in January.

Saturday On The Roads: Former 2-Time NCAA XC Champ Saimon Bairu And Former Stanford Star Malindi Elmore Win Canadian 10k Road Titles
Interesting
Top Arizona HS Team Forfeits Season After Coach Loses His Job Over Refusing To Tell A Volunteer Coach Who Was In US Illegally He Can't Coach Anymore
Random News
Semenya Update
One Of Our Old Favorite Websites Deadspin Highlights "Skirt Chaser 5k" There should be more events like this.
Brief Chat With Jorge Torres Olympian Jorge Torres talks about his race plans for New York (hoping for 2:10-2:11:30), his Mom's 100% recovery from her car wreck, and his training partners in Boulder, including 2:12 man Jason Hartmann (profile here). Good read.
Interviews And Profiles
LetsRun.com Reader Matt Manfred Interviews Top US Road Racer Rebecca Donaghue Of State College, PA Donaghue gets no press but is a great example of how good you can get at running with a great coach and lots of good decisions

Boulder Daily Camera Profiles New 2:12 Man Jason Hartmann Hartmann is coached by former world record holder Steve Jones for Tempo Sports in Boulder. This group touts their faster-than-marathon-pace training, which clearly is working for Hartmann, who was the most underappreciated 9:01 guy in high school because his teammate was none other than Dathan Ritzenhein.
Recommended Read For Coaches NY Times Health Article Goes In Depth On Exercise And Sickness Last week, we learned that mice were smarter after running tempo runs. This week, we learn that running a long, hard run while sick or exposed to illness is worse than resting and way worse than jogging easy.
... And Another Great Read For Coaches NY Times: Why The Cool-Down Is Of Questionable Benefit, At Best
Domestic News
Boniface Kirui Wins Unique Belgrade Race Around Old Fortress Add this race to your list of "races to do before I die." Pat Butcher reports.
Upcoming Marathons Frankfurt & New York Add To Their Already Superb Fields
Book Of The Year? "Manthropologist" Tells Us Men Why We Are The Most Pathetic Men In The History Of The World Men, we need to get our act together. It turns out we are slower, weaker and in general more wimpy than any group of "men" in the history of the world.
Training Advice: UK LetsRun.com Reader And 2:18 Marathoner Adrian Marriott Attended The Alberto Salazar Training Conference In Birmingham And Provides Some Notes Marriott emailed us after his notes were linked on our message boards and wondered if we would like to put a link on the front page. Of course we do! Al Sal, Wilson Kipketer and Lisa Dobriskey were among the panelists who spoke at the conference in Birmingham this weekend.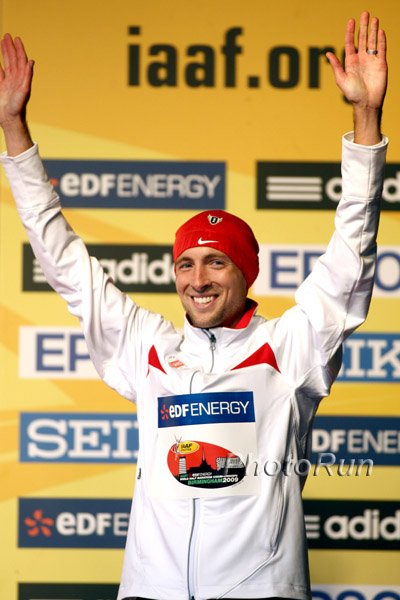 LRC & PhotoRun: Beautiful Race Photos From Birmingham, England Have you ever seen a runner happier than Ritzenhein looks after winning the bronze? We know we always call the photos beautiful but that's because they always are. Chicago Photos Here.

Coach Banned By UK For 5 Years After Rape Allegations Is Now Coaching Elite 800m Female In Ireland We don't know this guy or any of the details behind the accusations, but it seems like if he wanted to get back into coaching, perhaps working with males would be a less controversial path. A LetsRun.com reader from Ireland wrote saying this story is big in Ireland and the UK.
*David Farrow, Banned From Coaching In The UK For 5 Years, Is Coaching Ireland's Rose Anne Galligan
Excellent USA Today Article On Dathan Ritzenhein Dick Patrick got quotes from Al Sal, Mary Wittenberg and Ritz after his "breakthrough." Wittenberg had some interesting quotes including this one on Ritz's most recent race: "I'd like every high school kid to see what I saw today. He didn't panic, just calm under pressure combined with a relentless drive to medal." And then she went on to say that she wants Ritzenhein back in New York to win the Marathon, perhaps in 2010.
Big News From The Prep Ranks
NJ's Joe Rosa Breaks Solomon Haile's 2.5m VCP Record With 12:03 Joe's twin brother Jim Rosa ran the 3rd-fastest time ever on the slightly altered course. It looks like they're going to put an asterisk next to the record because of construction. Rosa also broke the Holmdel record last weekend, running 15:04.