Chicago '09 "Forget The World Record!" *Live Feed 8am Eastern Here
*Wanjiru Talks About Running 2:04-2:05 In Perfect Conditions But Also Talks About Sub-62 Opening Half We ask the announcers, please don't make the entire race about whether Wanjiru gets the world record or not (40 degrees and windy is the forecast). How about this for the storyline instead of the highly improbable record: If Wanjiru, who has never been to America or seen the course, is able to win, he will have the junior 10,000m world record, the amazing world half marathon record and marathon titles in Fukuoka, Beijing, London and Chicago all before he turns 23. And if someone (like Abderrahim Goumri, or debutante Tadese Tola) beats him, it will make their career and be a gigantic upset. See our realistic race previews and more on Sammy Wanjiru below.
*Kastor Hoping For Rejuvenation In Return To Chicago
*LRC MBoards: Deena has ZERO chance of winning Chicago Deena Kastor and coach Terrence Mahon would be happy with a podium finish and to us it sounds like rejuvenation might be hard to come by for America's fastest-ever marathoner. After searching all day and finding nothing, we wonder why has almost no attention been paid to Irina Mikitenko, the best marathoner in the world over the past two years?

LRC: Men's Bank Of America Chicago Marathon Preview Both the men's and women's races have clear favorites in Sammy Wanjiru and Irina Mikitenko, who are looking to win their debut American marathons. Wanjiru might be the greatest marathoner the world has ever seen, but we don't want to hype a WR attempt, despite new talk of a sub-1:02 opening half. We do talk about all the main contenders, give you our predictions on Sunday morning's race and talk about the expected cool weather conditions.
LRC: Women's Preview - How Much Do Mikitenko, 37, And Deena K, 36, Have Left In The Tank? Deena Kastor's latest race was a disaster in New York City but she says she's fit and ready to go. Will road warrior Teyba Erkesso perhaps be a bigger threat to Mikitenko after her win in Houston earlier this year and impressive summer tour?

Three Interesting Articles On Man Of The Hour Sammy Wanjiru
*Chicago Tribune's Phil Hersh Sits Down With Sammy Wanjiru After His Long Trip To The US Wanjiru, still short of his 23rd birthday, tells Hersh the story of how he ended up in Japan as a 15-year-old and how he transitioned to the marathon at age 20.
*Dick Patrick Article Discusses Potential 1:01:5x Opening Half Pace
*Wanjiru Says He Must Believe He Can Break 2 Hours In The Next Five Years
Chicago Is Sunday
Amy Yoder Begley Profile Leading Up To World Half Marathon Champs
*British Press Complain About Paula Missing Another Chance To Represent GBR We didn't hear them complaining about how hard she worked when she was setting all those world records ... but we can understand the disappointment.
*Brief Chat With One Of The Most Focused Athletes In The World - Paula Radcliffe
Good News As Athletes Find Clubs And Funding
5 New Additions To Oregon Track Club Announced Texas Tech Legend Sally Kipyego, Dartmouth's Ben True, steeplechaser Jake Morse, 800m NCAA champ Tyler Mulder, and NCAA 800m champ Geena Gall. Looks like Nike OTC did a great job gathering the top talent.
LRC The Week That Was Last week was an eventful one in the world of running, as Abdi &
Meb made statements that they shouldn't be forgotten in New York, Paula said she'd be in New York, and the NCAA XC action heated up in a big way as Jordan Hasay made her collegiate debut. We recap it all and along the way give you our 7 biggest winners and 4 biggest losers from the collegiate ranks.
Paula Down For The Count With Tonsilitis - Will Miss World Half Paula is a one-woman news feed all in herself.
Very, Very Sad: Dire Tune May Not Run New York After Recent Quadruple Murder Suicide Rocks Ethiopian Training Clan We linked to this story before and it's starting to become clear just how many Ethiopian runners have been affected by this domestic dispute turned rifle murder rampage.
Lolo Jones Poses Naked Not For Sex Appeal But To Show A Strong Athletic Woman Yes, this is a headlined article on the IAAF homepage.
American Races Sizzle On Sunday
Meb K Has Very Productive Day In San Jose His run in the Rock 'n' Roll Half produced a new 20k American record and 3rd-fastest half marathon in US history for the 34-year-old Olympic silver medalist. *San Jose Half Marathon Results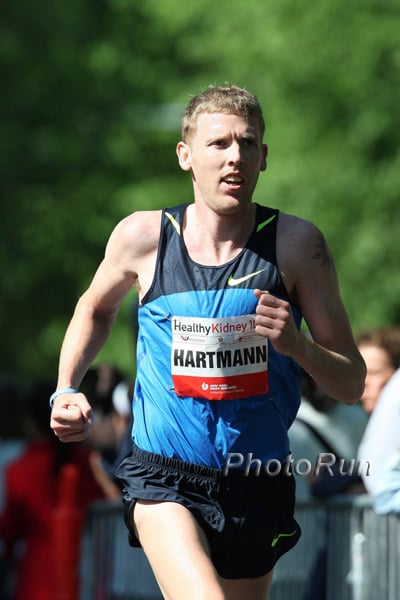 *Exciting Medtronic Twin Cities Races Won In The End By Veteran Abdi (10-Miler) And Youngster Ilsa Paulson (Marathon) Abdi Abdirahman had to dispose of Josh Moen, who had a great race. Ilsa Paulson trailed 45-year-old Colleen DeReuck by over 40 seconds late in the race but rallied in the final miles to win $25,000 and prevent DeReuck from being the oldest US Marathon champ in history. Jason Hartmann (left) is getting no attention for his marathon win (2:12:09) since it wasn't a US championship, but he deserves a LetsRun.com shout out for a nice win. Results.
*Team Strands' Jason Hartmann Caps Fall Season With 2:12 Medtronic Twin Cities Win Press Release
LRC Exclusive Series Continues American High School Student Travels To Addis And Trains With The Ethiopians - Entry #5 - 14:23 In this journal entry, Neb watches a young man win a sponsorship that changes his life at an Ethiopian track meet.
Athletics Administrative Bodies Getting Blasted For Incompetence
Let's Not Forget About Japan, Where They Sure Do Love The Ekiden And The Marathon
Int'l Road Race Results
It's Rio, Baby!
*Chicago KO'd - Mayor Daley Says "Go On With Your Lives"

*Inspired By Rio, Haiti Makes Bid For 2216 Olympics The Onion (satire)

*Average August Temperatures In Rio - Not Too Bad! 70s and a bit humid.

*Photos Of Reactions Around The Globe Some great photos here.

*Snub For Pres. Obama? The busy Pres. spent all of five hours in Copenhagen.
"Spanning The Globe"