LRC Recap: Brilliant Day 2 Action Capped By Willard-Vessey 1-2 In The 800m We thought this World Athletics Final was going to be totally boring, but in the end, it was one of the best meets of the year thanks to awesome distance races, great sprinting and more fireworks from the king and the diva Usain Bolt and Blanka Vlašić. Day 2 was awesome and we hope you enjoy our thorough recaps.
*IAAF Day 2 Recap
*Full Results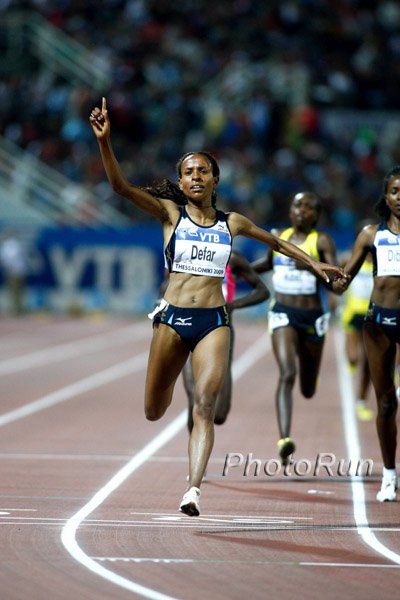 LRC Day 1 Recap Bekele Over Lagat Kenenisa Bekele and Bernard Lagat came down to the wire again, this time in the 3,000m. Most of the favorites won, except in the women's 1,500m, where Kenya, Great Britain and America surprised pre-race favorites Gelete Burka and Maryam Jamal.
LRC: Beautiful Day 1 Photos From Thessaloniki
IAAF Day 1 Recap Describes Atmosphere In Thessaloniki They let the kids all come down close to the track to get autographs and high fives.
LRC Boards: Bekele's last 100m at WAF -- 11.6 !!
Bob Ramsak Recaps Day 1
Bolt Steals Gay's Thunder Without Even Competing
American Distance Runners Entered In The World Athletics Final
IAAF Releases Pre-Race Quotes From Worlds
World Athletics Final Distance Preview
WAthletics Final Jumps Preview *Throws *Hurdles
Liu Xiang To Return Next Week In Shanghai
Hannah England Shows British Selectors What They Were Missing By Nabbing 2nd Place In Thessaloniki
Brief Chat With Colleen DeReuck Former South African citizen Colleen DeReuck just won a US championship over 20k at the age of 45.
*Forest Braden Named Distance Coach At UCLA
*Johnny Gray Coaching Distance At UCLA Both former runners seem to be good hires for the program looking to rebuild.
Usain Bolt Pulls Out Of Asian Meets Citing Fatigue He's going to miss out on at least $750,000 in appearance fees alone as Daegu had reportedly offered him a half a million and Shanghai was surely paying at least his minimum of a quarter million. Your last chance to see him compete this year will be in Greece this weekend in the 200m.

Good Article On Fantastic British Miler Lisa Dobriskey Where She Discusses Semenya, Drug Cheats, And Her Path To London 2012
W Pole Vault: One Great Retires While Another Keeps Chugging
*Brett Gotcher's First USA Title Means A Ton To Him And His Coach Greg McMillan
*Dr. Ross Tucker Returns And Offers Intelligent Analysis Of Caster Semanya Situation *London's Telegraph Describes Caster Semenya By The Numbers
*ESPN Hoping To Purchase Olympic TV Rights And Have Much More Live Coverage Once ESPN bought the rights to the MLS and Champions League they started treating soccer like a real sport. Perhaps they will do the same with track.
LRC The Week That Was - Week 36 - For the 2nd-straight week, an American broke 13:00-flat in the 5k (isn't it fun to write that?), for the first time in a long time someone almost broke 1:42.00, and Anna Willard staked her claim to the #1 US ranking at 800 meters. Plus, the Golden League concluded with great runs by Bekele, Richards and Bolt, while the Caster Semenya story got crazier and crazier.
Kenyan News
*Brother Colm O'Connell Says David Rudisha Can Break Kipketer's 800m Record And he should know considering he's coached so many of their great runners at St. Patrick's.
*Kenyan Press Blasts Some Kenyan Runners For Not Talking To The Kenyan Press With the exception of Kiprop after his disasters generally the problem is hardly anyone bothers to interview them. By and large were willing to talk to LetsRun.com! Janeth Jepkosgei here, Asbel Kiprop here, and of course a hilarious Ezekiel Kemboi here. (In our week that was we surmised why David Rudisha went out in the semis at Worlds. Then we found out Wejo talked to him here)
*Kenyans Concerned With Athletes Defecting (Smuggled?) To Qatar And Bahrain
LRC Recap: Bolt Does It Again In Brussels
Track & Field First? Bolt Reportedly Receiving US $500,000 To Race In Daegu, South Korea We understand paying a top marathoner a half a mil to run twice a year, but this is rarified air for a 10-second race. Daegu is hosting the 2011 World Championships (we can't get over what a bad idea that is), so the more excitement he brings, the better.
LRC Ritz Speaks USATF held a teleconference with Dathan Ritzenhein Tuesday afternoon and we quickly give you the highlights. We tell you what Ritz had to say about new coach Alberto Salazar and what event Ritz will focus on for 2012. Plus we tell you what Ritz's next race will be. Is an American 10k record run a possibility?
Ian O'Riordan Column: "Berlin restored a lot of people's faith and interest in the sport ..." But will it all go to waste?
LRC: Dathan Ritzenhein Breaks Bob Kennedy's American 5,000m Record In Zürich Amazed? So are we.
Peter Kamais Runs 27:09 To Win Tilburg 10k In The Netherlands!
London: *Cheruiyot Over Masai - Paula's Record Stands In Hyde Park 5k

US: *Elite New Haven 20k Entrants New Haven is on Monday, Labor Day. The men's field seems to be deep and even, the women's field is led by returning champion Jill Swope (Steffens) and Magdalena Boulet. *3 Team USA Minnesota Runners Head To New Haven *Elva Dryer Interview *2008 New Haven Results
Sammy Kitwara Rocks Rotterdam With 58:58 Course Record As 7 Kenyans Not Named Wanjiru Go Under 59:33
Sammy Kitwara is now the 4th-fastest man on the half marathon list after his latest outrageous road run. The first 5,000m was covered in an unbelievable 13:37, but Kitwara said it was not too fast because he is a track guy. He won the Kenyan 10k Trials this year on the track but they didn't let him run Worlds because he ran and won Peachtree.
Quotes From Rotterdam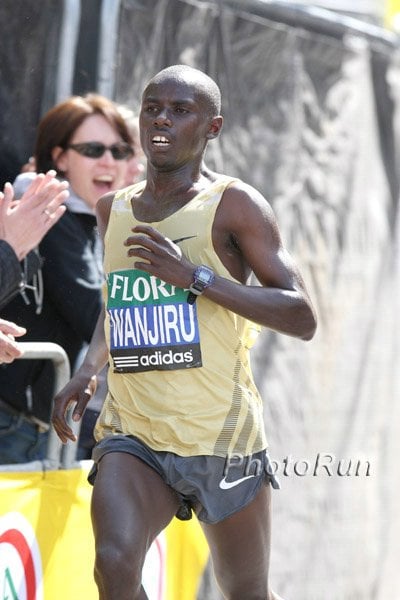 LRC LetsRun.com's Race Of The Weekend: Fortis Rotterdam Half Marathon Preview Half marathon WR holder Sammy Wanjiru returns to the roads against brash phenom Sammy Kitwara. Each 22 years old, they will be joined by fellow youngster Tilahun Regassa of Ethiopia and 2:04:27 marathoner James Kwambai in what might be the best half marathon ever seen. Get a feel for the new generation of African road racing stars with our preview, stats and videos.
No Ovaries, No Problem: 54% Of 10,000 Voters Say "Let Semenya Keep Her Women's 800m Medal" Unbelievable amount of votes, Telegraph journalist Mike Hurst says it's by far the biggest response they've had to any topic. Vote in our poll to the right.
A War Over Internal Testes: South African Sports Minister Threatens World War 3 If Semenya Is Banned Absolutely ridiculous statements pour out of South Africa as political and athletic officials ignore evidence and try to incite public anger.
*Must Read/Hear If You Want The True Story: The 2 Most Informed Members Of The Media Discuss What They Know About Semenya Ross Tucker of Science of Sport (based in South Africa) points us to an audio interview done with news breaker Mike Hurst of The Daily Telegraph. (click on "audio")
*South African Fortress Around Semenya Could Get Her Banned Regardless Of Tests
*IAAF Officially Comments On Leaked News Nick Davies, IAAF spokesman: "ASA's actions can have serious consequences for Semenya if we are not able to speak to her soon. In short, it will come down to her refusing to co-operate. Had it been a drugs issue, she would have been suspended a long time ago, but this is a unique problem for which the IAAF's rules do not make provision. It is important for us to talk to her about the results of the tests.''
LetsRun.com Being Ripped Off In The British Tabloids
The Sun is using a LetsRun.com video of Caster Semenya without attribution.
IAAF Source Leak: Semenya Is A Hermaphrodite And Will Be Banned The IAAF believe they have evidence to strip world 800m gold medalist Caster Semenya of her medal and bar her from competing but must act carefully to avoid PR backlash. Author Mike Hurst of Sydney, Australia's The Daily Telegraph has been all over the Semenya controversy and is a journalist we really respect. He managed to get an anonymous IAAF source to admit that the IAAF "is ready to disqualify Semenya from future events and advise her to have immediate surgery because her condition carries grave health risks. They have also not ruled out stripping Semenya of her 800m World Championships gold medal."
*Based In South Africa, Ross Tucker, PhD Gives His Response
*IAAF Source: Semenya Tests Show She/He Is A Hermaphrodite, Has No Ovaries Or Womb
4 Quotes From Runners, Coaches, Executives And Scientists From Around The World
1. "Our DNA is different than [NBC's]. We serve sports fans. It's hard in our culture to fathom tape-delaying in the same way they have." John Skipper, ESPN's executive vice president for content, on why ESPN will do a better job televising the 2014 and 2016 Olympics should their bid win.

2. "You have to understand that most of our athletes live at or below the poverty level. A lot of people don't know that, but distance runners coming out of college, most of them are pretty poor. So when they can have a day like Brett had today, that changes their world." - Greg McMillan, coach of McMillan Elite, talking about new US champion Brett Gotcher's first US win in New Haven and the impact of the $8,000 paycheck.

3. "The most important thing is putting in the work on every given day. If you can put that together then you shouldn't be afraid on the starting line. I really don't believe in fear; I believe in putting in the work. Sometimes things happen that are out of your control. Those things you should use to learn from and grow from." - American marathon record holder Deena Kastor speaking one week after her New York City Half Marathon disaster. Deena says she may surprise people and win in Chicago if everything goes perfectly.

4. "Doubt is unhealthy for all concerned - it means the benefit of doubt should go to Semenya (quite rightly), but it leaves a lot of scope for future controversy. For Semenya's rivals, many of whom are already highly suspicious if not straight-out convinced of her ineligibility, it means their doubts remain or even grow." - Ross Tucker, PhD, co-author of Science Of Sport writing about the latest Caster Semenya news reports and rumors.
Recommended Read: Addis Fortune Magazine Takes A Close Look At Kenenisa Bekele's Monetary Earnings This is a really fascinating article as it gives you an idea of how money inspires Bekele and the huge monetary difference between being the world's best distance runner and the world's best golfer (or even the world's best sprinter).
*IAAF: "No Matter What The Gender Results Say, Semenya Can Keep Her Medal."
New: Caster Semenya's YOU Homepage Makeover Photos
*Excellent Journalist Mike Hurst Weighs In On Caster Semenya's Coach And Doping Past
David Rudisha Sets African Record 1:42.01 800m In Rieti! 20-year-old Kenyan leads three men under 1:43 and now sits behind only Wilson Kipketer, Seb Coe and Joaquim Cruz on the all-time 800m list.
*David Rudisha, Son Of Olympic 4 x 400m Medalist Daniel Rudisha, Surprises With 1:42.01 The Nation - Kenya
*Boards: Leo Manzano Pr's Again - All 3's 3:33.33
*Results
1 Day Only Special Offer From Nike