LetsRun.com World Athletics Final 2009 Thessaloniki Day 2 Recap
Brilliant Distance Races, Women's 100m, Men's 200m and Women's High Jump Make What Could Have Been Just Another Meet A Treat To Watch On Sunday Afternoon
By Emory Mort, LetsRun.com
September 13, 2009
Thessaloniki, Greece

*Results
*LRC: Day 2 Photos
*LRC: Day 1 Recap *Day 1 Photos
Women's 800m - Americans Cap Unbelievable Middle-Distance Year With 1-2 Keystone In 800m!!

Anna Willard got the track equivalent of baseball's "cycle" by going 4-for-4 in 2009 800m races, winning $30,000 with a comfortable, methodical, beautiful 2:00.20 using her customary big final 100m after a superb tactical race. Maggie Vessey came through for a cool $20,000 after a couple poor meets to grab second place over world championship bronze medalist Jenny Meadows of Great Britain (possibly silver if Caster Semenya ends up being disqualified for being too man-like).
Vessey (pictured, right) was running back in late June with no sponsor, making waves with enormous sit and kick races that were so thrilling and exciting to watch (she would be 15m down on the entire field with 200m to go and win or just come short of winning the race). At one point this year she sat at #1 in the world in the event with her performance in Monaco. She did not make the final in Berlin so this win is a nice cherry on top of a magical sundae season for the runner coached by LetsRun.com reader Greg Brock (read the only extensive interview done with Coach Brock that we did back in August).
Anna Willard has become a very, very tough 800m runner. Her final 100m burst is consistently there. Ironically, this was the first 800m race in 2009 where Willard did not break 2:00, yet was undoubtedly her most lucrative outing. Kudos to her and coach Terrence Mahon, she is officially one of the best all-around middle-distance and steeplechase runners in the world.
Women's 100m - Carmelita Jeter Runs Unbelievable 10.67!!!

One of the American sprint crew called weak by so many in the mainstream press, Carmelita Jeter ran an historic 10.68 100m wind-legal race in smashing Olympic and world champion Shelly-Ann Fraser and teammate Kerron Stewart of Jamaica.
As one of the internet announcers said, Jeter's jaunt was Carl Lewis-esque in its fluidity and beauty. It really was a thing of beauty.
On the all-time women's 100m list, Jeter sits behind three performances by the late Florence Griffith-Joyner (10.49 [WR], 10.61, 10.65) and one performance by 100% confirmed drug cheat Marion Jones (10.65). The next-fastest women are Frenchwoman Christine Arron and Fraser, both at 9.73.
We'll say Jeter is the #2 fastest women's 100m runner of all-time regardless of the IAAF list, and her time is the 4th-fastest ever run. Wow. Congratulations to Jeter for her perseverance after being really disappointed by her Berlin bronze. Her win in Thessaloniki was her 11th in 15 finals this summer, and she might end the year ranked as the world's #1 100m runner despite the loss in Berlin.
Usain Bolt Equals Championship Record With Another Competition-Smashing 19.68

More of the same from Usain Bolt in Thessaloniki as he amped up the crowd, uncorked some creative dance moves, played air guitar along with the Greek music playing over the PA, and ran another historically significant time. Despite learning this week that Sarah the cheetah (shown, right) smashed his 100m world record with a 6.13 second clocking, Bolt looked upbeat and eager to maintain his 200m world dominance.
Soon, the world's all-time top lists are going to be completely covered with his name, not only at the #1 position but also the #2-20 positions. Every one of his races seems to be one of the best times ever run by a human being. 19.68 has only been bettered by a few other men in history.
Bolt has announced his season is now over. If you want an idea of his financial situation, he's passing up at least $750,000 in appearance fees for two meets in Asia, opting to go home, rest and perhaps head out to the clubs for some dancing and late night Chicken McNuggets. We say he can do whatever he wants because he single-handedly has made the sport of track and field a lot more interesting and fun.
Men's 5000m - Who Needs The Stars? Great Blanket Finish One Of The Best We've Ever Seen
Imane Merga, Micah Kogo and Edwin Soi ran one of the most fantastic stretch runs you will ever see. Kogo and Merga were in the lead coming off the bend and charging for home while Soi came steaming around the outside from behind other runners. Soi charged ferociously, caught the leading duo who were exactly shoulder to shoulder, passed them with 5 meters to go, leaned, put his arm up, smiled... and lost the race when he relaxed through the line. 0.01 seconds separated 1st from 3rd in a true blanket finish. Merga, in horse racing terms, took it by a nose in a photo finish.
The finish was quite similar to Meselech Melkamu's 10,000m flap in Berlin where she tracked down flagging star and race leader Meseret Defar, passed her (Defar), raised her (Melkamu) arm in triumph while Kenyan Linet Masai passed her for gold with a better finishing lean.
In each of those races, the "loser" celebrated just before the line, looked over just in time to see the win being taken away by a more thorough competitor, but then pretended after the race like they had won. It was almost as if they were trying, hoping to convince themselves and everyone watching that no, they had not just given the race away in the last quarter second.
But despite their hopes they had blown their great efforts!
Soi ended up in third while Ethiopian Imane Merga, representing Reebok along with the rest of the top-4, got a win for Ethiopia. If Kenenisa Bekele had been in the race we never would have seen this finish so thanks, oh mighty one, for kicking back and enjoying a martini and letting someone else win a 5000m race for once.
Boom! Men's 1500m - Leonel Manzano Gets 2nd Place Behind Youngster Tanui As Choge Fades
American success in the middle distance did not end with the women's 800m as Leonel Manzano moved up from eighth place at the bell to nab second place with another ferocious prolonged charge only surpassed by that of Kenyan teenage world junior mile record holder William Biwot Tanui.
After some pedestrian opening furlongs, Kenyan sub-3:30 man Augustine Choge took off and plowed through a quick third lap before an even more blistering final lap. At the bell, Manzano and Canadian Nate Brannen appeared to languish in eighth and ninth place behind a wall of Kenyans, Ethiopians and Bahrainian world champion and double medalist Yusuf Saad Kamel who would ultimately finish fourth. Deresse Mekkonen, world silver medalist, also finished out of the big money in Thessaloniki.
Manzano got crushed in the final in Berlin, finishing last and well-beaten. In both lead-up rounds he finished brilliantly, similarly to his finish today. He is piecing together all the parts (speedy PB, blistering finishing speed, long sustained sprint ability, strength to run rounds) to be a real threat in major international championship races.
With the men's 5000 (Lagat 2nd), women's 1500 (Wurth-Thomas 3rd, Rowbury 5th), women's 800 (Willard and Vessey 1,2) and men's 1500 (Manzano 2nd), the Americans have done quite well in this big money event late in this long summer track season.
Men's Steeplechase - Poor Paul Koech Can't Beat Ezekiel Kemboi While "No Prob Bob" Tahri Has Flames Doused On Blistering 60-Second Final Lap
Frenchman Bob Tahri did a great job hanging on to the fast pace set by always high-flying Paul Koech for 2800m. But the Kenyan, accompanied by 2009 world champion (and hilarious guy, see video right) Ezekiel Kemboi plowed a monstrous final lap to put the race away.
Kemboi completed a dream season by preventing Koech from nabbing his 5th World Athletics Final championship. Koech wins most of these big European races because he gets out in front and hammers regardless of the presence of rabbits. He set the pace in Berlin only to be overtaken by mere hundredths of a second by Tahri for 3rd place. His 8:01 did not even earn him a medal.
Today he did beat compatriots Richard Mateelong and Brimin Kipruto who often torment him in the big races, but 2009 is the year of Kemboi as Ezekiel wrapped up another "golden" performance after his Berlin gold and numerous Golden League triumphs.
Women's High Jump - Blanka Vlasic Makes The Women's High Jump A Crowd Favorite And Damn Fun To Watch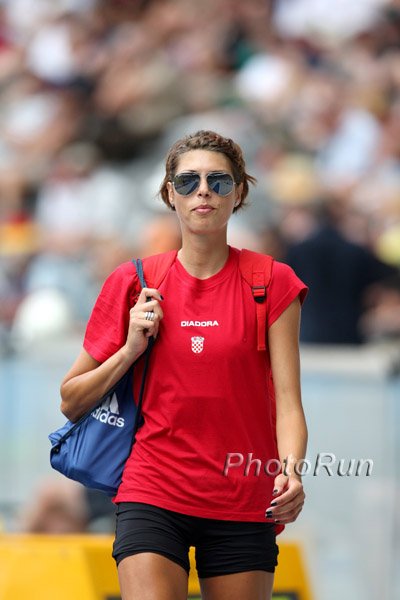 Croatian super woman Blanka Vlašic again thrilled a packed stadium with her perfect jumping all the way up to more world record attempts at 2.10m. Already the sole possessor of the world's 2nd best ever high jump at 2.08m (between 6'9.75" and 6'10"), Vlašic is a born showman who, thanks to Usain Bolt and her phenomenal talent, gets to perform under the gaze and applause of packed enthusiastic stadia of people who have no reason to cheer her on based on national allegiance. Beautiful, enormously tall, enthusiastic, serious, Vlašic is the total entertainment package. She also bombs under the bright lights once in a while which makes her successes even more interesting. She had a string of about 40 meets where she not only won every one but surpassed 2.00m in every one. But she lost the Olympics last year and then lost the golden league jackpot in the final meet, costing her hundreds of thousands of dollars.
No matter, as her early season struggles in 2009 turned into dominance again as she came through against the hometown favorite in Berlin (see our photo gallery of the glamour event here) for her second world title and has been unbeatable ever since including her memorable 2.08m clearance in Croatia (Zagreb).
The best part of her act other than her beautifully freakish athleticism is the "slow clap" she teaches the crowd before her big jumps. One of her best rivals, Ariane Friedrich of Germany, likes to jump in silence, which we think is very cool as well. Vlašic likes to jump after the crowd starts clapping only once every three seconds, slowly picking up the pace until her massive jumps and passionate screams.
In Thessaloniki she missed the world record height three times but the third attempt had Usain Bolt, waiting to run his 200m, wincing as it was so, so close as her calf appeared to nick off the bar.
Women's 3000m - Meseret Defar GETS AFTER IT Opening In 64 Seconds Leaving White Runners Behind
Everyone is afraid to talk about the race within the race, but the women's 3000m was a great example of the disparity between European-born white runners and the East African runners. Doubling back from her 5000m win last night where she closed the last lap well under 60 seconds, Meseret Defar didn't step on the gas pedal in the 3000m, she stomped on it from the crack of the gun! Every white woman in the race was absolutely cracked immediately (granted, these were not very fast runners). Every African in the race didn't think twice about sticking to the leader.
64 seconds for the first lap, then 70, 70, 68 for the first mile in 4:33. The women's 3000m went out faster through the 1600m than the men's 3000m last night (4:36). Kenenisa Bekele closed the 3000 in 1:51 (last 800m). Defar closed in 59 seconds for her final lap.
The race was very interesting as Kenyan Vivian Cheruiyot took over just after the 1600m split. Cheruiyot, you may remember, defeated Defar and Sylvia Kibet for 5000m gold in Berlin, completing the disastrous world championships for 5000m world record holding Defar. Cheruiyot didn't really push the pace, but she maintained the 70-second pace for a few laps before the final lap. Cheruiyot looked great, very snappy and fit, but could not finish as quickly as Defar, who looked like a bull (heifer?) in a china shop as she charged into first place. It was an impressive $60,000 weekend for Defar that gives her consolation after two stretch run blow-ups in Berlin that not only caused individual hurt but let down the Ethiopian fans and Kenyans sprinted to medals. Defar wiped out Tirunesh Dibaba with a great kick last night and wiped out Cheruiyot tonight with the same devastating speed at the beginning and end of the race.
| | | | | | |
| --- | --- | --- | --- | --- | --- |
| 1 | 40 | Meseret Defar | ETH | 8:30.15 | (WL) |
| 2 | 82 | Vivian Cheruiyot | KEN | 8:30.61 | (SB) |
| 3 | 37 | Wude Ayalew | ETH | 8:30.93 | (PB) |
| 4 | 81 | Iness Chepkesis Chenonge | KEN | 8:37.17 | (PB) |
| 5 | 164 | Kalkidan Gezahegne | ETH | 8:38.61 | (PB) |
| 6 | 84 | Sylvia Jebiwott Kibet | KEN | 8:46.46 | . |
| 7 | 94 | Lidia Chojecka | POL | 8:49.55 | . |
| 8 | 51 | Laura Kenney | GBR | 8:50.37 | (PB) |
| 9 | 43 | Frehiwat Goshu | ETH | 8:58.21 | . |
| 10 | 66 | Krisztina Papp | HUN | 8:58.47 | . |
| 11 | 108 | Kseniya Agafonova | RUS | 9:11.21 | . |
| 12 | 63 | Konstadína Kefalá | GRE | 9:43.14 | (PB) |
Women's 400m - Best-Ever 400m Runner Sanya Richards Doubles Back And Wins With Another Sub-50.00
Men's Long Jump - Well Done, Aussies! Fabrice LaPierre Wins In Big Upset Over Dwight Phillips
Aussie Mitchell Watt got the world bronze but countryman Fabrice LaPierre got the world athletics final win by defeating the clear world #1 Dwight Phillips of the USA in a surprise. LaPierre won the competition on his 4th and final jump and Phillips could not best the 8.33m blast. The Aussie duo have had a great year and made the long jump a truly great intercontinental battle between the American Phillips, Panamanian Irving Saladino, South African Godfrey Mokoena and mercurial German indoor sensation Sebastian Bayer.
Men's Javelin - Andreas Thorkildsen Looks Beaten Before Crushing Pitkamaaki On His Final Attempt
The Norweigan great is a legend for a reason. Thorkildsen is now the Olympic, world, European and world athletics final reigning champion all at the same time, a feat that seems like it would be very hard to accomplish in an event like the javelin. He threw 85 meters in his final throw to hop Finland's Tero Pitkamaaki's 84 meter throw.
Women's 400m Hurdles - Year End Disasters Continue For Lashinda Demus As Melaine Walker Gets Another Big Win
Lashinda Demus, clearly the fastest runner in the world for much of the year, fell apart and faded in Berlin and was a Did-Not-Finish in Thessaloniki while Olympic record-holder Melaine Walker got another confidence-boosting win over her American rival.
Men's 110's - Young World Champion Ryan Brathwaite Wins Again For Barbados