Marathon Bonanza
Interesting Drug News
USA Masters Indoor Meet Near D.C. Will Feature Joan Benoit, Henry Rono And Other Stars *List Of Stars
Article On Young Kenyan Athletes Balancing School And Training
Katie Waits Brief Chat Adjusting to her 2nd year as a pro quite nicely. USA indoor champ.
An Interesting Conversation With 84-Yr-Old George Puterbaugh: The Guy Was Running 2:05 For 800 In His 50s
LetsRun.com's Week That Was This week we break down Galen Rupp's amazing performance at the NCAA meet and tell you how Rupp pulled an Eli Manning. We then tell you how one guy is being paid $50,000 for not making the Kenyan world XC team before introducing you to the 2012 Olympic triathlon champion.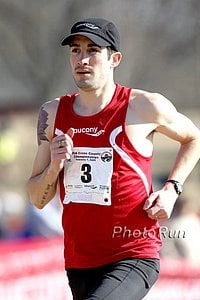 Race Footage And Video Interviews
*Video Of German's 3:55.02 At Big 12 Championships
*Interview With Martin Fagan After His Irish Record Half Marathon
*Recommended Listen Watch: USATF's Gate River Run Video Watch how the race unfolds and see the inspired and thrilling performances put on by Fam and Tim Nelson.
*Pre- & Post-Race Interview With CPC Champ Sammy Kitwara
List Of Team USA World XC Squads *USA Squads Ready For Amman The biggest names are on the junior men's squad.
Results
NCAA Indoors
NCAA D1 *Heat Sheets/Schedule/Results
NCAA D2 *Start Lists/Heat Sheets/Results
NCAA D3 *Results

Other College Meets (Outdoor)
*Coastal Carolina Asics Invitational
*Northridge Invitational
*Occidental Distance Carnival

HS Nationals
*Nike Indoor Nationals From Reggie
*NSIC From Armory
LRC: The Week That Was 2009
*Week 11: NCAA's, Gate River, what Eli Manning and Galen Rupp have in common.
*Week 10: Last chance, European Indoor, D. Chambers and Diamond League
*Week 9: USAs, NCAA conferences, World's Best 10k
*Week 8: Nature vs. nuture, Kenyan XC, RAK half, and an all-time record of sub-4 miles.
Recommended Reads/Clicks
Great Article On Brian Sell As He "Runs Under the Radar" Heading Into Boston
Erin Donohue Dealing With The John Cook Drama
Dwain Chambers' Best Friend Christain Malcolm Talks About How Chambers Has Turned His Life Around Shocked to learn he was on drugs, Malcolm has forgiven him.
Recommended Books
Running Within is a great book on the mental side of running, Says Wejo.