Page II of The Week That Was May 5- May 11 2008
by: LetsRun.com
May 12, 2008
*Click Here to View Page 1 (Doha Grand Prix, Oregon Twilight Meet (Andrew Wheating 3:38.60, Travis Padgett 9.96)
2008 Fifth Third River Bank Run 25-K - Brian Sell Wins US 25k Champs For 3rd Time - Is A Strong Beijing Performance On The Horizon?
The Fifth Third River Bank Run was held on Saturday and it once again served as the US 25k Champs. Once again, Brian Sell won - giving him three victories in four tries. Sell is hoping that the victory leads to a strong performance in the months to come just as it has the two previous times he won.
"In 2005, I came here and ran (1:15:27), went to Helsinki and was ninth in the world championships. Last year, I was (1:14:48) and went and qualified for the Olympics, so this race seems to always be a good measuring stick for me, with positive things after it."
We'll certainly find out in Beijing. He certainly has to be feeling good about things as he ran a very strong race (nearly perfectly even splits the first and second half of the race. Everyone else in the top 20 died the second half of the race).
US 25k record holder Fernando Cabada was the 2nd American in the race, fourth overall in 1:17.01. On the women's side, Caroline Chepkorir was the overall winner as Paige Higgins nabbed her first US title. Finishing as the 5th American and 8th overall was new mom and Dathan Ritzenhein's wife, Kalin Ritzenhein. A good weekend for her as the very next day her son was baptized.

Brian Sell Wins Fifth Third River Bank Run 25k, US 25k Champs
*Results
*Ritzs' Baby Gets Baptized (Kalin Ritzenhein finishes 8th)
*Brian Sell Wins Third River Run 25k, US 25k Champs The years Sell has won the US title here he has gone on to have a very successful season.
*Brian Sell Going for 3Peat at River Bank Run US 25k Champs
2008 Fifth Third River Bank Run 25-K
MEN -
1. Brian Sell, 30, Rochester, MI 1:15:07
2. Wellay Amare Weldegiyorgis, 22, ETH 1:16:06
3. Reuben Chebii, 25, KEN 1:16:35
4. Fernando Cabada, 26, Johnson City, TN 1:17:01
5. Todd Snyder, 30, Utica, MI 1:17:15
6. Mike Morgan, 28, Rochester, MI 1:17:20
7. Tommy Greenless, 26, Walnut Creek, CA 1:18:25
8. Peter Gilmore, 30, San Mateo, CA 1:18:45
9. Brett Schoolmeester, 23, Cornelius, OR 1:19:03
10. Derek Kite, 36, Colorado Springs, CO 1:19:40
11. John Lucas, 27, Eugene, OR 1:20:14
12. Fred Joslyn, 24, Bannister, MI 1:20:38
13. Randy Bill, 26, Cedar Falls, IA 1:20:59
40+
1. Carl Rundell, 40, Birmingham, MI 1:21:28
2. Dennis Simonaitis, 45, Draper, UT 1:22:10
3. Paul Aufdemberge, 43, Redford, MI 1:24:27



2008 Fifth Third River Bank Run 25-K
WOMEN -
1. Caroline Chepkorir, 20, KEN 1:29:32
2. Firehiwot Tesfaye, 19, ETH 1:30:12
3. Paige Higgins, 25, Littleton, CO 1:30:49
4. Meseret Kotu, 26, ETH 1:31:54
5. Kristin Price, 26, Raleigh, NC 1:32:04
6. Annie Gasway, 30, Gurnee, IL 1:35:08
7. Linsey Smith, 25, Madison, WI 1:35:27
8. Kalin Ritzenhein, 25, Eugene, OR 1:35:31
9. Lori Stich, 38, Stanwood, MI 1:35:42
10. Lauren Esposito, 29, New York, NY 1:36:38
11. Amber Moran, 29, Arden, NC 1:37:34
12. Katie Nowak, 27, Rockville, MD 1:38:02
40+:
1. Kathy Wolski, 42, Knoxville, TN 1:39:22
2. Beth Moras, 49, Ridgewood, NJ 1:48:32
Ritz Hurt - Again
On a personal front, it was a good weekend for American 10k and marathoner Dathan Ritzenhein as his wife picked up a paycheck and his baby was baptized. On a professional level, it wasn't a good week as Ritzenhein had to pull out of this weekend's Healthy Kidney 10k in Central Park as he's still hurt (not sure if it's a new injury or not). At last year's race, he scored one of the biggest accomplishments of his professional career when he defeated Craig Mottram to win the title.
Injury prone as an amateur and pro.
Dathan Ritzenhein Pulls Out Of Healthy Kidney 10k as He's Hurt Once Again

College Action - The Unexpected And Expected
In NCAA news, there was one development that on the surface appears to be shocking. A big-time very successful D1 coach from the Big 10 voluntarily left his job for a D3 job. Phil Lundin - who has won 4 Big 10 titles in 13 years at Minnesota and was the 2003 national coach of the year - is stepping down to be the head coach at St. Olaf.
Can you imagine if it happened in football or basketball? No of course not.
But since Rojo is a college coach, trust us, we can tell you why a D1 coach might find D3 appealing. Nearly equal pay, less travel, less pressure and no guilt over having to screw kids over on the scholarship front to build a champion as there is no way that 12.5 scholarships is enough to win a men's team title in a sport with 21 events outdoors.
Additionally, in many ways, it's a return to his roots for Lundin as he went to Augsburg College, which like St. Olaf is in the MIAC.
Univ. Of Minnesota Coach Phil Lundin Leaving For D3 Job At St. Olaf
*Message Board Thread Here
And for the more somewhat expected college news, Cornell Big Red dominated the Heps (Ivy League Champs) on the men's and women's side. The women won their 7th straight outdoor title and the men their 6th. The women's title for Cornell was actually a mild upset as the Princeton women behind their distance dominance had snapped Cornell's streak of 12 straight Heps titles indoors. Kudos to Cornell and LetsRun.com's Rojo's distance guys (most distance points in the meet) for their titles.
Heps (Ivy League) Results: Cornell Men and Women Win Congrats to Rojo's Cornell distance crew for another league leading meet.
*Meet blog
*Video
Paula: Talks Candidly about Beijing, Drugs, and Motherhood
Paula Radcliffe did the media rounds in London this week, promoting her association with the Race for Life cancer research races. Radcliffe has a huge profile in the UK, so with Beijing coming up she is big news.
The two most interesting articles were in the Times of London and the Guardian. While we think both articles are worth reading and Radcliffe said plenty of interesting things (at just over a year old her daughter Isla has a stubborn streak like her mom, and even tries to push Radcliffe over when she does her core exercises), the focus of the articles was on Beijing and Radcliffe trying to get redemption at the Olympics.
While when we think of Paula and are forced to think of one thing, we remember her remarkable 2:15:25 marathon world record (in case you've forgotten, that's a full 3 minutes and 22 seconds faster than any other woman in the history of the world), but people in Britain apparently think of her dropping out of the Athens Olympics and crying on the curb. As Paula told the Times, "People associate me with stopping in Athens."
Radcliffe did not seem to hide anything from the press (she even talked about the width of her cervix and the problems her baby had coming out) admitting that people in Britain, will "think Iím a failure,Ē if she doesn't win in Athens.
Radcliffe admitted that despite knowing better, she'll consider it a failure as well if things do not go well in Beijing. She said, "I can say Iíll be philosophical if it goes wrong in Beijing, but I donít believe it Ė if it happens again, it will be a disaster."
Olympic gold or bust. That's certainly a lot of pressure, but those closest to Radcliffe have felt she's destined for greatness before she became a world beater. When the founders of LetsRun.com (Wejo and Rojo) first met Paula in 2002, we were being treated by her physiotherapist, Gerard Hartmann, and staying in the apartments above his practice in Ireland (Hartmann's treatment is very detailed and involves the athletes staying there a couple of weeks).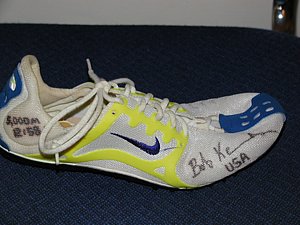 Bob Kennedy's shoe
We added pictures from
our trip to Hartmann's here
Hartmann's practice is truly an athletics museum. His practice is full of framed, autograph, photos of every track and field athlete you can think of. Seriously, like every great runner you can think of from the last 15 years (images here). And he had artifacts from other top athletes. In the basement was Lance Armstrong's time trial bike. But no where to be seen was a photo of Paula and Paula was the athlete Gerard worked with most.
We specifically asked Hartmann about the lack of photos of Paula, and he responded with something along the lines of, "Her photo is not going up until she wins an Olympic or World Championship gold. She is that talented and has the highest pain tolerance of any athlete I've worked with."
High, high praise considering that at the time, Paula was viewed as the woman who tried very, very hard but came up short on the global stage. She would lead 24 laps in the 10k at Worlds, and then would get outkicked by the Ethiopians on the final lap.
Hartmann was right about Paula's talent, and she now has that World Championship gold medal (2005 in the marathon), but the Olympics only come every four years, and this is Paula's last best chance to get that gold that the majority of the public evaluates careers on.
Paula Still Saying the Right Thing on Drugs: More Research $$$ Needed
While it definitely wasn't the focus of the articles, we were impressed with what Paula said on the anti-doping fight. She has always been at the forefront of the anti-doping fight and ahead of the curve.
Paula realizes what the anti-doping officials do not want to admit. That the current testing is very ineffective at actually detecting and catching the drugs the cheats are using. Virtually every high profile drug case these days is a result of a criminal investigation. Almost none of the athletes that are being discovered as cheats actually are testing positive. Thus, doing blood profiles on athletes, seeing who has suspicious or changing numbers, and then targeting them for testing is one way forward in the future.
And the other way forward is much simpler. Spend a lot more cash on developing better tests. Paula said it best, "We have to invest more in the testing because at the moment thereís probably more money going into cheating than there is being pumped into antidoping."
Paula Radcliffe Doing the Rounds in Britain:
*Times of London Interview She reveals she had a toe injury during her NY win. She talks about how we need more funds for anti-doping, how she has voluntarily given old blood profiles to the IAAF, and how it will be a "disaster" if she under performs in Beijing.
*Guardian Interview: (She's reveals she's training in a humidity room, swallowing thermometers to measure her body temperature, and that she chanted her daughter's name to outkick Gete Wami at the ING NYC Marathon. You even learn how wide her pelvis is)
Weekly Drug Update - Drug Supplier To Trevor Graham and John Smith Talks
The news on the drug front continued to entertain. Before we talk about PEDs, let us state that a former user of PEDs, Tim Montgomery, was denied bail by a federal judge overseeing his heroin case. If that wasn't bad enough, it looks like Montgomery won't be out of jail in a long, long time as the government apparently has audio and videotapes of him dealing heroin. The judge summed it up perfectly, "This is an unfortunate situation, to say the least. The weight of the evidence against the defendant is strong."
With Marion Jones also in prison, we wonder who is raising Montgomery and Jones child. Very sad.
Moving onto developments directly related to performance enhancing drugs, this week steroid dealer Angel Heredia spoke at length to the Times of London. His revelations were really honestly quite fascinating. The facts according to Heredia certainly would make a great movie. You've got it all- greed, deceit, backstabbing, etc.
Heredia says he supplied drugs to the top two sprint 'coaches' in the US - both Trevor Graham and John Smith. After Marion Jones husband CJ Hunter got busted for Steroids in Sydney, Graham apparently blamed Heredia and left him high and dry with $29,000 worth of drugs. Thus their relationship broke down over money. Heredia then started working with Graham's rival , John Smith and his athletes.
The two camps knew the other camps were cheating and both considered ratting out the other. Ultimately, Trevor Graham is the one who ratted out Balco (and eventually John Smith) by sending a syringe to USADA. However, it was the very act that ultimately led the feds to Graham himself and led to Graham's current legal problems.
All we can say is it seems like all parties are getting what they deserve.
To read all the juicy details, please see:
Lengthy Article Where Steroid Dealer Angel Heredia Shows His Ties to John Smith, Mo Greene, and Larry Wade Times of London
On the boards: So Mo was clean we he won the Olympics, just not after?
*Tim Montgomery Is Denied Bail By Federal Judge
*Judge Blocks Michelle Collins And Calvin Harrison From Testifying Against Trevor Graham She may change her mind during the trial but she said their testimony was too tangential to the charges.
And The Most Nationally Relevant News Story In Track & Field Is.......
And we saved the most newsworthy story of all for last. Well, we're not sure if it's really the most newsworthy story of all the happenings in the track and field world last week but it certainly was the only track related story that gained mention on our favorite sports show - ESPN's Pardon The Interruption.
In Texas, Rochelle High School won the girl's Class 1A state track and field title. Why is that newsworthy you ask? Because the team consists of a single athlete - Bonnie Richardson. Richardson scored 42 points herself. She won the 200 meters (25.03) and high jump (5'5) , finished second in the 100 (12.19) and long jump (18'7), and finished third in the discus 121'0.
*Girl Wins Texas High School State Team Championship by Herself The smallest division but super impressive. Long jump, high jump, discuss, 100, 200.
On the Message Board: *Team Championship earned by a Single Girl
*Bonnie Richardson
Thread of the week
*Scott Bauhs, is this guy tough or what? Most popular tread of the week.
Another Other popular thread:
*Jason Lunn "I got to business school, where being top-30 in a 50-person class, they weren't even shooting for that. Their 'excellence' is very mediocre in my mind, or in the way I set my goals."
NYC Meet: Tyson Gay, Usain Bolt set for 100m at Reebok Grand Prix May 31 NYC *Reuters Article on Bolt/Gay NY Showdown
More Noteworthy Performances Mary Akor Wins Vancouver Marathon 3 Weeks After Olympic Trials Akor is known for running marathons very often (20 between the 2004 and 2008 Olympic Marathon Trails). For this year's Olympic Trials she trained hard core for the race (going to Kenya to train) and didn't have too much success. Back to her regular ways 3 weeks later, she ran faster than she did at the Trials.
Catherine Ndereba Finishes 2nd at Newport 10,000 in 32:44 in Jersey City, NJ In no other sports do the true stars compete in events like this.
Michigan: Nick Willis Runs 1:47.01 to Beat Nate Brannen, Andrew Ellerton
*Men's Results
*Women's Results
Japan: Mizuki Noguchi Wins Sendai Half Marathon in 1:08:25in Final Race Before Her Olympic Marathon Defense Noguchi versus Paula versus Ndereba vs Deena (vs the heat) makes for a great race in Beijing. IAAF
Martinique: *Lashinda Demus, Damu Cherry Run World Leaders in Hurdles in Martinique IAAF
Worth Extending Your Season For
LetsRun.com Old School Collegiate Mile!!
Comments, suggestions? Email us at [email protected]

---
Runner's World &
Running Times



Combined Only $22
a Year
Save $87

---

Running & Track and Field Posters
---

Buy the Nike Lunar+ Glide Today at a Great Price
---