2008 ING New York City Marathon Is Sunday We'll actually reveal #1 and #2 on Thursday and do our overall race preview on Friday.


LRC: Top 5 Men's Countdown: #3 Marilson Gomes dos Santos The 2006 champion is looking for another win. #4 Abel Kirui, #5Daniel Rono
LRC: Top 5 Women's Countdown: #3 Catherine Ndereba We shockingly put the Olympic silver medallist at #3. #4 Rita Jeptoo, #5 Kara Goucher
Other NYC News
*Dick Patrick Looks At Paula Radcliffe & Catherine Ndereba Matchup The battle between arguably the two greatest female marathoners in history highlights the strongest women's field in history.
*AP Profile: Kara Goucher Returns To Birth Place To Run 1st Marathon She lived there until she was almost four when her father was killed by a drunk driver.
*The New York Times Looks At The Effect Marathon Training Has On The Other Spouse We're sure it's caused many a divorce.
*Highlights From Paul Tergat and Hendrick Ramaala Press Conference The former champions are very good friends off the track. Tergat talked a lot about how he thought he should have won in 2006.
A Must Read! A Brief Chat With Rod Dixon 25 Years After His NYC Win Dixon was a beast. A bronze medallist at 1,500m in 1972 and the 1983 NYC champ. He's running New York this year with his daughter.
*NY Times Says Gete Wami Looking To End Disappointing Year With Strong ING NYC Finish The Times comes off like Wami's 2008 has been a total disaster. Well, if she finishes 2nd or higher, she'll be the one laughing all the way to the bank with her 2nd straight $500,000 check.
*Steve Cram Analyzes Paula's 10 Mile Win & Her NYC Preparations
*Can Paula Radcliffe Follow In Carlos Lopes' Steps? Lopes won Olympic gold at age 37.
*We Agree: Mary Wittenberg Thinks Running Should Be US's National Pastime (scroll down)
*Salazar Says Kara Goucher Can Be Best In World At Marathon
*35 Of Ryan Shay's Friends/Relatives/Former Teammates To Run NYC In His Honor
*NY Times Article On Shay Tribute
Paula's Back: 51:11 at BUPA Great South Run
She was just 22 seconds off Lornah Kiplagat's World Record and indicated afterwards she saved a little something in the windy conditions. Next Sunday she takes to the streets of NY in a loaded women's marathon taking on Catherine Ndereba and Gete Wami.
*London Times Article on Radcliffe's 10-Mile Win
*Paula Radcliffe Says She Feels Excited Not Pressured About Trying To Win In New York She says trying to run in Beijing when you know you aren't fit is pressure.
Paula Radcliffe Unlikely To Reduce Workload As Ingrid Krisitansen Recommended She says her Beijing problems were caused by too few miles and not too many. True, but what caused the stress fracture?
More About Paula As She Runs Prep Race This Weekend
*Good Paula Interview As She Attempts Her Last "Blow Out" Before ING NYC Marathon
*Praise For Paula's Decision To Run 10-Mile BUPA Great South Run
*Paula Calls For Charles van Commenee To Fight For More Medical Support For Athletes
*Paula May Have To Break Jill Hunter's 51:41 Record To Win In Portsmouth
Review The World Marathon Majors From The Last 2 Years Pay attention; there will be a quiz at the end.
Something For Track Geeks To Do In England: Athletics Hall Of Fame Roger Bannister, Seb Coe and Steve Ovett highlight first class of inductees (well, duh!).
Cut Miles & Have 2nd Baby?
Ingrid Kristiansen And Constantina Tomescu-Dita Tell Paula Radcliffe To Train Less and Recover More If She Wants Olympic Glory Of course, the press simplified this advice to grab attention and said it was "Cut Miles & Have Baby."
Again We Repeat, He'd Better See Amol Saxena
Liu Xiang To Come To US To See 3 Doctors The press is hyping that he's going to see Yao Ming's doctor. We don't get why he doesn't see the best running podiatrist out there.
Hungarian National Record Holder Aniko Kalovics And Raymond Kipkoech Are Favorites For Venice Marathon

Chelanga Are You Reading This?
Galen Rupp Breaks Steve Prefontaine's Record on Famed 40-30 Workout Old school guys are probably very happy to see the boy wonder do such an old school workout (although they probably are chuckling that he skipped the race because there were too many ruts on the course). Rupp's workout was sensational as he went 24 laps alternating 40 second and 30 second 200s - a mile more than Pre. The Oregonian Is Starting To Hype Potential Rupp vs. Chelanga Showdown At NCAAs: "Rupp and Chelanga up front at NCAAs could be a heck of a dual, on the scale of Salazar vs. Rono. Perhaps." *Message Board Thread: Rupp Does The 40-30
*One We Missed: A Big Look At Steve Prefontaine Memorial Run In Coos Bay
For Italian Christian Obrist, Making The Olympic 1,500m Final Was His Gold Medal He went into Bejing with the 38th-fastest PB of all the entrants but made the final - only the 5th Italian in history to do so. John Cook take note: Obrist's coach watched the Olympics on TV in Italy.
Diagram Shows Austrian Manager Stefan Matschiner May Be Behind Many Dopers In Austria And He May Be Associated With Gunther Weidlinger Weidlinger is the guy who slammed his head on the steeple in the Olympics. *Weiglinger Racing Great Australian Run With Mottram and Haile G
Chicago Tribune Looks At Nike Marathon Debacle
Liu Xiang's Coach Confident Liu Can Run Fast Again & Says He's Still Capable of 12.87 or 12.88

LRC The Week That Was We recap the highs and lows of the previous week and cover it all. This week, we tell you why Bill Bowerman is rolling over in his grave because of the Nike Women's Marathon, debate who is the better teenage phenom, German Fernandez or Ryan Gregson, talk about the re-emergence of Chad Hall and tell you the #1 key thing that coaches do on race day. Plus the loss of Team XO: 2003-2008, and Shannon Rowbury's coach talking about the "coaches" in Beijing and how he believes a medal was lost because of poor USATF facilities in China.
Most Read, Emailed, and Commented Article on SF Chronicle Website: At Nike Women's Marathon, Fastest Time Didn't Win We discuss this in The Week that Was. We also got more emails on this article yesterday than any article we can remember.
Truly Unbelievable!!!
Russian Federation Backdates Suspensions of 7 Athletes Caught In Doping Sting So They Can Compete At Next Year's Worlds The Russian athletes were involved in one of the most systematic and brazen doping efforts in history. Honestly, it could be argued the whole federation could be suspended, but instead the federation is showing no remorse and backdating the suspension to the date of the first drug test (April/May 2007). The IAAF says it started in July 2008 and is demanding an explanation within 4 days. *2nd Article Detailing The Ridiculous Russian Decision
*3rd Article On Unbelievable Arrogance Coming From Double World 1,500m Champion Tatyana Tomashova She doesn't consider herself guilty at all and is planning on an appeal in court because her tests never were positive.
*Message Board Thread
NCAA XC News
West Virginia Coaching Guru Sean Cleary Explains How XC Works To WVU Football Faithful Their women's XC team is the best team on campus and probably the least well known. Given that the football team is struggling, the sport is being highlighted to the WVU faithful.
A Look at Arkansas XC AM (After McDonnell)
*Texas A&M Came In And Beat Arkansas On Their Home Course Unbelievable to think as much, but it seems very probable that the Hogs will not only not win SECs but they also won't make NCAAs.
*John McDonnell Enjoyed His First Chile Pepper XC Meet As A Fan The coaching legend thinks the young Razorbacks can be good down the road. McDonnell is still active in retirement as he gets up at 5:30 am every day.
*Article on Scott MacPherson Trying To Make Senior Year Count MacPherson came in as part of the heralded class of 2005 that included Kenny Cormier, Chris Barnicle, Daniel LaCava, Nkosinza Balumbu, J-Mee Samuels and Jeremy Dodson. Instead of bringing the Hogs tons of national titles, they ended up sending McDonnell into retirement.
NCAA XC Heats Up With Pre-Nats Leading The Way: *Meet Recap/Results


LRC Coverage: Chelanga Puts On A Show For The Ages As FSU's Kuijken Also Breaks Course Record, Washington Women Impress Liberty's Sam Chelanga had spectators and coaches alike shaking their heads as he took it out in 4:18 and never eased up until he got the course record. LRC breaks down all four races. Photos and more.
Terre Haute Newspaper: Chelanga Emerges As NCAA Favorite
Photos: LRC Photos: *White Women's Photo Gallery *White Men's Photo Gallery *Blue Men's Photo Gallery (sorry, no Blue Women's Photos as our flight was late). *Photos From Indiana State Site *More Photos
*Message Board Info On Pre-NCAAs
*Washington Women @ Prenats *CHELANGA DOES IT AGAIN!!! *Why Chelanga will not Win Nationals! *Pre-Nats Combined Results - Men *German Fernandez is a Serious Threat to Win NCAA Cross Country Nationals *Mark My Words: Chelanga Will NOT Win XC Nationals*Pre-Nats Predictions
Results: *Men White: (Chelanga, Stanford) Team Individual *Men Blue: (Tyson David, Alabama) Team Individual *Men JV/Open: (OSU, Fernandez) *Results *Women Blue: (Felnagle, Washington) Team Individual *Women White: (Kuijken, tie - Princeton, FSU) Team Individual
Not Everyone Goes to Pre-Nats
*How The Mighty Have Fallen: Arkansas Loses To Texas A&M At Chile Pepper Meet In Front Of Home Crowd
Sally Kipyego Leads Texas Tech To Chile Pepper Title Kipyego must have been going easy as she only won by 16 seconds.
*GTown Men Roll at Penn State National as D3 #1 Cortland State Comes 1 Point Shy of #28 Villanova West Virginia put 4 in the top 9 to dominate the women's race.*LRC: Message Board Thread on 2008 PSU National *PSU National Photos
*#27 Arkansas Men Host Chile Pepper Festival The Hogs are in trouble this year, as despite the fact they've won 34 straight conference titles, they are apparently only the 3rd best team according to the rankings.
*#1 Oregon (#2 on Women's Side) Racing Mike Hodges Invitational
Pre-Meet News
*#2 Oklahoma State and German Fernandez Ready For Pre-Nationals The Cowboys don't like to race very often and they are racing their older guys but the fans will be pumped to learn that possible freshman boy wonder German Fernandez is racing.
*Craig Forys Having Fun Leading Michigan Into Battle The Wolverines will host Big 10s in two weeks.

LetsRun.com 2008 Pre-NCAA XC SuperPolls: Oregon Ducks Reign Supreme Vin Lananna's Oregon Ducks are #1 on the men's and women's side, but many of the LetsRun.com faithful are backing German Fernandez and the OSU Cowboys. Can the Cowboys do the unthinkable and defeat last year's national champions who return their whole squad? First up for the Cowboys is the Big 12 meet, where Mark Wetmore's men have been a perfect 12 for 12 in the Big 12. Is this year unlucky #13 for CU? Voting to reopen after this weekend's Pre-NCAA action.
2008 Bank of America Chicago Marathon *Full Race Video *Top Results *Searchable Results *Photos
1 Day After
*Interesting Profile Of The Top American At Chicago (And Running Neophyte), Mike Reneau He only got into running 4 years ago as he had to take a PE marathon class to graduate from college. He ran 2:36 and never looked back thanks to the help of Hansons-Brooks.
*Lengthy Explanation As To Why Wesley Korir Isn't Supposed To Receive Prize Money In Chicago Korir won the citizens race and didn't compete in the elite race, so the fact that he had the 4th fastest time of the day is irrelevant. The decision was made according to IAAF/USATF rules which Chicago is obligated to follow. *Message Board Thread Saying He May Get It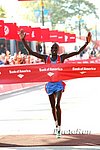 LRC Men's Recap: A New Marathon Star In Evans Cheruiyot Emerges With Spectacular Win Cheruiyot, the LetsRun.com pick to win, did his best Sammy Wanjiru impression, as he totally ignored the hot and humid conditions and scorched a 2:06:25 to win an epic duel with David Mandago, who almost cracked Cheruyiot in the 22nd mile. The pace was insane from the beginning - it was so fast the rabbits couldn't keep up for more than 11 miles. *American Wesley Korir Finishes 4th (or does he finish 10th?)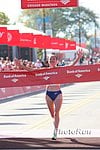 *Lidiya Grigoryeva Wins Women's Race link fixed She won Boston in 2007 in tough conditions and got the win in Chicago in tough conditions as she defeated fellow Russian Alevtina Biktimirova in a very slow race that, unlike the men's race, made sense given the conditions. American Desiree Davila of the Hanson's program was a surprise 5th in a big PR of 2:31 as we totally botched our women's predictions.
*Live Message Board Thread
*Phil Hersh Ranks The Top 12 Male Marathoners of All Time His list certainly will create a lot of discussion. Comment on our message board.
*Chicago on the Boards: *If You're Running Chicago, Post Your Goal Time
LRC: Overall Men's Race Preview: Might A New Marathon Star Emerge From An Extremely Talented Group of Kenyans? The men's race is a very hard one to predict as a lot of people have a chance including five sub-2:07 guys. The race is the ultimate display of the depth of Kenyan marathoning, as the one thing we know will happen is that a Kenyan will win. In the end, we think there may be a new marathon star on the victory stand.
LRC: Overall Women's Race Preview: Will The Olympic Champ or Two-Time Defending Champ or The Young Upstart, Bekele, Get The Glory? In our top 5 countdown, we put Berhane Adere at #1 but we have a hunch she won't be the victor.


LRC Top 5 Men's Countdown: #1 Evans Cheruiyot, #2 Emmanuel Mutai, #3WilliamKipsang, #4 Daniel Njenga, #5 Richard Limo and Moses Arusei
LRC Top 5 Women's Countdown: #1 Berhane Adere, #2 Bezunesh Bekele, #3 Constantina Tomescu-Dita, #4 Kiyoko Shimahara (Japan), #5 Worknesh Tola (Ethiopia)
Outside Press
*Tomescu-Dita Says She'll Stay With Pack in Chicago
*Nice Profile of 3-Time Chicago Wheelchair Champion John George Injured after falling from his 12th-floor bedroom as a 4-year-old, he peaked 2.5 weeks before Beijing but is going to give it a go.
*AP Preview of Chicago Marathon Focuses on Tomescu-Dita and Njenga Njenga and his 6 straight near misses is an easy story for the mainstream media to understand but we don't think he'll win.
*IAAF Preview of Chicago
*Nike's Chicago Marathon Spectator Guide
*USA Today: Chicago Marathon Has People Wondering Is Two-Hour Marathon Possible? Dave Martin says it will happen in 2015, whereas Alberto Salazar says what we say - not in our lifetimes. Salazar: "I don't think we'll see it in our lifetime or with the human body as we know it. ... To do it, you are going to have to come within a minute of the world record in the half marathon and then still have the energy and reserves to do it again. It's inconceivable."
2008 real,- BERLIN MARATHON - Watch Video Highlight or Race Replay *Results *Photos
Haile G. 2:03:59!!! Mititenko 4th Fastest Woman Ever Haile Gebrselassie made more history Sunday on the streets of Berlin. After going through the halfway point in 1:02:04, Haile continued to flirt with world record pace but was stalked by Boston runner-up James Kwambai. Haile threw down the gauntlet the last 7km to dispatch Kwambai and just dip under the 2:04 barrier. On the women's side, German star Irina Mikitenko ran a brilliant race, running a negative split to smash the 2:20 barrier and become the fourth fastest woman ever.
*Geb: "I can go faster."
*The Science Of Sport Analyzed Geb's Splits As The Race Unfolded link fixed
*Geb's Record in Berlin Is His 24th World Record (or 26th depending on who is counting)
*Mikitenko Moves Into Tie in World Marathon Majors Standings Gete Wami must finish 2nd or higher in New York to move ahead. If she doesn't, they will be tied (and tied in the tie-breakers) so they might share the title. *Washington Post Article on WMM
*Falk Cierpinski, son of Waldemer Cierpinski, 2:13 in Berlin
On the boards:
*Wanjiru's Olympics > Geb's WR
*Haile's Splits from Berlin. ... how far could you run with him??
*Live Message Board Thread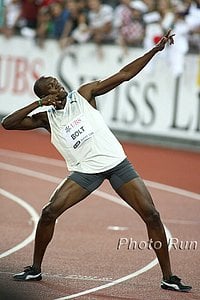 Weltklasse Zürich - *Results *Web Replay of Meet *Photos
LRC Recap: "Olympics in a Day" Well Worth The $$$ "The Olympics in a day" certainly lived up to the billing as Usain Bolt electrified the fans once again, Dayron Robles was pushed all the way to the tape, Jeremy Wariner got some sweet revenge as did Blanka Vlašic (after nearly blowing $500,000) and Sanya Richards. In the distance, LetsRunners rejoiced as Ramzi lost and Bekele was simply sensational once again and Paul Koech showed he might have very well been the Olympic Champion had he competed in Beijing. But the performance of the meet belonged to Pamela Jelimo, who ran the fastest women's 800m since 1983. She was so good that the 4th-placer at the Olympics couldn't rabbit her even for 600m. *IAAF Recap Of Zürich
*Bolt Leaves Crowd Breathless In Zürich
*800m Legend Maria Mutola Calls It A Career at Her 2nd Home in Zürich Mutola won one Olympic gold, 7 World Indoor titles, and 3 World Outdoor titles. She will be missed.
*LoLo Jones Gets Revenge
Nothing Like An African Bureaucracy
*57 Kenyan Athletes Went to the Olympics ... and 60 Officials We're not making that up.
Sunday *Final Day Photos
Men's 5k


LRC: Kenenisa Bekele Completes The Double In Style - By Running The Greatest 5k Ever Run Bekele was simply sensational as he arguably ran the greatest 5k in history. Pushing the pace throughout, he ran an Olympic record 12:57.82 thanks to a ridiculous 3:57.01 last 1,600m, 4:56.97 last 2k, 7:35.53 last 3k and 53.87 last lap. Unbelievable. He clearly enjoyed this one as he showed great emotion in the last 150m as he won his first global 5k and became the 1st man to complete the Olympic 10k/5k double since his countryman, Miruts Yifter, in 1980. *IAAF Recap of Race *Reuters Recap of Race
IAAF: Kenenisa Bekele Joins Legends By Completing Distance Double
Recommended Read: Bernard Lagat Goes Home Empty-Handed But Looking Forward To The Future The New York Times gets the scoop on what has been ailing the double world champion from last year. Apparently, after the US trials he developed a serious achilles problem. Throw in a viral infection before the 5k final and you've got big-time trouble. He stayed in it until 1,200m left. Even if he was 100% on his game, no way was he staying with Bekele on this special night. *Matt Tegenkamp Finishes 13th *Nic Bideau Shocked by Mottram's Failure *Bideau Hoping To Rebulid Mottram "We feel like it's just a couple days prior to Christmas and we've found it's been cancelled." *Mottram's Career At Crossroads
*Matt Tegenkamp's Comments

Wilfred Bungei Wins Men's 800m - The Kenyan's 10 years of training in Verona, Italy finally paid off in a big way as he led the race at 400m, 600m and 800m. It's been a long time coming for Bungei, who showed great promise when he was ranked #1 in the world 6 years ago, running 1:42.34, and when he was the heavy favorite 4 years ago. The article has a great photo of the finish. *IAAF Recap of Race *Reuters Article
*4 Years After Being Favorite In Athens, Bungei Takes Home Gold Alan Webb can take heart in this story.
4 x 400m Mania
US Men Set 4 x 400m Olympic Record
Sanya Richards Comes From Behind To Take Women's 4 x 400m
*At last: Richards, Felix, Wariner get their golds
*Wariner Doesn't Do Redemption

Friday *Results *Photos


Tirunesh Dibaba Outkicks Rival To Complete Historic Double A 59-second last lap gave Dibaba a victory in a crazy, crazy race that went out at 5:50 mile pace for 1k. As a result, she is the first woman to ever win the 5k/10k double and now can officially be considered the greatest female runner on the planet. IAAF Recap of Race
*Tirunesh Officially The Empress of Women's Distance Running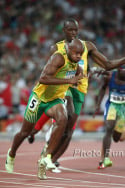 Bolt Completes Historic Triple - 3 Races & 3 World Records Plus 3 ridiculous margins of victory - 0.22, 0.66 and 0.96 seconds. It was great to see Asafa Powell get a gold as well. Trinidad & Tobago was 2nd as Japan got the bronze - that's right, Japan. It was Japan's 1st Olympic track medal in 80 years - yes, 80 years.
Bryan Clay Wins Decathlon Gold - The world's greatest all-around athlete got silver four years ago. Bolt is clearly the world's fastest athlete.
Jamaica Blows Women's 4 x 100m as Russian Wins
*Australia's Steve Hooker Wins Men's Pole Vault *Drug Cheat Win's Women's Long Jump
Another Great Tim Layden Article: Putting The So-Called US Track Debacle In Perspective The US will end up with more medals than Sydney and likely more medals than the home field Atlanta Olymipcs. Plus you can't blame the US system as there is no US system. Additionally, Britain spent over $1 million on their relays and neither 4 x 100m finished - nor did the unbeatable Jamaican women.

Thursday *Results *Photos
LaShawn Merritt Crushes Jeremy Wariner As US Goes 1-2-3 in 400m The much-anticipated 400m duel turned into a rout as Merritt ran great (43.75) and Wariner was off his game. David Neville got a surprise bronze.*LaShawn Merritt Dedicates Win To His Deceased Brother *Texas Paper on Wariner's Loss *Merritt Studied Video of Bolt's Race To Come Up With Game Plan *Dick Patrick On Merritt's Win
This Is What the Olympics Are All About: David Neville Dives For Bronze He was a surprise team member and an even bigger surprise for the bronze. A great story. We enjoyed seeing him at Track Town Pizza the day he made the team. Pizza and soda to celebrate. A class act.

*Veronica Campbell-Brown PRs & Defends Olympic 200m Crown Allyson Felix ended up in tears with the silver but we think given her struggles so far this year, her sub-22.00 clocking was a hell of a performance.

*US Drops Baton In Both 4 x 100m Relays No one should truly be shocked as the US men botched it for the 5th time in the last 12 global championships. On the plus side, we won't get the opportunity to get smoked by Jamaica in the final. *Britain (Thanks To Craig Pickering) Blows It As Well
*Tim Layden Looks At Struggling US Short Sprinters - Personally, we think Americans are spoiled by the US sprint domination and think the media is overblowing the US failures (and taking for granted our domination of the 400m hurdles and 400m). Plus the Jamaicans just have some big time stars. But it is the first Olympics that the US will not win any of the 100m, 200m or 4 x 100m for at least one sex.
*Washington Post Puts Proper Perspective on USA's Performance - 6 Medals in 3 Finals is Damn Good

*Dayron Robles Masters 110m Hurdles The Cuban makes the hurdles look so effortless - unlike anyone we've ever seen before. The US got 2nd and 3rd. It's too bad Liu Xiang wasn't in this race or it would have been a huge spectacle.
*Bryan Clay Leads Decathlon After Day 1
*Nelson Evora Wins One of Best TJs in History You had to jump farther than ever before to get a medal as 7 men broke 17 meters.
Wednesday *Results *Usain Bolt 200m Photos


USAIN BOLT 19.30!!! Lightning struck twice as Bolt ran a ridiculous time into a .9 headwind. More than a half second behind Bolt, the race was marred by the DQs of the 2nd and 3rd place finishers.
IAAF Recap of Race *Video of the Race
*Bolt Stakes His Claim as the Greatest Sprinter Ever A good article with a great conclusion: "Perhaps it is too much to hope that he has also banished the suspicions that have undermined the integrity of Olympic sprinting for so long. But when you look at him, at his 6ft 5in, 13st 8lb frame and at the articulation of his limbs as he devours the track, you might be forgiven for believing that he, more than any leading sprinter for several generations, might just be able to achieve such feats without artificial assistance. There is none of the sense of physical distortion created by the excess muscle that powered recent generations out of the blocks. He looks balanced and natural."
*London Times: Usain Bolt Leaves Beijing Spellbound Again Bolt was very nice to MJ's legacy. Bolt: "Michael Johnson revolutionised the sport," he said. "I just changed it a little bit."
*Tim Layden: Bolt's 19.30 Cements Greatness This is a good article that follows up Layden's remarkable pre-race article. Sports Illustrated Vault: MJ Was Shocked by His 19.32
*Christine Brennan: Bolt Becomes an Instant Legend
*Dutch Antilles: US 200m Protest Not in Olympic Spirit We agree with their sentiment and think in the future the IOC should automatically look for blatant lane violations so countries don't get blamed. "It's a pity for a big country like the United States to make such a small statement."
*Usain Bolt 400m Mania Erupts - Apparently He's Promised To Run the 400m in 42.5 in 2014 This isn't some BS article. This is an article by the IAAF where the 1983 World 400-meter Champion Bert Cameron says that Bolt has promised him he'll run the 400m in 2014. Cameron thinks he'll run 42.5. Insane.
Other Action From Wednesday
Men's 800:*Nick Symmonds Advances As Andrew Wheating Is Edged Out in Tough Heat and Christian Smith Fails to Advance * Eugene-Register Guard Article on 800m IAAF: Men's 800m - Round 1
IAAF: Melaine Walker Wins 400m Hurdles In Olympic Record Rojo's favorite 400m hurdler Sheena Johnson Tosta gets a much deserved silver after being denied a bronze by a drug cheat 4 years ago.
IAAF: Men's 110m Hurdles - Semi-Finals

Tuesday *Results *Nick Willis Photos!!


Men's 1,500m: Nick Willis Wins Bronze!!!!! (as Rashid Ramzi Wins Gold) The men's 1,500m final was thrilling for sure. In the end, former Michigan Wolverine Nick Willis had given hope to Westerners across the globe as he won New Zealand's first track medal in 32 years, as Kenyan Asbel Kiprop won the respect of Letsrunners across the globe for his sensational silver medal performance. Meanwhile, Rashid Ramzi won gold and it seems that most LetsRun.com viewers aren't happy as they all seem to think he is a drug cheat. *Honest question: why is everyone so sure Ramzi is doping? *RAMZI WON - WHENEVER THE US SEES SOMEONE [From Another Country Win] WE ACCUSE THEM OF DOPING *Ramzi should have been DQ'ed Video: *Men's 1,500m Final Video
LRC: Recap of Men's 1,500 Final, Men's 400m Semis
The top two in the world proved it in the 1,500m, while Nick Willis put together the best possible race to come away with the bronze. The 400m semis had no major casualties, as Wariner and Merritt made their expected statements and other main medal contenders got through.
*Legends Hail Willis' Bronze
*Willis Cries for Those Who "Sacrificed" for His Victory
*Willis Takes Coach's Advice and Gets Medal
*Pre-Race: Nick Willis' Road to Bronze Ran Through Ann Arbor
*Rashid Ramzi Wins 1st-Ever Gold For Bahrain
IAAF: Men's 1,500m Recap
IAAF: Former Banned Brit Christine Ohuruogu Wins Olympic Gold Sanya Richards felt a cramp and ended up 3rd
IAAF: Both LaShawn Merritt and Jeremy Wariner Impress In 400m Semis Both won and both ran fast. Who will win the final?
IAAF: Dawn Harper Focuses On Herself and Wins 100m Hurdles Olympic Title The JJK protege shockingly won after pre-race Lolo Jones failed to medal.
IAAF: Andrey Silnov Wins Olympic HJ Title The guy was only 4th at the Russian Trials but was added to the team at the last minute after some good European performances.
Mens' 200 Semis: Usain Bolt Wins Easily And Then Pours Powerade Down Wallace Spearmon's Back
IAAF: Women's 5,000m - Round 1
Monday: *Results *Photos Day 4 (Discus, w800, 10k medals, Steeple) *Day 3 Updated (Men's 10k, W. Marathon, W. Steeple, M. 1,500m semis, W. 100m)


LRC: Steeple, 800m Recap: A Kenyan Wins A Steeple For The Ages As Pamela Jelimo Sensationally Captures The Women's 800m The men's steeple had it all - an American leading more than halfway through and then 3 competitors side-by-side going into the final barrier (and one of them was not a Kenyan). In the women's 800m, the 18-year-old was simply sensational from start to finish as was her teammate Janeth Jepkosgei. IAAF: 18-Year-Old Sensation Pamela Jelimo Wins Women's 800m Title A year ago she had never raced the distance in her life. Now she's an Olympic Champion. Simply unreal. *IAAF: Men's 3,000m Steeplechase Recap
*IAAF: Angelo Taylor Electrifies Beijing and Wins His 2nd Olympic Gold in the 400m Hurdles as USA Sweeps Taylor shockingly won in 2000 out of lane 1. Let's hope the USA puts him on the 4 x 400m as he looked sensational. Two years ago, he was up laying electric cable at 5 a.m. in Atlanta. *Nice ESPN Article on Angelo Taylor's Resurgence
*IAAF: Isinbayeva Puts on a Show! Sets WR & Wins Olympic Title Jenn Stuczynski was 2nd. *Isinbayeva Talks Tons Of Trash About Stuczynski After Winning Gold
*IAAF: Irving Saladino Wins Panama's First-Ever Olympic Gold in Men's Long Jump
*IAAF:Recap of 2nd Round of Men's 200m
Sunday: *Results *Photos (Marathon, Men's 10k)
LRC: Kenenisa Bekele Sets Olympic Record in Men's 10k The men's 10k produced great drama as you had it all - a fast pace, Haile G in the medal hunt and more.
*Video: 3 Minute 10k Highlight
LRC: Historic 1st Women's Olympic Steeple Produces A World Record And an American Record as Well
*Video: *Steeple Final
LRC: Men's 1,500m Semis Produce Shocker As Bernard Lagat Fails To Advance The two-time World Champion didn't advance as he was edged by Nick Willis, the lone athlete with NCAA experience to make the final. *Bernard Lagat Fails To Advance *Nick Willis Makes 1,500m Final He becomes the first Kiwi to make a men's final in any track event since 1996. *Canada's Kevin Sullivan Fails To Make Final - Doesn't Want To Talk About Retirement *Nate Brannen Fails To Advance
*Video: *Men's 1,500m Semi #1 (Kiprop, Lomong, Brannen) *Men's 1,500m Semi #2 (Lagat, Ramzi, Willis)
*IAAF: Jamaicans Sweep Women's 100m Video: Women's 100m Final
*IAAF: Women's Steeplechase Starts its Olympic History with a World Record
*IAAF: Radcliffe: Looking ahead to London 2012
*David Epstein of SI: Night To Forget For US Runners - Swept in the women's 100m, zero men's 1,500m qualifiers, etc.
*Phil Hersh: *American Track Athletes Off To Slow Start - In addition to what's already mentioned, the US also has no LJ finalist or HJ finalists for the 1st time in history.
*Pre-Race Article on Lagat's Preparations - Lagat ran a 2:19 1k time trial last Sunday. This and Alan Webb's time trials prove that it's easy for runners to use them to get a false sense of raceworthiness. The article said Lagat was hoping no one noticed how he ran in London.
*More Lagat: Seattle Times: Lagat Fails To Advance



Saturday *Results *PhotosUSAIN BOLT 9.69 The men's 100 meter final was arguably the most anticipated sprint matchup in history. It more than lived up to the hype, not because of the expected 3-way matchup of Powell/Bolt/Gay, but rather due to the sheer brilliance of Usain Bolt. It was truly stunning. The question now is how fast can Bolt run in the 200m?
*Tim Layden (and Ato Boldon) on Usain Bolt Ato did another excellent job on the commentary. Can the other announcers defer and let him do the distances as well? He is knowledgeable and injects excitement.
*Usain Bolt Skipped Breakfast and Ate Chicken Nuggets for Lunch and a Snack Before the 100m Final
*Jamaica Prime Minister Planning Huge Homecoming for Bolt
*Usain Bolt and Jamaica Celebrate USA Today
*On the boards: 9.69 is Believable?

Friday: *Results *Photos
*Greatest Women's 10k Ever Dibaba Smashes Olympic 10,000m Record as Two Dip Under 30 Minutes! Flanagan Gets Bronze and American Record Tirunesh Dibaba got the one thing missing on her resume, an Olympic gold, and she did it in grand style. She outkicked Elvan Abeylegesse to win in 29:54.66 as they became the 2nd and 3rd women in history to break 30 minutes for 10k and the first since Wang Junxia's unbelievable 29:31.78, 15 years ago. Shalane Flanagan came from behind to smash her American record (30:22.22) and get the first American medal in a track event over 400m since 1992. In other action, the American men bombed in the shot put (many expected a US sweep, but Christian Cantwell was the only American on the medal stand), the American women bombed in round 1 of the 800m and the USA was the only country to have all 3 of its entrants advance to round 2 of the 1,500m (Manzano on time), but Bernard Lagat didn't look great doing it. We'll hopefully have a letsrun.com recap of these races later, but in the meantime the IAAF has event recaps: *Men's 1,500m Round 1 *Women's 800m Round 1 *Women's Steeple Round 1 Recaps (Willard and Barringer advanced)
More 10k: NY Times Recap on Dibaba's 10k Victory, Flanagan's Bronze * Washington Post Recap on Flanagan
On the boards: *TWO women under 30 minutes in the Olympic 10000m final A historic day.
*1,500m Heats Talk Here
*USA's Flanagan wins bronze in 10,000 meters USA Today *Flanagan shows American distance runners can compete with best ... ESPN
*IAAF Recap of Day 1 - Kara Goucher 30:55 PR
Shot: Poland's Tomasz Majewski Surprise Shot Put Winner
*US Shot Putters Come Up Short New York Times
8/8/08 Dazzling Opening Ceremonies Kick Off Beijing Olympics A reader abroad wrote us saying, "I thought it was mind blowing ... it's like China is saying: 'We are the next power' ... I'm telling you, it was the most amazing visual display I have ever seen on television. And I'm not even watching on an HD or anything. London must be shitting their pants because that was unbeatable. It was amazing ... It just went on for 4 straight hours." We agree.