Penn Relays Get Underway Today in Full Force: Follow the action here and here
*AP Preview Of Penn Relays -
*Penn Relays Preview - 6 Teams Might Win Men's 4 x 800. This article claims Texas/LSU are favorites. Sorry Columbia.
*Walt Murphy's Penn Relays Amazing Event By Event Preview
uAs Penn Relays begin, track's magical allure returns
*People To Watch At Penn Relays philly.com
*Penn Relays Agenda philly.com
Drake Relays: Meet Preview Drake is also this weekend and Alan Webb is running the mile once again. We'll have more on that tomorrow.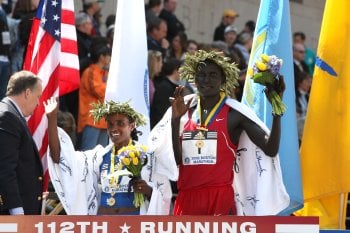 LRC Robert Cheruiyot: The Best Marathoner in the World? No (It's Martin Lel) After thinking about it for 2 days, it's obvious to us that Cheruiyot can not be deemed the top marathoner in the World because four of his World Marathon Majors wins have come versus the weakened fields in Boston. Goumri would be undefeated in his marathon career if he raced the fields Cheuiyot has been up against. Plus we remember the time just 2 years ago when Meb Keflezighi was the favorite to win Boston.
2008 Boston Marathon Post-Race News Watch The Replay Commercial Free on WCSN.com
Boston and New York Both Appear To Want Trials Back (With Changes) Mainly it looks like they (particularly the cash strapped Boston) don't want to pay $1 million to host them.
*Another look at Cheruyiot's Win in Boston He described why he made his move early in the race instead of waiting for the hills. "For me, it was better to kill them before. When the lion wants meat, he has to kill."
*Runner-Up Abderrahime Bouramdane Had Trouble With His Sock That Gave Him Blisters A class act as he congratulated Cheruyiot for his win.
*Runner-Up Alevtina Biktimirova Pleased With Her Effort in Boston
*Alabama Athletes Run With Lance Armstrong

LetsRun.com Women's Recap New Ethiopian Star Dire Tune Wins Epic Duel A day after the women's US Olympic marathon trials, it was only fitting that the women put on a remarkable show on Monday. In the end, after the fastest 2nd half ever (70:36), Dire Tune edged Alevtina Biktimirova by 2 seconds in the closest women's race in Boston's legendary history. However, to defeat the tough Russian she had to run the last mile faster than the men's winner.
LetsRun.com! 2008 Boston Marathon Photos
*2008 Boston Marathon Photos from Victor Sailer 75 more photos added including good race action photos
*Message Board Thread On Race
*IAAF: Robert Cheruiyot Wins 4th Boston
*AP: Tune wins women's race at Boston Marathon in thriller
*Hanson's-Brooks Nicholas A. Arciniaga 1st American Male (10th - 2:16:13)
*Former Drake Runner and Current Med Student Ashley Anklam Is Firs American Female Finisher in 2:48.
*Lance Armstrong Lance Recaps His 2008 Boston Marathon (Video and text)
He had high praise for the Boston crowds: "Boston was a pleasant surprise. I expected the crowds to be great but they were about ten times what I expected"
*AP Article on Lance's Run Lance talks about the Boston hills.

Olympic Trials:

LetsRun.com: Deena Triumphs in Boisterous Boston It was an incredible day on the streets in Boston. The fans turned out in droves to cheer on America's finest and Magdalena Lewy Boulet made it interesting by opening up nearly a 2 minutes lead before Deena Kastor came from behind for the win. We give you all the analysis, talk about Deena's strategy (no miles over 5:25), and more (Joan Benoit's final competitive marathon)
*LetsRun.com! Boston Women's Olympic Trials Photos
*4 Minute Highlight Video of Post Race Comments (Deena, Magdalena, Blake Russell and Joan Benoit all give their take)
*Victor Sailor Photos link fixed. Photos rearragned. A few captions added.
More coverage:
*USAToday article by Dick Patrick
*Joan Benoit Article in NY Times
*Olympic Trials Coverage *Splits for Every Mile Here
*LestRun.com Message Board Thread Here
*Watch on Demand Here
Non Boston News: Jeremy Wariner, Sanya Richards (44.56, 50.47) at Michael Johnson Invite

Tyson Gay Runs Fast 100m on 4*100 at Mt. Sac

Zurich Marathon Recap IAAF
*Mara Yamauchi Runs Half Marathon in Beijing, Says She May Wear a Face Mask to Prevent Pollution at Olympics


The Trials: LetsRun.com Preview: Deena and ... Athletes spend years dreaming and striving for the Olympics and on Sunday 3 people will have their dreams answered by booking tickets to Beijing at the 2008 US Olympic Trials. In theory Deena Kastor could give the rest of the women a 2 mile head start and still win on Sunday. In 2004, she could have given them a 1.5 mile head start and she lost, so that is why they run the race. When they give out the USA jerseys for Beijing, they're all the same no matter what ones qualifying time was. We give our exclusive analysis and pick the team for Beijing.
*Deena and Kate O'Neill Have Trained Together for The Trials Boston Herald
*Elva Dryer: "For me, the experiences and the memories are what keep me motivated, and I loved wearing that USA on my sleeve"
*IAAF Preview of Women's Olympic Marathon Trials IAAF
*Blind Susan Graham-Gray Competing in Olympic Marathon Trials
*Marla Runyan Out of Trials Her Career May be Over
*2008 U.S. Olympic Team Trials – Women's Marathon New England Qualifier Press Conference Quotes

LetsRun.com London Men: Lel Leads 3 Under 2:05:30!!!, Ryan Hall 2:06:17
Ryan Hall Goes Through Halfway on World Record Pace
The 2008 Flora London Marathon will be remembered for a long time. The lead pack of 9 went through 5k at 14:21 (2:01 pace). They continued together (yes, all 9) through halfway on world record pace (1:02:13). Ryan Hall then went to the front soon after and asked the pacemakers to go FASTER. Soon Hall was off the back, but he would catch the leaders briefly again and go on to run 2:06:17. (Until Sunday, only 7 guys had ever run under 2:06:15, now 11 have.). Up front, it came down to a 3-man battle over the final mile before Martin Lel got his 3rd straight World Marathon Major win over the final quarter mile as he led 6 guys under 2:07 and to $50,000 bonuses each. Recap, photos, video above
This Guy Has Totally Won Back Our Respect
Maasai Warriors Finish Marathon link fixed One of them went back to the course and finished the race a day after being forced to go the hospital after a ceremonial wrap cut off his circulation. He said, "It was very important for me to do this. This is what I came to England for."
LetsRun.com Ryan Hall Reflects On his Incredible Run We tell you (and let you watch) what Ryan, his dad, his grand-dad, his coach and even Martin Lel had to say about Ryan. Lel was full of praise for the American and shocked by Ryan's attempt to get the pacemakers to go even faster. If Hall didn't already have your respect, he does after reading this article as he pays homage to a throwback type of guy - Steve Jones. Text and Video.
LetsRun.com Video: Ryan Hall Talks About His 2:06:17 at the 2008 Flora London Marathon
*More LRC London Videos Here
*Photo Gallery
LetsRun.com Ryan Hall's Coach Terrence Mahon Assesses Ryan's Chances "I would not be surprised if he won the race on Sunday" We sat down and talked to Mahon about Ryan Hall's meteoric rise in the marathon, expectations for Sunday, the pressure Mahon feels in coaching Ryan and Deena, the mental side of coaching, the 1:02:30 half way pace, and much more. Text and video above.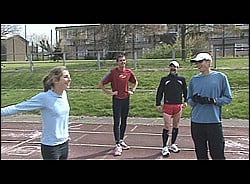 LetsRun.com! Wejo Speaks: Friday in London (With Ryan Hall) Wejo goes behind the scenes and tries to give you a little glimpse what's it's like marathon week in London. Ryan tried to keep himself entertained by watching a match race over 800m between his wife Sara and his coach, Terrence Mahon.
LetsRun.com! London Tidbits Bank of America Chicago Marathon inks with Nike, Paul Tergat's military commitment, Kenyan athletics taxes, Kenny B and of course Alan Webb.
LetsRun.com Ryan Hall:"The Future"(And Present?) Western Civilization's great hope received the compliment of a lifetime at Wednesday's press conference when reigning Olympic champ Stefano Baldini called him "the future" and said he could win "a lot of medals." Hall himself seemed full of optimism and certainly didn't try to downplay expectations for Sunday. "Last year I proved I can do it through 23 miles (37 kilometers). This year, my expectations have grown from that."
*Video Highlight of Press Conference at link above.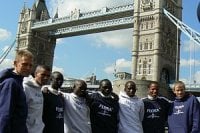 LetsRun.com Flora London Marathon Men's Press Conference The greatest marathon of the year is Sunday and we're there to bring you the action. Only in London is the field so loaded that the 2nd fastest marathoner from the year before (Emmanual Mutai) is not invited to the press conference. How can that be? Because London has Ryan Hall, Martin Lel, Luke Kibet, Stefano Baldini, Sammy Wanjiru, Abderrahim Goumri, Felix Limo, Hendrick Ramaala and others. The piece includes video from Lel and Wanjiru.
LRC: Photo Gallery from Wednesday
*Stefano Baldini's Marathon Show Rolls On
The 36-year-old doesn't think he can win in London but he's hoping to defend in Beijing.
*Paula Radcliffe Offers Training Tips and Gives Insight On Her Rebound From Injury Radcliffe missed 8 weeks due to her toe injury but has been back running for two weeks now and is feeling good.
*Nice IAAF Profile of America's Great Hope Ryan Hall The author points out that in less than a year, Hall has gone from a marathon virgin to being annointed as "the future" by the defending Olympic champ. Remarkable. Hall: "I certainly believe I can win."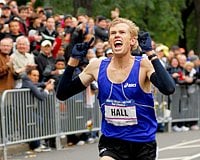 RYAN HALL 2:09:02 Ryan Hall put on one of the most impressive performances ever in American marathoning history, as he destroyed the field and coasted to victory in an incredible 2:09:04 (after a 1:06:17 1st half, yes that's a 1:02:47 2nd half on the hills of Central Park) on the very difficult NYC course. Dathan Ritzenhein ran a very impressive 2:11:07 to get 2nd while Brian Sell got the 3rd Olympic spot in 2:11:40. Former World Record holder Khalid Khannouchi ran a very gutsy race to finish 4th.
Ryan Hall is the real deal in case you didn't know. Here are his 5k splits on the very difficult NY course to prove how incredible he is at the marathon: 16:44, 15:41, 15:27, 15:12, 15:05, 14:48, 14:28. Yes that's right a 14:28 from 30 to 35k. Hall pumped his fist, pointed to the heavens, and waved to the crowd the final mile savoring the incredible run and still ran a 15 minute 5k pace for the final 7.2k (14.56 from 35 to 40k)
*Results
Race Recap From RunnersWorld's Amby Burfoot Amby did an excellent job covering the lead up to the Trials so it is fitting we link to his race article.
*NBCOlympics Recap of 2008 Olympic Marathon Trials: Triumph and Tragedy
*Quotes
*Video: Watch the on Demand (For Free, Skip to Any Crucial Point Instantaneously. Thank you NBC)
*Post Race Press Conference Videos Top 3, Meb, Culpepper, Khannouchi, Lehmkuhle
*Dathan Ritz Quotes
*Brian Sell Quotes
*Khalid Khannouchi 4th at Trials A great great run for Special K. He got 4th hobbling around the park.
*Photos Excellent ones from letsrun.com message boarders skylon
LRC The Week that Was: April 24, 2008 We go behind the scenes and give you our exclusive take on this past weekend's action which was centered in Boston. We have some praise for the BAA and the fans in Boston, praise for the 152nd qualifier for the Olympic Marathon Trials (who went on to finish 5th), and praise for some 45+ year-old women. But don't worry we're still criticizing the BAA for being in the dark ages and are critical of the TV coverage in Boston. Plus, Mt. Sac, the ACC meet, and the big event of the week, the LetsRun.com Puma Party in Boston.
Gebrselassie Now Says He Won't Run Olympic Marathon in Beijing Because He Wants the World Record in Berlin Instead
More on Johnny Mac's Retirement
*The Greatest Coach You've Never Heard Of (A tribute to Johnny Mac from the Illinois St. student newspaper)
*McDonnell's Retirement: At Least Somebody Gets It
*Daily Pennsylvania's Take On John McDonnell's Retirement: Some great anecdotes in here about McDonnell the man
Benita Johnson To Go For 3-Peat At Freihofers in Albany on May 31st

We normally mock racewalking but....
Race Walking World Cup Returns To Cheboksary Where In 2003 They Got 50 to 75,000 Spectators Just shows you what good marketing can do.
The first athlete to defeat USADA
WADA Drops Appeal - LaTasha Jenkins' Drug Ban Overturned While we are probably the most anti-drug site out there, we do believe it's good her ban was overturned. Drug bans should be way harsher than they currently are but only if people are convicted 100% according to protocol. So despite the fact she was coached by Trevor Graham, we say let her compete.*2nd Article On Jenkins

LawShawn Merritt Profile Most people don't realize his stats at the same age are pretty comparable to Jeremy Wariner's . Age 20,:Wariner 44.00, Merritt 44.14. Age 21: Wariner 43.93, Merritt 43.96.
Mo Greene Doping Allegations Hit IAAF Just As It Should Be Ramping Up Olympic Preparations

Cathy Griffin and The Griffin Network To Lead USATF CEO Search
Moses Kipsiro Won't Run African Championships
2008 Boston Marathon Men
LRC Robert Cheruiyot Destroys Field And Joins Bill Rodgers As a 4-Time Winner After a slow opening two miles, Robert Cheruiyot put on quite a show as he wheeled off 17 straight miles at 4:53 or better including a 4:36 19th mile that mile that fnished his only reamining challenger, Abderrahime Bouramdane. His performance in the middle miles was incredible. Recap, photos, post-race comments.
*LetsRun.com! 2008 Boston Marathon Photos
*2008 Boston Marathon Photos from Victor Sailer 75 more photos added including good race action
*Message Board Thread On Race
*IAAF: Robert Cheruiyot Wins 4th Boston
*AP: Tune wins women's race at Boston Marathon in thriller
*Hanson's-Brooks Nicholas A. Arciniaga 1st American Male (10th - 2:16:13)
*Former Drake Runner and Current Med Student Ashley Anklam Is Firs American Female Finisher in 2:48.
*Lance Armstrong Lance Recaps His 2008 Boston Marathon (Video and text)
He had high praise for the Boston crowds: "Boston was a pleasant surprise. I expected the crowds to be great but they were about ten times what I expected"
*AP Article on Lance's Run Lance talks about the Boston hills.
Boston Video:
*Watch the Race on WCSN
*Post Race Press Conference: Robert Cheruiyot, Abderrahime Bouramdane, Khalid El Boumlili Share Their Thoughts
*Lance Gives His Take
Kenyan Editorial: Pick Kenyan Olympic Marathon Team Now We agree. How about we do it for them with zero hesitation? Lel, Wanjiru an Cheruyiot. Don't even think about anyone else.
*Paul Tergat Steps Aside For Youth And Pulls Himself From Olympic Consideration
They should do this everywhere
Austria To Criminalize Posession of PED's
LetsRun.com Boston 08 LetsRun.com Party Photos The party hosted by Puma was a smashing success. A packed house as those passionate about running (from ages 5 to 65+) came to celebrate a great weekend in Boston. LetsRun.com fans celebrated with Rojo, Wejo, Matt Taylor, and a few legends in the sport, including former marathon world record holder Steve Jones and Olympic Silver Medallist Sonia O'Sullivan. The Harpoon beer was flowing, DJ Inkognito kept things going and contrary to popular opinion there was a healthy mix of males and females. The reviews were excellent. "It's refreshing not to see the same 50 people (industry insiders) at a party." "Most favorable female to male ration I've seen in a long time."
Sprint News
Tough Break: 'Devastated' Mark Lewis-Francis TearsAchilles Is Out of Beijing Olympics The man who many thought 8 years ago would be the next great sprint champion won't compete in Beijing. He did anchor Britain to gold in 2000.*More on MLF - It's only a partial tear
Tyson Gay Runs 8.8 Relay Split At Mt. Sac Relays - Crazy to think he almost faced Asafa Powell considering European promoters can't get them to race.
*Asafa Powell Pulled Out of Mt. Sac With Injured Shoulder Nothing serious at all. Claims it would hurt to reach back for baton.
Kenyans Getting Ready for Africa Champs Which Start Wed.
Boston is Monday: *Chicago Champ Patrick Ivuti Out of Boston with Malaria The race is definitely Robert's Cheruiyots to lose. LetsRun.com Preview coming. Check back late today.
*Boston Globe Looks At 20 Years of Kenyan Dominance At Boston
*Mile by Mile Guide for Spectators and Runners in Boston
*Greg Meyer Throwing Out First Pitch at Red Sox Game
*Jos Hermen's Trained William and Shadrack Kiplagat (Uncle and Nephew) Are Hoping to Do Well in Boston
*Greek Marathon Torch Comes to Boston

LetsRun.com Boston Party Update
The response to the LetsRun.com Party Hosted by Puma in Boston was overwhelming. We had hundreds of people apply for a very limited number of spots. We show you some of the lucky winners, lucky losers, and let you pick who is the most deserving person at the party and the person who got shafted the most. Plus details on the party, Harpoon beer, Sauza tequila, and models on hand to give out the gift bags.
Update: LetsRun.com Party Makes the Boston Herald Contrary to what it says the party is invitation only.
Non Boston News: For the First Time in His Career Wallace Spearmon Has a Plan
Worth the Wait (Wejo Was Impressed When he Read it): LetsRun.com Week That Was We give our exclusive analysis of the last week in the running world and the incredible Flora London Marathon. We put London in perspective, debate where Ryan Hall's run ranks in the history of American running, point out he was on 2:05:49 pace at the 25 mile mark, and rip into the LA Times. In non-London action, we praise Lopez Lomong (and wonder if Lopez had run the 1500 last year at the US champs, if Bernard Lagat would have even made the US team (he was 3rd at the US Champs),Chris Derrick, and others. Plus, we may finally end the American love affair with Gabe Jennings.

You'll Be Hearing About This For a Long, Long Time
*Maurice Greene, HSI Linked to Steroids A few HSI athletes have been caught doping in the past (Larry Wade the most notable), but this NY Times article brings to print some of the rumors some of you may have heard. And it is a sad, sad day for American sprinting if true.*Times Of London Story on Maurice Greene Being Accused Of Doping
Maurice Greene Defends Himself He says he never used drugs but did pay for teammates bills without asking what it was for. Greene: "This is a bad situation for me. My name's come up in something and it's not true."
LetsRun.com London Women: Mikitenko Wins Crazy Women's Race The women's race went totally not according to form. German Irina Mikitenko was the surprise winner. The race went out slow, then picked up, then slowed back again. Then Gete Wami wiped out at a water stop, nearly knocking her own teeth out, fell back off the back, then battled back only to get dropped again as Mikitenko threw it down the final 5k. And a perfectly sunny day turned into a cold rainstorm at times. Text, Photos, and Video
Other London Coverage: *Yelling Makes GB Team: A great moment when she looked rival Hayley Haining in the eye at 19 miles,. Amazingly both ended up happy as both PRd.
*British Men Could Run 25 Miles, Everyone Else 26.2 Miles And They'd Still Lose in London
*World Marathon Majors Point Standing - Lel has a huge lead. Wami's is narrowed by Mikitenko s
*Dick Patrick of USAToday Writes About Ryan Hall
*American Ryan Hall mixes it with Kenyans
*AP Story on Ryan Hall: Hall Confident About Beijing Chances
*Quotes From The Top 3 In London
*Gas Leak Causes London Marathon to be Diverted
*Paula Radcliffe Talks About Her Beijing Preparations
*Jon Brown Blasts UK Performance Director Dave Collins The 4th placer in the marathon at the last two Olympics absolutely rips Collins - a man who somehow managed not to show up at world cross country last month when it was in Scotland..
101 Years Old, Still Smoking, Running, and Drinking: Buster Martin: "I'm not worried about the fags because I'll carry them with me. Everyone says smoking kills but it's taking a long time in my case" The 101 year old legend plans on smoking while running Sunday's London Marathon.
US 100k is Saturday - Greg Crowther To Defend Title
*Nice Profile Of Greg Crowther The microbiologist thinks of how to cure malaria while racing
Marion Jones' 8 Relay Teammates Told To Return Medals The IAAF told Jerome Young's teammates to do the same thing but lawyers stopped the IAAF from making them do it.
LetsRun.com 2007 World's Coverage:
*Sunday Homepage Ndereba marathon
*Saturday Homepage
*Friday Homepage Tyson Gay
*Thursday Homepage Lagat
*Wednesday's Homepage Lagat
*Tuesday's Homepage Bekele 10k
*Monday's Homepage Tyson Gay
*Sunday's Homepage Dibaba/Goucher 10k
*Saturday's Homepage Kibet Marathon