World Xcs Next Week:
*Craig Mottram Running World Cross Country Next Week, Thinking He Can Win
On the boards: Predict Mottram's World Cross Finish
A Look at Kenyan Teams Preparation for World XCs
*Molly Huddle (and Family) Going to Scotland for World XCs
WADA Paying USADA to Help Prosecute Floyd Landis Case International Herald Tribune
Geb on the Marathon: "I have no intention of committing suicide in Beijing"
Rashid Ramzi Only Going to Run 1500 at Olympics Ramzi pulled off the 800, 1500 double at the 2005 Worlds.
Defending Two Oceans Champs Feeling Confident For This Weeken's Ultra in S. Africa
World XCs Next Week: United States Team Named for Next Week's 2008 World Cross Country Jorge Torres is on the team and his twin brother Ed joins him for the first time on the same team.
*Brothers Mathew Kisorio and Headline Kenyan Junior Team for Worlds
*Junior World XC Champ Linet Masai'sOlder Brother on Kenyan Men's Team at World XCs
*Kenyan Coach Says Runners Need to Improve on Kicks for World XCs That's not their problem.
*Kenya's Leonard Patrick Komon Has Moved Up from Junior Worlds XC Team to Senior Team
Interview With 2008 World Indoor 60m Champ Angela Williams
Gareth Turbull's (False) Doping Case Comes to an End as He Reaches Agreement on Repayment of His Legal Fees
Sean Hartnett Likes Mubarak Hassan Shami in Olympic Marathon
On the board: *Official Ryan Shay Autopsy Results Are Here
*Guess what % of marathoners broke 3 hours in 2007? -
Previous World XC News: Tadese V. Bekele Should Be A Great One Tadese has won only once against Bekele in 11 tries, but considering he beat the greatest xc runner ever at world's last year, it was a big one.
*UK Athletics Announces Team
*Now That Team Is Set, Kenyan Runners Working On Finishing Kicks
*Bronze - Silver - Gold? Mercy Chelimo Kosgei Aims For Gold In Her Last Jr. Race She won bronze two years ago and silver last year. Only problem is this year she was granted a wild card spot as she dropped out of the Kenyan trials.
*Bernabas Kosgei Not Happy To Have Been Dropped From Kenyan Squad
*Kenyan Team for World XCs Announced Not a lot of big names on either team as it is a fact that Ethiopia has the top runners in the world right now.
*Kenyan Athletics Bosses Want Individual and Team Titles in Scotland When they say individual title they mean men's individual title. Hard to believe the last Kenyan winner was Tergat in 1999.
*Former World Junior Champ Pauline Korikwang Left off Kenyan XC Team After She Gets Sick
LetsRun.com The Week That Was
March 10-17 We recap the highlights (a lot) and the lowlights (very few) of the lats week in running. From Kyle Alcorn to Susan Kuijken, Haile G, Bianca Knight, Jorge Torres, Shalane Flanagan, Cathal Laombard, Sammy Korir, Alan Webb and even secret doping checks in Australia we've got it all covered.
More Kenyan News: Stars Come Out in Force for Shoe4Africa Peace Run in Iten, Kenya IAAF
Scientists Do Study Saying HGH Doesn't Help Athletic Performance They said the same thing about steroids.
*Message board thread on this
2008 NCAA Indoors: Complete Results
D2 & D3 Info Here
*Kyle Who?
Arizona State Wins Men's & Women's Team Titles as Kyle Alcorn Shocks Field & Wins 3k To Lead Sun Devils To Team Title Over FSU On Friday, Alcorn led ASU to a surprise 2nd in the DMR. On Saturday, he shocked everyone once again and blew away the 3k field with a big kick in the next to last event to put his team into a tie with FSU. It came down to the 4 x 400 and ASU edged FSU by a second to win. Alcorn's never been a real big collegiate name before today, but he apparently had a gnarly 55 second last lap in HS in the 3200.
*3k Thread Here
In other action, Texas' Leonel Manzano completed the DMR/Mile sweep as was expected by winning the mile with the big surprise being that his teammate Jake Morse was 2nd. The other big surprise was how average the field looked considering you had to run 4:00 to get in. In the ladies' distance races, it was all FSU as Hannah England won the mile and Susan Kuikjen won the 3k.
*Baylor Wins 3rd Straight 4*400
Day 1: Men's 5k: Isaac Sangok Blows Away LaSalle's Sean Quigley In Last 200 Early leader Josh McDougal was 5th.
Women's 5k: Sally Kipyego Completely Dominates As Expected.
*LSU's & Trinidad's Richard Thompson Runs World Leading 6.51 To Win 60m
DMR/Mile: Sarah Bowman and Leonel Manzano looked really good as they both controlled their heats in the mile and anchored home titles in the DMR. In the men's DMR, the Horns got a big lead on the 1200 and Manzano closed the deal but only after LSU's John Kosgei made things interesting by closing a huge gap with a ridiculously fast first 200 that many are saying is the greatest first 200 of a 1,600 they have ever seen. How fast was the 200? Anywherer from 24.7 to 26.
*Arkansas' Very Good Day 1 Ruined By Terrible DMR Performance Anchor Mickey Corbin had nothing left on the anchor after making the mile final.
*FSU's Title Damaged As Walter Dix Is Scratched Due to Strep Throat
Jeomi Maduka All American in Long Jump on Friday, Leads Cornell Basketball to NCAA Tournament on Sunday She was Ivy League player of the year in basketball and track. USA Today did a profile on her before this weekend's action here.
IAAF Issues New Guidelines For Javelin and Hammer After Last Year's Accident When the javelin is going on, there should be no other field events inside the track.
Nike Is Trying to Document Its History
2008 World Indoors : *Results
*Event by Event Recaps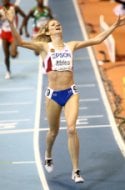 Sunday: Recap Soboleva 3:57.71 WR in 1500, 18 Year Old Kaki Wire to Wire 1:44.81 in 800, Bekele JR Wins 3k, Bryan Clay Wins Heptathlon (Reuters recap above)
*Race Results Weekly Distance Recap Here
The performers at worlds saved the best for last. Most impressive was the women's 1500 where Yelena Soboleva broke her own wold record and picked up $90,000 as she led 4 women under the 4 minute barrier as the top 5 all set PBs. 18 year old Abubaker Kaki was almost as impresive in the men's 800, as the 18 year old led wire to wire to win in a 1:44.81 personal best as the entire field set personal bests including Nick Symmonds who finished last (6th). Tariku Bekele was nearly as impressive as his older brother as he went 3:56 the last 1600 to get the win in the 3000m as Craig Mottram finished out of the medals. Lastly, Australia's Tasmyn Lewis shocked the field to win the women's 800.The 29 year old once was a precocious 16 year old who ran in the Commonwealth Games. She credits her resurgence to her brother taking over her coaching..
Video: *Tamsyn Lewis Wins 800 at Worlds
Video: *Defar Wins 3k at Worlds
Video: *Liu Xiang Gets Gold over Allen Johnson in Hurdles
*On the boards: *Kaki=Awesome (Nick Symmonds= Runnersworld Model)
*Soboloeva wins $90k
*Women's 1500 WR, 4 Sub 4:00, 5 PBs
*T Bekele averages 29.1 sec's for the last 7 laps of World Ind. 3k! (3:56 last 1600, 3:54 pace last 1400)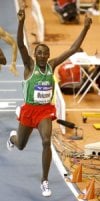 Saturday: Is there anything left for the Kenyans? Deresse Mekonnen Dan Komen Deresse Mekonnen Wins 1500 Mekonnen originally won the race but was DQd along with Nick Willis (for stepping on the infield.). The DQ was protested and Mekonnen was made the winner. (message board thread on DQ here) The 1500 was the one event Ethiopians had not had a lot of success in and Mekonnen is only 20, so Kenya had better watch out (they still dominate the steeple at least). In other action Meseret Defar blew away the field in the women's 3000m with a 28.8 last lap. Nick Symmonds looked incredible in his 800m semifinal. Liu Xiang got his first indoor gold and all that is left is gold in Beijing. American veteran Allen Johnson got the silver.
High Jump: Stefan Holm Wins 4th World Indor High Jump Title
Hurdles:*Lolo Jones Gets World Indoor Gold
*Liu Xiang Gets His First World Indoor Gold
Long Jump: Britain's Chris Tomlinson Gets Silver in World Long Jump
Photos: *Saturday PM *Saturday AM (Qualifying)
*Friday
Video on Demand and Highlights:
Entire meet on demand on WCSN
*Day 2 Highlight Video: 2 Minutes
*Dayron Robles Thinks There is a False Start and Stops in 60m Hurdles
*Cantwell Wins Shot
*Fasuba Wins Men's 60
*Angela Williams Wins 60
Morning:
*Dayron Robles Out in Hurdle Qualifying!!
*Jamal and Fomenko Top Qualifiers in 1500 QualifyingChristin Wurth Thomas has been sick and didn't make the final.
*(Un)Official Worlds Discussion Thread
*Photos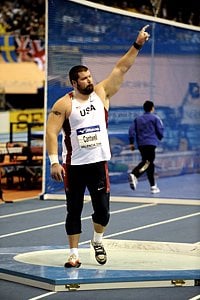 *Friday Recap: Christian Cantwell Wins Shot, Angela Williams and Olusoji Fasuba Win 60 Olusoji Fasuba got Africa's first gold in the indoor 60 as Britain's Dwain Chambers ran a pb to get silver in what may be his final race as everyone is trying to blackball the ex drug cheat from the sport.
*Day 1 Evening Distance Recap: Maria Mutola Takes First Step Towards Eighth World Indoor Title Americans Khadevis Robinson and Nick Symmonds looked good in making the 800m semifinals. Fellow American Nicole Teter ran a seasonal best to make the 800 semis on time. Kiwi Nick Willis (looked good) and made the 1500m final.
Shot: Cantwell Wins Shot Gold, Says Critics Can Kiss His Ass IAAF
60: *Dwain Chambers Gets Silver at World Indoors Guardian
*Dwain Chambers May Retire BBC
Heptathlon:Tia Hellebaut Wins Heptathlon IAAF
*Kelly Sotherton Comes Close But Settle for Silver in Heptathlon
Friday Morning:
*Most of Favorite Advance in 3k Heats at 2008 World Indoors
*S. Africans Do Well on Day 1 of World Indoors
*Mo Farah Makes 3k Final
IAAF Previews: Men *Women
2008 AT&T USA Indoors: *Full Results Here*Event By Event Results Here


Sunday: LRC Thrilling Men's 800 Highlights, Rob Myers Proves He's Class of Men's 1,500 and Nicole Teter Takes Down Women's 800. Track races can't be any more exciting than the men's 800, which more than lived up to the hype and turned into an epic duel between KD and Nick Symmonds.
*Controversy in Men's Shot Put Boston Globe The big story perhaps should have been Adam Nelson not making the team, but instead it is the feud between Cantwell and Hoffa. (We received news of Cantwell calling Hoffa a "f****** hypocrite" at the post-meet press conference) You'd think at this level, the guys or Nike or someone would make sure they have the 16 lb shot they want. Nelson won't compete for $40,000 at Worlds but did get $25,000 for winning the Visa Championships series.
*Day 2 Photos
*Winners Quotes From Day 2


Saturday: LRC Favorites Tegenkamp, Wurth-Thomas Win, Shannon Rowbury Surprise Winner of 3k
Matt Taylor's recap of the 3ks (and how boring the meet was) for Letsrun above
*Boston Globe Recap of 3k, 1500
It was Tegenkamp's first race of 2008, but he is at a level above the rest of the 3000/5000 m runners in America not named Lagat, and his class trumped the sharpness of his training partners as he led a 1-2-3 Wisconsin sweep, as he was followed by Chris Solinsky and Olympian Jonathon Riley (thread here). Wurth-Thomas blew away the field in the women's 1500, and Shannon Rowbury showed the benefits of training with Shalane Flanagan as she upset Jen Rhines in the 3k.
More:
*USATF Recap: Favorites prevail Saturday at AT&T USA Indoor Championships
*USATF Wants New CEO by June 1, Weather Delays Caused Problems for Athletes
*Madison 1-2-3 at USATFs
* Brad Walker Wins Pole Vault at USATFs
*Jillian Camarena Wins Her 4th Straight Indoor Shot Title
*Photos of Day 1 of 2008 USATF Nationals
*Athlete Quotes - Day 1
*Post Race interviews