LetsRun.com's Preview of The 2008 US Olympic Track & Field Trials Women's 800 Final
by: LetsRun.com
June 30, 2008
Day 2:
LRC Men's 800 Semi Recaps: Krummenacker, Hernandez Out, Craziness in Women's 800
Previous:
*LRC Rest of Day 2 Recap: Women's 100, American Record in Quarters of 100, Men's Shot, Heptathlon
Day 1
Women's 10k: Flanagan over Goucher but Amy Yoder-Begley Steals the Show
*LRC Day 1 800/5k Prelims: Men's 5k Semis, 800s: Alysia Johnson Out, Khadevis Robinson Struggles

Monday night is nirvana for distance running fans in Eugene as there will be 3 distance finals - the men's and women's 800, and the men's 5,000. We give you a preview of the women's 800 final below. Men's 5k Preview here, Men's 800m Preview Here
A controversial series of events during and after the women's 800 semifinals has created a most unusual situation for the final: a field of 12 elite middle-distance runners trying to compete over 800 meters for three coveted spots on the U.S. Olympic team. Some of these athletes probably haven't seen a 12-person 800 field since high school and it will be interesting to see how USATF decides to put them on the starting line. Whether a bad decision or an unfair one (and we're certain that conspiracy theorists will continue to discuss this for weeks to come), the field is set and the only thing for certain is that there will be a great deal of uncertainty. Will 12 people make for a slower, tactical race or will the potential for another series of falls lead to an unusually hard early tempo as the favorites attempt to get out of trouble? Hazel Clark, Alice Schmidt, Katie Waits and Nicole Teter have all run under the Olympic A standard of 2:00.00. Will anyone else manage to break two minutes and finish in the top three to earn a trip to Beijing?
In order of their "lane" assignments, here is a brief run-down on each competitor: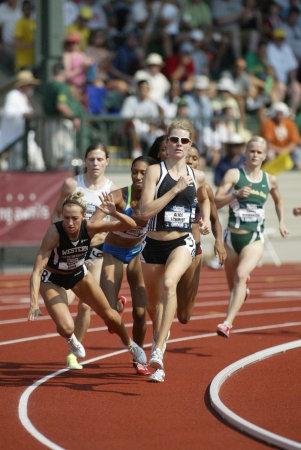 The Start of the Fall

Photo via John Nepolitan
"Lane" 1: Laura Hermanson. The fourth place finisher in semifinal one (where four runners fell), Hermanson has dropped three seconds from her PR this year (and 8 seconds since 2006). Hermanson just finished her junior season at North Dakota State.

"Lane" 2: Kameisha Bennett. The fourth place finisher at the 2004 Olympic Trials, Bennett represented the U.S. at the 2005 World Championships after a second place finish at USATFs that year. One of the victims of the now-infamous semifinal one melee, Bennett advanced to the final on appeal but looked great in winning her first round-heat wire-to-wire. This is her first USATF final since 2005, however, and it will be interesting to see how she responds to her third 800 since Friday. Bennett has a lifetime best of 1:59.99 and has a seasonal best of 2:02.94.

"Lane"3: Becky Horn. A review of the first semifinal video seems to show that Horn was the first person to fall and she probably had the most legitimate basis for an appeal. The third placer at this year's NCAA Championships, Horn just finished her senior year at Western Michigan, where she was a three-time All-American.

"Lane"4: Nicole Teter. A 2004 Olympian and the 2004 Olympic Trials runner-up, Teter was the first runner added to the final on appeal who had fallen in her semifinal heat. Teter made a valiant effort to get back into the race after hitting the ground. She placed second in her first round heat to Bennett. Teter has had a mixed record since making the Olympic team and has only broken the two minute barrier in the 800 once since then. The most recent was in 2007 which is in the window to count as an Olympic "A" qualifier for the Beijing Olympics, but her best this year is 2:01.73, nearly four seconds off of her PR.
"Lane" 5: Geena Gall. The 2008 NCAA Champion, Gall has had a terrific season and this is not her first USATF final, as she placed sixth last year. She is one of three Mike McGuire-coached athletes in the final and has a personal best of 2:02.24. One of four collegiate runners in the final, Gall will be contesting her 19th 800 of the 2008 track season. She has won 10 of those races and her lowest finish is fourth.


Morgan Uceny Won Semi #2
"Lane"6: Morgan Uceny. A 2007 Cornell grad and a four-time All-American for the Big Red, Uceny is one of the greatest middle distance runners in Ivy League history. Uceny placed fourth at the USATF meet in 2007 and was third at the indoor USAs this past March. She closed strongly to win the second semifinal in 2:02.10, the fastest time of the day. Her PR is 2:01.75, but she must go sub-2:00 to go to Beijing.
"Lane"7: Nikeya Green. Green ran 2:03.90 to place third in the first semifinal on Saturday, managing to stay on her feet as others fell. This is the Wake Forest grad's third straight outdoor national final after placing 7th in 2006 and 8th in 2007. She boasts a PR of 2:02.19. Coached by Scott Raczko (Alan Webb's coach), she won the indoor national title at 800 in 2007.

"Lane" 8: Alice Schmidt. Schmidt has looked great in the first two rounds, moving up impressively in round one despite getting a slow start and leading wire-to-wire in the semifinal. Her decision to take the lead in the semis proved smart as a big pile-up happened in her wake at 250 meters. She remain unaffected and won uncontested. Schmidt has been in the top three at the U.S. championships the past three years: 3rd in 2005 to earn a spot on the World Championships team, 2nd in 2006 and 3rd in 2007 to earn another World Championships bid. She set her PR of 1:58.75 last year and looks to be one of the women to beat on Monday evening.

"Lane" 9: Maggie Vessey. Vessey finished one spot behind Schmidt in semifinal one on Saturday, running 2:03.81. She was second at the 2005 NCAAs for Cal Poly and was 7th at the USATFs that year. She set her PR of 2:02.72 at Hayward Field earlier this June.

"Lane" 10: Hazel Clark. A two-time Olympian, Clark finished 7th at the 2000 Sydney Olympics and is a favorite to earn a spot on the U.S. team again. Also a three-time World Championships competitor, Clark has won two of the past three U.S. outdoor 800 titles and three overall in her career. The only woman to beat her in the past three U.S. national finals is Alysia Johnson, who did not advance past the first round at this year's Trials. She holds the best PR in the field at 1:57.99 but has not run under 1:59 since 2005. After leading much of her semifinal heat, she finished in second to Uceny on Saturday.
"Lane" 11: Katie Waits. Waits, who ran as Katie Erdman at Michigan before getting married last summer, had a late start to her 2008 season due to injury but has been coming on strong. She already owns an Olympic "A" standard by virtue of her 2nd place showing at the 2007 NCAAs, where she ran her PR of 1:59.35. Her best time this season is 2:02.38 but she has progressed steadily since opening up in mid-April.

"Lane" 12: Latavia Thomas. Thomas has great 400 speed and was on LSU's 2007 NCAA Champion 4X400 relay team. She just finished up her sophomore year for the Tigers, where she finished second at the NCAAs to Gall. She has run 53.17 for 400 and PRed earlier this season at 2:03.22 in the 800. A victim of the pile-up in semifinal one on Saturday, Thomas finished second in her first round heat on Friday. After a busy collegiate season, this will be Thomas' sixteenth 800 of the 2008 track season.

Letsrun predictions:
Schmidt and Clark seem to be heavy favorites for the top two spots but given the size of the field and recent races, anything goes for the third spot. Here's what we think:
Alice Schmidt
Hazel Clark
Morgan Uceny (we try to be objective and keep our Cornell bias from the web site, but she's looked great the first two rounds and a 12-person final seems to be a recipe for an upset situation)

More Previews: Men's 5k Preview here: Lagat versus the Field,
Men's 800m Preview Here