2007 LetsRun.com NCAA Cross Country Preview: Oregon Not the Favorite
by LetsRun.com
November 18, 2007
*More Opinions: Excellent Analysis on the Message Boards From Terminator X
If betting were allowed on college xc (thankfully it isn't), Vin Lananna's Oregon Ducks would be heavy, heavy favorites in the betting. The Ducks are ranked #1 and huge favorites according to the Letsrun.com polls and a unanimous #1 in the coaches' poll.
But since we at LetsRun.com are smarter than all of the coaches and even smarter than our esteemed readers at LetsRun.com, we have to disagree and say by no stretch of the imagination should the Ducks be viewed as the heavy favorites.. It's the LetsRun.com's official view that if there is an overwhelming favorite at nationals on the men's side, it's definitely not Oregon. We think far too many people have read one too many Steve Prefontaine books.
If the Ducks were listed as even money favorites, we'd put all our money on teams in the top 5 besides Oregon
We can understand why people are voting for the Ducks to win, but to make them a unanimous #1? You've got to be kidding. What have the Ducks done all year to justify their unanimous #1 ranking? Nothing besides duck all serious competition at the PreNats and win some meaningless early season meet at home.
Yes, they did win the Pac 10s. But big deal, the next best team is 13th ranked Stanford. Beating Stanford doesn't prove anything this year.
At Pac 10s, Stanford's #3 finished ahead of Oregon's #3. That doesn't bode well for the Ducks even if they were perhaps resting some ridiculously good recruit that we aren't aware of. Hell, Cal, which had never made an NCAA meet until this year (hard to believe isn't it), put 3 in before Oregon did. Stanford's top two for most of the year have been Russell Brown and Hari Mix – two guys who didn't even run NCAA xc last year. Assuming the 2006 NCAA runner-up Nef Araia, who has been rapidly improving since Pre-nats, is Stanford's top guy at NCAAs, that puts Mix or Brown as Stanford's #3. Mix was 23rd at Pre-NCAAs.
Iona's #4 at Pre-NCAAs finished in 18th place. (They were without their #5 Matthew Kiplagat who was suspended from the team early in the season)
And if one looks at the Region results, well one had really better hope that Oregon was jogging it there. At Regionals, Oregon's third was behind both Cal and Portland's third.
We can't figure out any reason as to why Oregon is the unanimous #1 team in the country. Many people might claim that Oregon appears to have the best one-two punch in the country in Galen Rupp the favorite for the individual crown, and Shadrack Kiptoo-Biwott. Our response is: Maybe (People forget Kiptoo was a disaster at NCAAs last year) But even if it's true, they will need it as the rest of their team on paper does not stack up well versus the top 5 of some of the other teams. Seriously, it's likely Oregon will need to be scoring 3 against everyone else's 5 to win on Monday.
And yet everyone expects them to win handily as more than two times as many people have picked them to win as the rest of the field combined.
It makes no sense. In our mind, the easiest way to score the next year's meet is to remove all the seniors and non-scorers from the previous year's meet – whether it be NCAAs or conferences – and rescore. While the next year's results won't match it perfectly (one does need to sort of artificially put in the ridiculous transfers/freshmen coming in), it works pretty well.
Proven, big time-talent wins championships. Rojo will be the first to admit that talent trumps good coaching. If you don't believe us, ask yourself the following questions, "How man national titles did Mark Wetmore win at Seton Hall?"
Iona the Favorite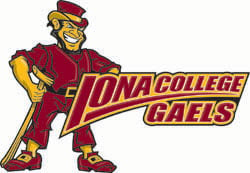 So we went ahead and took the seniors and non-scoring individuals out from last year's championship very quickly (we pasted the results at the end of this article – we are sure there are mistakes but you'll get the point). It should come as no surprise to LetsRun.com viewers that there is a runaway winner. The only problem is – it isn't Oregon. It's Iona.

Yes, take the individuals and seniors out and Iona CRUSHES Oregon 109 to 206.

Now , we know some of you are saying that Kiptoo ran terrible last year. We agree. We even moved him up to #1 instead of being the 44th returner. It's still Iona in a rout - 108 to 163.

Yes, Oregon did get a lot of studly freshmen this year as Vin Lananna can somehow convince every sub 9 guy in the country to go to wherever he is coaching whether it's Stanford or Oregon or even Dartmouth (we never understand how they don't realize they won't get to run as freshman or maybe ever) but from what we can tell none of the studly freshmen will be running this year – no Centro, no Hall.

But let's assume they get a great new guy and give them the benefit of the doubt (ignoring the fact that true freshmen rarely do big things at NCAAs- the Ducks Diego Mercado was the top true frosh last year at 49th – 29th team scoring) and therefore only score the top 4 returnees from last year.

How does it look now? It's a little closer but Iona still wins. Iona 74, Wisco 97, Oregon 130. Even if we move, Kiptoo from 44 to 1st. It's still Iona 74, Wisco 97, Oregon 87.

So there you have it- Iona is the favorite. Yes, there is one huge question mark associated with the Gaels - they are only 5 deep. If any of there top 5 screw up, they are done. But they are very experienced (in contrast to Oregon which didn't even run the course this year). Also they always seem to run their best at Nationals (in 2005, they were 8th at Pre-NCAAs but on the podium at NCAAs), so the fact that they were #2 at Pre-NCAAs, that ought to scare people.

Our only question with them is do they have any low sticks? Normally there are a lot of random top individuals in the top 20 so it doesn't really matter if you are 20th or 30th for the team scoring. This year, more than most, most of the top guys are on top teams.

If Iona doesn't come through, Wisconsin very well could do it. They certainly proven over the last few years that it's very hard to run as the favorite at NCAAs, which is another reason why we don't think Oregon will win, as Wisco has coughed it up quite a few titles the last few years (someone please tell us how it was possible for Chris Solinsky to finish 73rd last year?). We think they'll find it much easier to run as the underdogs. They have a ton of depth and appear to be the 2nd best team on paper. Probably more upside than Iona and certainly way, way more depth.

Wisco put 5 in the top 10 at Big 10s. Sick. But if they couldn't win last year with Eagon, Nelson, Withrow and Solinsky, why would we pick them this year? They have a big 1-2 punch like Oregon's and there depth is a lot better. They have a very good chance.

Colorado? Who knows. They often steal the title from more talented teams and seem to be rounding into form nicely. At Pre-Nats, they were 2nd but only because they didn't have a fifth. Harkrader didn't run but he has been coming on nicely since then. 16th at Big 12s, 12th at the regional. His improvement gives them a real shot.

Arkansas? We'd love to see McDonnell win it and he says this team reminds him of his 2000 championship team. The only problem is best teams of the teams in 2007 would kill the best teams from 2000.

UKEP? UTEP? They certainly have the talent to do it but don't give them much of a shot until they prove they can peak properly. NAU. Don't count on it. They didn't run their #2 at regionals. If he runs, they would have been real close to Colorado but we can't just see them taking it down.

Official LetsRun.com Predictions – Iona, Wisco, Colorado, Oregon, NAU, UTEP. (We're not really even focused on giving you our actual predictions. We just believe Iona, Wisco and maybe even Colorado are more likely to win than Oregon. It could be real tight and we could see any of the top 6 winning it or finishing 6th).

Lopez Lomong For the Individual Title
Individually? We're going with our main man Lopez Lomong of Northern Arizona. If you are talking about the long awaited American phenom, he is it. He's got the total package needed to boost the sport's popularity - speed, endurance and charisma. The guy loves the limelight and was born with star charisma. Just watching him stand up on stage at the banquet on Saturday night was striking. He looks like a winner.

His has the personality of a champion. He will win as well.

Rupp is a phenomenal competitor but he rarely wins. Josh McDougal has won everything in site but never an NCAA title. So we'll stick with Lomong. (And the voters in the LetsRun.com prediction contest, agree with us as well as Lopez got a lot of late votes and is the favorite in the prediction contest polls)

What about the women's race? Well there is no need to give you an elaborate analysis. Stanford and Sally Kipyego are rightfully heavy, heavy favorites.

******

Scoring last year's meet taking out the guys who graduated
Top 5 Returnees
Iona - 109 9, 15, 22, 28, 35,
Oregon - 206 3, 19, 44, 64, 86

Top 4 Returnees
Iona - 9,15,22,28 74
Wisco - 7,10,38,42 97
Oregon 4 3,19,44,64 130

Individual Place Last Year | Team Score Last Year 5k split \ 8k split \ 10k split Score This Year With Seniors Taken Out
2 2 576 Neftalem Araia SR Stanford 15:19 24:33 30:52.6 1
4 454 Lopez Lomong SO Northern Arizona 15:19 24:34 30:59.8 2
6 4 492 Galen Rupp SO Oregon 15:19 24:42 31:03.0 3
11 7 771 Stuart Eagon SO Wisconsin 15:22 24:50 31:12.1 4
13 662 Stephen Samoei JR UTEP 15:19 24:48 31:15.5 5
14 413 Chris Rombough SO Minnesota 15:26 24:54 31:16.9 6
20 10 158 Stephen Pifer JR Colorado 15:42 25:06 31:24.2 7
21 11 129 Phillip Reid JR Cal Poly 15:38 25:04 31:24.2 8
23 12 308 Mohamed Khadroui SO Iona 15:32 25:03 31:25.1 9
24 13 780 Matt Withrow SO Wisconsin 15:43 25:09 31:25.7 10
33 292 Jordan Kyle FR Indiana 15:46 25:22 31:39.3 11
34 17 746 Christo Landry JR William & Mary 15:36 25:16 31:40.8 12
36 19 465 Patrick Smyth SO Notre Dame 15:38 25:17 31:41.7 13
38 21 8 Augustus Maiyo SO Alabama 15:29 25:08 31:43.4 14
40 22 312 Harbert Okuti SO Iona 15:44 25:18 31:46.8 15
42 23 342 Paul Hefferon JR Kansas 15:48 25:22 31:47.7 16
47 27 159 James Strang JR Colorado 15:43 25:23 31:54.5 17
48 28 57 Scott MacPherson FR Arkansas 15:33 25:19 31:56.0 18
49 29 491 Diego Mercado FR Oregon 15:38 25:20 31:56.5 19
52 31 475 Joe Gray SR Oklahoma State 15:39 25:15 31:59.6 20
54 33 603 Leonel Manzano SO Texas 15:51 25:31 32:00.8 21
57 35 310 Andrew Ledwith SO Iona 15:43 25:25 32:03.0 22
62 39 367 Cory Thorne SO Louisville 15:50 25:38 32:10.0 23
64 41 583 Garrett Heath JR Stanford 15:38 25:33 32:11.4 24
66 43 328 Eric MacTaggart JR Iowa 15:44 25:34 32:12.2 25
67 44 604 Andrew Middleton SR Texas 15:52 25:38 32:12.2 26
68 45 588 Forrest Tahdooahnippa SR Stanford 15:39 25:36 32:12.6 27
69 46 309 Matthew Kiplagat JR Iona 15:45 25:36 32:13.4 28
70 47 483 Daniel Watts FR Oklahoma State 16:02 25:48 32:14.0 29
72 48 549 Ahmed Haji JR Providence 15:45 25:38 32:14.3 30
74 50 51 Kenny Cormier SO Arkansas 15:46 25:35 32:15.0 31
77 51 606 Erik Stanley JR Texas 15:57 25:52 32:20.9 32
78 52 578 Hakon Devries SO Stanford 15:42 25:41 32:21.2 33
79 53 116 Chandler Goodwin JR BYU 15:45 25:39 32:21.4 34
83 57 311 Abraham Ng'eitch JR Iona 15:45 25:41 32:25.2 35
84 58 554 Max Smith JR Providence 15:45 25:39 32:25.5 36
87 61 509 John Moore JR Portland 15:55 25:50 32:28.1 37
90 64 774 Craig Miller FR Wisconsin 15:52 25:50 32:30.0 38
92 131 David Torrence JR California 16:07 25:57 32:31.2 39
93 66 362 Wesley Korir JR Louisville 15:37 25:29 32:31.6 40
94 67 451 Tibor Vegh JR NC State 15:51 25:46 32:33.3 41
95 68 779 Christian Wagner SO Wisconsin 15:52 25:47 32:33.9 42
96 69 745 Ian Fitzgerald JR William & Mary 15:52 25:49 32:34.9 43
98 71 487 Shadrack Kiptoo-Biwot JR Oregon 15:54 25:53 32:37.0 44
100 73 476 David Jankowski JR Oklahoma State 15:51 25:44 32:37.2 45
106 77 120 Kyle Perry SO BYU 15:45 25:50 32:40.4 46
107 78 557 Richard Yeates SO Providence 16:03 26:00 32:40.7 47
108 79 748 Dave Mock JR William & Mary 16:10 26:04 32:40.9 48
110 81 444 Stephen Furst JR NC State 16:03 26:01 32:41.8 49
111 82 117 Jacob Gustafsson SO BYU 16:14 26:06 32:41.9 50
112 83 361 Siomo Kiplagat JR Louisville 15:59 25:59 32:42.1 51
114 85 443 John Crews JR NC State 15:56 25:56 32:42.9 52
115 86 673 Andy Biladeau SO Virginia 15:56 25:57 32:43.3 53
117 88 53 Shawn Forrest JR Arkansas 15:55 26:00 32:44.5 54
118 89 261 Justin Scheid SO Georgetown 16:09 26:07 32:46.1 55
122 91 2 Emmanuel Bor FR Alabama 15:59 25:50 32:48.1 56
124 93 472 Brian Ehlis JR Oklahoma State 16:03 26:09 32:49.7 57
125 94 125 Joe Gatel FR Cal Poly 16:15 26:13 32:49.8 58
130 98 609 Owen Washburn SR Texas 16:04 26:09 32:52.8 59
131 99 729 Drew Polley SO Washington State 16:08 26:07 32:53.3 60
134 468 John Ealy JR Ohio State 16:05 26:08 32:55.2 61
138 104 442 Gavin Coombs SO NC State 16:03 26:08 32:56.5 62
139 105 360 Micheal Eaton FR Louisville 16:09 26:12 32:57.9 63
141 107 495 Carlos Trujillo SO Oregon 15:59 26:08 32:58.8 64
142 108 393 Stephan Shay SO Michigan State 16:16 26:17 32:59.2 65
143 109 395 Adam Sprangel JR Michigan State 16:12 26:17 32:59.3 66
144 110 24 Moses Mpanga SR Arizona 16:11 26:09 33:01.4 67
145 111 396 Dustin Voss SO Michigan State 16:09 26:11 33:01.8 68
146 112 481 Alejandro Ruiz SO Oklahoma State 16:15 26:17 33:02.1 69
147 113 128 Jameson Mora SR Cal Poly 16:11 26:17 33:02.4 70
148 114 605 Jake Morse SO Texas 16:04 26:09 33:02.7 71
149 115 728 Andrew Jones JR Washington State 16:08 26:15 33:03.6
150 116 658 Marlon Patterson FR UCLA 16:17 26:23 33:03.8 72
151 117 467 Jake Watson JR Notre Dame 16:17 26:21 33:04.4 73
152 118 150 Bradley Harkrader JR Colorado 16:11 26:19 33:05.3 74
158 124 248 Michael Banks SO Georgetown 16:08 26:23 33:08.1 75
159 125 466 Jake Walker FR Notre Dame 16:19 26:22 33:09.2 76
161 126 552 Hayden McLaren FR Providence 16:17 26:29 33:10.1 77
162 127 130 Troy Swier SO Cal Poly 16:05 26:14 33:10.5 78
163 128 230 Luke Gunn JR Florida State 16:06 26:20 33:11.8 79
165 130 680 Taylor Smith JR Virginia 16:23 26:28 33:12.5 80
168 133 449 Wesley Smith JR NC State 16:03 26:18 33:15.0 81
175 140 460 Brock Hagerman FR Notre Dame 16:33 26:42 33:23.9 82
177 142 677 Andrew Jesien FR Virginia 16:29 26:43 33:26.4 83
179 144 719 Adam Shimer JR Washington 16:19 26:33 33:28.2 84
183 147 504 Justin Houck SO Portland 16:16 26:34 33:30.3 85
186 149 488 Kenny Klotz FR Oregon 16:04 26:31 33:34.1 86

More Opinions: Excellent Analysis on the Message Boards From Terminator X He looks at Oregon's spread, gives Rupp 1st place, Kiptoo 10th, and still has the Ducks coming up short.

2007 Pre NCAA Photos from Terre Haute:
*Men's Blue Race Photos
*Men's White Race Photos
*Women's Blue Race Photos
*Women's White Race Photos