Senbere Teferi Outlasts Hellen Obiri to Run Fastest Road 10k on US Soil at Mastercard New York Mini 10-K
By
David Monti
, @d9monti
© Race Results Weekly, all rights reserved.
NEW YORK (10-Jun) — With the smoke from the Canadian wildfires which had blanketed this city for the past several days finally cleared out, it was Ethiopia's Senbere Teferi who brought the fire today, winning the 51st Mastercard New York Mini 10-K in an event record 30:12.  Teferi, 28, who had also won this race last year, had to overcome a fierce challenge from reigning Boston Marathon champion, Hellen Obiri of Kenya, who ran shoulder to shoulder with her until the final 200 meters of the race.  In the end, Teferi had the faster sprint and prevailed by seven seconds.  Both women smashed the 21 year-old event record of 30:29 set by Morocco's Asmae Leghzaoui, and Teferi's time was the fastest-ever on U.S. soil, eclipsing the 30:22 that Kenya's Brigid Kosgei ran at the Peachtree Road Race in Atlanta in 2019.
"Until the very end I was trusting in God that I could win, that I could beat her," Teferi told Race Results Weekly through a translator.  "I knew that Hellen had a stronger kick than me.  We were both kind of tired and had been competitive throughout.  But as we approached the end I was just thinking, if she comes let her come.  I just have to go for it."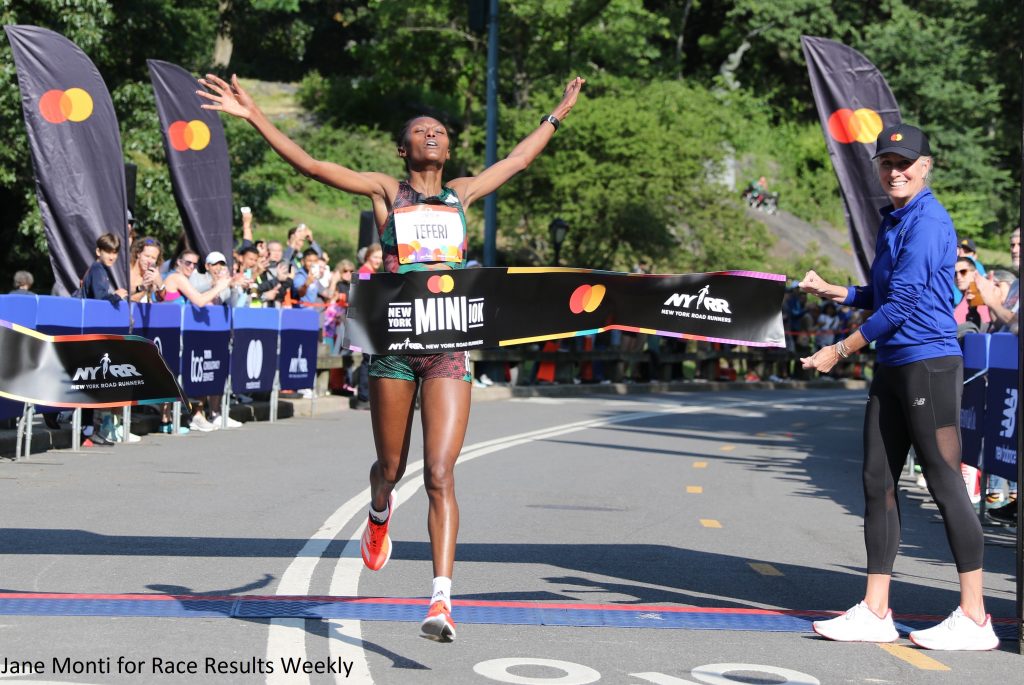 Indeed, the pace was fast from the start.  With about 11,000 women lined up behind them on Central Park West, Teferi and Obiri took control of the race right from the gun.  They ran the first (downhill) mile in a snappy 4:59, but that didn't deter other contenders like home country favorites Emily Sisson and Keira D'Amato, Mexico's Laura Galvan, and Kenya's Cynthia Limo, who ran right behind the leaders.
Article continues below player.
But in the middle of the second mile, as the course curved around the bottom of Central Park, Teferi put in a little surge and put some daylight between the two leaders and the rest of the field. Climbing up the race's first important hill past the park's famous carousel, Teferi and Obiri became the clear leaders, hitting the two mile mark (9:55).  Right behind them, Sisson and Galvan would soon drop Limo and D'Amato and begin their own battle for third.  Sisson, who finished seventh here last year in 31:29, was hoping to contend for the win today.
"I really wanted to go out with Obiri and Teferi and just see; you never know," Sisson told Race Results Weekly.  "I haven't raced in a while and wasn't entirely sure of my fitness.  I wanted to take a shot."
Mile after mile, Obiri and Teferi ran side by side at a blistering pace.  They hit halfway in 15:28, the four-mile in 19:43 (a 4:46 downhill split), and the up-and-down five-mile in 24:39.  Teferi, who represents adidas, and Obiri, who runs for On, stayed side by side waiting for the final meters to decide the race.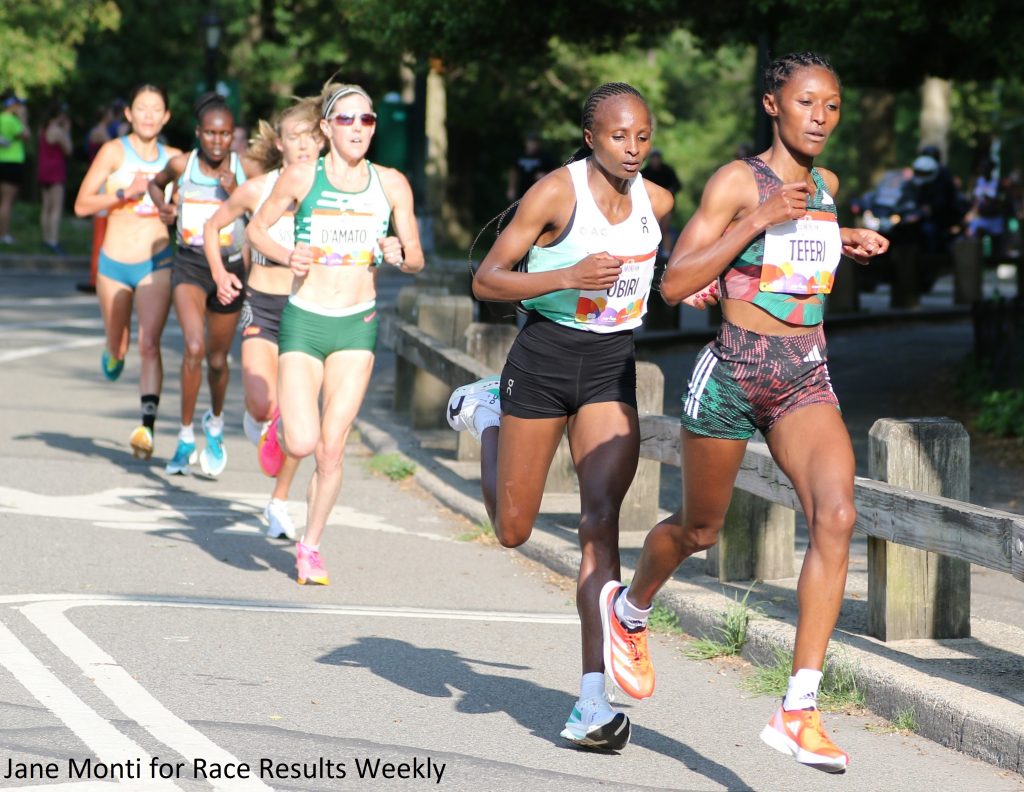 "I think the lady was so strong," Obiri said of Teferi.  She continued: "I was like a little bit tired, but I say, let me try to work hard despite (that) the lady was strong."
In the battle for third, Sisson was ahead of Galvan at the 6-mile mark, but the Mexican Olympian proved too strong in the final 300 meters, edging Sisson for third, 31:14 to 31:16.  Both women set personal bests.
"I was definitely paying for it the last couple of miles," Sisson said of the early fast pace.  "I don't regret it.  Laura was strong at the end.  I wish I had another gear, but she was finishing really well the last 100 meters, so I really couldn't respond to that."
Under both USA Track & Field and World Athletics rules, Teferi's time cannot be considered for a USA all-comers record because this year's Mini course was slightly downhill.  The rules limit elevation loss for a road race to 1 meter per kilometer of race distance, and today's race was measured at 1.53 meters per kilometer downhill.  Nonetheless, Teferi's time (a personal best) was excellent considering the hilly nature of the course and the fact that no pacemakers were used.  She was clearly pleased with her win which brought her a $10,000 payday.
"I'm very happy," she said.  "I praise God who helped me to win."
Down the finish order, D'Amato beat Limo for fifth place, 31:23 to 31:27.  The American loved the atmosphere of today's race and felt she was making good progress in her training.
"This is 11,000 women out here," D'Amato said, her eyes widening.  She continued: "It's incredible to be with a bunch of women in the park all, like, working their hearts out.  It's a really, really special day in New York."
In the wheelchair competition, Susannah Scaroni won her fifth straight Mini by over four minutes.  Her time of 21:06 was an event record, and she won $2,500 in prize money.
While the official finisher totals were not yet available, the race surely broke it's previous finisher record of 8,885 from 2019.  It was –and will be– the largest all-women's race in the United States this year.
Top Results
Senbere Teferi (28) ETH – 0:30:12
Hellen Obiri (33) KEN – 0:30:19
Laura Galvan (31) MEX – 0:31:14
Emily Sisson (31) USA – 0:31:16
Keira D'Amato (38) USA – 0:31:23
Cynthia Limo (33) KEN – 0:31:27
Emily Durgin (29) USA – 0:31:35
Kellyn Taylor (36) USA – 0:32:15
Edna Kiplagat (43) KEN – 0:32:17
Emma Grace Hurley (25) USA – 0:32:32
Tristin Van Ord (28) USA – 0:32:34
Olivia Pratt (29) USA – 0:32:38
Dominique Scott (30) RSA – 0:32:43
Nell Rojas (35) USA – 0:32:48
Anne-Marie Blaney (29) USA – 0:32:57
Susanna Sullivan (33) USA – 0:33:04
Marielle Hall (31) USA – 0:33:13
Lily Partridge (32) GBR – 0:33:15
Katrina Spratford-Sterling (33) USA – 0:33:21
Mia Behm (33) USA – 33:35
More results here
Post race videos