Lamecha Girma Runs 7:52.11 World Record in Steeplechase on Crazy Night in Paris
By
Alex Geula
Friday's Meeting de Paris was the most spectacular night in the 13-year history of the Wanda Diamond League. The French crowd got to see world records in the men's 2-mile (Jakob Ingebrigtsen, 7:54.10), men's steeplechase (Lamecha Girma, 7:52.11), and women's 5000 (Faith Kipyegon, 14:05.20) as well as a world-leading 1:55.77 British record by Keely Hodgkinson in the 800 and a victory by Marileidy Paulino (49.12) in the 400 over Sydney McLaughlin-Levrone (49.71) in the latter's first DL appearance in four years.
We've broken our meet recap into three parts. The 2-mile and 5000 get their own articles (links below) while we recap the steeple and the other marquee events in this article.
LRC Jakob Ingebrigtsen Obliterates 2-Mile World Record with 7:54.10 in Paris
LRC Faith Kipyegon Runs 14:05.20 to Break 5,000m World Record in Paris
*Full results
Article continues below player.
Men's 3000m Steeplechase: Mr 2nd Place, Gets His Second World Record of 2023
For most of his career, Lamecha Girma was known for finishing second.
Embed from Getty Images
At the 2019 World Championships in Doha, Girma got the silver medal in the steeplechase losing to Conseslus Kipruto of Kenya. At the 2021 Olympics in Tokyo, he got the silver medal losing to Soufiane El Bakkali. At the 2022 World Indoor Championships in Belgrade, he got the silver medal in the 3,000m flat losing to his fellow countryman Selemon Barega. Finally, in Eugene last year for the World Championship, he got the silver medal once more, losing to the man who is now his fiercest rival, El Bakkali. 
Girma's fate has changed in 2023 and second took on a whole different meaning Friday night in Paris as Girma ran a sensational 7:52.11 in the 3000m steeplechase to break Saif Saaeed Shaheen's nearly 19 year-old world record of 7:53.63. It was Girma's second world record of 2023, to go with his 7:23.81 indoor 3000m record.
The Race
Embed from Getty Images
Girma was hot on the pace right from the gun, pressing the two pacers in front of him as soon as the three of them were in a single-file line together. The wavelight technology was set to the WR of 7:53.63, so Girma knew exactly where he was in relation to making history. The pacemaker's assignment was not clear watching the race, as Girma went by the second pacemaker with more than four laps remaining in the race. Passing the pacemaker who was on schedule for the world record displayed the fact that Girma meant business. The wavelights were well behind him as he hit 4:41 with three laps remaining. His second kilometer was a blistering 2:35, hitting 2,000m at 5:12.5, a full six seconds faster than Shaheen during his world record performance. As the laps went on, Girma definitely was tiring, as the water jumps looked to take more and more out of him. As he hit the bell, the distance from him to the front of the wavelight (the previous WR) was shrinking. The Ethiopian was about even with the lights with 300m to go and looked exhausted, but he found another gear and lengthened his lead from the lights with 200m to go and cleanly cleared the final two barriers en route to his new WR of 7:52.11. 
Quick Take: Girma's WR was no surprise to him
On the LetsRun.com homepage, 80% of voters said that Girma would not take down the steeplechase world record. Nonetheless, there was reason to believe in Girma tonight. Girma broke Daniel Komen's indoor 3,000m WR less than four months ago and Komen's records are known as some of the most elusive on the books. If that was too far away for your liking, Girma also ran a 7:26.18 outdoor 3,000m in Doha in May to beat a very strong field. He even beat his rival El Bakkali by approximately seven seconds in that race. 
After the race, Girma said "I felt so fast during the race, so confident. The world record is not a surprise, I planned to beat it tonight in Paris. It's a result of full determination." 
Quick Take: El Bakkali is still the favorite to win the World Championship
Embed from Getty Images
As any dedicated track fan knows, championship-style racing is a whole different ball game than time trials like tonight. Last year's world final was won in a time of 8:25.13, when both El Bakkali and Girma had sub-8 PBs. In Tokyo, the winning time was 8:08.90. El Bakkali won both of those races with his devastating final 400m. There is not a steeplechaser in the world that can currently match El Bakkali's kick over the final 400m of a race. The last time the tables turned and Girma beat El Bakkali was in the 2019 World Championship final, when the winning time was 8:01.35 from Kipruto. Girma was second in 8:01.36 and El Bakkali was third in 8:03.76. There is no debate that El Bakkali is a much more complete and better steeplechaser now than he was in 2019, but it is also no coincidence that the faster race was the race that he did not come out on top. Girma has the better fitness over 3,000m flat as evidenced by the Doha Diamond League race. 
The way he finds himself on top of the podium with a gold medal around his neck in Budapest this summer is if he pushes the pace from the gun and makes the winning time well under 8 minutes. Honestly, the pacers in today's race did not really do too much. Girma was pushing the pace himself and passed the second pacer before his job was even finished. This effort today was impressive and it will take another one like it in order for him to defeat the reigning World and Olympic champion. 
(Outside the US and need a VPN to watch the highlight below? Click here for the one we recommend)
Results
| | | | |
| --- | --- | --- | --- |
| 1 | ETH | GIRMA Lamecha | 7:52.11WR  |
| 2 | JPN | MIURA Ryuji | 8:09.91NRPB  |
| 3 | ESP | ARCE Daniel | 8:10.63PB  |
| 4 | ETH | SIME Abrham | 8:10.73PB  |
| 5 | TUN | JHINAOUI Mohamed Amin | 8:12.19NRPB  |
| 6 | KEN | KIGEN Benjamin | 8:13.49SB  |
| 7 | ESP | RUIZ Víctor | 8:13.89PB  |
| 8 | KEN | KIBIWOT Abraham | 8:16.13  |
| 9 | USA | ROTICH Anthony | 8:16.27PB  |
| 10 | KEN | SEREM Amos | 8:16.94SB  |
| 11 | ESP | CARRO Fernando | 8:17.06SB  |
| 12 | FRA | BEDRANI Djilali | 8:21.70  |
| 13 | FIN | RAITANEN Topi | 8:22.00SB  |
| 14 | ETH | AMARE Hailemariyam | 8:25.25SB  |
| 15 | ETH | MENGISTU Tegenu | 8:30.23SB  |
| 16 | ITA | ZOGHLAMI Osama | 8:31.88  |
| DNF | ESP | ABOUJANAH El Mehdi |   |
| DNF | KEN | KIPSANG Lawrence Kemboi |   |
| | | | |
| --- | --- | --- | --- |
| 1000 | KEN | KIPSANG Lawrence Kemboi | 2:36.65 |
Quick Take: Girma will try to break the Ethiopian 1500 record in Ostrava
In his post-race interview, Girma told the press that "I'm gonna run in Ostrava, but not in the 3,000m steeple. I will run in the 1500m." This move by Girma is surprising, but it could prove to be historic as he will be looking to go very fast in Ostrava on June 27. Girma's current PB is 3:33.77 from September 2020, but he can go much faster than that; both of his 3,000m performances earlier this year (7:23 and 7:26) indicate that. The Ethiopian 1500 record is 3:29.91, set by Aman Wote in 2014. Girma has beaten a couple men this year in 3000s that have gone under that time including Mo Katir of Spain and Timothy Cheryuiot of Kenya. A fast 1500m time for Girma could prove to be beneficial in that final lap of the steeplechase final in Budapest. 
Women's 800m: Keely Hodgkinson blasts a pr
The Race: It seems that recently, whenever a racer immediately goes after the pacer in front, something special is going to happen. Keely Hodgkinson of Great Britain went out extremely hard out of the gates and looked like she was going to be in front of the pacer after the first 100m. The 21-year-old Olympic silver medalist settled into the race and was directly behind the pacer for the rest of the first lap, hitting the bell at 57.7 seconds. Hodgkinson attacked the second lap of the race, passing the pacer with 300m to go and forcing the pacer to step off on the inside of the track. Hodgkinson opened up a huge gap on the back straight and lengthened the gap until the finish, running a world lead and national record of 1:55.77. 
Hodgkinson's race also sent a message to the woman who placed first (and one spot ahead of Hogkinson) in the previous Olympic Games and World Championships, Athing Mu. While Mu's PB is still a little more than a ½ second faster than this performance by Hodgkinson, she has not raced at all in 2023. Hodgkinson on the other hand, is undefeated in 2023, winning 8 races in a row. In Mu's Olympic championship season, she opened up in 1:57.73 – the fastest she has ever opened up an 800m. Hodgkinson just ran almost 2 full seconds faster than that in her opener. 
Last year, Hodgkinson opened up in a 1:58.63 and ended the season with an over 2-second improvement to 1:56.38. A similar improvement this year would have Hodgkinson in the 1:53s. Although Mu has a bye to the World Championships for the 800m, this race should be a wake-up call for Mu. Mu has previously said she will open her season in the 1500 at the NYC Grand Prix on June 24.
American Ajee Wilson got second in 1:58.23.
(Outside the US and need a VPN to watch the highlight below? Click here for the one we recommend)
| | | | | |
| --- | --- | --- | --- | --- |
| 1 | 5 | GBR | HODGKINSON Keely | 1:55.77NRWLPB  |
| 2 | 8 | USA | WILSON Ajee | 1:58.16SB  |
| 3 | 4 | JAM | GOULE Natoya | 1:58.23SB  |
| 4 | 7 | AUS | BISSET Catriona | 1:58.55  |
| 5 | 3 | BEN | YARIGO Noélie | 1:58.65NRPB  |
| 6 | 6 | UGA | NAKAAYI Halimah | 1:58.81SB  |
| 7 | 2 | USA | HURTA-KLECKER Sage | 1:59.01SB  |
| 8 | 1 | FRA | KANDISSOUNON Léna | 1:59.65PB  |
| 9 | 1 | SVK | GAJANOVÁ Gabriela | 1:59.86PB  |
| 10 | 6 | USA | ROGERS Raevyn | 2:00.00SB  |
| 11 | 4 | FRA | RAHAROLAHY Agnès | 2:00.14SB  |
| DNF | 8 | POL | WYCISZKIEWICZ-ZAWADZKA Patrycja |   |
Men's 100m: Lyles Looks Strong, a Lot of Question Marks for Jacobs
The Olympic Champ Marcell Jacobs got an amazing start, but the tides quickly turned as virtually everyone in the race left Jacobs behind in his season opener. The now Puma-sponsored Italian dropped off very quickly, finishing in a poor time of 10.21. This comes after he scratched himself out of his previous two races due to injury.
Noah Lyles, however, continued his strong start to the season as he came on late and won the race in a time of 9.97. This was a very strong showing for Lyles as he beat a fairly solid group of 100m men, including African champion and world leader Ferdinand Omanyala along with U20 World champion Letsile Tebogo of Botswana. Lyles has stated that he wants to do the 100m/200m double this year at the World Championships, and this was a huge step in the right direction for him. Winning a Diamond League 100m proves that he can hang with the best the world has to offer over 100m. Of course his countryman and the best 100m runner in the world right now, Fred Kerley, who is undefeated in 2023, did not race tonight. You can only beat what's in front of you and Lyles did just that tonight. 
This sets up Lyles and Kerley for an enormous matchup on June 24 at Icahn Stadium for the USATF NYC Grand Prix. This matchup will be run at Lyles' main event: the 200m. 
(Outside the US and need a VPN to watch the highlight below? Click here for the one we recommend)
Men's 800m: 7 Runners Sub-1:44 in a Blanket Finish
In a typical Diamond League, this race would have been the highlight. Three world record performances in the span of two and a half hours made this year's meet in Paris different. Meeting de Paris was so good that it even delivered big time in the non-world record races. 
The race played out interestingly as it did not seem like a blanket finish was upon us until the last 100m of the race. The pacer took the race out well, with the green lights set to the previous world-leading time of 1:43.32 by Emmanuel Wanyonyi. The 400m split for the first runner behind the pacer was 50.3, and it was Marco Arop of Canada. Arop was aggressive directly after the bell, moving up on the pacer right as he stepped off with 300m left in the race. Arop led all of the backstretch, even creating a three-meter gap on the field with 200m to go. At the other end of the race, reigning Olympic and world champion Emmanuel Korir was in dead last at 600 and completely out of the race. Coming around the final turn, five runners made a huge surge and whipped out of the inside lanes to create a blanket finish. Wanyonyi took the win by .03 seconds, running a PB and WL of 1:43.27. Arop finished in second right behind Wanyonyi. Seven runners went sub-1:44, with six of them running PBs. Emmanuel Korir finished last in a time of 1:47.71.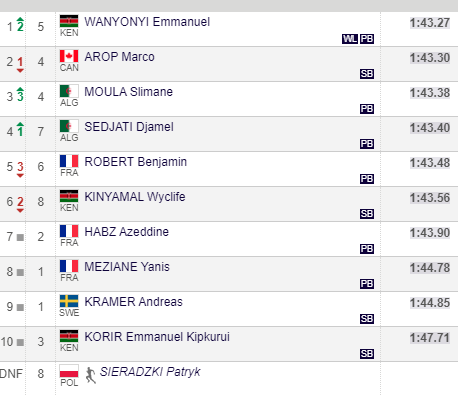 Quick Take: We're not in panic mode yet for Korir, but close to it
This is the second race in row for Emmanuel Korir in which he did not perform to his high standard. He finished 8th in Rabat in 1:48.82 which was obviously a disappointment for him. Last year, however, Korir placed poorly in his first two races as well, placing 6th and 7th, at the Montreuil International Meeting and Rabat Diamond League, with slightly faster times. All three medalists from last year's World Championship 800m final were in this race. Sedjati of Algeria, the silver medalist, finished 4th in 1:43.40. Arop, the bronze medalist, finished second and Korir, the gold medalist, finished last. In fact, five out of the eight finalists in last year's World Championship final over 800m were in this race. If the world and Olympic Champion doesn't rebound sooner rather than later, we might see a changing of the guard in the event he has dominated for the last two years. 
Women's 400m: Paulino beats SML in her Return to the Diamond League
In her first Diamond League race since 2019, Sydney McLaughlin-Levrone (SML) burst out of the blocks. The 400mH WR holder ran a first 100m of 11.59, which was 0.22 faster than anyone else in the entire race. Even more impressive, she had already passed Marileidy Paulino after the first bend. In her post-race interview, McLaughlin-Levrone said that her coach, Bobby Kersee, told her to "take it out and see how she felt." SML looked very strong through the 200m mark, running 22.66, but quickly started to fade through the back half of the race. Current world leader Paulino hit 200m in 23.43, but came back strong in the last 200m compared to SML. The Dominican ran a final 200m of 25.69 compared to SML's 27.05. Paulino is the woman to beat over 400m so far this year, as she is the world leader and undefeated.
Paulino was confident in her abilities coming into the race and about her preparations for the race. She stated that "I am not surprised about this victory and about the time and even not about the MR. I am very well prepared. My race went really, really well. I felt great during the race. But I had kind of a bad start. Yet I was able to get back into the race in the second half and especially at the end. I had a great preparation."
SML is undecided about her future plans for the World Championships in August in Budapest. While this race does give some type of indicator, it was still only her season opener of 2023, and one she said she was happy with. There will definitely be adjustments for McLaughlin-Levrone in the tactics department, and more will certainly be in store for her in the flat 400m later this season. 
(Outside the US and need a VPN to watch the highlight below? Click here for the one we recommend)