CARDINAL RULES: Stanford's Robinson & Hicks Go 1-2 in NCAA 10K Final
By
Jonathan Gault
AUSTIN, Tex. – With 500 meters to go in Wednesday's NCAA 10,000-meter final, it was anyone's race. Eight men – a third of the 24-person field – were closely bunched on a steamy 81-degree night in Texas. 400 meters later, after a breakaway from teammates Ky Robinson and Charles Hicks, it was clear: this race belonged to Stanford University. All that had to be settled was whether Robinson would take his first NCAA title or Hicks, the NCAA cross country champion, would claim his second.
Robinson was the champ on this night as the 3:55 miler pulled away from Hicks on the home straight thanks to a terrific 54.19 last lap to win in 28:10.96 to Hicks' 28:12.20 (55.12 last lap).
"He's got that strength, but I feel like I've got that short-distance speed, that acceleration," said Robinson.
But the real winner was Stanford, which reasserted its dominance of the race it used to own. Oregon was the last school to go 1-2 in this event, with Edward Cheserek and Eric Jenkins doing it in 2015, but it was practically routine during the glory days of the Stanford "Machine" under Vin Lananna. From 1998-2000, Stanford went 1-2 in the men's 10,000 at NCAAs three years in a row (including two 1-2-3 finishes!) through the likes of Brad and Brent Hauser, Nathan Nutter, and Jason Balkman. Now we can add Robinson and Hicks' names to the list of Cardinal men to have conquered the NCAA.
Article continues below player.
"That's incredible, right?" Hicks said. "If you said before the race if we want anyone else to finish ahead of us, it would be each other. So [I'm] absolutely over the moon to see what we did as a program."
This was not just a program accomplishment, though. Hicks, a 21-year-old Brit by way of Jacksonville, Fla., and Robinson, a 21-year-old Aussie from Brisbane, live down the hall from each other, and after hundreds of shared miles, their bond runs deep. This is a moment they'll be reminiscing over long after running their final competitive steps.
"We're best friends both on the track and off it," Robinson said. "To have someone that is your best friend up there with you in the race over that final finish line? Fantastic."
The Race
The warm, humid weather (dew point of 66) did not lend itself to fast distance times, but Gonzaga's James Mwaura and Oklahoma State's Isai Rodriguez were determined to push the pace and the field hit 5k in 14:10 – a quick split considering the conditions. Most of the field was still together at that point, but the pack would eventually begin to thin. Defending champ Dylan Jacobs of Tennessee the most significant casualty as he would begin to fall off just after 7k and wind up 14th.
From there, the pace would remain pretty consistently in the 68-second-per-lap range until two to go, when the racing really began. Robinson's move to the front of the pack with 500 meters to go was the most significant of the race to that point, and once he attacked, he would not relent, blowing the lead group of eight apart over the final lap. Hicks moved up to second on the back straight and was just one step back of Robinson over the final turn. But Robinson found an extra gear on the home straight, celebrating just before the line before turning to embrace his teammate. Robinson's final 800 meters? A magnificent 1:56.85.
BYU's Casey Clinger, 2nd in the 5k and 4th in the 3k indoors, continued his fine 2023 campaign by taking 3rd in 28:13.63 as Mwaura and Rodriguez were rewarded for their hard work by taking 4th and 5th.
Results
Pl
Athlete
Time
1
Ky ROBINSON
Stanford [JR]
28:10.96
2
Charles HICKS
Stanford [JR]
28:12.20
3
Casey CLINGER
BYU [JR]
28:13.63
4
James MWAURA
Gonzaga [SR]
28:14.64

 SB 

5
Isai RODRIGUEZ
Oklahoma State [SR]
28:15.48

 SB 

6
Graham BLANKS
Harvard [SO]
28:15.90

 PB 

7
Barry KEANE
Butler [SR]
28:17.21
8
Patrick KIPROP
Arkansas [JR]
28:27.54
9
Victor KIPROP
Alabama [SO]
28:29.28
10
Cormac DALTON
Tulsa [SR]
28:35.83
11
Kirami YEGO
South Alabama [JR]
28:57.61
12
Nickolas SCUDDER
Charlotte [JR]
28:58.15
13
Scott BEATTIE
Tulsa [SR]
29:10.31
14
Dylan JACOBS
Tennessee [SR]
29:12.47
15
Bob LIKING
Wisconsin [JR]
29:15.10
16
Brandon GARNICA
BYU [SR]
29:38.56
17
Paul O'DONNELL
Syracuse [SR]
29:41.18
18
Aidan O'GORMAN
North Florida [JR]
29:43.69
19
Haftu STRINTZOS
Villanova [JR]
29:45.22
20
Perry MACKINNON
Cornell [SR]
29:46.87
21
Alex MAIER
Oklahoma State [JR]
29:57.86
22
Ben PERRIN
Montana State [JR]
29:58.53
23
Acer IVERSON
Harvard [JR]
30:35.64
Marcelo ROCHA
Providence [SR]
DNF
Quick Take: This was a super impressive performance given the conditions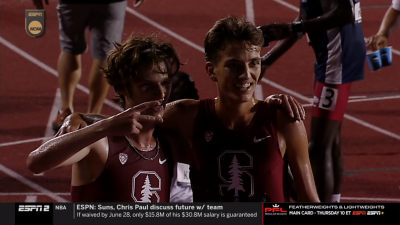 The last time NCAAs were held in Austin, in 2019, the 10k was held in very similar conditions – 81 degrees, 79% humidity in 2019 compared to 81 degrees, 61% humidity tonight. In 2019, BYU's Clayton Young won the title in 29:16.60 and ran his last lap in 55.88. Robinson ran more than a minute faster and still closed more than a second faster than Young for his last lap – 28:10.96 and 54.19. Hicks and Robinson run a lot of workouts together, but Robinson admitted that he usually comes out on top when it comes time to kick, and he backed that up with the spotlight on him tonight.
Robinson has traveled an interesting road to become an NCAA champion. This is Robinson's third NCAA outdoor championship in his third different event – he was 6th in the steeple in 2021 and 4th in the 5k last year. After running 3:55 in the mile indoors and finishing 2nd in the Pac-12 1500 this spring, Robinson, who was also 23rd at World XC in his native Australia in February, had a lot of options when it came to which events to pursue at NCAAs. He admitted it was a slight gamble to run the 10,000 but it's now clear that his combination of strength and speed makes Robinson a very potent force in that event. Both he and Hicks will return on Friday for the 5,000 final.
Quick Take: Charles Hicks was overjoyed to go 1-2 and felt some redemption after a disappointing indoor champs
Considering Hicks won the NCAA XC title in November, he was surprisingly uncompetitive in the 5k at NCAA indoors, finishing 9th. Robinson, who was the NCAA indoor 5k runner-up in 2022, did not have a good meet either, taking 7th in the 5k and 10th in the 3k. Hicks said it felt good to be back at the front today and believes the indoor results were a product of Stanford putting all of their focus on the outdoor campaign.
"We were focused on what we wanted to do in the outdoor season and that takes sacrifice," Hicks said. "It's not always easy to see when you're in the moment that you're actually sacrificing, but when it pays off, it pays off and I think we played our cards right."
Stanford coach Ricardo Santos
Quick Take by Robert Johnson: Dylan Jacobs was a class act after this one
Jacobs didn't have a good race but he handled the disappointment in great fashion. Rather than pout or avoid the media, he was gracious with his time and said sometimes you have a bad day.
Quick Take by Robert Johnson: Remember neither Robinson nor Hicks won Pac-12s this year
At Pac-12s, Robinson worked on his speed, running the 1500 (2nd 3:42.99) and 5000 (3rd 14:14.44) while Hicks ran just the 10,000 (2nd, 28:25.12). The winner of the 10,000 and 5,000 at Pac-12s was Washington's Brian Fay, who will run the 5,000 fresh at NCAAs on Friday. After tonight's 10,000 race, LetsRun.com co-founder Robert Johnson bumped into a top NCAA coach and said to him, "What's Brian Fay thinking after seeing this race? Is he regretting not running the 10?" The coach replied with something along the lines of, "What? He wasn't beating either of those Stanford guys tonight. I heard Hicks totally trained through Pac-12s and ran 115 miles that week."
It's worth pointing out that runner-up in the Pac-12 5000 was another Stanford guy, Cole Sprout, who had a subpar regional race (14th in the 10,000) and surprisingly didn't make it to NCAAs. Had he made it here, a Stanford 1-2-3 wouldn't have been totally implausible.
Quick Take by Robert Johnson: Harvard's Graham Blanks was sixth but he really wants an NCAA title
We're pleased an exhausted Blanks managed to not throw up on us during this interview.