19-Year-Old Addy Wiley Runs 4:03.39 1500m to Become Fastest US Teenager in History
By
Robert Johnson
Last summer, Addy Wiley, the US high school record holder for 1600 meters, turned heads by reneging on a commitment to distance power Colorado to run for her local NAIA school, Huntington (Ind.) University, whose track program has been rocked by a sordid scandal centered around former coach Nick Johnson. 
(MB: Coach-athlete sex, rape and PEDs at Huntington University? Nick Johnson scandal gets grimmer thanks to David Woods expose)
Article continues below player.
Today in Nashville, Wiley turned more heads by running a huge pb of 4:03.22 in the 1500 meters, using a super impressive 61.33 last lap to win the pro section of the Music City Track Carnival by 2.57 seconds. With that run, the 19-year-old Wiley, who concluded her freshman year at Huntington by winning NAIA titles in the 800 and 1500 last week, is now the fastest teenager in US women's history. Previously that honor belonged to Alexa Efraimson, who ran her lifetime pb of 4:03.39 at age 18 in 2015, while Mary Cain ran her lifetime pb of 4:04.62 at the age of 17 in 2013. Wiley's time was also faster than the 2023 World Championship standard of 4:03.50.
Wiley entered the race with a personal best of 4:11.43, which she ran to finish 5th at the World U20 Championships in 2022. Wiley is now the second fastest US collegian in history. Only Jenny Simpson, who ran 3:59.90 for Colorado at the 2009 Pre Classic as a 22-year-old, has run faster.
From a performance standpoint, Wiley has proven all of the critics who said a top talent shouldn't go to an NAIA school wrong.
However, the questions as to whether it was the right decision may never be settled as Wiley chose Huntington in large part due to her close ties to Nick Johnson and his wife Lauren. Lauren actually coached Wiley for her high school 1600 record run and rabbited the race. She also coached Wiley last fall at Huntington in cross country before being placed on leave due to the scandal.
Nick Johnson has admitted to sleeping with ex-athletes and was convicted of a felony and served a jail sentence for creating an alias to trick a mother so he could take a recruit on a trip out of state, where he shared a hotel room with the recruit. He has been accused of much more in a civil suit, including rape and providing PEDs to athletes.
Off the track, Wiley's decision to attend Huntington is a messy story. On the track, however, Wiley just ran one of the most beautiful runs by a US teenager in history.
Full Results for 1500 (Full Music City Track Carnival Results)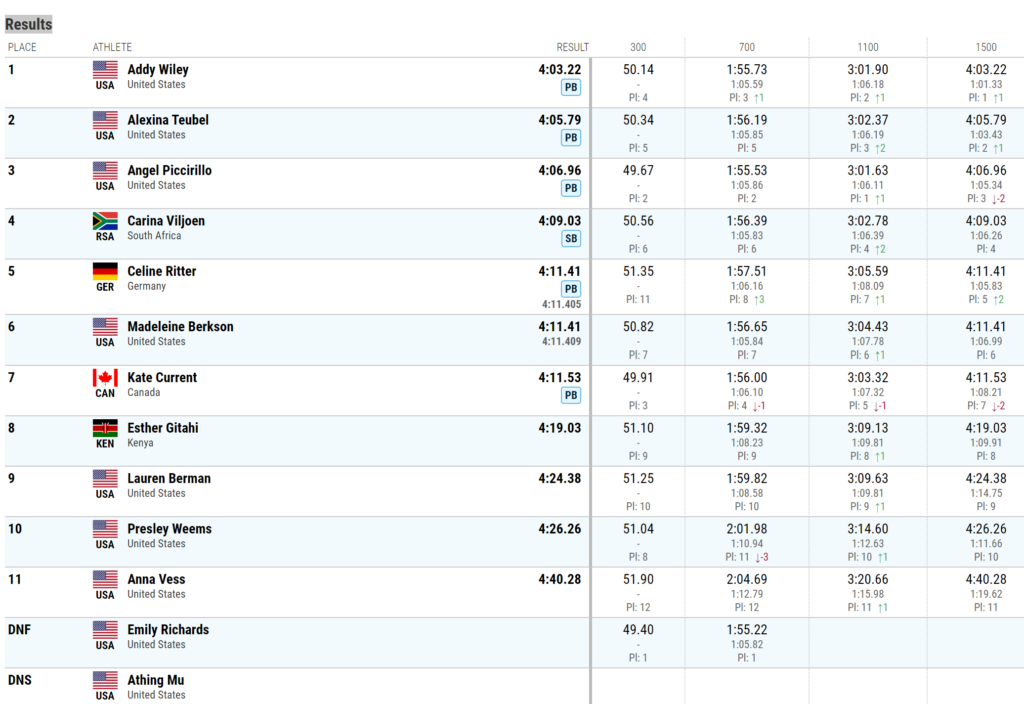 Race video:
Post-Race interview with Wiley:
Talk about Wiley's amazing run on our world-famous messgeboard.