Bonus Podcast: Who is more likely to make the 2024 Olympic team – Galen Rupp or Donavan Brazier? Is there a new HSer as good as Tuohy? Who is a better pro prospect Nico or Katelyn?
by LetsRun.com
March 17, 2023
To listen to a second podcast each week – the Friday 15, you need to be a Supporter's Club member. Join today. If you are an SC member, it's should e in your private feed now.
On this week's Friday 15, we start with a dicey topic but one that a female, sexual assault survivor brought up with us this week. Should  SafeSport, which was created to protect teenage gymnasts, be devoting some of its limited resources to cases involving highly paid, professional, adult runners? Our friend thought not.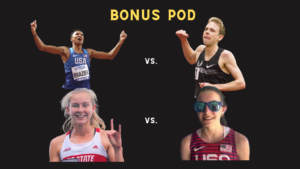 Then we wonder about the futures of Galen Rupp and Donovan Brazier? Which of the two, both of whom have been battling injuries of late, is more likely to make the US Olympic team? Which of the two is more likely to make an impact if they make it to Paris?
Article continues below player.
Then we turned our attention to the 2023 United Airlines NYC Half. Is Jacob Kiplimo the future or can Joshua Cheptegei regain his crown as the king of distance? In the women's race, Molly Huddle is a key figure for us and don't be surprised if Diane van Es of the Netherlands turns some heads.
Along the way, we also wonder if Ellie Shea is as good as Katelyn Tuohy and Rojo apologizes for saying that Nico Young was a better pro prospect than Katelyn Tuohy – or does he?
Also, in light of Ato Boldon's recent tweet, is the men's 100 the must-watch event of 2023?
– Show notes:
– 01:56 SafeSport should it only protect minors?
– 06:03 Donavan Brazier update and debate on his future
– 15:34 Galen Rupp's future, update on NYC Half
– 19:56 Who is more likely to make 2024 Olympic team? Donavan Brazier or Galen Rupp?
– 22:41 NYC Half Men's Preview – Jacob Kiplimo vs Joshua Cheptegei
– 34:20 NYC Half Women's Preview- Hellen Obiri vs Senbere Teferi, Eilish McColgan Out, Molly Huddle running + Budweiser long shot
– 40:36 Rest of Field / King Ches got paid
– 44:35 2023 Barkley Marathon ITB
– 50:36 Is 2023 the Year of the 100m?
– 57:59 Why doesn't Ellie Shea get same attention as Katelyn Tuohy? + Rojo admits he was wrong – or does he?
**Contact us:**
Email podcast@letsrun.com or call/text 1-844-LETSRUN podcast voicemail/text line.
SC members, tell us what you thought of the pod on the SC private forum: SC Podcast Out: NYC Half, Galen Rupp and Donavan Brazier's Future, Katelyn Tuohy 2.0?, Rojo Admits he Was Wrong.