Katelyn Tuohy Breaks NCAA Mile Record as Ajee' Wilson Beats Sage Hurta-Klecker in 1000m
By LetsRun.com
January 28, 2023
NEW YORK – After a night of records in Boston on Friday, another tumbled on Saturday at the Dr. Sander Invitational at the Armory as NC State's Katelyn Tuohy ran 4:24.26 to take down the NCAA mile record of 4:25.91 set by Colorado's Jenny Simpson in 2009. Tuohy finished 3rd in the race behind the On Athletics Club's Alicia Monson (4:23.55) and adidas' Whittni Morgan (4:23.97).
The head-to-head showdown between US stars Sage Hurta-Klecker and Ajee' Wilson lived up to the hype. Hurta-Klecker, who finished 3rd in the 800 at last year's Diamond League final, opened up an eight-meter lead midway through the race, but Wilson timed her kick perfectly, running Hurta-Klecker down over the final straightaway to win in 2:35.97 to Hurta-Klecker's 2:36.37. Jen Toomey's American record of 2:34.19 lived to see another day, and Wilson's undefeated streak at the Armory which spans a decade lives on.
There were also wins for Drew Hunter (3:55.57 in the mile) and South Carolina's Anass Essayi, who moved to #6 in NCAA history with his 7:41.93 in the 3,000.
Women's mile: Monson holds off Morgan & Tuohy as Tuohy breaks collegiate record
After her 4:26 1600 in a workout made the rounds on social media this week, the On Athletics Club's Alicia Monson was viewed as the woman to beat in this race and she embraced that role, gradually turning the screws on a strong field. After hitting 809 meters in 2:14, Monson went 33.00-32.06-32.55 to whittle the field to three athletes with one lap remaining: herself, Tuohy, and 2021 NCAA XC champ Whittni Morgan, now a pro for adidas.
As the bell rang, Tuohy moved away from the rail and onto Monson's shoulder, but Monson responded by upping the tempo. She tried again with 100 to go but could not get around as Morgan passed her into second. Monson, however, was too strong for both of them and held onto win in 4:23.55 thanks to a 31.72 last lap and 2:09 final 800. Morgan ran 4:23.97 for second and Tuohy 4:24.26 for third as the top three all set pbs.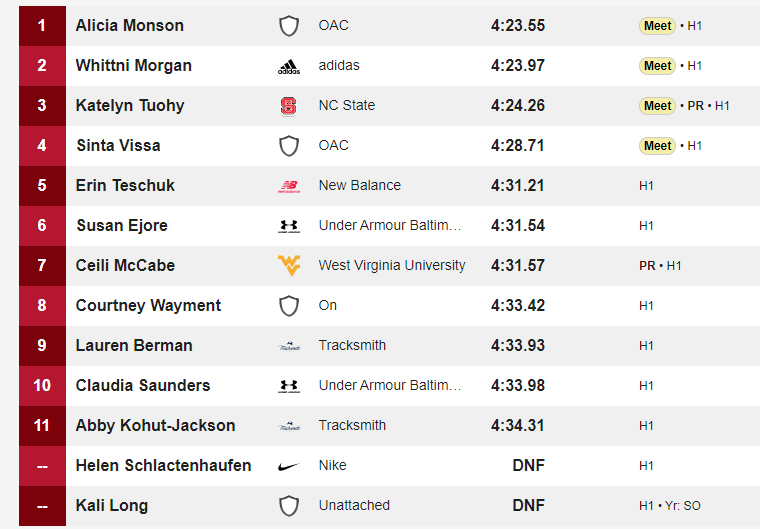 Quick Take: A great opener for Monson
We knew coming in that Monson was fit and 4:23 for a full mile at sea level is pretty similar to the running-start 4:26 she ran at 5,400 feet in Boulder last week. It's worth roughly 4:03/4:04 for 1500 – a big improvement on Monson's 4:07.09 pb from 2021 – and an indication that she's ready to run a very fast 3,000 at Millrose on February 11. Karissa Schweizer's 8:25.70 American record may be on borrowed time.
Quick Take: Tuohy adds collegiate record to her growing resume
Article continues below player.
Tuohy was one of the most decorated high school athletes of all time, with three NXN titles and a number of high school records. Now, midway through her third year at NC State, she's climbing the list of all-time collegiate greats. In 2022, Tuohy won NCAA titles on the track and in cross country, and now she has broken one of the oldest indoor collegiate records on the books, the 4:25.91 mile by one of America's greatest ever runners, Jenny Simpson. Tuohy also crushed the reigning NCAA 1500 champ, Sinta Vissa of the OAC, who was a distant 4th in 4:28.71.
What's scary is that, like Monson, the mile is not even Tuohy's best event. Tuohy will have a shot at another collegiate record as she'll also be in the 3,000 at Millrose in two weeks. Karissa Schweizer has that record as well, running 8:41.60 at Millrose in 2018.
MB: Katelyn Tuohy 4:24 Mile !!!!! NEW NCAA RECORD!!'
Women's 1000: Wilson stretches unbeaten streaks in a thriller
Sage Hurta-Klecker came into this race with the intention of breaking Jen Toomey's 2:34.19 AR, which has stood since 2004. The race was billed as a solo record attempt until Wednesday, when reigning World Indoor champion Ajee' Wilson was added to the field. Hurta-Klecker ended 2022 on a hot streak and was in good shape but Wilson came into the meet riding a string of unbeaten streaks indoors and was always going to be tough to beat.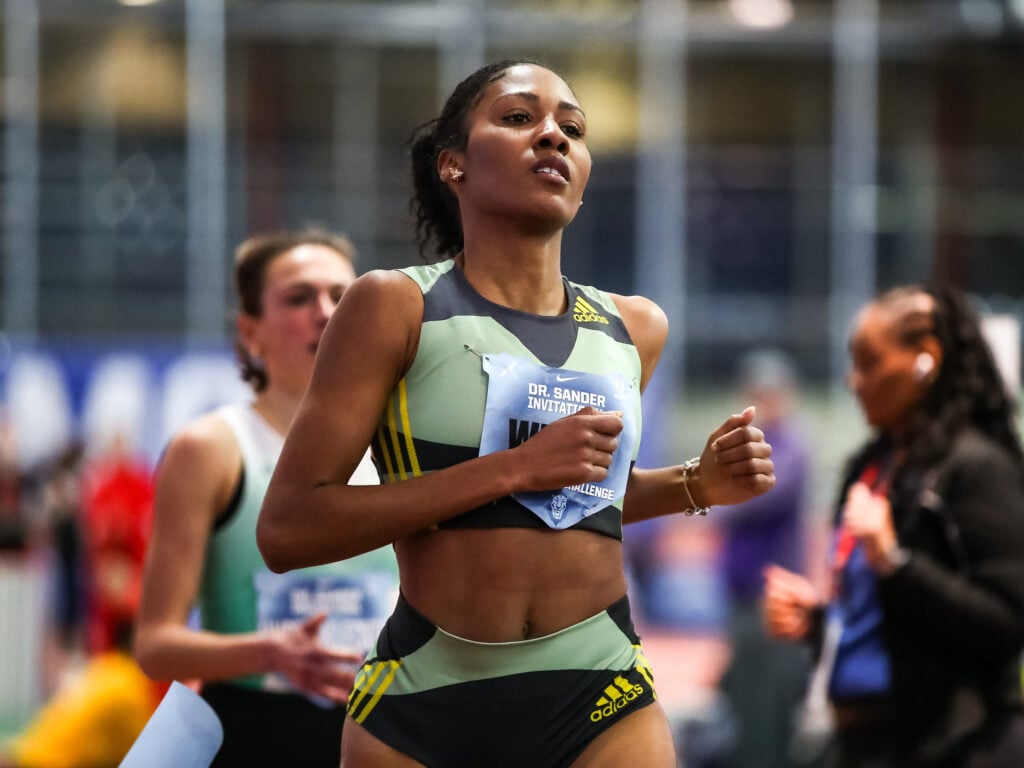 Hurta-Klecker bravely attacked the record and was just about on pace through 600 (1:32.66), having gapped Wilson by that point. But Hurta-Klecker would run 32.16, her slowest lap of the race, for her fourth lap, bringing Wilson within striking distance at the bell. Wilson stuck right on her before passing coming off the final turn to win thanks to a 30.69 last lap.
Wilson stretched her impressive wins streaks to 14 straight indoor races (27 straight against non-DSD athletes) and 17 straight wins at the Armory. Her last loss at the Armory? The Millrose 600 against Alysia Montaño all the way back in 2013.
Quick Take: This was a great race because it was…a race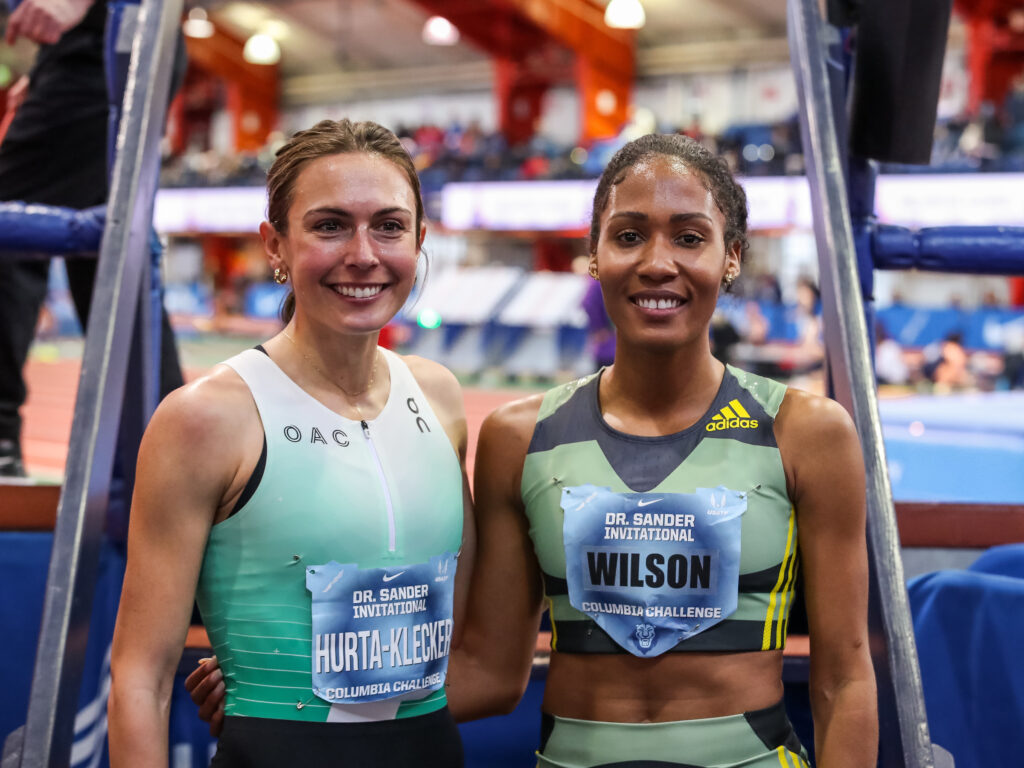 It can be fun to chase records, but on the final lap of this one, it didn't matter whether the American record went down or not. What mattered was which of America's top mid-distance runners would come out on top, and Wilson's late comeback victory provided the most dramatic moment of the day. This sort of race is exactly what we want as fans: two stars unafraid to race each other culminating in an exciting finish.
Quick Take: Ajee' Wilson is the queen of the Armory
For many years, Wilson was known as a front-runner, but she began adjusting her strategy in recent years and it paid off with a World Indoor title last year. Wilson has been running at a world-class level for close to a decade now and has become a smart, savvy racer, particularly indoors. Her performance today demonstrated that.
Drew Hunter Says He's a Miler in 2023
Drew Hunter won the mile in 3:55.57, in preparation for the Millrose Games in two weeks. Afterwards, Hunter joked it was a time that wouldn't even qualify him for NCAAs, and said his focus on 2023 is the 1500m as he feels that is the event he has the best chance to make Worlds.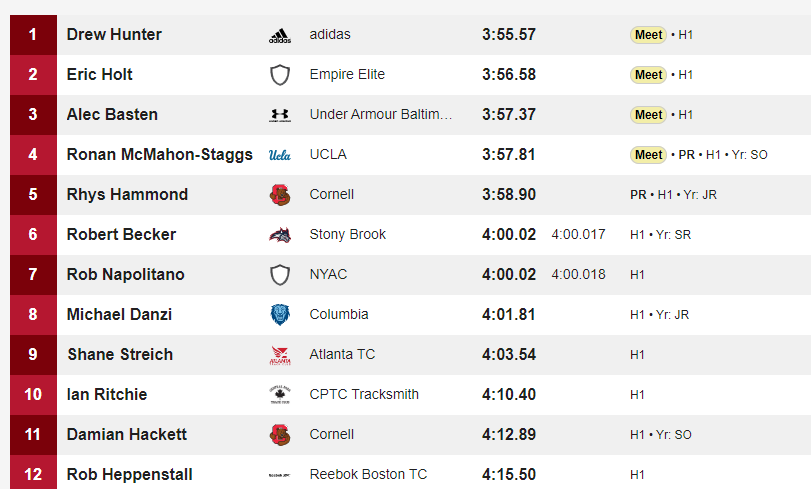 Other Action
Anass Essayi with a quick 3k.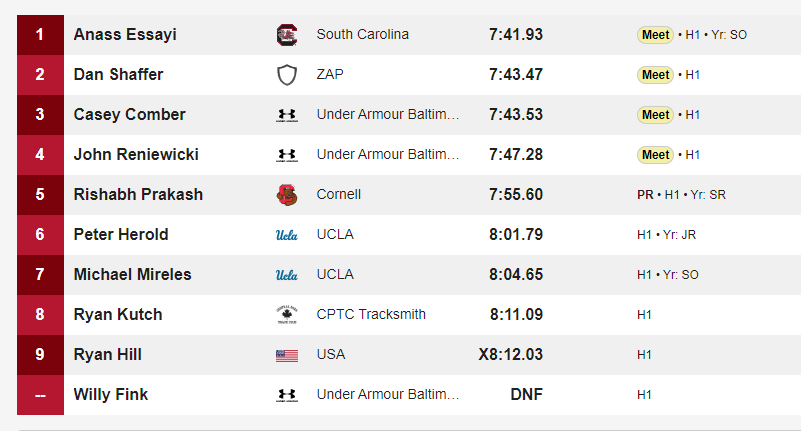 Madison Boreman, who works for Deion Sanders (Coach Prime) at Colorado gets the win in 3k
She's unsponsored now and working a job at the University of Colorado and training with Juli Henner-Benson.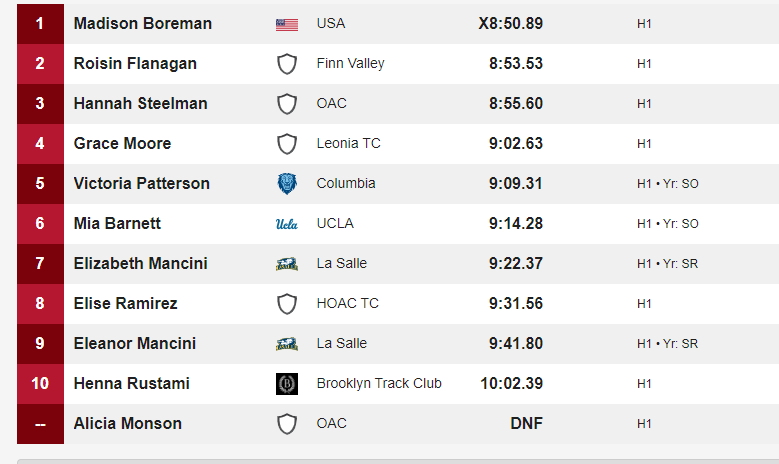 Luke McCann Wins 1000m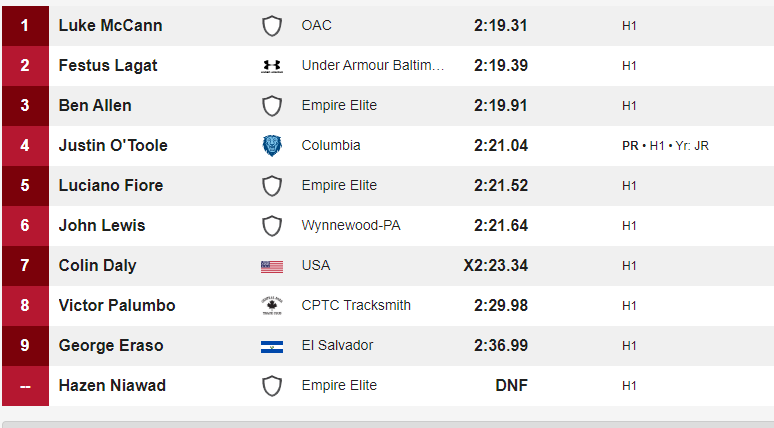 Ritz Talks about the OAC's historic weekend