2022 BAA Half: America's New Half Marathon Star Debuts, Molly Seidel Returns
By Jonathan Gault
November 13, 2022
BOSTON – In wet, dreary conditions, two of American women's distance running's biggest names took a step back toward top-level racing at the 2022 B.A.A. Half Marathon while one of America's newest distance talents announced himself in the men's race.
Up front, it was a Kenyan sweep as Geoffrey Koech (62:02) and Viola Chepngeno (70:40) prevailed in the men's and women's races, respectively. Teshome Mekonen, the Ethiopian-born 60:02 half marathoner who only received his US citizenship in August, was the top American in either race as he finished 4th in 62:28 after hanging with the leaders through 11 miles. 
Article continues below player
Erika Kemp, who is based in Boston with the B.A.A. High Performance Team, was the top American woman in 7th (72:13), but some of the names behind her will be very familiar to US distance fans. Molly Huddle, running her first half marathon since giving birth in April, was 12th in 73:29. A little farther back, Olympic bronze medalist Molly Seidel was 16th in 76:22 in her first road race since this year's Boston Marathon.
The hilly course, which starts and ends in Franklin Park and runs along the city's Emerald Necklace, is not particularly fast to begin with, and while the temperature (low-50s) was good for racing, the rain, which fell intermittently during the race, slowed the times.
Koech and Mekonen were part of a five-man lead pack at 10 miles (47:22) along with Tsegay Kidanu of Ethiopia, Shadrack Kimining of Kenya and former NAIA star and former NAIA star Zouhair Talbi, who was 21st at Worlds in the 10,000 for Morocco this year. Shortly after that, however, Koech broke away, closing in 14:40 for his final 5k to win by eight seconds over Kidanu. It was his second victory in six weeks after winning the Cardiff Half on October 2.
The women's race was tighter, with the outcome still in doubt as the leading duo entered White Stadium, but Chepngeno maintained her lead in something of an upset over Ethiopia's Bosena Mulatie, the 8th placer at Worlds in the 10,000 this year who was second in 70:43. Berlin Marathon runner-up Hiwot Gebrekidan was third in 71:09.
Results plus updates on Huddle, Seidel, and Mekonen below.
Top men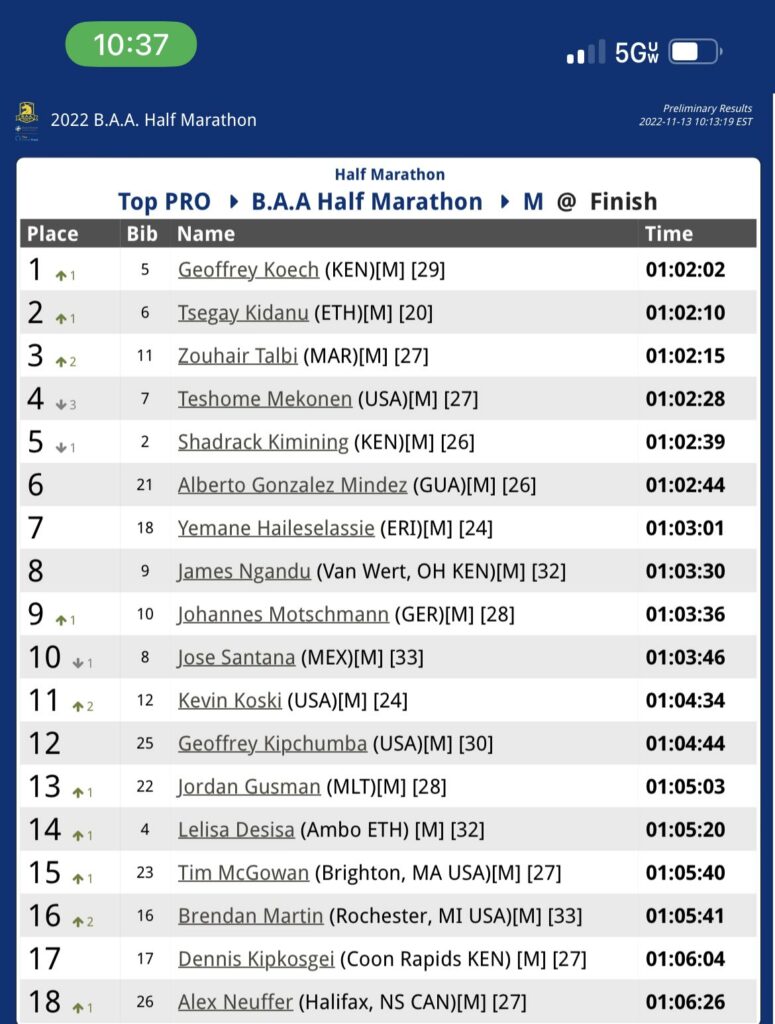 Top women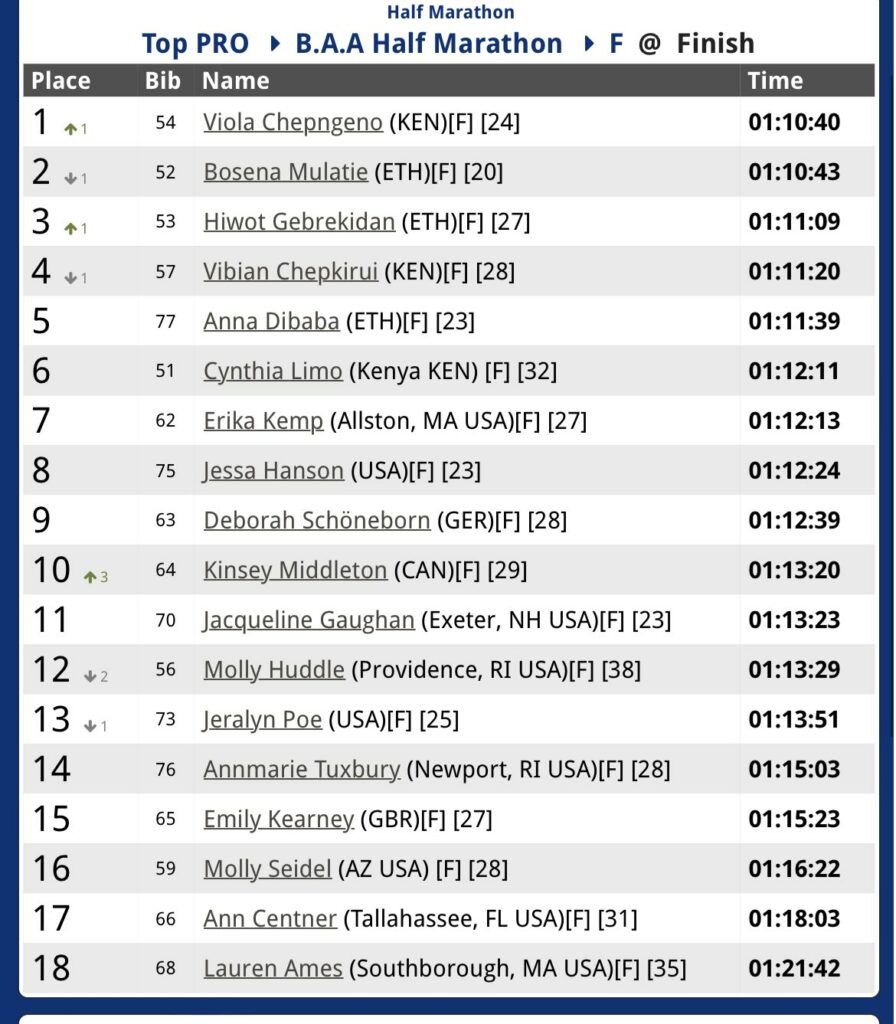 Quick Take: Learn the name Teshome Mekonen
Mekonen was born and raised in the Tigray region of Ethiopia but has been based in the US since 2020 and gained his citizenship in August (we'll have more on his story next week on LetsRun.com). Only four Americans have ever run faster than Mekonen's pb in the half (60:02), and while that time dates from 2018, it's also worth noting that Mekonen raced Conner Mantz at the NYC Half in March of this year and beat Mantz by a minute.
He's clearly one to watch for the 2024 Olympic Marathon Trials, though his two marathons so far haven't gone very well (2:22 in New York last year, 2:13 in Ottawa this year). His performance today was solid — though 62:28 is over two minutes off his pb, the hills and rain slowed most of the field. For reference, men's winner Geoffrey Koech ran 62:02 today but 60:01 at the Cardiff Half in October.
After crossing the finish line in Boston today, Mekonen crossed his arms above his head in a similar gesture to the one made by Feyisa Lilesa at the 2016 Olympic marathon. Mekonen said his gesture was to bring attention to his home region of Tigray, which has been at the center of a civil war between Tigray and the Ethiopian federal government over the last two years. While there was positive news last week with leaders from each side agreeing to a truce, getting humanitarian aid to the area has still been a problem and Mekonen has been unable to communicate with his family and friends in the region.
"In Tigray, still everything is no food, no medicine, no bank, no electricity," Mekonen said.
Mekonen said right now he's already started training for his next marathon, which will come on January 15 in Houston.
"My [training] program, everything is marathon [right now]," Mekonen said. "This [race] is like time trial."
Mekonen said he's hoping to run 2:08 in Houston and finish in the top three.
Quick Take: Molly Seidel — "I'm just in such a drastically better place than I have been for a long time"
Molly Seidel's time today of 76:22 was, by her standards, poor — at her best, she can easily maintain that pace for a full marathon. But Seidel was still in good spirits. For the first time in a long time, she feels she is in a good place with her body and her mental health. Today's race was a chance to lay down a marker of where she's at right now, but she expects to get a lot faster in the coming months.
"While it's frustrating to come out and not be anywhere near the front pack, it's nice knowing that I'm just in such a drastically better place than I have been for a long time," Seidel said.
It has been a rough year for Seidel. After the high of a bronze medal at the Olympics and American course record in the New York City Marathon last year, Seidel has faced a number of challenges in 2022. She dropped out of the Boston Marathon with a hip injury that wound up as a sacral stress fracture. She has also struggled with disordered eating and was forced to withdraw from the New York Mini 10K earlier this year because she was waiting to receive a TUE for Adderall, which she had been taking to manage her ADHD (she no longer takes the drug). But, thanks to the help of her family, her coach Jon Green, and the rest of her support team, Seidel said she is feeling the best — mentally and physically — that she has for a long time.
The stress fracture sidelined Seidel until October, and even once she resumed training, it was mostly cross-training due to an ankle issue that flared up. But she is back to full training now and says she has hit 110 miles the last couple of weeks.
"I'm like one of those steaks that's raw and you throw it on the grill and fast-sear it," Seidel joked.
Quick Take: Molly Huddle's comeback continues — though it's different racing now as a mom
Molly Huddle had already raced twice since giving birth to daughter Josephine in April, both at 10 kilometers (33:59 at the Lone Gull 10K on September 25 and 33:32 at the Boston 10K for Women on October 8). Today was another step forward on her comeback and the longest race she's done so far.
Huddle said her time of 73:29 was slower than she hoped but knew it would be tough after 10 miles — which is exactly what happened. Huddle already has another half lined up in Houston in January and hopes that with two more months of training under her belt, she will be able to feel stronger in that race.
"This [race today] will bring me along, for sure," Huddle said. "I think the next half will be a lot faster."
Huddle also thinks she'll feel stronger once she stops breastfeeding Josephine — she had to pump milk today 20 minutes before her warmup.
Huddle is returning to a faster marathon scene in the United States than the one she left when she took her maternity break. The American record has been broken twice this year and now stands at 2:18:29 to Huddle's occasional training partner Emily Sisson.
"It's crazy," Huddle said. "The women are running so fast and it's so deep up front. From the 2:18 to 2:22 range, we have a lot of women. I'm just hoping to PR. Mine is 2:26 the last time I ran. That was pre-supershoe era."
Huddle will be 39 by the time of the 2024 Olympic Marathon Trials and right now would not be among the favorites to make the team — even in her prime, Huddle was always better at the shorter distances on the roads. She admitted she'd need to catch some breaks to have a shot at the Olympic team in 2024 but isn't completely counting herself out.
"Marathons have a lot of variables, so I'd need a few to go in my favor and against somebody else," Huddle said. "But you never know. The marathon, I think I have a shot."