Devon Allen STUNS Track World & Grant Holloway, Runs 12.84 (#3 All-Time) to Win 110m Hurdles at 2022 USATF NYC Grand Prix
By LetsRun.com
June 12, 2022
In the span of a little less than 13 seconds on Sunday afternoon, Devon Allen completely shook up the men's 110-meter hurdles. Running at the USATF NYC Grand Prix at Icahn Stadium in New York, Allen took down world champion Grant Holloway by running 12.84 seconds – the third-fastest time in history and just .04 off Aries Merritt's 12.80 world record from 2012 (Holloway is #2 at 12.81). It was a humongous personal best for Allen, who had previously broken 13 seconds just once in his career (12.99 in Zagreb in September 2021).
Holloway, the World Indoor champion who was racing for the first time since April 30, got his usual fast start, but Allen was close behind until blowing past Holloway coming off hurdle 8 to take the win (Holloway finished second in 13.06).
Allen was supposed to have spent the start of June training with the Philadelphia Eagles of the NFL after signing a contract as a wide receiver, but he was unable to participate in Organized Team Activities after testing positive for COVID. The upshot for Allen, however, was that it gave his body time to recover from training and he credited the break for his breakthrough today.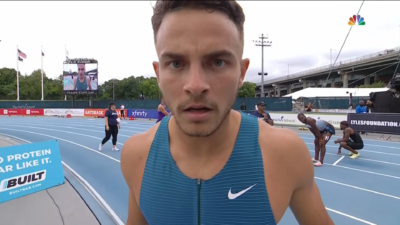 "I think that's all I needed was some fresh legs because I knew it was there," Allen told Lewis Johnson on the NBC broadcast. "It's been there. We've been doing it in training for probably the last six weeks."
Results and analysis below.
Our recap of the rest of the meet is here: 2022 NYC Grand Prix: Noah Lyles Storms To A 19.61 as Aleia Hobbs (10.83) Edges Sha'Carri Richardson (10.85) Six years after the final New York Diamond League, world-class track & field returned to NYC and all eyes were on Sha'Carri Richardson.
Article continues below player.
Results
Wind: +1.6
1. Devon Allen USA 12.84
2. Grant Holloway USA 13.06
3. Daniel Roberts USA 13.17
4. Jamal Britt USA 13.22
5. Shane Brathwaite Barbados 13.40
6. Damion Thomas Jamaica 13.40
7. Ruebin Walters Trinidad & Tobago 13.67
Quick Take: A few weeks ago, Allen said he wanted to break the WR and win Worlds before moving on to the NFL. Might it actually happen?
When Allen was quoted as saying that, we thought to ourselves two things. 1) Does he really believe that? And 2) If he does, that's cute, he's not jaded at age 27 and is still dreaming big like a high schooler, but people don't make breakthroughs like that at his age.
But Allen most definitely did believe it. He's a student of the sport and spoke extensively in a profile by World Athletics as to why he thought hurdlers can drop "two tenths pretty easily."

"I would be remiss if I don't think I could run 12.80 or 12.70. which would put me in world record territory, and obviously if I can run in that 12.80-12.70 boat consistently, that puts me in definite gold medal territory as well.
"The goal is to be consistent from the beginning, so I want to open up the season fast, and then just be consistently fast. If you look at any world record progression or any elite hurdler progression, you look at Aries Merritt in 2012, he ran 12.90 probably like eight times and then ran a 12-hundreth PB to run 12.80. And that's kind of how the hurdles work. You run 13.0, 13.0, 13.0, 13.0 and 12.90. That's kind of what happened with Grant, too. He ran 13.0 so many times and then ran 12.81.  
"The hurdle event is definitely something like that where you run super, super consistent, and then one time it clicks, and you can drop one or two tenths pretty easily." 
The parallels between Allen this year and Aries Merritt in 2012 are striking. When Aries Merritt set his world record in 2012 when he was age 27 – the same as Allen. At the start of the year, no one would have been predicting it as Merritt's pb was just 13.09.
Quick Take: The 110 hurdles could now be the best men's hurdle event at Worlds
The best race of the 2021 Olympics was the men's 400-meter hurdle final featuring Karsten Warholm, Rai Benjamin, and Alison dos Santos. With all three men in their prime, the men's 400 hurdles was expected to be one of the top races of the 2022 Worlds as well.
But Warholm injured his hamstring in Rabat last week and Benjamin hasn't raced in a month. There's a lot of uncertainty in that event right now. Meanwhile the 110 hurdles now features two of the three fastest men in history in Holloway and Allen, NCAA champion Trey Cunningham has run 13.00, and Olympic champ Hansle Parchment has been in great form this year. The US championships two weeks from now should be terrific, and Worlds promises to be even better.
This was big for Allen to beat Holloway as well. After Allen won their first two matchups in 2017 and 2018, Holloway had beaten his rival the last seven times they raced until today.
Quick Take: Could Pro Football be Helping Devon in the Hurdles?
Allen was signed by the Philadelphia Eagles this spring, and is trying to make the team as a kick returner/ wide receiver. So Allen in addition to his hurdling is focused on getting in football shape (training camp starts after Worlds, Allen missed the recent OTA's with Covid).
Allen admitted that doing football again maybe helping him with his hurdling.
*More on Allen and Football and how he said he'll race Eagles' speedster Darius Slay for $10,000
Allen was a guest on the LetsRun.com Track Talk Podcast this past fall after he joined the sub 13.00 club. Then football was still just a dream. *Devon Allen Podcast here
Talk about Allen's incredible run on our messageboards.
More: 2022 NYC Grand Prix: Noah Lyles Storms To A 19.61 as Aleia Hobbs (10.83) Edges Sha'Carri Richardson (10.85) Six years after the final New York Diamond League, world-class track & field returned to NYC and all eyes were on Sha'Carri Richardson.