Alabama's Mercy Chelangat Earns Her 1st NCAA Track Title With Dominant 10,000-Meter Win
by LetsRun.com
June 9, 2022
EUGENE, Ore. – Déjà vu.
For the second straight night, a runner in the 10,000 meters at the 2022 NCAA Outdoor Track and Field Championships jumped out to an early lead and tried to steal the race. For the second straight night, the tactic didn't work as they were caught after 7k (7600 last night, 7200 tonight). But yet again the bold early running was rewarded with a scoring position.
Article continues below player
So hats off to Washington junior Haley Herberg (32:34 pb), the NCAA 5th placer last year, who went out at 5:10 at 1600 and built up a lead that stretched to 26+ seconds at 4400. At 5k (16:27), Herberg's lead was down to 23 seconds and soon it was clear she'd be caught – it was just a matter of when.
In the end, Herberg ended up 7th in 33:20.33 as Albama's Mercy Chelangat eared her first NCAA title on the track in dominant fashion in 32:37.08 as Rice sophomore Grace Forbes was second at 32:48.07. Michigan State senior Jenna Magness was the only other woman under 33:00 in third at 32:59.96.
Chelangat's expected rival, Lauren Gregory of Arkansas, dropped out shortly after reaching 8k in 6th place.
The Race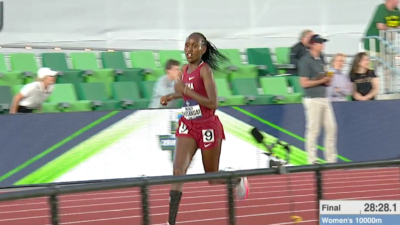 Forbes and Chelangat were part of a six-person chase pack that went after Herberg. As the chase pack got close to Herberg, Chelangat and Herberg broke off. At 7200, Herberg led by 6+ seconds but by 7600 she was caught as Chelangat went hard once she realized Herberg was within striking distance, running the 19th lap in 75.35 and the 20th lap in 73.61 – her fastest of the night save for her final lap of 73.09. Those two hard laps gave her a nice gap on Forbes and Chelangat ran the final 6 laps all alone en route to the title.
We now show you video highlights and results and after that offer a full analysis with post-race interviews.
Results
1 Mercy CHELANGAT JR ALABAMA 32:37.08 SB
2 Grace FORBES SO RICE 32:48.07 SB
3 Jenna MAGNESS SR MICHIGAN STATE 32:59.96 PB
4 Emily COVERT FR COLORADO 33:14.64
5 Alexandra HAYS JR NC STATE 33:16.16
6 Gabby HENTEMANN SO OKLAHOMA STATE 33:18.04 PB
7 Haley HERBERG JR WASHINGTON 33:20.33
8 Charlotte DANNATT SR GEORGETOWN 33:26.78 PB
9 Amelia MAZZA-DOWNIE SO NEW MEXICO 33:31.99
10 India JOHNSON JR COLORADO 33:34.93
11 Jessa HANSON SR NORTHERN ARIZONA 33:35.74
12 Everlyn KEMBOI JR UTAH VALLEY 33:41.50
13 Maggie DONAHUE SO GEORGETOWN 33:42.99
14 Emma HECKEL FR NEW MEXICO 33:43.01
15 Makayla PEREZ JR MICHIGAN STATE 33:43.76
16 Gionna QUARZO SO NC STATE 33:46.78
17 Hannah BRANCH SR UTAH VALLEY 33:49.23
18 Louise LOUNES SO CHARLOTTE 34:04.06
19 Daisy LILJEGREN FR BOSTON UNIVERSITY 34:05.69
20 Katie Rose BLACHOWICZ JR NOTRE DAME 34:09.40
21 Faith LINGA SO TOLEDO 34:19.43
22 Aubrey FRENTHEWAY JR BYU 34:31.59
23 Michaela REINHART SR DUKE 34:52.50
DNF Lauren GREGORY JR ARKANSAS DNF
Quick Take: Mercy Chelangat returns to the winner's circle
Sometimes when runners arrive as NCAA champions, it's natural to wonder if they'll become totally dominant moving forward. But it's hard to stay on top of the NCAA. After winning the March 2021 edition of the NCAA cross country championships, Mercy Cherono ended up having to settle for runner-up honors in the 10,000 last year as well in November's XC championships. Indoors, she was even lower (3rd in 5000,10th in the 5000) but now Chelangat is an NCAA champion once again and the tendency is to think, "Wow she's going to rock the 5000." But hold on – the 5000 is loaded.
Chelangat did tell John Anderson on the ESPNU broadcast that she has more in the tank, but admitted in the mixed zone that it's going to be tough. Athletes like NCAA leader Katelyn Tuohy, NCAA #2 Abby Nichols, and NCAA 3k champ Taylor Roe will all be running and none have 10,000 meters of racing in their legs this weekend. 
"I know for sure the 5k is going to be a little bit challenging because there are some people who will be doing the 5k only so they are fresh coming into the race," Chelangat said.
Chelangat, like last night's men's champion Dylan Jacobs, wore the Nike Vaporflys to aid in her recovery but said she plans on wearing spikes on Saturday.
Quick Take: This was a nice win for Chelangat's family
Last year, Chelangat's brother Vincent Kiprop (also an Alabama runner who graduated last year) memorably cheered her on from the stands only for her to finish second – just as Kiprop himself did in the 10,000 in 2018. So for her to finally win this race made a lot. 
"It made it sweeter to get it," Chelangat said. "I'm really proud of what we did today."
As for her strategy, Chelangat said she watched last night's men's race and how the pack reeled in Campbell's Athanas Kioko and trusted that eventually they would do the same to Herberg tonight. 
"10k is a really long way so you have to be patient," Chelangat said.
Her plan was to be patient until she was ready to strike hard, and it worked perfectly – when she moved to the front with six laps to go, no one could respond.
Quick Take: Jenna Magness has some options now with a degree in chemical engineering and a 3rd-place finish at NCAAs
Magness, the Big 10 5k and 10k champ, went into this race hoping to better her best NCAA finish of 4th (2021 outdoor 5k) and accomplished that by running a 38-second pb of 32:59 in just the third 10k of her career. She has another year of eligibility at Michigan State due to COVID but has already graduated with a degree in chemical engineering and is planning on moving on. To what, exactly, she is not quite sure yet – she will enjoy tonight's race first and make a decision this summer.
"I think I have a future in either my degree or running," Magness said. "I'm still deciding what I'd like to pursue."
Quick Take: Haley Herberg went out hard because she felt it was her best shot at winning
Herberg did not enter tonight's race with the plan of building a 25-second lead. But she did go in with the plan of running fast, and the way things went, the big lead was simply a byproduct of that approach. And this sort of strategy has actually worked for Herberg before – at the Pac-12 XC champs in March 2021, she built a huge lead similar to this and held on for the surprise victory.
"I knew I just wanted to run fast," Herberg said. "I thought the best way to at least try to win this race was run fast, run a good time. So I just went out how felt right."
Quick Take: It wasn't a great night for the 8 fastest women in the NCAA regular season this year as they scored a total of 7 points
With the regional qualifying system, the top times in the 10,000 can be misleading as some runners don't try for a fast time in the 10,000 – they just try to qualify. But still, it's pretty shocking to realize what the top 8 fastest women in the NCAA this year did in the 10,000 tonight.
1 Nichols, Abby SR-4 Colorado 32:27.25 – Didn't compete. In 5000 only.
2 Zarbo, Alessia SO-2 Oregon 32:28.57 – Didn't qualify for meet in 5000 or 10,000.
3 Covert, Emily FR-1 Colorado 32:30.82- 4th place (33:14.64)
4 Gregory, Lauren JR-3 Arkansas 32:34.21 – Dropped out after 8k
5 Herberg, Haley JR-3 Washington 32:34.67- led much of it, finished 7th (33:20.33)
6 Mazza-Downie, Amelia SO-2 New Mexico 32:55.26 – 9th in 33:31.99
7 Ryan, Lauren JR-3 Florida State 32:56.53 – didn't qualify for meet in 5 or 10,000
8 Schadler, Allie SR-4 Washington 32:56.80 – didn't qualify for meet in 5000
Be a fan and talk about the meet on our world-famous fan forum / messageboard: MB:  Official 2022 NCAA Outdoors Women's Discussion Thread – 5k is LOADED. Is it Tuohy's time to shine?
More: NCAA Track Day 1 Women's Recap: Distance Favorites Advance, Julien Alfred and Abby Steiner Fly, Camryn Rogers and Adelaide Aquilla Break NCAA Records The favorite all advanced in the distance races as Julie Alfred and Abby Steiner ran very fast and Camryn Rogers and Adelaide Aquilla broke NCAA records in the hammer and shot put respectively.
*Complete 2022 NCAA Outdoor Coverage