Senbere Teferi Runs 14:49 Course Record to Win B.A.A. 5K as Johnny Gregorek Kicks to Mile Win
By Jonathan Gault
April 16, 2022
BOSTON – A dominant showing by Ethiopian Olympian Senbere Teferi was the highlight of a busy morning of racing in the Back Bay on Saturday. Teferi was hoping to break her women's-only road world record of 14:29 at the B.A.A. 5K with the finish in Boston Common, and while 18 mph winds ensured she would not challenge that time, she still broke the course record, clocking 14:49 to take one second off Molly Huddle's mark from 2015. Weini Kelati of Under Armour was second and top American in 15:04.
Canadian Charles Philibert-Thiboutot (13:35) held off a hard-closing Geordie Beamish and Zouhair Talbi (both 13:36) to win the men's race and break the Canadian record (Willy Fink ran 13:37 to finish as top American in 4th).
A few blocks away on Boylston Street, a couple of runners with local ties prevailed in the B.A.A. Mile as Massachusetts native and Boston resident Johnny Gregorek took the men's title in 4:08.16 and Annie Rodenfels, a member of the B.A.A. High Performance Team, won the women's race in 4:35.51.
Both mile winners used a big kick to earn their victories. Gregorek held off runner-up Kasey Knevelbaard (4:08.88) and American indoor 1000m record holder Shane Streich (4:09.28) and Rodenfels ran down the breakaway duo of US indoor champ Heather MacLean (doubling back from her DMR world record last night) and Taryn Rawlings over the last of the three laps. It took Rodenfels until the final strides to catch Rawlings, but she got there just in time, winning by .08 of a second.
Results and post-race interviews below.
Men's 5K top 15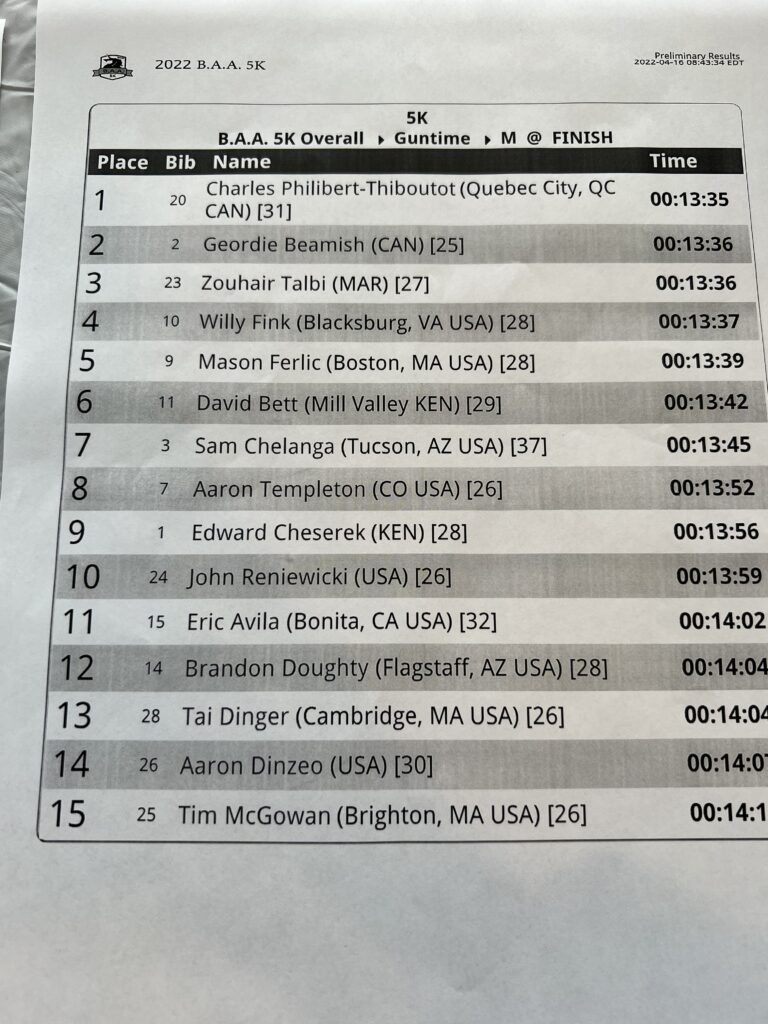 Women's 5K top 15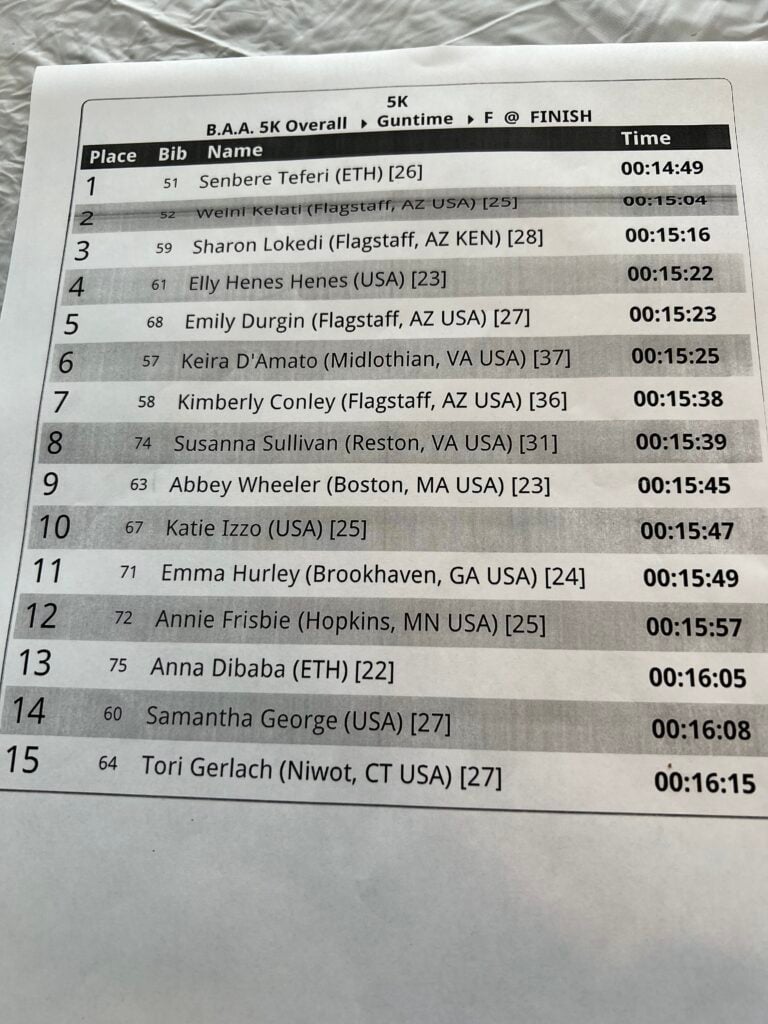 Men's mile
  1 Johnny Gregorek              USA                    4:08.16  
  2 Kasey Knevelbaard            USA                    4:08.88  
  3 Shane Streich                USA                    4:09.28  
  4 Kevin Kelly                  Ireland                4:09.33  
  5 Mason Ferlic                 USA                    4:09.85  
  6 Colin Abert                  USA                    4:10.35  
  7 Corey Bellemore              Canada                 4:12.19  
  8 Joey Berriatua               USA                    4:13.09  
  9 Brahim Kaazouzi              MOR                    4:13.39  
 10 Colin Schultz                USA                    4:14.80  
 11 James Randon                 USA                    4:21.06
Women's mile
  1 Annie Rodenfels              USA                    4:35.51  
  2 Taryn Rawlings               USA                    4:35.59  
  3 Emily Lipari                 USA                    4:36.98  
  4 Heather MacLean              USA                    4:37.24  
  5 Ellie Baker                  Great Britain          4:41.14  
  6 Yolanda Ngarambe             SWE                    4:41.56  
  7 Erin Teschuk                 Canada                 4:42.01  
  8 Allie Wilson                 USA                    4:42.61  
  9 Ellie Shea                   USA                    4:43.66  
 10 Sadi Henderson               USA                    4:50.88  
 11 Helen Schlachtenhaufen       USA                    4:56.67
Teferi was disappointed to miss the world record but happy she could break the course record
Teferi, who was 6th in the Olympic 5k last year and won the NYC Half last month, was the clear class of the field on paper and backed that status up today. The B.A.A. 5K course is a fast one if the conditions are right (which they often have been in this race), but the wind was too much for her to overcome today.
Johnny Gregorek is loving life in Boston right now
Gregorek was a Massachusetts state champion at Seekonk High School and after more than a decade away, he returned to the Bay State last fall, moving to the Boston area to attend Suffolk Law School. Gregorek spends his days training (he's coached remotely by Andy Powell) and nights taking classes and he has enjoyed the arrangement, saying it brings structure to his life and allows him the opportunity to flex his mental muscles as well as his physical ones.
Article continues below player.
"It's great," Gregorek said. "My wife works at Northeastern, so we're just a real Boston couple, and we love it."
Gregorek's indoor season didn't end on a great note as he was only 9th at USAs in the 1500, but it's so far, so good outdoors.
"Goal #1 was to come here and win the race," Gregorek said. "Goal #2 will be next race I run, win that one too."
Annie Rodenfels surprised herself by kicking to the win
Annie Rodenfels is not a miler. She has a 1500 pb of 4:13, considers herself a strength runner, and plans to focus on the steeplechase this spring. Yet, in what is becoming a frequent occurrence (she also outkicked NCAA XC champ Whittni Orton in a 3k in Boston in December), she had the best kick in the field today. Rodenfels said her coach Mark Carroll tells her not to leave it late, but she did today and it still worked out okay.
"He always tells me not to, because especially in a field like this, they can all outkick you," Rodenfels said. "Which he's right, they can. And my thing is definitely going with the strength. And somehow I always, when he tells me to make a move, I'm like aw, I don't feel good and then I always leave it to the end."
Charles Philibert-Thiboutot says he's been having his "best workouts ever" at altitude
The win today by CPT definitely came as a surprise as the 31-year-old Canadian is best known for his exploits in the 1500. But he said he's been having his "best workouts ever" at altitude during a recent training stint in Flagstaff and is excited about his 2022 season. CPT was a World and Olympic semifinalist in 2015 and 2016, but didn't run at Worlds in 2017 or 2019. He spent much of 2021 chasing an Olympic standard in the 1500 but didn't get it until July 25 (3:34.43 at the Sunset Tour), at which point the qualifying window had closed.
The good news is that the 3:34 booked his place at the 2022 Worlds, and now Philibert-Thiboutot can focus on getting as fit as possible for Eugene. His morning didn't start in the best fashion as Philibert-Thiboutot awoke to the news that Will Paulson had broken his Quebec provincial 1500 record a few hours earlier at the Bryan Clay Invite by running 3:33.97 and knocking CPT out of the top 5 on the all-time Canadian list. So today's win was a nice way to rebound and open his 2022 season.
Geordie Beamish looking to reset as outdoor season gets going
Beamish made his global championship debut a month ago at World Indoors in Serbia, but it wasn't the greatest trip as he was only 10th in the 3000 final and tested positive for COVID upon his return to Boulder. In "textbook George" fashion, Beamish was dropped early but got rolling late and almost ran down CPT for the win, instead settling for second in 13:36. He has a busy spring lined up as he'll be at Penn in two weeks for On Athletics Club's 4 x mile world record attempt and will be running the 1500 at the Birmingham Diamond League on May 21, with a pace job at the Sound Running Track Meet likely in between on May 6.
What happened to Kenyans David Bett and Edward Cheserek?
One of the reasons Philibert-Thiboutot's win in the 5K came as a surprise is that the field featured two in-form Kenyans in David Bett (who ran 28:17 to win the Cooper River Bridge Run on April 2) and Edward Cheserek (who ran 60:37 to finish second on a tough NYC Half course on March 20). Neither had their best race today, however, as Bett was 6th in 13:42 and Cheserek 9th in 13:56.
Weini Kelati feeling great about her fitness
A runner-up finish in 15:04 is a strong result for Kelati, especially considering the wind on the way home. Consider: Teferi, who was hoping to break her own women's-only world record of 14:29, ran 14:49. The wind may not have been worth a full 20 seconds, but Kelati certainly would have had a chance to break 15:00 with better conditions.
Kelati said that her training has been "a lot better" this year than it was at this time in 2021, when she only got her US citizenship three days before the Olympic Trials and wound up dropping out of the 10,000. She is optimistic she can make the US team at the World Championship trials at Hayward Field on May 27.