RRW: Rhonex Kipruto (60:30) And Senbere Teferi (67:35) Win United Airlines NYC Half Titles
By David Monti, @d9monti (c) 2021 Race Results Weekly, all rights reserved
NEW YORK (20-Mar) — The first day of spring brought glorious weather here and the first edition of the United Airlines NYC Half in just over three years.  About 25,000 runners navigated a new (but still hilly) course from Prospect Park in Brooklyn to Central Park in Manhattan, and none did it better than Ethiopia's Senbere Teferi and Kenya's Rhonex Kipruto who recorded impressive wins in 1:07:35 and 1:00:30, respectively.  Teferi's mark established a new event record for women, and both athletes earned $20,000 in prize money.
At the 07:00 start in Brooklyn, temperatures were a pleasant 54F/12C, a welcome change from the 2018 and 2019 editions of the race which were held in frigid conditions.
Teferi Turns Back Cheptai for Win
"I was ready to freeze," joked Kenya's Sharon Lokedi after the race.
Article continues below player.
The elite women set off first and the pace was honest if not hot.  Teferi was joined by Kenya's Irine Cheptai, Britain's Charlotte Purdue, Norway's Karoline Bjerkeli Grøvdal, and Arizona's Sara Hall at the front of the lead pack.  They hit 5-K in 16:20, on pace for about a 1:09:00 finish time, well outside of Molly Huddle's 2016 event record of 1:07:41 when the race was held on a different, and decidedly faster, course.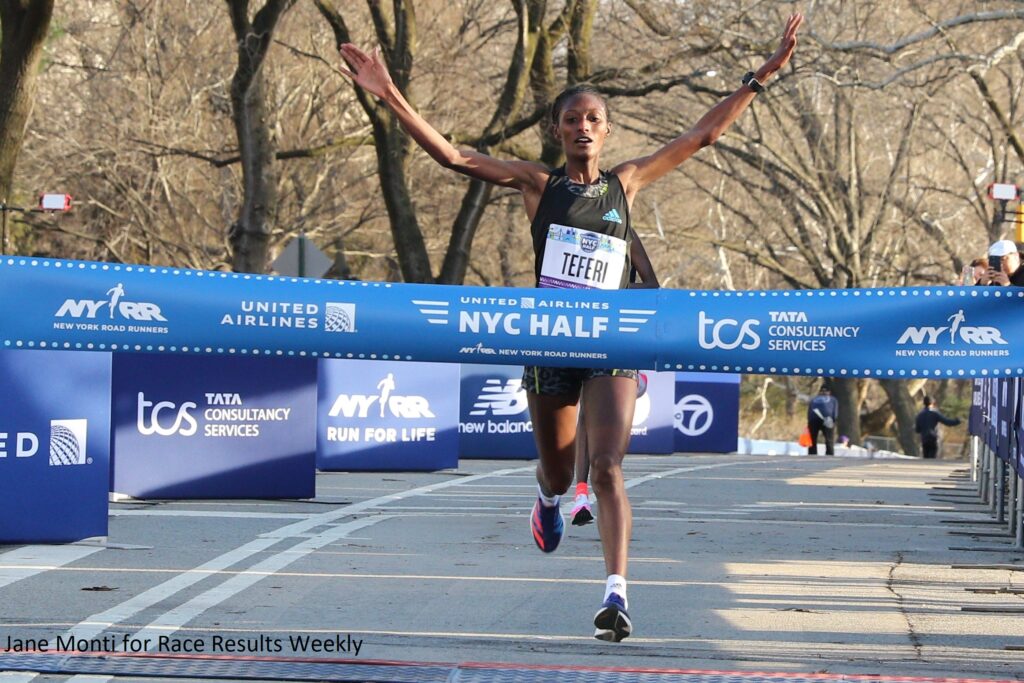 "I think it's a very tough course," Grøvdal told Race Results Weekly after the race.  "It's so much uphill."
Teferi and Cheptai used the first significant hill on the course, the climb of the Manhattan Bridge out of Brooklyn towards Manhattan, to create some separation over the field.  By the 8-K point in the middle of the bridge, the two Africans had about a two-second lead over Grøvdal and Lokedi with the rest of the pack well behind.  That lead grew to four seconds by the time the duo crossed the 10-K point in Manhattan in 32:12.
Kilometer after kilometer, Teferi and Cheptai ran side by side, sharing the lead.  Their pace was both level and fast, squeezing down the pace to 3 minutes and 13 seconds per kilometer between 10-K and 15-K.  With Grøvdal and Lokedi now 18 seconds back, Teferi and Cheptai could focus only on racing each other as they made their way west across 42nd Street then north on Seventh Avenue towards the hills of Central Park.
Coming into the final 800 meters, nothing had changed.  With 400 meters to go, they were still together and sprinting uphill towards the finish adjacent to Tavern on the Green.  Either woman could claim the win.
But with under 100 meters to go, a lead vehicle turned right to leave the course through an opening in the barricades.  Teferi mistakenly began to follow that vehicle while Cheptai kept charging ahead.  The Ethiopian quickly corrected her mistake and restarted her sprint.
"The car that was in front of us turned that way and I thought I was supposed to follow him," Teferi said through a translator.  "I started to go after him, but they told me, no, you're not supposed to go this way, and I turned back."
Despite losing valuable time, Teferi still managed to beat Cheptai by two seconds, raising her arms in joy as she broke the tape.  Grøvdal and Lokedi finished third and fourth in 1:08:07 and 1:08:15, respectively, both personal bests.  Lindsay Flanagan of Boulder, Colo., finished fifth in 1:09:50 and was the first American.  Sara Hall, who ran the Tokyo Marathon just two weeks ago, finished 12th in 1:10:54.
"I was being very careful throughout the race and watching my pace," Teferi added.  "God has helped me, and I praise him.  I am very thankful that I won."
Kipruto Outclasses Field
Kipruto never needed to sprint today.  The world record holder for 10-K on the roads took charge of the race early, pressing the pace up the Manhattan Bridge then pulling away on the FDR Drive along the East River.  He hit 10-K in 28:22, two seconds up on compatriot Edward Cheserek, Ethiopia's Teshome Mekonen, and reigning USA cross country champion Shadrack Kipchirchir.  Kipruto grew that lead to five seconds by 15-K and was never challenged.  He became the first Kenyan man to win the race since Stephen Sambu in 2016.  The fact that his winning time was well off of his personal best of 57:49 didn't concern him.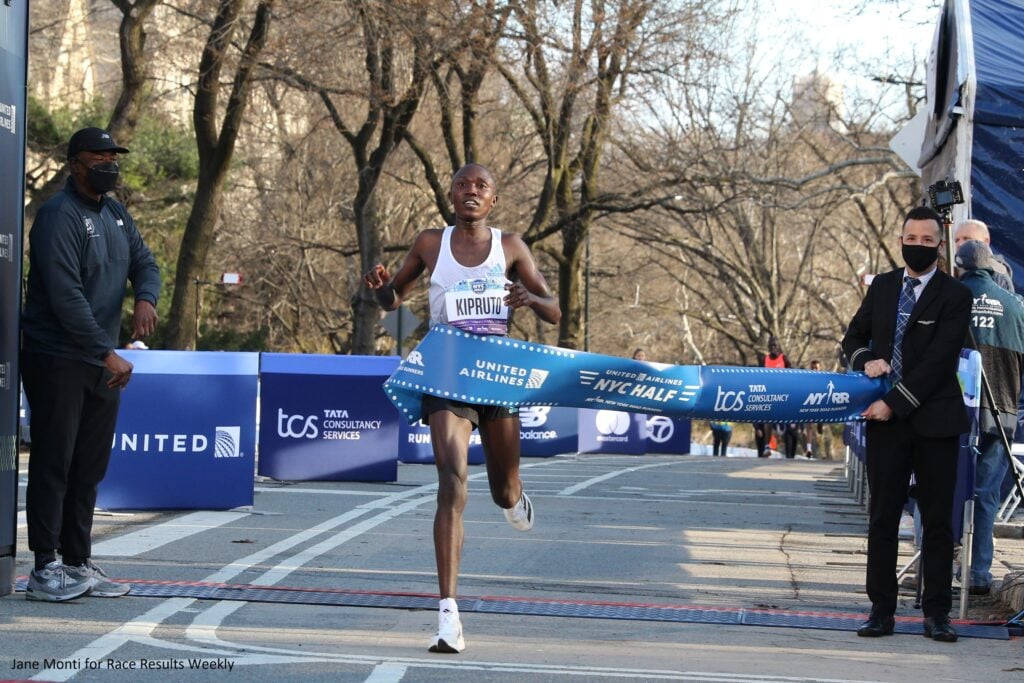 "It was not easy because the course is very hilly and very tough," Kipruto told Race Results Weekly.  "I was just coming here for winning, not for time."
Cheserek won the battle for second over Mekonen, 1:00:37 to 1:00:40.  Cheserek's time was a personal best.
"I feel good, but the last couple of miles were hard," said Cheserek who is better known as a miler with a 3:49.44 personal best.  "I tried to hang in there as fast as I can."
Kipchirchir finished fourth in his debut at the distance in 1:01:16 and was pleased with his race.
"It's exciting," Kipchirchir told Race Results Weekly.  "I love to be in New York.  It's always a nice atmosphere and I'm glad that I debuted this year.  Hopefully, I will debut in full marathon in future."
Two-time Olympic medalist Galen Rupp was unable to finish the race.  He was at the back of the lead pace at 5-K (14:22), but felt pain in his back and had to stop.
"Unfortunately, it was still his lower back/S.I. joint issue," explained Mike Skinner of Pace Sports Management, the British athlete management firm which represents Rupp.  "Galen felt discomfort and stiffness there and wasn't able to run fluently.  He stopped just before 10-K.
More: Galen Rupp drops out after yelling expletive going up bridge
Forty-five year-old Abdi Abdirahman, a five-time Olympian, finished his tenth NYC Half in 1:06:01 (26th place).
The wheelchair titles went to Daniel Romanchuk of Illinois and Manuela Schär of Switzerland in 49:22 and 56:12, respectively.  Schär's time was an event record.
"I'm just happy to be back and see the city so alive," said Romanchuk.
Today's United Airlines NYC Half was the 15th edition of the race which was founded as a summer event in 2006 before moving to the spring in 2010.  Today's event was the first organized by New York Road Runners (NYRR) at full capacity since the pandemic shutdown in March, 2020.  NYRR officials reported previously that the 2022 TCS New York City Marathon, scheduled for November 6, would also be held at full capacity with 55,000 runners.
NYC Half Post-race videos
More: Galen Rupp drops out after yelling expletive going up bridge
*NYC Half Official Thread – Race 7 am Eastern Live Stream on ABC7, ESPN App