Elle Purrier St. Pierre Takes 3000m Silver as Lemlem Hailu Wins to Cap Day 1 at 2022 World Indoors
By Robert Johnson and Jonathan Gault
March 18, 2022
BELGRADE, Serbia – Three years ago at the World Championships in Doha, Elle Purrier St. Pierre (PSP) roomed with Jenny Simpson. It was Purrier St. Pierre's first US team and Simpson's 10th, and the youngster spent their time together absorbing the lessons of Simpson's prolific career, one that includes four global medals. Purrier St. Pierre still draws on those conversations every time she represents the US. This weekend, one in particular stood out. 
"Jenny Simpson told me it was the best feeling in the world to wear a flag around your shoulders," said Purrier St. Pierre.
Article continues below player
Like our coverage from Albuquerque?
Tonight in Belgrade, Purrier St. Pierre experienced that feeling on a victory lap after earning a silver medal in the women's 3000 meters on the first night of the 2022 World Athletics Indoor Championships in Belgrade, crossing the line in 8:42.04, just behind winner Lemlem Hailu of Ethiopia (8:41.82). Another Ethiopian, Ejgayehu Taye, the 22 year old who ran 14:14 last year and placed fifth in the Olympic 5000, took bronze in 8:42.23 as Canada's Gabriela DeBues-Stafford (GDS) was 4th in 8:42.89. Pre-race favorite and 2022 world leader Dawit Seyaum of Ethiopia was fifth in 8:44.55.
So, with that new information, how did Purrier St. Pierre view Simpson's statement now?
"I agree," she said.
Purrier St. Pierre's medal was the happy ending to a story that began with a crushing defeat in the 1500 meters at the US championships in Spokane three weeks ago. Had Purrier St. Pierre won that race, there's a very good chance she would not have run the 3000 in Belgrade at all. Instead, she finished a shocking third, nipped by training partner Heather MacLean and Josette Norris and forcing Purrier St. Pierre to return the next day and earn her spot on Team USA in the 3000. Purrier St. Pierre took that 1500 loss hard, but a long phone conversation with her husband Jamie helped her refocus on the 3000. The next day, she unleashed fury on the rest of the field, using a 28.88 final 200 to blast away to the victory in an impressive display of mental toughness.
That set the stage for tonight, when Purrier St. Pierre ran a brilliant race to earn the silver. Unlike the 1500 in Spokane, where Purrier St. Pierre lost her focus late and was caught by surprise on the home straight, she knew exactly where she was tonight, hugging the rail for much of the race until it came time to assert herself late.
With no prelims, the field for tonight's final was large – 20 runners – and most of those athletes were in the lead group for the majority of the race as the leaders hit 1600 in 4:49.89 and 2000 in 5:59.09, just under 9:00 pace. Even with 800 meters to go, 13 women were still in the lead pack. Something had to give.
Hailu, the 1500m World Youth champion as a 16-year-old in 2017 and an Olympic semifinalist in a breakout 2021 season, made the first serious move, taking the lead with just under three laps to go. Quickly, Ethiopia was running 1-2-3 with Hailu, Seyaum (8:23.24 pb, #3 all-time), and Taye before Purrier St. Pierre used a nice surge to move into third with 400 to go.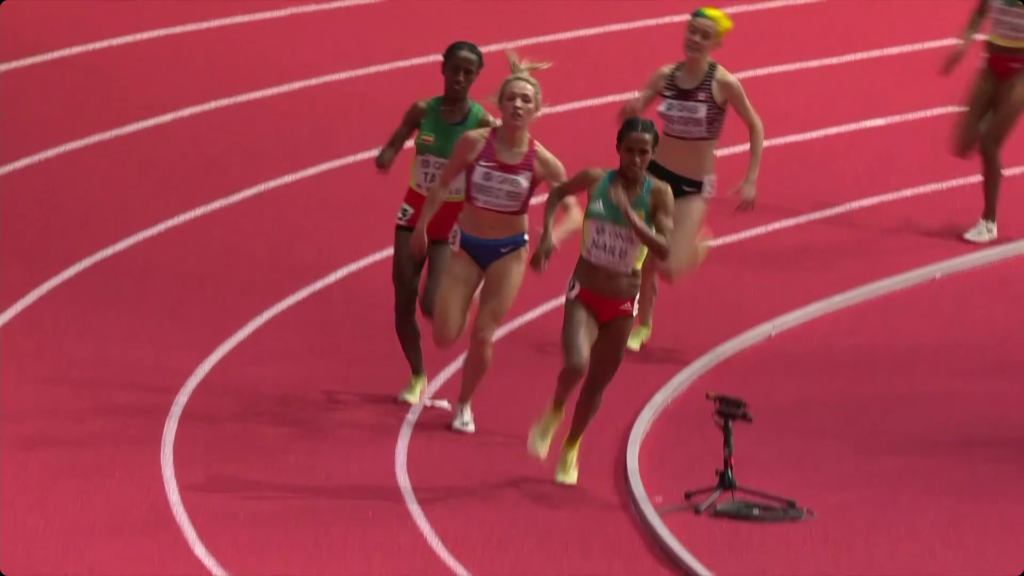 Hailu upped the ante with a 31.04 penultimate lap, and at the bell she led a group of five, Seyaum, GDS, Taye, and PSP, in that order. The places would change behind her, with PSP moving up on the back straight and Hailu, PSP, and Taye breaking away on the final turn. Hailu held on to win impressively with a 29.63 final lap and 60.64 last 400. Purrier St Pierre's last 200 was actually the best in the field, 29.40 (60.74 last 400), but she could not overcome Hailu, who bossed the final three laps.
DeBues-Stafford, who has closed incredibly well in 2022, didn't have quite enough to hold on for a medal as her 30.33 last lap was not good enough tonight – though she did register her highest finish in a global final.
Quick Take: Lemlem Hailu was super impressive tonight
Though Hailu has a global gold at the youth level, she had never made a global final at the senior level until tonight, coming up short in the 1500 at the 2019 Worlds and 2021 Olympics. You wouldn't know it from tonight's race as she ran like a pro, letting her countrywomen trade off the lead early before taking over and controlling things over the final three laps. We're not going to get carried away with this victory – if Sifan Hassan or Gudaf Tsegay is in this race, they stomp the field – but you can only race who is on the line. Hailu executed a terrific race and is now a world champion.
Coming into Worlds, handicapping some of distance races was difficult as many of the Ethiopians were lightly raced and hadn't raced in roughly a month. Hailu who had only raced once indoors (a 4:02 1500 on February 22nd) ended up doing quite well whereas Berihu Aregawi (only one race before Worlds and that was on January 28th) didn't make the final and Dawit Saeum (only two races before Worlds with the last being February 19) did not.
Quick Take: Elle Purrier St. Pierre breaks through with a medal and is building quite the legacy for herself
To go down as a great of US distance running, it helps to have a few things. A national title. An American record. A global medal. Elle Purrier St. Pierre now has all three, and while greater honors could well await her, she'd could retire today and be considered one of the minor greats.
As for tonight, Purrier St. Pierre said "I tried to relax as much as I could and get the best positioning that I could and stay tough when it got hard" and accomplished that to a T. 
Quick Take: GDS and Dawit Seyaum fall short
Heading into the race, it looked like a five-way battle for the medals between the three Ethiopians, PSP, and GDS. So two people were going to be unhappy after tonight. That it was GDS and Seyaum leaving empty-handed is probably the most surprising combination, however. Seyaum ran 8:23 back on February 17 in Lievin, while GDS has the fastest 1500 pb (3:56) and was favored if it came down to a kick. But it did come down to a kick, and GDS just didn't have the necessary gear. Why that was will remain a mystery for now as she said she declined our interview request in the mixed zone saying she was feeling ill and needed to find a trash can to throw up in. What we do know is that she will not have many better opportunities to medal. She is 26, in great form, and the championship fields will be much tougher outdoors. Tonight was the night to get it done.
Quick Take: Jessica Hull was pleased to finish 6th after a "rocky" February
The Aussie, who ran an Australian record 3:58 in the Olympic semis last year, was pleased as she said that was about as good as she could realistically hope for after a "little bit of a rocky February."
Quick Take: Alicia Monson learned she had more speed than she thought this season
Monson has built her reputation as a strength-oriented runner as she was a US Olympian at 10,000 last year and the US XC champion in January. But after winning that US XC title, Monson dropped down to the 3000 on the track to work on her speed and it could not have gone much better. Even Monson knows she doesn't have the gears at the end of the race to be competitive with the likes of Purrier St. Pierre yet, but she is taking a lot of positives into the outdoor season where she will race her more familiar 5,000 and 10,000 distances.
"I learned that I have more speed than I think I do," Monson said. "I think it's not there quite yet to compete in a tactical 3k on the world level, but I'm definitely proud of where I've come."
Women's pentathlon: Belgium's Noor Vidts takes the gold
Belgium now has a World Indoor champion to go with double Olympic champion Nafissatou Thiam in the combined events as Noor Vidts, the Olympic heptathlon 4th placer, PR'd in the 60 hurdles (8.15), long jump (6.60m), and 800 (2:08.81) to win the pentathlon with a personal best of 4929 points. That gave the 25-year-old Vidts the gold over Adrianna Sulek, who set a Polish record of 4851 for silver.
The closest battle was for the bronze medal. American Kendell Williams entered the final event, the 800, with a healthy lead over Great Britain's Holly Mills, but Mills beat Williams by 9.26 seconds, 2:09.97 to 2:19.23. She needed to win by a little more, however, as Williams edged her in the overall score, 4680 to Mills' 4673.
Reigning champion Katarina Johnson-Thompson of Great Britain, dropped out of the pentathlon after she was only sixth through four events, while American champ Chari Hawkins likewise dropped out after fouling all three attempts in the long jump.
Women's shot put: Dongmo turns back Ealey in a thriller
Entering the fifth round of the women's shot put final, no woman had thrown beyond 20 meters in 2022. Then it happened on back-to-back throws. American Chase Ealey, who did not make the US Olympic team last year and was a distant second at USA Indoors behind Maggie Ewen, improved her indoor personal best by a full meter, throwing 20.21. But Ealey's lead would soon be gone as she was surpassed on the very next throw by Portugal's Auriol Dongmo, who had entered the weekend as the world leader at 19.90. Dongmo uncorked a monster 20.43m toss – her first time over 20 meters, indoors or out – to take the lead and would hold on to win gold as the Netherlands' Jessica Schilder took bronze with a best throw of 19.48. 
Men's long jump: Olympic champ Miltiádis Tentóglou jumps 8.55
After a questionable foul on a long jump in round one, Greece's Olympic champ Miltiádis Tentóglou put up a massive 8.55 jump in round two — the second-best jump of his career – to take the drama out of the men's long jump early. No one had jumped that far indoors since March 2009. Only seven times in history has anyone jumped farther than 8.55 (by five different men – Carl Lewis, Sebastian Bayer, Ivan Pedroso, Miguel Pate, Yago Lamela). Tentóglou went 8.51 in round six just for fun.
Sweden's Thobias Montler, the two-time European indoor silver medallist, snagged the silver with a clutch 8.38m pb in round six that moved him from fifth to second, bumping American Marquis Dendy (8.27) down to third and knocking Jarrion Lawson (8.19) off the podium.
Dendy has now medalled at three straight World indoors as he also won bronze in 2018 in Birmingham and gold in Portland in 2016. He told us he was relatively happy with his indoor campaign as he only competed three times and got better in each competition. He's looking forward to outdoor Worlds as the last time a Worlds was held in Oregon, he was the winner.
Women's 60m: Mujinga Kambundji wins it out of lane 8 as Marybeth Sant-Price wins unlikely medal
Running outof  lane 8, Switzerland's Mujinga Kambundji, the 2018 world indoor silver medallist in the 60 (2019 world outdoor bronze in the 200), pulled off the upset as she won in a world-leading and personal best time of 6.96 (previous pb of 7.03 from 2018, previous sb of 7.05). American Mikiah Brisco, the 2017 NCAA 100m champ for LSU, was clearly the next best as she PR'd for the third time today to get the silver in 6.99. Brisco came into today's 60 with a 7.04 pb run at altitude in 2020 but she ran 7.03 in both the first two rounds earlier today.
The battle for bronze was extremely tight. The next four runners all were given the exact same time of 7.04 but the bronze went to American Marybeth Sant-Price (7.032), as Poland's Ewa Swoboda, the world leader before the final at 6.99, was fourth in 7.034, with two-time Olympic bronze medallist Shericka Jackson of Jamaica fifth (7.038), and Briana Williams of Jamaica sixth (7.040).  The tight finish wasn't a surprise as in the semis the top six runners were separated by just 0.05.
Sant-Price's medal is quite impressive considering during her NCAA career at Oregon and Colorado State, she only made it to NCAAs in the 60 once (didn't make the final) and never even made it to NCAAs in the 100. Struggling with stress fractures at Oregon, after she had a bone density test done, she was medically advised to retire from the sport and she did exactly that for two years and nine months.
But she decided she still had a passion for the sport, came back at Colorado State and is now one of the best in the world.
More Friday World Indoors:  2022 World Indoors AM Day 1: Isaiah Harris Impresses, A New Kenyan 800 Star? & More