2022 Madrid World Indoor Tour Gold Results
by LetsRun.com
March 2, 2022 
The final World Athletics Indoor Tour gold event for 2022 was held today in Madrid. Full results appear below. A meet recap can be found here.
This means that the wildcards for World Indoors are set – half based on this year's standings and half on last year's. Ethiopia had athletes win the wildcard in the women's 800, 1500 and 3k as well as men's 1500 and 3000 (standings here).
Article continues below player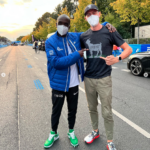 Kipchoge loves the 1:59:40 Shirt Get Yours Today
Shirts are $10 off if he breaks the world record and you order today.
World Athletics Indoor Tour – A
World Athletics Indoor Tour – A
World Athletics Indoor Tour – A
World Athletics Indoor Tour – A
World Athletics Indoor Tour – A
World Athletics Indoor Tour – A
World Athletics Indoor Tour – A
World Athletics Indoor Tour – A
World Athletics Indoor Tour – A
World Athletics Indoor Tour – A
Indoor Meeting – A
Indoor Meeting – A
Indoor Meeting – A