USATF Indoors: Christian Coleman World Lead, Brisco Repeats, Lawson Comes Up Big
by LetsRun.com
February 27, 2022
The 2022 USATF Indoor Track and Field Championships concluded Sunday in Spokane.
We recap the distance action in two other articles, as on the men's side: and the women's: .
Article continues below player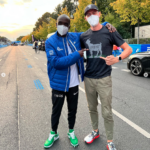 Kipchoge loves the 1:59:40 Shirt Get Yours Today
What a legend!
Below we recap the sprint and field action from Sunday.
Men's 60: Coleman runs 6.45 to tie world lead
Competing in his first US championships in two years, reigning World Indoor champion Christian Coleman delivered a 6.45 world leader to claim the US title with 2016 Olympian Marvin Bracy second in 6.48. Coleman had not raced since winning at the Millrose Games on January 29 due to some nagging injuries, but he showed up and got the job done today and ran faster than his 6.49 at Millrose.
Next up for Coleman is the defense of his world title in Belgrade, where he will face Olympic 100m champ Marcell Jacobs of Italy. Coleman, of course, was not at the Olympics due to his suspension for whereabouts failures last year, and he broke into a grin when we mentioned the looming showdown between world and Olympic champs in Serbia.
"Super excited [to race him]," Coleman said. "That's what it's about, the best of the best. I don't back down from any challenge or any competition. You go out there and may the best man win."
Men's 60 hurdles: Grant Holloway cruises to US title and 47th straight victory in 60m hurdles
Holloway has been all over the world in February. He opened his season with a win at the New Balance Indoor Grand Prix in Staten Island on February 6, then went to Europe and notched wins in Lievin and Birmingham. Today he was on the West Coast of the United States in Spokane. And wherever Holloway goes, he wins. Counting prelims, Holloway is six-for-six in 2022, meaning he is now 47-for-47 in his life in the 60m hurdles since moving up to the 42-inch barriers as a freshman in college in 2017.
Holloway should finally get some time to rest now as there are three weeks until Worlds, where he will be the heavy favorite for gold.
Men's long jump: Jarrion Lawson Comes Up Big
In other action, Jarrion Lawson, 2017 Worlds silver medallist, came up super clutch in the men's long jump as he went from fourth to first in the last round thanks to his winning 8.19 (26'10.5″) effort that edged him past Marquis Dendy (8.14 –  26'8.5″) as JuVuaghn Harrison, who won the high jump on Saturday, was third in 8.05 (26'5).
Before a distance runner complains about not being sponsored, please look at the affiliations of the 3 of the top 4 in the men's long jump – unattached.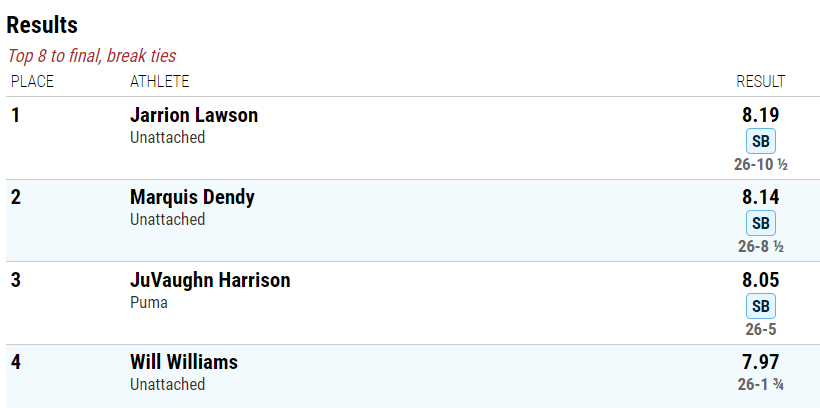 Men's shot put: Ryan Crouser throws 22.51m world leader
Crouser hasn't lost a shot put competition since the 2019 Worlds in Doha, and he was never challenged today, throwing 22+ meters on all four of his legal attempts – something no one else in the world has managed even once this year (runner-up Josh Awotunde threw 21.74). Crouser's best throw came in round four, where he threw 22.51.
Men's triple jump: Scott three-peats
Donald Scott won his third straight US indoor title in the triple jump by leaping 16.88 meters, just ahead of runner-up Chris Carter (16.67). Reigning World Indoor and US outdoor champ Will Claye was surprisingly just third with a best of 16.63.
Men's weight throw: Young wins
2017 US champ Alex Young won his second title in the weight throw by tossing 24.84m in round 3 to edge Daniel Haugh (24.79). He won't be going to Belgrade, however, as the weight throw is not contested at World Indoors.
Women's 60: Brisco repeats
Mikiah Brisco was the NCAA 100m champion for LSU in 2017, but in five appearances at the US Outdoor champs in the 100, she has made the final just once, finishing 4th in 2018. In the 60, it's been a different story as Brisco won the US title in 2020 in Albuquerque and successfully defended that title tonight by tying her season's best with a 7.07 clocking. Neither Brisco nor runner-up Marybeth Sant Price has a sponsor right now. Sant Price has PR'd four times this year, going from 7.18 down to 7.04, and ran 7.08 for second today as Brisco just edged her at the line.
Women's 60 hurdles: Cunningham repeats
2020 US indoor champ and 2021 Olympian Gabbi Cunningham was only 5th in the 60 hurdles at Millrose, but with both of the Americans who beat her in that race (Tonea Marshall and Keni Harrison) not running today, that left Cunningham as the woman to beat and she won after summoning a personal best of 7.82 to win. Alaysha Johnson took second in 7.91, .01 ahead of 2018 World Indoor runner-up Christina Clemons.
Women's 400: Irby comes from behind
Irby, the 2018 NCAA outdoor champ as a freshman at Georgia, was only third at the bell in the second race of the two-section final, but she was in front when it mattered, running 51.88 to claim her first national title. 33-year-old Jessica Beard was second in 52.05 to make her first US team in the individual 400 since the 2011 outdoor Worlds in Daegu.
Women's pole vault: Morris defeats Nageotte
In a battle of the World Indoor champ (Sandi Morris) and Olympic champ (Katie Nageotte), it was the World Indoor champ that prevailed as Morris cleared a season's best of 4.80m to defeat Nageotte, who was clean through 4.75m but missed two attempts at 4.80 and a third at 4.85.
Women's triple jump: Orji wins
In 2019 and 2020, Keturah Orji and rival Tori Franklin went 1-2 at USAs both years, Orji prevailing in 2019 and Franklin in 2020. That made today the rubber match, and it went to Orji, who jumped 14.28m in round 1, well ahead of Franklin, whose best of 13.78m was good for second.
Women's high jump: Cunningham wins sixth in a row
Three women cleared 1.91m today, but only Vashti Cunningham could do it without a miss, and that was good enough for the win as Nicole Greene was second and Jelena Rowe third (all three would miss all of their attempts at 1.94). Amazingly, Cunningham, who won her first US title as a high school senior, now has six US indoor titles at the age of 24 (and likely would have seven if the 2021 meet wasn't cancelled).
Women's weight throw: Kassanavoid wins
Janee Kassanavoid took the title with a best throw of 24.28m, ahead of runner-up Erin Reese (23.72m).
All our 2022 USATF Indoor Coverage here